4 Trustworthy Methods of How to Transfer Contacts from HTC to iPhone
Like Android phones as HTC, Samsung or others, iPhone is constantly enriching its features, such as paying increasingly more attention to the appearance design and the security properties of its operating system, which are gaining more and more fans. Are you a new member of apple's enthusiast? If so, then you might sigh at the problem like conducting contacts transfer from Android to iPhone. Taking HTC phone as an example, how to transfer contacts from HTC to iPhone might be nerve-racking for you.
However, at the sight of this post, you'll say goodbye to this nuisance. 4 scientific HTC to iPhone contacts transferring solutions and some practical notes on iPhone management will help you out.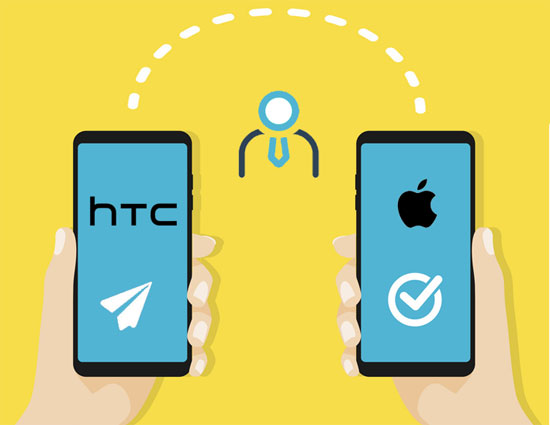 Method 1: How to Transfer Contacts from HTC to iPhone with Transfer for Mobile
You may have searched Google before reading this article. There are some software that can transfer contacts from HTC to iPhone. Which one is safe and simple? With years of research and development to update the technology, and millions of faithful users, MobiKin Transfer for Mobile can help you complete this operation. Want to know what the program is and how many types of file it supports? Here's a list for you.
Outstanding properties of MobiKin Transfer for Mobile:
> Transfer contacts from HTC to iPhone completely, with all the contact information preserved, including phone numbers, job titles, company names, address and so on.
> Transfer files between phones with the same or different operating systems (all devices in iOS and Android OS).
> Supports overall file types, including contacts, call logs, text messages, music, documents, videos, apps, notes, bookmarks, calendar, books, etc.
> Shift your chosen file categories from one device to the other one and keep your data 100% read only without quality loss.
> Conduct task on almost all the phone brands with the latest versions such as HTC One series (mini/MAX/X/S/V), HTC Desire series (HD/S/C/V/700/600/500) and iPhone 11/11 Pro/11 Pro Max/XS/XS Max/XR/X/8/8 Plus/7/7 Plus/SE, etc.
Wouldn't you like to download it now?
Brief steps on how to transfer contacts from HTC to iPhone with Transfer for Mobile:
Step 1. Install and start the program on computer to see the following page as bellow. Then you are allowed to plug both your HTC and iPhone to this computer with USB cables respectively.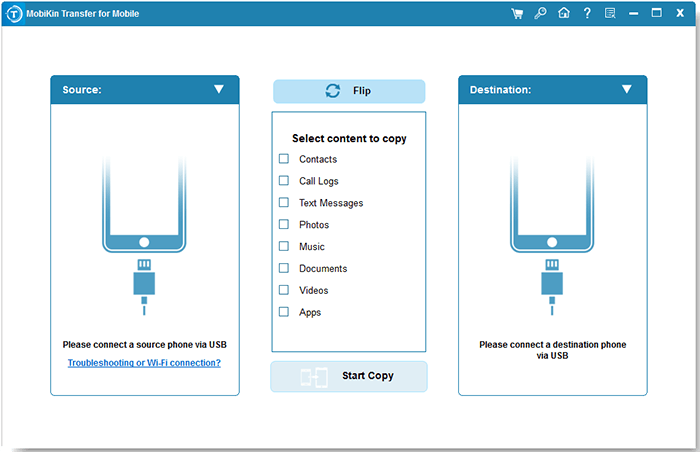 Step 2. After that, the program will detect your two phones soon. You may need to enable USB debugging on your HTC phone beforehand. Once the phones recognization is successful, you can see a clear interface like below: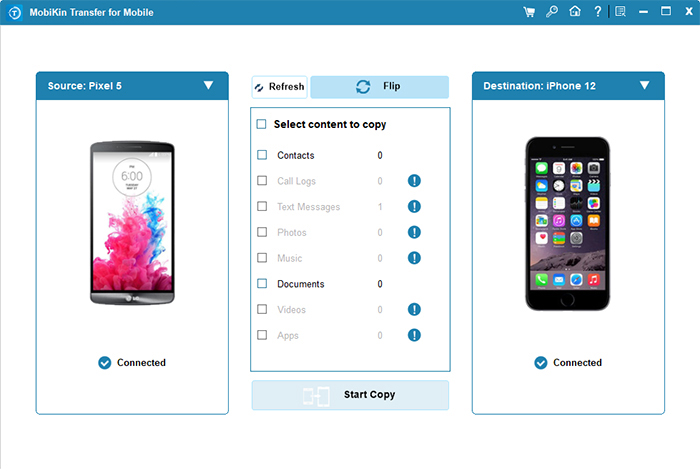 Step 3. Make sure the source phone is HTC and destination one is iPhone. If not, you need to click "Flip" button to switch their positions. Then tick "Contacts" and press "Start Copy" to transfer all your contacts from HTC to iPhone with ease.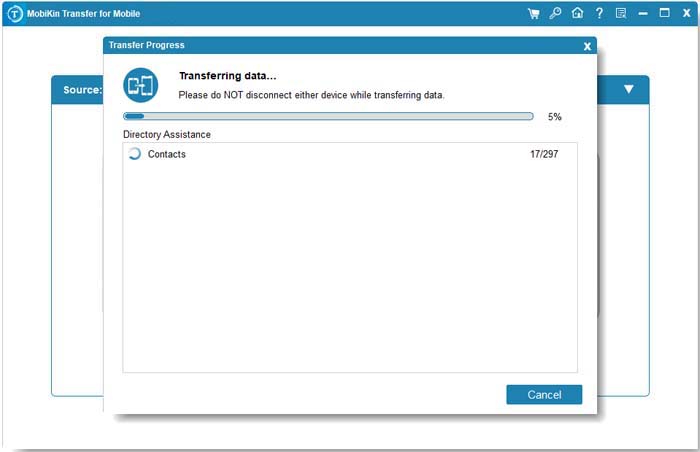 You May Be Interested in:
Method 2: How to Copy HTC Contacts to iPhone with Google Account
For people who often use mobile management tools, They may not be unfamiliar with Google account. This feature can also help transfer contact from HTC phones to iPhone, which is called Google account sync. Namely, sync HTC contact via Google account first, then log in on your iPhone with the same Google account in order to get the contacts. Of course, it is necessary to have a Gmail account in advance.
Concise manual on how to transfer contacts from HTC to iPhone with Google Account:
Step 1. For your HTC phone, go to Settings > Accounts & sync to add your Gmail account to sync your HTC contacts to Google account.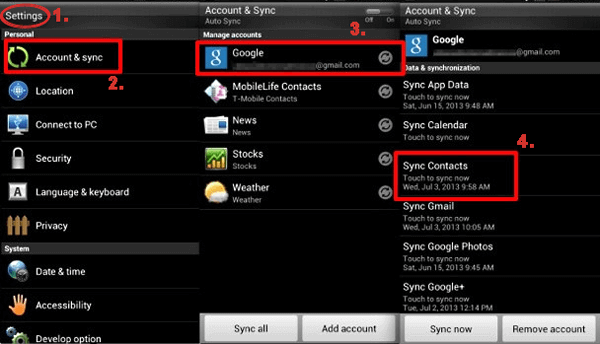 Step 2. For your iPhone, navigate to Settings > Mail, Contacts, Calendar to enter the Gmail account you've just added. Then enable and check the HTC contacts on the Google account. After that, all your HTC contacts will be synced to iPhone.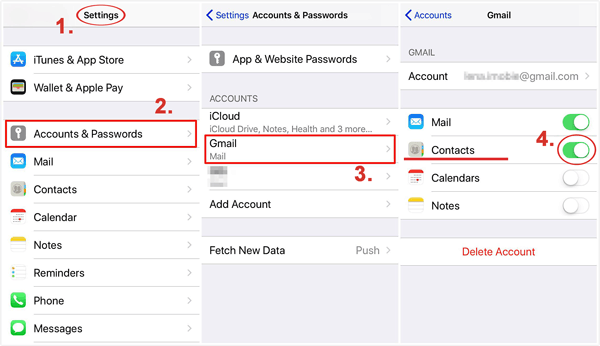 Method 3: How to Import Contacts from HTC to iPhone Using SIM Card
Just now we talked about how to transfer contacts from HTC to iPhone with Google account. But if you don't have a Google account or are not used to this method, you can also do that with the SIM card. This process is finished by saving contacts into SIM card on HTC first and move the card to the iPhone.
Here's the instruction on how to import contacts from HTC to iPhone using SIM Card:
Step 1. Open the Contacts application to opt for Settings on your HTC. Next, click three-dot icon to follow Import/Export > Export to SIM card.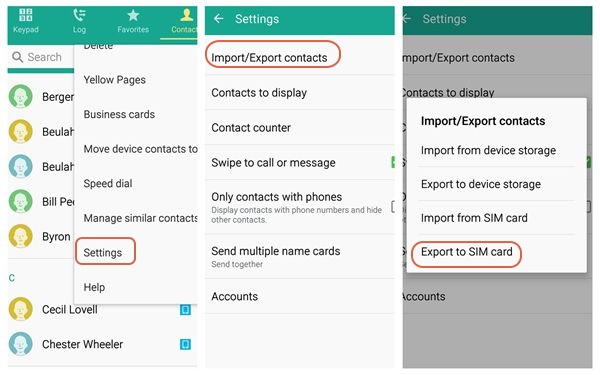 Step 2. On your iPhone. go to Settings > Contacts > Import SIM contacts to perform this transfer process.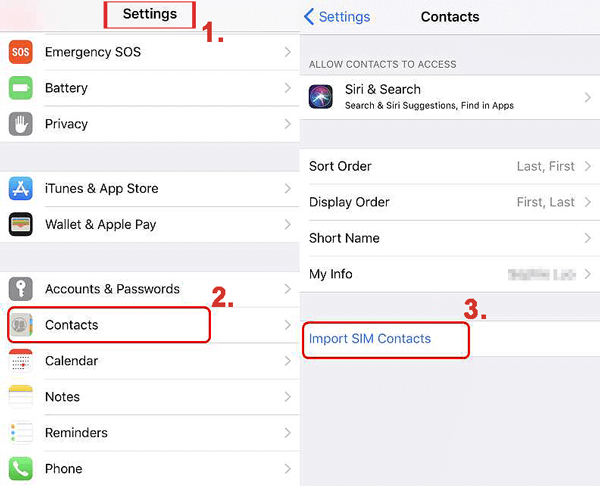 Notice: First and foremost, make sure your SIM card in the HTC fits into the slot on the iPhone. Once the slot can't hold the SIM card, if possible, you can ask a technician to adjust the card properly.
You May Be Interested in:
Method 4: How to Transfer Contacts from HTC to iPhone via Dropbox
Running on different OSes and providing mobile and web client, Dropbox can store HTC data and automatically sync them to the cloud server saving file synchronization through cloud computing on the Internet, through which users can share files and folders on other device such as Apple iPhone. It's worth mentioning that you can access contacts offline, but this process is a bit slow, and its free storage space is limited in a way.
Terse specification on how to import contacts from HTC to iPhone via Dropbox:
Step 1. Download, install and open Dropbox on HTC phone and click adding image at the bottom of the interface.
Step 2. Press Upload files > Other files from HTC mobile. After that, you can tap "Open" to these data to Dropbox.
Step 3. Launch Dropbox on your iPhone and download all the data from Dropbox. Then find out the files with expanded-name - "VCF".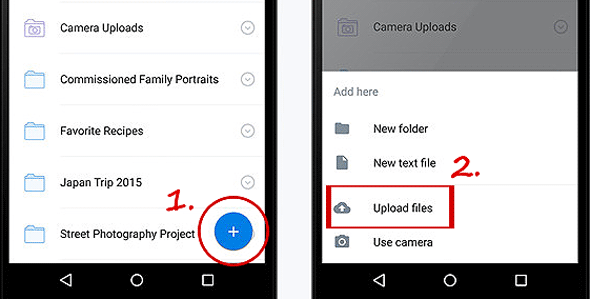 Attention: This is a process of packaging moving, through which Dropbox transfers contacts and other files to the iPhone, and when it's done, you need to manually add contacts with the extension VCF to your iPhone, or install them by downloading some contact installation app.
Words in the End
How do you feel now? Do you know how to transfer contacts from HTC to iPhone now? If you have grasp the main idea, you will find that among the commonly used methods, the most professional and safe means is MobiKin Transfer for Mobile.
In addition, if you want to perform comprehensive management on your iPhone after getting the contacts, suggest you giving priority to MobiKin Assistant for iOS which is not only a data transfer tool but also a program for data backup and recovery. If you still have some tough stuff, do remember to leave your comments below.
Related Articles:
Top 5 Ways on How to Transfer Contacts from iPhone to Android
How to Transfer Text Messages from Android to iPhone Easily & Quickly
How to Transfer WhatsApp Messages from iPhone to Android
How to Transfer WhatsApp Messages from Android to iPhone
How to Transfer WhatsApp Messages from iPhone to Samsung S9 2020