3 Ways to Transfer Data from One HTC Phone to Another
Christmas will be in a few days. Do you want to give yourself something to reward yourself for your hard work this year? If you are an electronic product enthusiast, you must be inclined to buy digital products, such as smart phones. You are a loyal user of HTC phones, so this time, you want to change from an old HTC phone to the latest HTC U22 Plus. Now, one thing you need to consider is how to complete the HTC to HTC transfer, that is, how to transfer data from one HTC phone to another?
This is why we wrote this article. On this page, we will show you three effective ways to transfer data between HTC devices.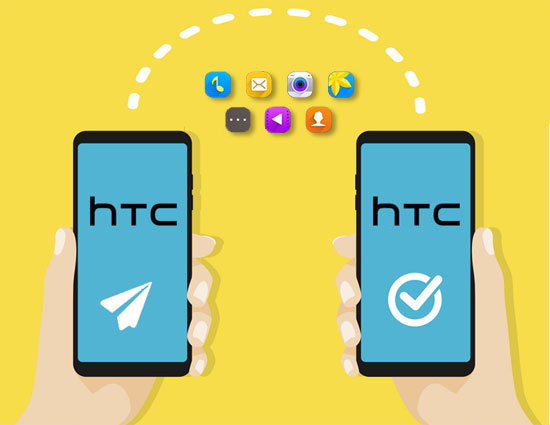 Way 1: Transfer Data from One HTC phone to Another via Transfer for Mobile
MobiKin Transfer for Mobile (Win and Mac version) plays an important role in the data transferring process. There are different transferring programs on the mobile market nowadays, but this one is more outstanding than others due to its all-around functionality. It is easy to use and you can transfer almost all types of data from HTC to HTC with a few clicks. It is 100% risk-free so you can totally rely on it. What's more, the high compatibility of the software makes it support cross-platform transfer.
Why choose MobiKin Transfer for Mobile?
Transfer data from HTC to HTC with a single click.
Copy data from Android to Android, iPhone to iPhone, Android to iPhone, iPhone to Android.
Support to transfer contacts, call logs, text messages, photos, music, documents, videos, apps, etc.
Easy to use, and complete the data transfer without any data loss.
Work well on almost all Android and iOS devices, including HTC One M10/M9W/M9Et, HTC 12+/12/11+/10, HTC U22/U21/U20/U19/U13/U12/U11/U10/U9/U8, A3360, A3366, A3380, HTC Desire C/Desire HD/Desire HD A9191, HTC Vive, various iPhones, iPads, iPods, etc.
The program has two versions - the Windows version and Mac version. Windows and Mac users can choose the right one by clicking the blue icons as above. And then you can turn to the specific instructions in the following content. Let's get started.
Step 1.Connect the two HTC Devices to PC
Connect the two HTC smart phones to the computer via USB cables and run the program on your computer directly after you downloaded and installed it. The program will detect the two devices and show you the main interface like below.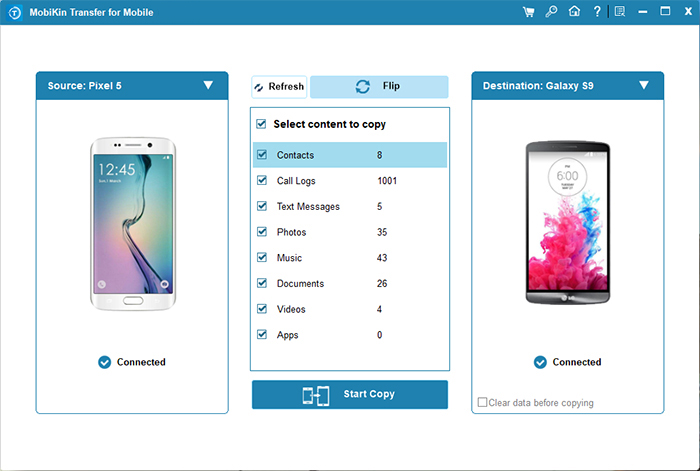 Step 2. Check the phones position
Now, select the old HTC device as the source device (left) and the new HTC device as the target device (right). Data will be transferred from the left device to the right one. Therefore, if they are wrongly placed, you need to click "Flip" to switch them.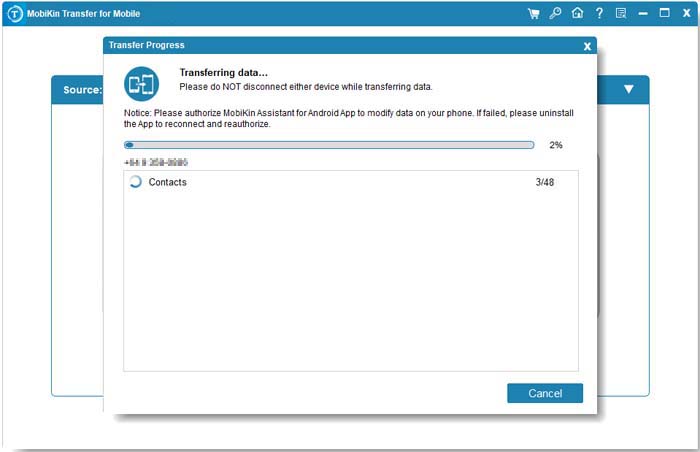 Step 3. Transfer Data from HTC to HTC
The middle of the program interface shows the transferable data types. You can tick the data you want to transfer (for example, you should tick off "Contacts" if you want to transfer contacts from HTC to HTC), and click the "Start Copy" button to kick off the data transfer from HTC to HTC.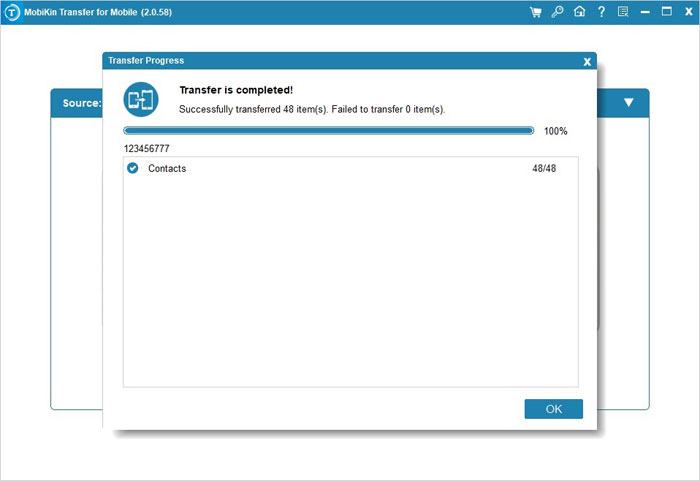 Way 2: Transfer Data from HTC to HTC with HTC Transfer Tool
HTC Transfer Tool is an app developed by HTC for its users, specifically used to synchronize settings, bookmarks, wallpapers, photos, music and messages, videos, contacts, etc. from Android to HTC. However, this tool is one-way. This means that if you want to transfer data from HTC to Samsung, Huawei or other Android devices, the program will not work. In addition, the tool does not support synchronization of applications, photos, call records, and videos that are not in the camera folder.
Download and install HTC Transfer Tool app on both HTC devices. You can get it from Google Play Store.
On your new HTC phone, run the HTC Transfer tool and go to "Settings".
Choose "Get content from another phone" > select HTC Android phone > Quick transfer > Next.

Turn to your old HTC phone and run the HTC transfer tool app.
It should then detect the nearby HTC phone automatically.
The same PINs will be displayed on the screen of the two HTC phones.
After checking the same PINs, you can tap "Next" to go to the next stage.
On your old Android device, ticking off the file types you want to transfer and click "Start" to begin the data transfer from HTC to HTC.
Read Also:
Way 3: Transfer File from HTC to HTC via Bluetooth
If you only need to transfer a small amount of data, why not consider using Bluetooth? Bluetooth is a built-in function of Android devices, so you don't need to install any third-party tools. The disadvantage of this method is that Bluetooth transmission only supports a few data types, such as media files and documents. If you need to transfer apps from HTC to HTC, Bluetooth is useless. Therefore, if you have a lot of time and only need to transfer a small number of files, you can refer to the following steps:
Unlock both the devices, go to their "Settings" and turn on the "Bluetooth" feature.
Place the two devices closely and wait as the new HTC phone would be available on the old HTC device.
Select the new HTC phone on your old HTC and pair them by entering a unique code.
Once the two devices have been paired successfully via Bluetooth, you can now select the data types you want to send.
After the connection, go to your old HTC Contacts > Send contacts.
To transfer contacts, you can go to tap Menu > "Send contact by Bluetooth" or "Share namecard via".

When you get a prompt, tap "Select All" > "Done", and then choose via "Bluetooth".
Set the new HTC phone as the recipient.
Grant for the request on the new HTC phone to bring up the data transfer.
Words in the End
Now, you immediately understand three different methods of HTC transfer to new phone. You can easily perform data transfer in the way you like, and you can switch phones freely like a professional. Based on these methods, MobiKin Transfer for Mobile is undoubtedly the fastest and most reliable solution. In a few minutes, it will allow you to switch smartphones with one click, without any data loss!
Related Articles:
How to Transfer Data from BlackBerry to Android
How to Transfer Files from Nokia to Nexus 5 Easily
HTC Transfer Tool - Simple Steps to Transfer Your Data to a New HTC
How Can I Transfer or Copy Contacts from HTC to Computer/Mac
Top 6 Ways to Transfer Text Messages from HTC to Computer
HTC SMS Recovery: How to Retrieve Deleted Text Messages on HTC Phones