[2023 Updated] How to Transfer Videos from Android to Android
Has your old Android phone been used for many years? It's time to upgrade. When you get a new Android phone, such as Samsung Galaxy S21, or Huawei Mate 40, etc., besides the excitement, you need to understand how to transfer videos from Android to Android smoothly, and no data loss in the process of transferring. Although Android provides easy access to SD cards, it is still confusing for some people who are not familiar with data transfer.
Are you scratching your head? Do not worry. Reading this article, you will learn about four different but proven solutions, telling you how to transfer send videos from Android to Android easily and quickly.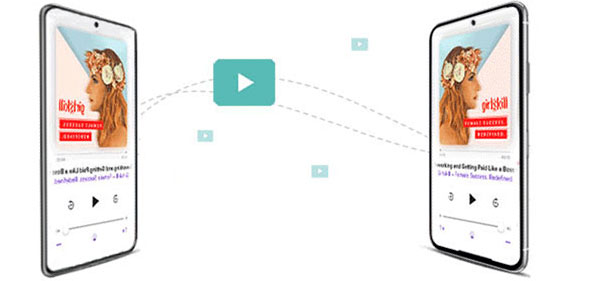 Way 1: How to Transfer Videos from Android to Android via Transfer for Mobile
To transfer videos from smart phones to computer, you can turn to many solutions such as to transfer videos from Android to computer or from iPhone to computer. But how to transfer a video from one phone to another?
First of all, we kindly introduce a professional phone to phone transfer program to solve the problem of video transfer from Android to Android. It's MobiKin Transfer for Mobile, a third-party program, which allows you to transfer videos, and other files like apps, music, contacts, messages, call logs and photos, etc. between two Android devices. This software is of great compatibility that it can support nearly all Android and iOS devices on the market.
More features of Transfer for Mobile are as below:
1-click to copy videos, videos, photos, contacts, text messages, call logs and more between Android devices as you wish.
It supports cross-platform transfer, including Android to iOS, and iOS to Android.
It's compatible with overall Android and iOS devices, including Samsung, HTC, Sony, Motorola, LG, Google Nexus, Huawei, iPhone, iPad, iPod touch and so on.
It offers the simplest data transfer process within a few clicks.
How to transfer videos from phone to phone with Transfer for Mobile:
Step 1. Download and install the phone transfer program on your computer. Launch it and you'll see an interface like this.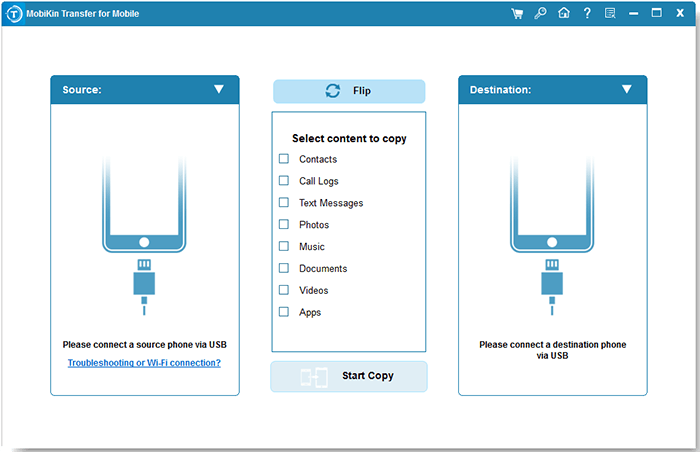 Step 2. Connect your two Android phones to the computer via USB cables and the software will start to detect the two devices. The old Android phone should be in the "Source" area, and the new Android device should be in the "Destination" area.
Note: If you find the two devices are in the wrong positions, you can click "Flip" on the window to change their order.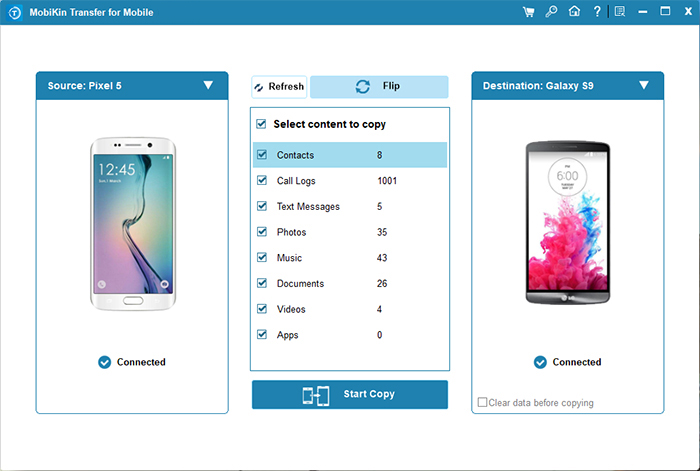 Step 3. To send video from phone to phone, you need to mark "Videos" and then click the "Start Copy" option. You can also transfer other files between the two devices by ticking them in the middle menu if you want.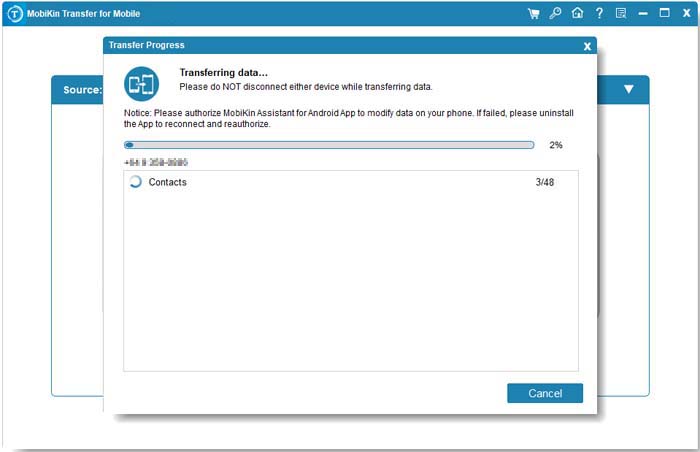 That's all. Manually transferring data from Android to Android is a waste of time and effort. Try Transfer for Mobile to transfer Android files to your new Android phone will be the smartest choice you make. It is the best Android to Android data transfer tool.
Check If You Need:
Way 2: How to Send Videos from Android to Android via Bluetooth
Any way to transfer videos from android to android without downloading third-party tools? We all know that Android devices are equipped with Bluetooth function. If you only need to transfer videos, then it will be a simple way to use Bluetooth function to complete the transfer work. In addition to videos, you can also transfer photos from Android to Android via Bluetooth.
Turn on the Bluetooth feature on both the Android phones. You can go to "Settings" or pull down the phone screen to find the Bluetooth feature.
Pair the two Android phones by Bluetooth via a pass key.
Once the two phones are paired successfully, you can go to your source Android phone to select the video files you want to transfer.
Select the Bluetooth option as the way to transfer the video files and click "Send".
Turn to the target Android phone, "Accept" the transfer request from the source Android, and then the videos transfer will get started.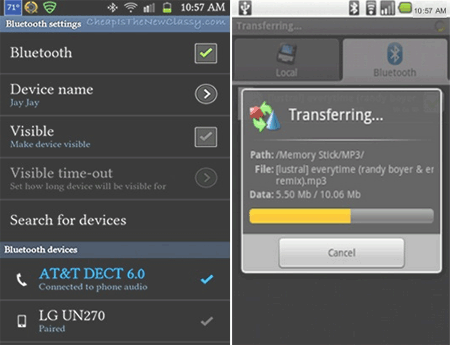 Way 3: How to Transfer Movie from Android to Android via Gmail
Nowadays, people are accustomed to handling emails on smart phones. Almost all mobile devices are equipped with e-mail applications, which makes e-mail a quick way to complete data transfer between phone and phone. Gmail is one of the most popular email providers. So now, we will show how to transfer videos from Android to Android via Gmail.
On your Android devices, go to "Settings" > "Account" > "Add Account" > "Google" to set up the Gmail account on the two devices.

On the old Android phone, open the Gallery app and select the videos that you want to send.
Press the button of "Share" and choose "Email" > "Gmail".
Input your Gmail address and click "Send" to send the selected videos to the target Android phone.
Now, go to your new Android device and access your Gmail account.
Open the mail you sent from the old Android phone, and download the video attachment at any time.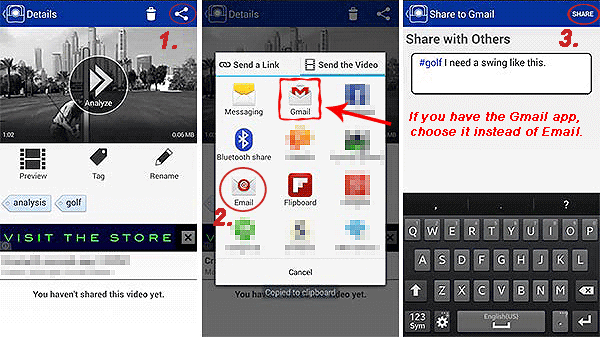 This method is only suitable for small files transfer, because email providers have restrictions on the size of attachments. Generally speaking, Gmail only allows attachments smaller than 25MB to be sent.
Check If You Need:
Way 4: How to Transfer Videos from One Android Phone to Another via Dropbox
Today, more and more new technologies can help people complete data transmission and management. For example, cloud services. Many people choose to save their important videos and photos to cloud services, such as Dropbox. After that, they can log in to their Dropbox account on any device and then access the stored content. If you are ready, let's start together.
Install the Dropbox app on both Android phones. You can get it in Google Play Store.
Open the app and sign in your account.
On your source Android phone, tap the "+" icon at the bottom of the screen and tap the "Upload Files" option.
Select the video files you want to send, and click "Open" to upload them to the Dropbox.

Turn to your target Android device and run the Dropbox app.
Sign in the same account and go to the photo folder. Generally speaking, all photos and videos will be saved in the photo folder.
Select the videos you need, tap the "Share" icon and touch "Save Videos" to save the selected videos.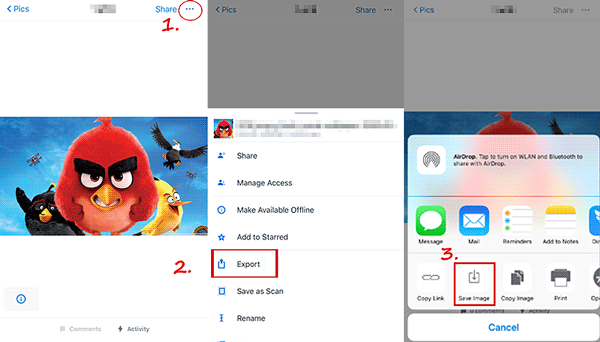 Please note that Dropbox only provides 2GB of free storage space per account. In addition, it relies on a network connection all the way. Therefore, you need to ensure that you have a stable network condition.
Wrapping Up
We have discussed four completely different solutions for transferring videos between Android devices. Some cloud-based solutions need to be configured on two devices, and the mail method has strict limits on file size. Therefore, the most effective and direct method is to use a professional third-party tool like MobiKin Transfer for Mobile. It is a multi-functional tool that can transfer all your data, including videos, photos, music, contacts, text messages, applications, documents, etc. with just a few clicks. It has no restrictions on the number of files and file size.
Why not download it and give it a try? We sincerely hope that our guides and suggestions will be helpful to you.
Related Articles:
Easy Way to Transfer Music between iPhone and Android
4 Efficient Ways to Transfer Videos from Android to iPad Pro/Air/4/mini
How to Transfer Contacts from Sony to Samsung
Best 5 Ways to Transfer Photos from Android to iPhone in Minutes
Transfer Contacts from iPad to iPhone (4 Solutions)