How to Root Samsung Galaxy Nexus (GT-I9250) on Computer/PC
Nowadays, Android phones have become the heated topic amount smart users. Android phones search as all-in-one communication tool, which intensify our desire to achieve intelligent life. To mention Android phones, people will be familiar with Samsung, Sony, Motorola, HUAWEI, HTC, MEIZU, and so on. Today, we will focus on Samsung Galaxy Nexus 4.2.1 GT-i9250 that sales well in most of the countries and most of new Android users are using the same series. However, Samsung Galaxy users recently complain that some useless programs can not uninstall and occupied much internal capacity at the same time. They want to find out a safe and feasible Samsung Galaxy rooting software.
It must be noted that there are some advantages and disadvantages of rooting tool for Samsung Galaxy. On the one hand, advantages are that you can back up all the system, use superior program like screenshot and explorer, revise and deleted internal program of Android system, change theme, and so on. On the other hand, the disadvantages are that you will lost the warranty of your device, and take the risk of getting into rooting problem which negates the effects of your device. What's worse, if you add malicious software by accident, your privacy on Samsung Galaxy Nexus GT-I9250 will be revealed.
Therefore, if you really need to root your new Samsung Galaxy Nexus GT-I9250 with Android 4.2.1, then you should follow the below guide step by step to complete the rooting process carefully on your device with the best rooting tool – Kingo Android Root. This tool offers the easiest one-click way for every Android user and Android devices. Now just follow out path to learn how to root your Samsung Galaxy Nexus GT-I9250.
NOTE: Please make sure you get everything right beforehand. Your device should be powered on, at least 70% battery level. And the Internet connection is necessary. Last, you need to get the original USB cable prepared.
Guide: How to Root Samsung Galaxy Nexus on Computer
Step 1: Free and Install Kingo Android Root.
First of all, download this software on your computer and install it now.
Step 2: Double Click the Desktop Icon of Kingo Android Root and Launch It.
After launching this software, the main interface will be pictured as below.

Step 3: Connect Your Samsung Device to Your Computer via USB Cable.
Now please enable you device driver is installed on your computer and make sure your Internet is connected.
Step 4: Enable USB Debugging Mode on Your Android Device.
It's necessary for you to enable USB debugging during the process of rooting. After that, you will see the menu pop up. Please tick "Always allow from this computer".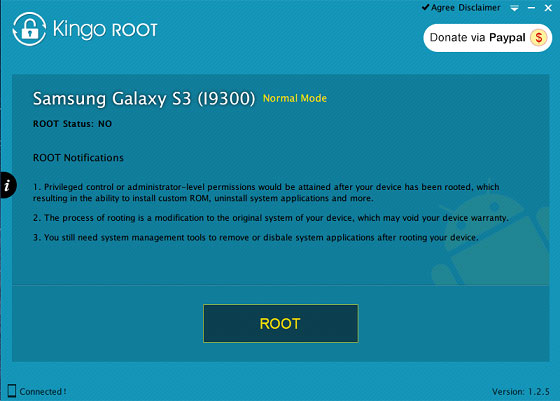 Step 5: Click "ROOT" to Root Your Device.
This software will reboot your device several times, it will probably take a few minutes, just wait patiently. It is of importance for you to remember not to touch, move, unplug or perform any operation on your device.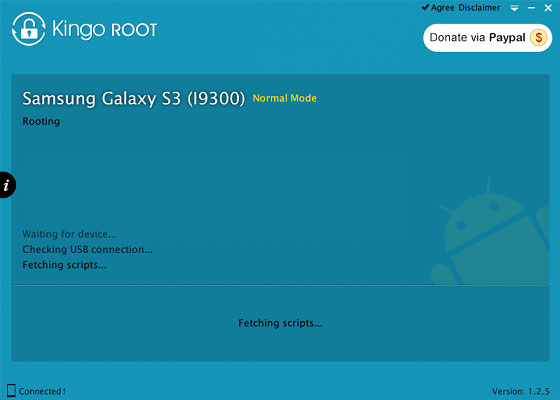 Step 6: Root Succeeded, Click "Finish" to Reboot Your Device and Check The Root Status.
After the whole rooting process have finished, you can see an app named SuperSU and you can check the rooting status on your device.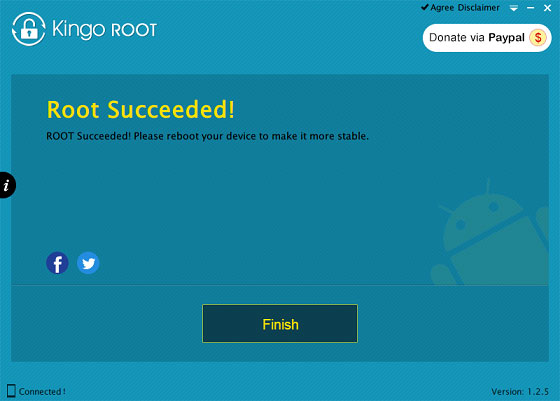 Related Articles:
Top 5 Ways to Transfer WhatsApp from Old Samsung to New Samsung
Samsung Updates: How to Check Software Updates on Samsung Galaxy
Samsung Galaxy Desktop Manager - Powerful Tool to Help You Manage Samsung Phone Easily