How to Root Android 5.0 Lollipop in Leisurely Ways
With the development of Android devices, more and more Android OS is released in recent years, such as Android 5.0 Lollipop, Android 6.0 Marshmallow, Android 7.0 Nougat. And it is no doubt that the new Android 8.0 or above version will be released in the coming years. Since the higher Android OS on your device, more functions you'll enjoy, but they still have lots of limitations to their users. So people still wish to find a way to root their Android device for getting more privileges, and if you're also one of them, you've been the right place. In this page, we'll show you how to root Android 5.0 Lollipop step by step, and if your Android is running on other systems, you can root them as follows:
How to root Android 6.0 Marshmallow?
How to root Android 7.0 Nougat?
How to Root Android 5.0 Lollipop in Different Ways?
Since the Android 5.0 Lollipop is released for a long time, so rooting it is not a complicated task as hard as Android 6.0 Marshmallow or Android 7.0 Nougat. You can find lots of related pages or info about the detailed steps on the Internet and you also can get various tools that claims that they can help you root Android device with Android Lollipop without hassle. Then you download one without comparison, and find it is useless. Time-consuming, right? Thus, we have picked up one tool to help you root Android 5.0 Lollipop with or without PC as you like.
KingoRoot is a reliable yet powerful application, that allows users to root Android phone or tablet with 1 simple click, and ensure there is no data losing during the whole process. It requires no professional skills for both beginners and experts, so you can handle it as easy as 1-2-3. What's more, this program provide users with PC version and Apk version, so that you can choose to root your device with or without PC as you like.
Free download KingoRoot PC version
Free download KingoRoot Apk version
In this page, we could like to take the Apk version as an example. You can follow it to see how to root Android Lollipop step by step.
Step 1. Download the program to your Android device directly. Here, please ensure your device is connected to a reliable WiFi network.
Step 2. Follow the instructions on the program to install the Apk file on your device well. Here, some things you should pay more attention.
- If Chrome has warned you about this apk, just click "OK" to proceed, and we can guarantee this tool is 100% safe.
- If your device is only accept app installation from its native app store, you need to click on Settings > Security > Unknown sources > Check the box and allow to solve it.
- Ensure you have known all risks of rooting, and then you need to choose to root or not to root when you get a message of harmful app on your device.
Step 3. Click on the icon of "One Click Root" to begin the whole process, and then you only need to wait for the end of the rooting.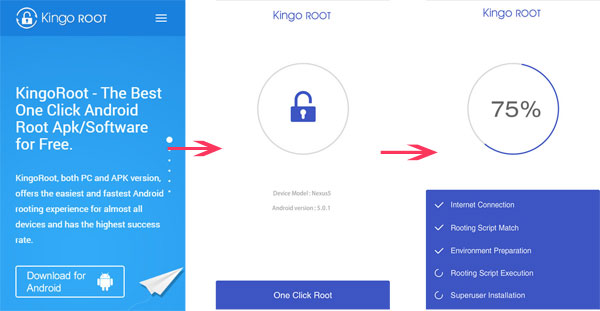 Related Articles:
How to Check Your Android Device is Rooted or Not
How to Remove Root from An Android
6 Methods to Recover Deleted PDF Files from WhatsApp [Android/iPhone]
How to Remove Playlist from iPhone 12/11/XR/XS/8 in 3 Methods?