Top 7 Tools to Root Android Devices Online
The Android operating system is loved by many mostly due to its openness and flexibility. This alone explains why the handheld device platform alone commands an average market share of about 70%. Android smartphones and tablets come in different shapes, varieties, and sizes. Rooting an Android device will allow you to access privileged services that are not directly provided to the common smartphone or tablet user.
For instance, you can uninstall the stock apps that come preinstalled on your device, improve your gadget's performance, bypass any restrictions that were put in place by your smartphone or tablet's manufacturer and even preserve your gadget's battery life just to name a few. Despite all these cool hacks rooting your Android gadget may result in a bricked device or even void its warranty.
This makes it very important for you to always only use a reputable rooting tool whenever you are trying to root your smartphone or tablet. Below are the top 7 tools to root Android online that you can use. But before it, it is necessary for you to learn something as follows:
Risks for Rooting Android Devices
Popluar Online Tools for Rooting Android
1. One Click Root
One Click Root is a popular program that can be used to easily and quickly root or unroot almost all Android device. Just as its name suggests, you can use this popular program to root or unroot your Android smartphone or tablet in a single click. The program is considered to be completely safe to use (contains effective fail safes), hence; significantly reduces the chances of bricking your Android tablet or smartphone.
Download Link: https://www.oneclickroot.com/
Pros
- Unrivaled technical support (24/7 root support).
- Contains many extra fail safes.
- Supports a wide range of devices.
Cons
- It is not completely free to use.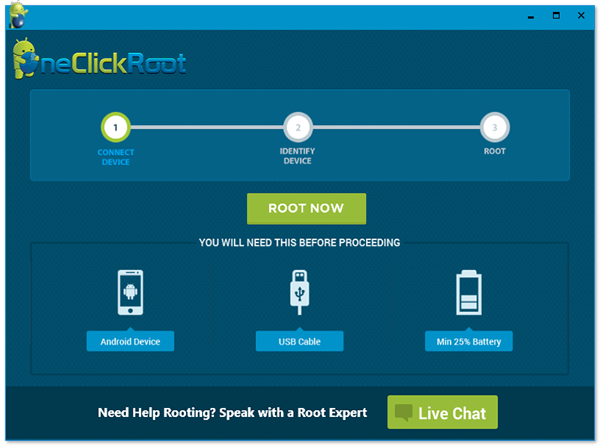 2. Kingo Root
Kingo Root is a potent program that can be used to root Android with or without a computer. This rooting tool has a relatively high success rate has it comes in both PC and APK versions. And it also comes with the Kingo SuperUser application for managing your rooted smartphone or tablet.
Download Link: https://www.kingoapp.com/
Pros
- Fully compatible with Android OS from 2.3 to 7.0.
- Completely free to use.
- Simple, risk-free and easy to use.
- Enable to remove the root anytime.
Cons
- Lack of unrooting function.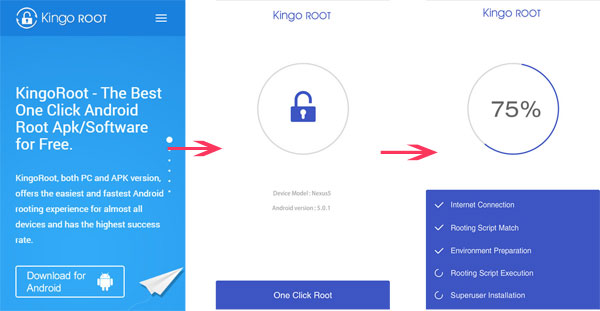 3. SRSRoot
SRSRoot is a super-effective rooting tool that makes use of various exploits so as to provide your Android device with reliable root access. The Windows computer based root tool also provides you with the ability to remove root functions (unroot your device) in a single click.
What's more, SRSRoot provides you with two distinct methods to root your device, so if the general one doesn't work for you, you can always select a personalized one that is designed to work on your device. Kindly note that the SRSRoot app has a relatively high success rate when used on Samsung devices.
Download Link: https://www.srsroot.com/
Pros
- Root or unroot your Android device as you like.
- Free of charge.
- Provide two ways to root: Root Device (All Methods) and Root Device (SmartRoot)
- Work well with Android OS 1.5 up to Android OS 7。
Cons
- Does not support Android OS 4.4 and up.
4. iRoot
iRoot is a leading program that has been used to root over 227 million Android devices. The root tool application that works in a single click comes in both PC and APK versions. iRoot, which was developed by the XINYI network, is an updated version of vRoot though it now comes with faster-rooting abilities and much better compatibility. This tool compatible with 80,000,000 Android models.
Download Link: https://www.iroot.com/
Pros
- Amazingly high success rate.
- Supports a wide range of Android devices.
- Free of charge.
Cons
- No unroot function.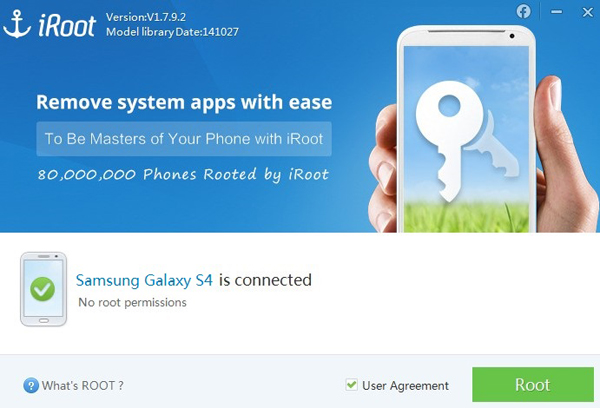 5. KingRoot
You can use the KingRoot program to root your Android device with or without PC. The amazing program that supports over 100000 Android devices on the market. KingRoot is just as effective as iRoot and KingoRoot, and it is lightweight in nature and always works almost flawlessly on all MTK devices.
Download Link: https://kingroot.net/
Pros
- Easy to use and user-friendly interface design.
- Full access will be allowed.
- Speed up phone performance.
Cons
- Warranty will be void.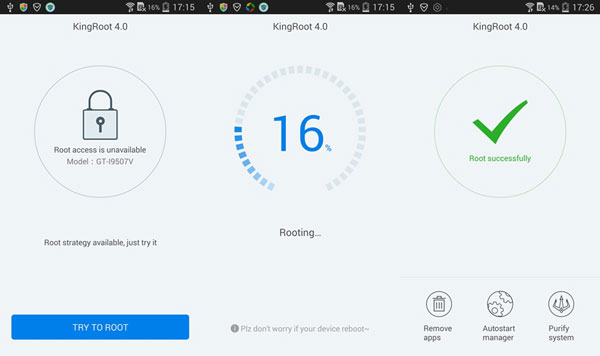 6. Superuser X [L]
This is a super-effective Android app that is specifically designed for experienced users and developers. You should avoid using this application if you are a newbie or amateur. Superuser X provides root access once binary files have been successfully installed on the device. The application is non-intrusive in nature as it does not display pop-ups asking you if you wish to grant root access to a specific application.
Download Link: https://play.google.com/store/apps/details?id=com.bitcubate.android.su.installer
Pros
- Root access is available even after uninstalling the application.
- Provides you with the ability to uninstall the application after installing the relevant binary files.
- Free of charge.
- Give root access without prompting
Cons
- Designed only for experienced developers, not suitable for everyone.
- Only available for Android phones running on ARM processor.
- No GUI provided。
- Free version has ads.
7. Root Genius
Root Genius is a smart rooting tool that was developed by Shuame. This tool works perfectly to root your Android smartphone or tablet and will not install a lot of unnecessary applications on your gadget. Root Genius is a formidable rooting application for various phone brands including Tecno, Infinix, and Wiko just to name a few.
Download Link: https://www.rootgenius.com/
Pros
- Able to flash custom ROM and remove built-in apps after rooting.
- Compatible with Android OS 2.2 up to 7.0.
- Free of charge.
Cons
- Lacks the unroot function.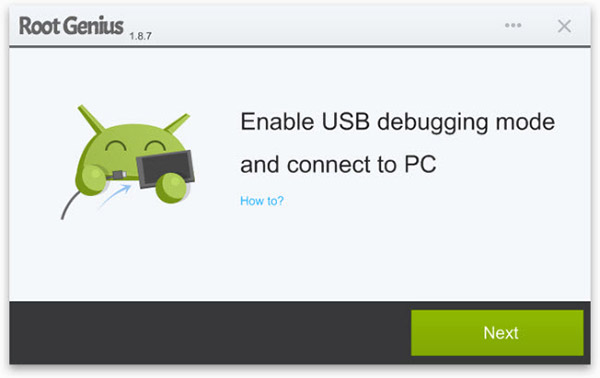 Related Articles:
How to Root Samsung Devices Easily
How to Root LG Devices Completely
Kies Replacement: 8 Best Samsung Kies Alternatives for Samsung Management
Android Backup: How to Backup Android Photos to Cloud?
[Full Guide] 6 Best Moborobo Alternatives to Manage Android Files