How to Root Any HTC Devices in One Click?
Do you want to remove all limitations from your HTC phone? Will you want to custom a ROM according to your own needs? If your answer is YES, then you've been the right place. As you know, smart phones always have lots of right limitations for their users due to various reasons, but sometimes you have to get these rights for specific reasons. Thus, you have to root them for reaching your goal. However, rooting a device manually is not a simple task as you imagine, especially when you're a novice for the internal language of device, so you have to find some external programs as your assistant, and help you root HTC devices easily.
In this page, we could like to recommend two different apps to help you root any HTC devices in one click, you can compare them and decide which one is better according to your own needs.
1. How to Root HTC Devices with KingoRoot App?
2. 1-Click to Root HTC Devices with HTC Quick Root Toolkit?
3. Which Kinds of Devices are Supported?
How to Root HTC Devices with KingoRoot App?
KingoRoot is a popular rooting app that allows users to root all kinds of Android devices from Android OS 1.0 to 7.0. So this tool can help you solve almost all your rooting issues that you may encounter. What's more, this 3rd-party program requires no professional skills for both beginners and experts, so you can follow the instructions to root your HTC devices as easy as 1-2-3.
This tool has two versions: PC version and App version. Here, we'll only take the App version as an example. Please ensure your device is connected to a steady Wifi network.
Step 1. Visit the KingoRoot official site, and download the Apk file on your device directly. Then follow the instructions to install it on your HTC device as you like.
Step 2. Launch the Apk file on your device and you'll see a button of "One Click Root". Just click it and wait for a little while.
Step 3. When you see an interface that shows you "Root Succeeded", you can unplug your device and restart it. Then you can custom your device as you like.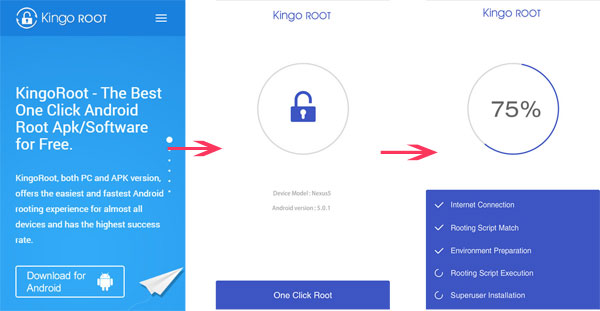 See Also:

How to Root Samsung Devices with CF-Auto-Odin

How to Root Huawei Devices with 1 Click
How to Root HTC Devices with HTC Quick Root Toolkit?
If KingoRoot is an all-in-one rooting tool for Android users, the HTC Quick Root Toolkit could be the one that is specially designed for HTC users. But the process is little bit trouble than the above one. So if you fail to root your HTC phone or tablet by the first method, you can take this one into consideration. Now, let's start the whole process.
Step 1. Download and install this program on your computer from the below link, then extract the file to another separate folder.
Download link: https://forum.xda-developers.com/showthread.php?t=1870652
Step 2. Go to "Settings" > "Power", then select disable "Fastboot" on your device. Now, please open USB debugging on your HTC device. If you don't know how to enable it, please go to here.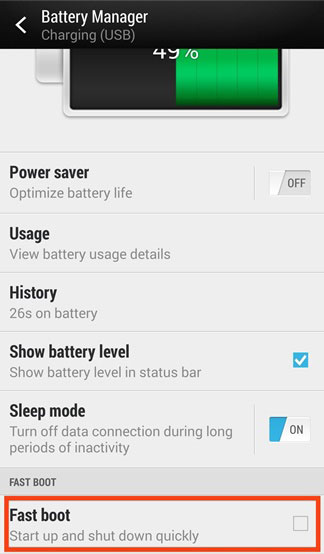 Step 3. Now, you can connect your phone to computer with USB cable, and launch the HTC Quick Root Toolkit on your PC. When your device is detected by the program, you'll see an interface like below: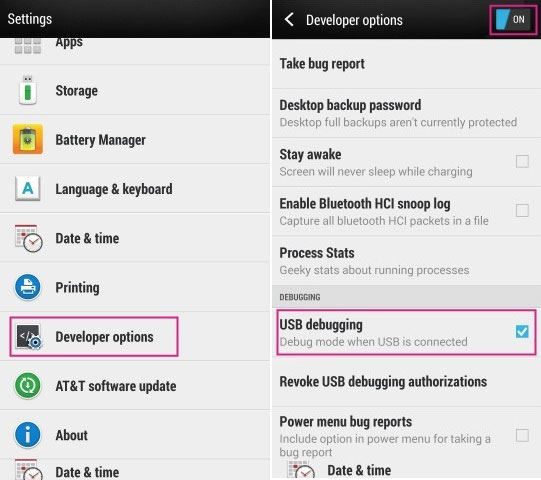 Step 4. Here, you can click "Insecure Boot" or "Universal Exploit Method" to root your device. After choosing one method, you can click "Root" button and follow the on-screen commands, then wait for the end of rooting.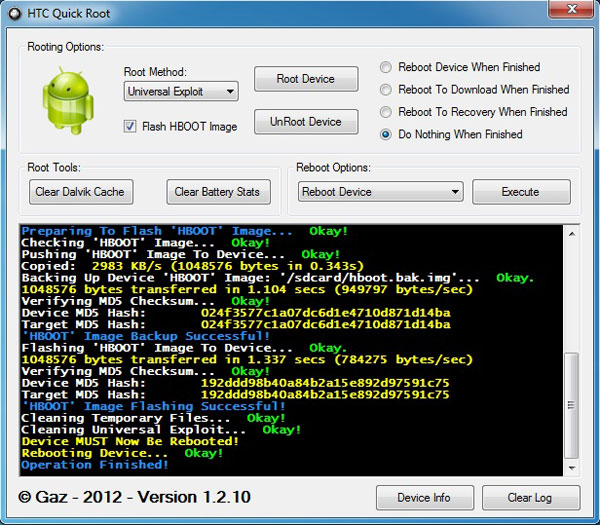 Which Models are Supported by These Methods?
Supported HTC Devices
Note: The methods recommended in the above can be suitable for almost all HTC models, and the Kingo Root app also can be used with other Android brands, like Samsung, Motorola, LG, etc. If you cannot root your HTC phone by using the above solutions, please connect our support team via email: support#mobikin.com (replace # with @)
HTC
A3232, myTouch 4G Slide, X315e, 001HT, A3360, A3366, A3380, A510b, A510c, A510e, A6277, A6363, A6367, A6380, A7272, A8180, A9191, A9192, Abyzou by ikxdf, ADR6300, ADR6325, ADR6350, ADR6400L, Aria, Aria A6380, C510b, C510e, clay's SuperBad 3G, click, Dark Unicorn, Resurrected v 2
Desire, Desire C, Desire CDMA, Desire HD, Desire HD A9191, Desire S, Desire S S510e, Desire V, Desire Z, Diamond 2, Dream, Dream Sapphire, Droid DNA, Droid Eris, Droid Incredible, Droid, Incredible 2, Eris, EVO, EVO 3D , EVO 3D X515a, EVO 3D X515m, EVO 4G, EVO Shift 4G, Flyer, Flyer 4G, Flyer P510e, Flyer WiFi, generic vortex, Gingerbread on Dream, Gingerbread on Sapphire, Glacier, Gratia A6380, GT I9300, HD2 Desire HD
Hero, Hero 200, IceBread, Incredible, Incredible 2, Incredible 2 HD, Incredible S, Inspire 4G, Legend, Liberty, Magic, Magic Dream, Merge, MSM, myTouch 3G Slide, myTouch HD, MZP PHONE, Nexus One
One S, One T320e, One V, One V CDMA, One X, One X LTE / Edge, One XL AU/ Edge, One XL EU / Edge, One XT, P510E, P512, P515E, Panache, PB99400, PC36100, PG06100, PG86100, Plain Biff Dream, Rhyme, Rhyme S510b, Runnymede, S170d, S510b, S510e, S710E, S720e, S720t, Salsa, Salsa C510b, Salsa C510e, Sapphire, Sapphire Dream
Sensation, Sensation 4G, Sensation XE, Sensation XL, Sensation Z710a, Sensation Z710e, SilverStone Sensation XE V341, T Mobile G2, T Mobile myTouch 3G, T Mobile myTouch 3G Slide, T Mobile myTouch 4G, Tattoo, ThunderBolt, ThunderBolt 4G, ViewPad 10e, Vision, vivow
Wildfire, Wildfire S, Wildfire S A510b, Wildfire S A510e, Wildfire S A515c, X325E / X325S, X515, X515a, Z250E, Z320E, Z520E, Z710a, Z710e, Z710t, Z715a, Z715e, etc.
Related Articles:
How to Check Whether Your Android Devices is Rooted or Not
Top 7 Apps to Root Android Devices Online
HTC Data Recovery - How to Recover Deleted Data from HTC Phone?
[Solved] How to Recover Deleted Photos/Videos from HTC One/M/Desire/U12/U11?