Best Root File Manager to Help You Manage Rooted Android Devices
Rooting your Android device provides you with unlimited access to your smart phone or tablet's operating system. You can easily use these newly acquired administrator privileges to bypass the various restrictions that had been put in place by your Android gadget's manufacturer. It is possible for you to do anything you want with your handheld gadget including flashing custom ROMs, uninstalling the bloatware that came with your device and blocking unwanted ads among others once you have successfully rooted your device.
File managers are essential apps that can be used to locate your downloads, browse your Android gadget's internal files, move and replace files and even manage your gadget's internal storage space. There are conventional file managers that can be used on any device while there are others that are best used on rooted smartphones or tablets. This article is going to introduce you to some of the best root file managers that you should be aware of.
Read Also:
How to Root Samsung Devices with CF-Auto-Root in Odin
Top 6 Root Apks for Rooting Android without PC
Top-notche Root File Manager for Android
1. Solid Explorer (Free/$1.99)
Solid Explorer is a "solid" root file manager that has been growing in popularity at a rapid rate. Apart from its standard file management features, Solid Explorer provides easier integration with various leading cloud storage solutions like OneDrive, Dropbox and Google Drive.
You can use the app's Chromecast support feature to send your favorite media files on your television. All your private files can be easily protected using Solid explorer thanks to the root file manager's file encryption technology. The potent root file manager can be used to zip and extract various files including ZIP, TAR, RAR, 7ZIP. Major network file sharing protocols like WebDAV, SFTP, SMB/CIFS and FTP are also supported by the app.
Download Solid Explorer from Google Play Now >>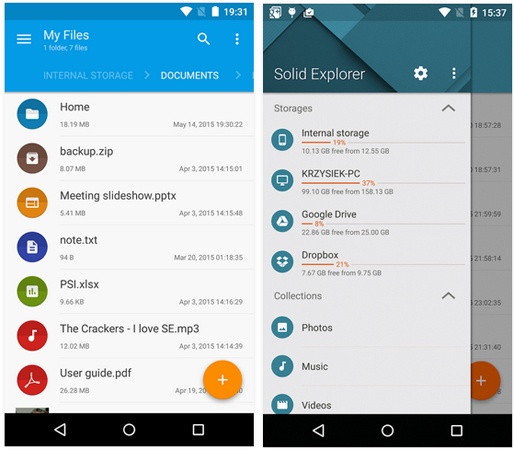 2. Root File Manager
This is considered to be the best file manager for all rooted Android devices. You can use the Root File Manager Pro app to explore your smartphone or tablet's entire file system with incredible ease, thus; take full control of your rooted Android device. Root File Manager Pro can be used to compress and decompress ZIP files, create and delete all types of file directories, rename, copy, move and even delete files and folders and send and share files among other functions.
This is definitely a must-have file manager for any developer, amateur or newbie who has rooted his or her Android device.
Download Root File Manager from Google Play Now >>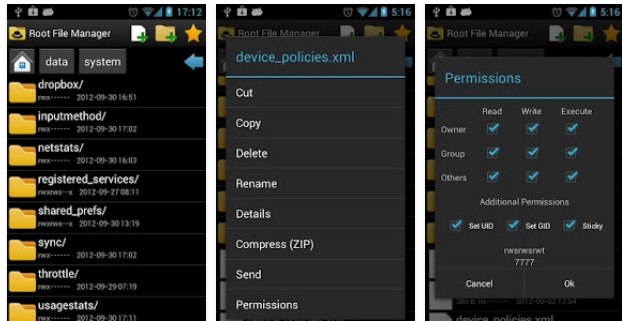 4. FX File Explorer (Free/$2.99)
FX File Explorer can be used to view pictures, play audio and video files and even share files apart from its conventional file management properties. The popular root file manager also comes with some really cool gestures and app customization features that you are likely to fall in love with.
FX File Explorer's "Split Window Mode" can be used to easily drag and manage all types of personal and system files. The root file manager also comes with various essential downloadable add-ons. The most common ones are those for root support, network file management (WebDAV, SMB, FTP, AND SFTP) and cloud storage sync support (SugarSync, Dropbox, OneDrive and Google Drive).
Download FX File Explorer from Softonic >>
5. Total Commander (Free)
Total Commander has been a very popular root file manager due to its super-impressive advanced features for a very long time now. The highly rated Android app contains pretty much everything you would ever need in an effective file manager. Total Commander provides cloud storage support, root support, network storage support, bookmarks, and plugins support among other crucial features.
The root file manager also has a distinct split window mode that makes it very easy to copy, paste, compare and even delete system and personal files and folders. Total Commander, despite its fairly disappointing user interface, is an effective root file manager that is guaranteed to provide you with features that most paid apps lack.
Download Total Commander from Google Play >>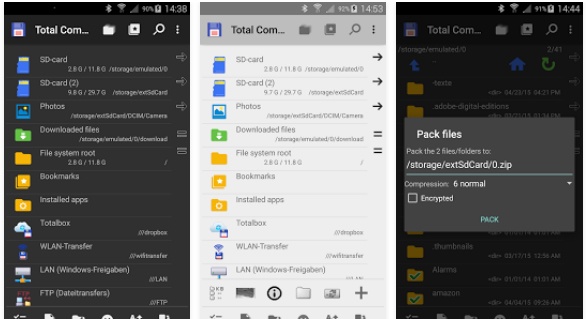 6. Root Explorer ($3.99)
This is a super effective file explorer that was designed specifically for managing rooted Android devices. Root Explorer lacks most of the traditional file management features being offered by other apps discussed in this guide on the best root file managers. It instead offers a lightweight, root-friendly experience.
The unique root file manager comes with numerous root-specific features including APK binary XML viewer, SQLite database viewer, a text editor (for editing build.prop files) permission changing and tar support. Root Explorer, which has a very good rating can be used to access the entire Android system including the much elusive data folder.
The highly effective root file manager also offers complete SMB and cloud storage support.
Download Root Explorer from Google Play Now >>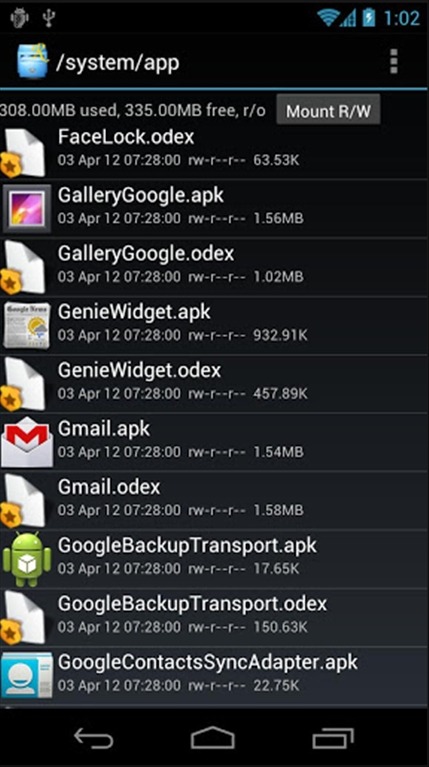 7. ES File Explorer Pro ($2.99)
You should avoid using the free version of this app at all costs as it is very buggy, contains various intrusive advertisements and lacks most of the crucial features offered in the paid (pro) app version. ES File Explorer Pro is considered to be the "kitchen sink" of all Android file browsers. This is because the highly beneficial app can be used to do literally all Android file management operations.
ES File Explorer Pro contains network storage support (WebDAV, FTP, and SMB), cloud storage support (SkyDrive, Amazon S3, SugarSync and Google Drive), text viewers, permission management features and a recycle bin among others.

8. Amaze File Manager (Free)
Amaze File Manager is a relatively new Android app that has already made a name for itself in the root file management field. Despite being an open source (free) app, Amaze File Manager contains all the essential file management properties. The app contains an inbuilt file app manager that can be used to uninstall even stock apps, share FTP and SMB files and even compress and decompress ZIP files.
You can easily bookmark folders and even view your favorite media files straight from this third party Android root file management app.
Download Amaze File Manager from Google Play >>
Organize or Manage Android Root File Manager at Ease
After viewing the above apps, you can try to download some of them on your Android device for a trial. But how about managing these differetn root file manager or other apk files in a super fast way? Here, I could like to recommend MobiKin Assistant for Android or Assistant for Android (Mac version) for your reference. It is not only a good-performanced root app manager program, but also works well as a nice root file manager program. That's means you can use the program to mangage your rooted Android data as you like.
Related Articles:
Is My Phone Rooted? 7 Effective Methods to Check if Your Device is Rooted
How to Transfer Text Messages from Android to Computer? [2023 Updated]
3 Ways to Recover Deleted Contacts from Android (#1 is Awesome)