How to Root Samsung Galaxy Devices with CF-Auto-Root in Odin?
Rooting an Android device can help you do more things than the device can do, and it is also may the only chance to find back lost data on Android when you find something is lost. So learning how to root an Android device is an essential yet important lesson for every Android users. However, as is known to all that there are too many Android brands and models on the market, and the upgrade of Android OS is also happened frequently, thus you can't find a rooting tool or method can suit for all Android devices.
Generally speaking, rooting can be an easier but also difficult thing for almost all Android device users due to the wide range of models, OS and brands on the market. And in most cases, people can easily find a 3rd-party tool like KingRoot, iRoot, Root Genious, etc. to help them root Android device that are running on an Android OS lower than 4.4 well. But referring to the device that are running on an operating system above Android OS 4.4, these handy tool seems to be useless. Therefore, in this page, we could like to focus on all kinds of Samsung devices, especially the device that are running on the system above Android OS 4.4, and show you an all-in-one solution for rooting them as easy as 1-2-3.
Can't Miss:
Top 6 Root Apks for Rooting Android Devices without PC
How to Root Samsung Galaxy Devices - Before You Do It
Obviously, you can't achieve it without any help. So a rooting tool called CF-Auto-Root in Odin comes here as your life saver. This tool allows you to root almost all models of Samsung devices, except for the ones that are bootloader locked like those of AT&T and Verizon. So before rooting the Samsung device you have, you need to check several things as follow:
1. Figure out the correct model of your Samsung devices, and Download, install CF-Auto-Root file on your desktop computer. Please be noted that CF-Auto-Root will take a while to appear for a new Galaxy device in the linked page, so no matter what kinds of Samsung Galaxy device that you're using, you can find corresponding file package here.
2. Make sure the power of your Samsung device is not less than 80 percent.
3. Make a backup of everything that on your Samsung devices. This will greatly reduce the rate of losing data during the rooting process.
Attention: It should be noted here that Samsung includes a flash counter on its devices. That's means if you root it and flash anything on it, then you wish to return it to the factory for repair, Samsung might refuse your claim due to modifications being made that are not covered under warranty. But if your Samsung device is out of the date of warranty, then this issue will never trouble you.
See Also: Full Guide of Super Root APK
Steps on Rooting Samsung Galaxy Devices that are Running on Android 4.4 or Above
To begin with, you need to download Samsung Odin software, Samsung Mobile Device Drivers and the Chainfire Auto-Root file for your device. Below is the device for these tools:
- Samsung Odin software (www.odindownload.com/)
- Samsung Mobile Device Drivers (Go to the page of downloading Android drivers to find the site to download your Samsung drivers on the PC, or copy and paste the link of https://developer.samsung.com/technical-doc/view.do?v=T000000117#none to download drivers for Samsung.)
- Unzip the Chainfire Auto-Root file that you've downloaded in the preparation steps.
Now, you can follow the below steps to begin your own Samsung rooting process.
Step 1. Hold down the Home, Power and Volume Down buttons until your device goes into its download mode. Then you can run Odin on your PC and connect your Samsung Galaxy devices to the computer with USB cable.
Step 2. When the Odin window shows you a message of "Added!!", then it means the connection is okay now.
Step 3. Click on the AP tab on Odin window and select the CF Auto Root.tar file that you unzipped earlier. Check the option of Auto-Reboot and F.Reset Time, then uncheck the option of Re-Paratition.
Step 4. Click the "Start" button to begin the rooting process and wait for the end.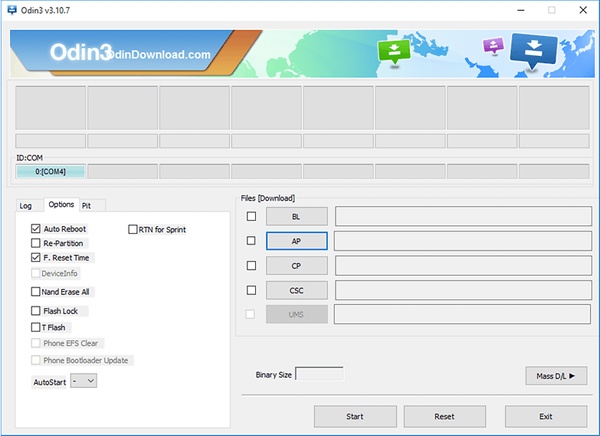 Congratulations, you've rooted your Samsung Galaxy devices and now you can disconnect the device to the computer as you like.
Which Models Are Supported by the Program?
Supported Samsung Devices
Note: CF-Auto-Root have been tested that can supports a large amount Samsung devices and models. You can check and use it to root your Samsung devices as you like. What's more, we also find that it can support some models of Motorola, HTC, Google, ASUS, LG, Huawei, etc.
Samsung

GT I9500, I9505G, I9506, I9507, I9508, I9515, I9515L, I9300, I9300I, I9300T, I9301I, I9301Q, I9305, I9305N, I9305T, I9200, I9205, I9260, I9295, I9190, I9192, I9195, I9195L, I9195H, I9195T, I9197, B5330, B5330B, B5330L, N5100, N5110, N5120, N7100, N7100T, N7102, N7105, N7105T, N8000, N8010, N8013, N8020, P3100, P3110, P3113, P5100, P5110, P5113, P5200, P5210, P5220, etc.
SGH I317, I497, I727, I747, I257M, I317M, I337M, I467M, I747M, I757M, M819N, M919, M919N, T779, T889, T999, T999V, Galaxy Nexus, etc.
SM C105A, G900AZ, A3000, A3009, A300F, A300FU, A300G, A300H, A300M, A300Y, A300YZ, A310F, A310M, A310N0, A5000, A5009, A500F, A500F1, A500FU, A500G, A500H, A500K, A500L, A500M, A500S, A500Y, A500YZ, A510F, A510K, A510L, A510M, A510S, A510Y, A7000, A7009, A700F, A700FD, A700H, A700K, A700L, A700S, A700YD, A710F, A710K, A710L, A710M, A710S, A710Y, A8000, A800F, A800I, A800S, A800YZ, A9000, A9100, C101, C105, C105S, C111, C1116, C111M, C115, C1158, C115M, C115W, E500F, E500H, E500M, E7000, E7009, E700F, E700H, E700M, G360F, G360FY, G360G, G360GY, G360T, G360T1, G361H, G361HU, G3815, G386T, G5108, G5108Q, G5109, G5306W, G5308W, G5309W, G530BT, G530F, G530FZ, G530H, G530M, G530P, G530R4, G530T, G530W, G530Y, G531BT, G531H, G550FY, G7102, G7105, G7105H, G7105L, G710K, G710L, G710S, G7202, G730W8, G7508Q, G7509, G750F, G750H, G800F, G800H, G800M, etc.
SC 01F, 02E, 02F, 03E, 04E, 04F, 04G, 05G, 06D, etc.
SCH I535, I545L, I605, I959, R530C, R530U, R890, R950, R960, R970, R970C, R970X, etc.
SHV E140K, E210K, E210L, E210S, E230L, E230S, E250K, E250L, E250S, E300K, E300L, E300S, E310S, E330K, E330L, E330S, E370K, E470S, etc.
SHW M440S, M480K, M480S, M480W, M500W, etc.

HTC
Nexus 9
Motorola
XT1031, XT1032, XT1033, XT1039, XT1052, XT1063, XT1064, XT1068, XT1069, XT1072, XT1078, XT1085, XT1092, XT1093, XT1094, XT1095, XT1097, G3, G3-TE, Nexus 6, etc.
LG
Nexus 4/5/5X
ASUS
Nexus 7
Huawei
Nexus 6P
NVIDIA
SHIELD Tablet
Google
Yellowstone
Click here to learn all supported devices of CF-Auto-Root program.
Related Articles:
Ultimate Guide on How to Transfer Contacts from Android to Android
How to Transfer Contacts from Android to iPhone? (4 Quick & Safe Ways)