Full Guide of Super Root APK [Helpful Tutorial]
What is Super Root APK?
Super Root APK is the best rooting app, free and without any risk whatsoever for the user. Technology is advancing and any user will always look for best app available. Super Root APK is considered currently as the best updated rooting app available. It is faster and easier way for rooting android devices with much more comfortably. With Super Root APK, you are just away from just one-click root on an android device to root it. Super Root APK makes rooting easier and safe in any possible way. Positive feedback from users indicates that the software will make android devices much smarter and also make users complete master of android devices.
But what is rooting? It's a process which helps Android device users to get the root of their devices. Thus it is an experimental process to which deals with devices operating system and can remove system apps, customizing it or make changes in the system files. It is important to know how to root your phone, advantages and disadvantages associated with it before trying it.
Key features of the "Super Root APK" that will make you need it
- The app is very safe for uses to have in their Android devices.
- Super Root APK is free for life. There are no charges whatsoever for this app and you have full access of any recent updated version free of charge.
- Users enjoy rooting experience in simple way because it is easy and faster, one-click root software.
- After years of continuing and constant development and researching is trusted app in the market.
- The updated version has solved previous version problems and it is also updated frequently.
- Recent versions support languages of English, Russian and Portuguese.
- It is compatible with almost all android models belonging to different manufactures such as HTC, Sony, Nexus, etc
- It is also compatible with Operating System of Windows.
- Compatible with Android version from Android 1.5 to version 5.0.
- The overall performance of this app will increase due to this app.
How to Use Super Root Apk by Yourself?
Actually, you can choose to download this Apk file on your Android phone or Windows computer as you like. Generally speaking, rooting Android with Super Root Apk on the device could be a little bit easier than on the desktop computer, but lots of people still refer to install Super Root Apk on Windows computer for higher success rate because it integrates more rooting scripts. Below is the detailed steps:
Step 1. Download Super Root software on your Windows computer, then launch it. After that, you can use a USB cable to connect the device you wish to root to the computer.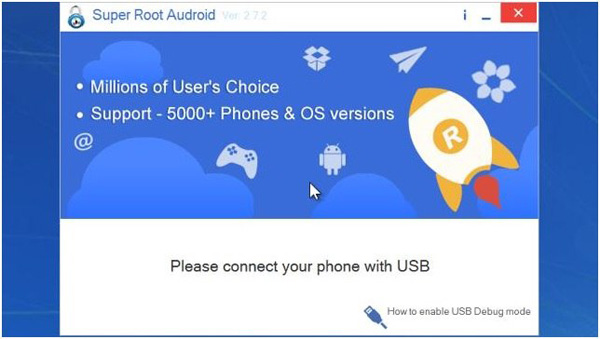 Step 2. When the device is detected by the program, it will inform you that the device is discovered and ready for use. Then a window will ask to root the device.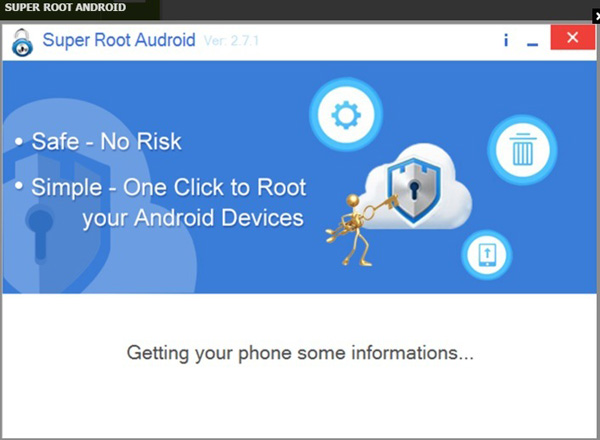 Step 3. Click "ROOT" and start rooting while ensuring the device is not disconnected at any point of rooting and ignore when the device automatically reboots.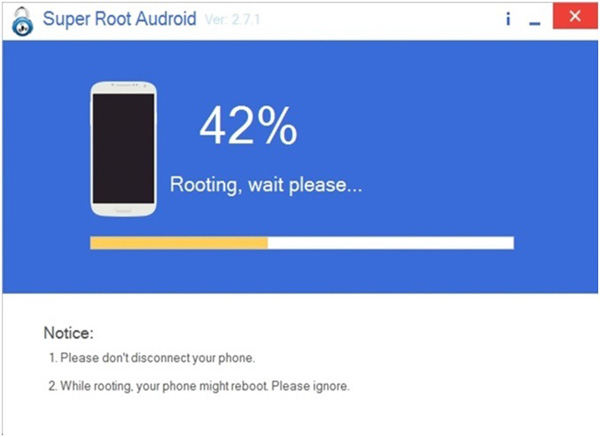 You should be patient and wait for it to finish and deliver results.
What is the Performance of Super Root APK Does to Your Device After Rooting?
1. It will increase you device internal memory without any issues.
2. It boosts your overall device performance especially while multi tasking or when playing games.
3. Increases your device battery life.
4. Rooting will also help you customize your phone with some others like Xposed modules Gravity Box etc. And you will feel like your device look new.
Advantages of Super Root APK
- Its trusted software Free of any possible threats and risks for any Android device.
- APK has easiest interface having multiple screens and functions make it very easy and convenient to use.
- You can root your device without connecting to the computer makes it even simple to use.
- Compatible with many android versions from 1.5 to latest version 5.0
- Super root APK has included ability to un-root hence make it convenient for user to un-root when not satisfied with performance.
- Can be useful for a user who is a beginner or inexperienced to the rooting app or an android device.
- With use of rooting through window Complication of any scripts is removed.
- Have simple Instructions for launching and installation and rooting are very easy and convenient.
- The APK do not cause any inconvenience to the internal memory of the Device it even increases device internal memory.
Disadvantages of Super Root APK
- If the rooting isn't done with caution or if any wrong step is performed, then the user might find some problems for their Android device.
- You must make sure you have backed up data when rooting because during the process, data loss may also occur.
- Terms and conditions be it implied or expressed shows that when you root Android device it automatically kills off the warranty.
- After or when rooting the device a number of random reboots can occur automatically without approval by the user hence sometimes you have no control of the process.
- It is important to note that rooting does not improve the User Interface of the Android Device but enhance the performance.
Related Articles:
How to Recover Deleted Text Messages on Android
How to Recover Deleted Contacts from Android
Wanna Transfer Gmail Contacts to iPhone? Means are Here!
How to Back up Your Android Phone to PC in 2023?
Best 10 Android Desktop Managers to Manage Your Android Devices on PC/Mac