Wanna Transfer Gmail Contacts to iPhone? Means are Here!
Gmail, a free and advertising-supported email service, is developed by Google. To use this service, what you need is just an available mobile phone or a computer connecting to a usable network. If you have a web-enabled Android mobile phone/iPhone or computer, you can access the program and send email to the contacts within or not within the contact list on it. Meanwhile, you are also able to send emails to yourself to backup some important files like contacts to your Android phone or iPhone in this program.
Then some users may ask:" How to sync these Gmail contacts back to iPhone so that they can manage them more easily and effortlessly?" In order to help you solve this issue, we will provide two methods to move Gmail contacts to iPhone in this article and you can pick up one to have a try.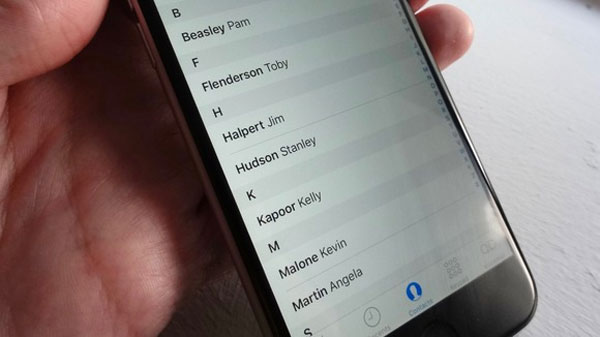 1. Use CardDAV to Move Gmail Contacts to iPhone
You have no need of installing any third-party software by using this way but you should make sure that the internet you used is available and stable. Actually, this method is not so difficult but it is time-consuming. So, please be patient after starting the moving process. Now let's see how to copy the Gmail contacts to iPhone manually.
Step 1. Click on "Settings" on the iPhone screen and then go to "Mail, Contacts, Calendars" option. Next tap on "Accounts" under this folder and then choose "Add Account"> "Google".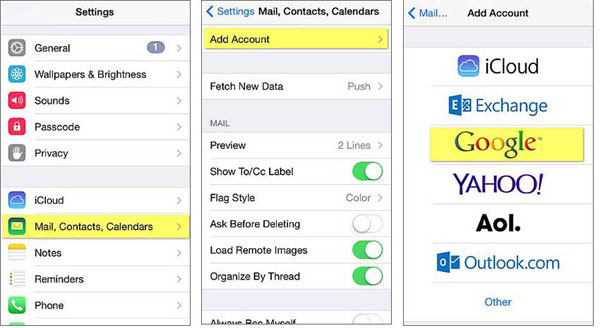 Step 2. After that, click on "Add Card DAV Account" and a window of CardDAV will be opened. Here you need to fill in the detailed information of the Gmail account you used like server, username, password and description as below.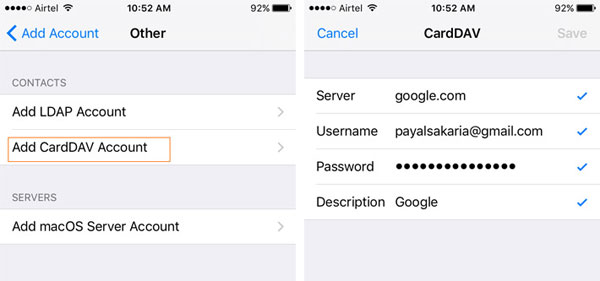 Step 3. Finally tap on "Save" at the top right corner after finishing the filling and enable Gmail "Contacts" by slipping the sider to complete the operation.
Now you can open the Contacts on your iPhone and you will find that the Gmail contacts are moved to your device already. This means is not complex but you have to transfer the whole contacts rather than selected contacts to your iPhone contacts. Therefore, you might get some duplicate contacts in your iPhone contacts list.
See also:
How to Transfer Contacts from SIM Card to iPhone 14/13/12/11/X/8/7/6?
How to Sync Contacts with iPhone 14/13/12/11/X/8/7/6?
2. How to Copy Gmail Contacts to iPhone on Computer
Another Way is to copy Gmail Contacts to iPhone from the computer. It sounds that this method would be more difficult cause you need to move the contacts to computer at first and then use a third party software to transfer the contacts from PC to iPhone. But don't worry. Just follow the following details and you can finish the process without hassle.
Step 1. Head to the Gmail website on the browser and then you need to sign in to your Gmail account.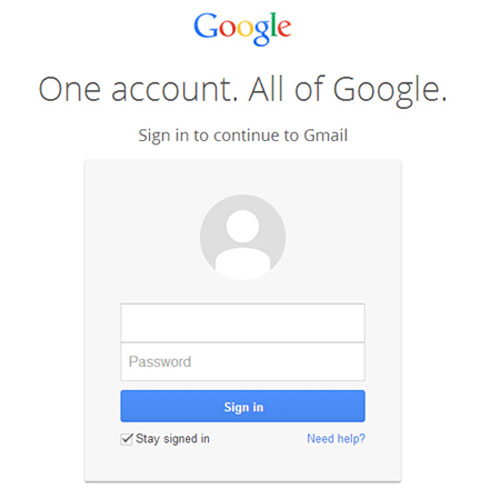 Step 2. Tap on the drop-down menu at the top left corner of the window and then select "Contacts" from the list.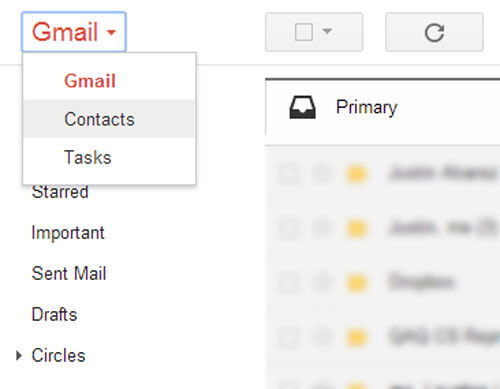 Step 3. Next, click the "More" option below the Google search bar and hit "Export...". And a popup will appear.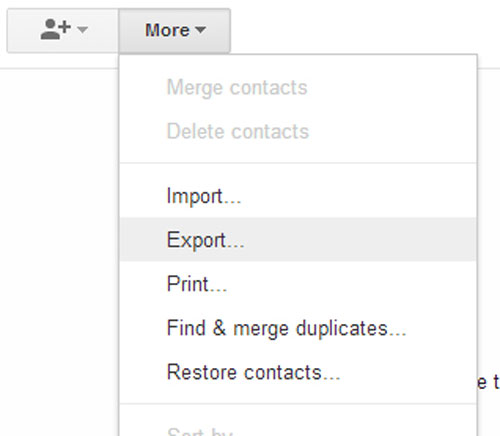 Step 4. The pop-up window will ask you "Which contacts do you want to export". Just select one of them and then select to export them as vCard format (for importing into Apple Address Book or another application). After making the selections, hit "Export" to move the contacts to your computer.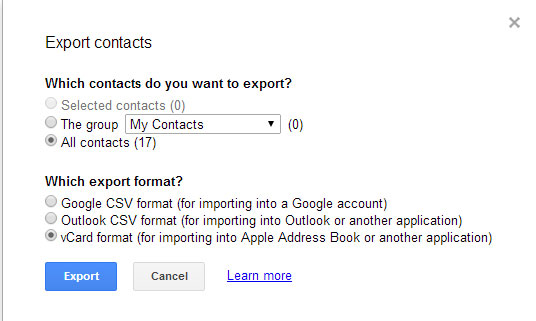 Step 5. Then you need to transfer these contacts from computer to iPhone. In this case, you can use iPhone Data Transfer to help you accomplish the process quickly.
- Use USB cable to connect your iPhone to the computer. Then launch the program on your computer and it will detect the connected phone automatically.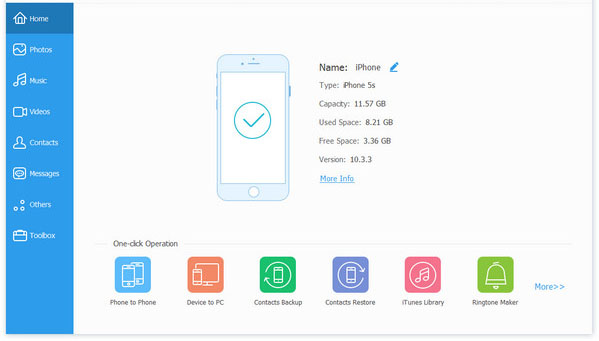 - After that, several categories will be listed on the interface. Just tap on the "Informations" and elect "Contacts" under this folder to enter it and preview the contents of it. Next click on "Import" option and then choose "from vCard file". And you need to select the contacts that you want on your computer to sync them to your iPhone easily.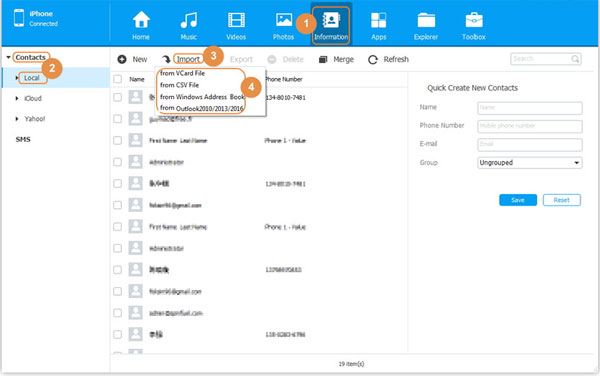 Done! You can view and use the Gmail contacts on your iPhone now. And also, if you want to know the way to move iPhone contacts to Gmail, you can go here to learn more about it.
Related Articles:
How to Sync Facebook Contacts with iPhone Easily?
Easy Way to Transfer VCF to iPhone 14/13/12/11/X/8 Plus/8/7/6S/6
[2023 Updated] How to Transfer Notes from iPhone to PC/Mac?
Extract Notes from iPhone Backup File on PC/Mac
How to Recover Deleted Notes from iPhone 14/13/12/11/11 Pro/XR/X?