How to Clear Autofill on iPhone 14/13/12/11/XS/XR Completely?
iPhones are increasingly getting smarter by the day, thus; helping us to easily carry out various popular day-to-day tasks like surfing the Internet, listening to music, taking photos, communicating with loved ones and watching videos among others. There are numerous iPhone features that are not that easy to do away with despite their obvious flaws and potential risks primarily due to their addictive nature. The advancement in iOS and Android smartphone and tablet technology has also seen the rise of malicious individuals who may take advantage of unsuspecting technology lovers to steal their personal information among other fraudulent criminal activities.
This article on how to clear autofill on iPhone is going to entirely focus on providing you with multiple ways to effectively address the issue and even eliminate it from its root source (clearing autofill) thus helping you to safeguard your private and highly sensitive information.
Method One: Clean iPhone Autofill with Safari
Method Two: How to Clear Autofill on iPhone with 3rd-party Program
What is Autofill?
Autofill, which has clearly revolutionized how we currently use our smartphone devices, is a popular life-saving PC feature that has been introduced on iPhone, particularly on the "Safari" web browsing application. This automated feature acts as an online form filler that you can use to save your private information, especially the one that you use most often for easier retrieval and typing. You are guaranteed to save a lot of valuable time while using this beneficial feature as it will automatically fill in any familiar details for you while allowing you to focus on other more pressing matters.
The life-saving autofill enables you to store sensitive private information like user names, passwords, and contacts among others. This alone also makes you vulnerable to various security implications, especially when your iPhone falls in the wrong hands. Activating this feature allows any unauthorized personnel with access to your iOS device to log into your personal accounts on various websites, hence; leaving you entirely at their mercy. Apart from that, you may find the autofill feature irritating, particularly when you have multiple user names and passwords that you use for a particular site.
Methods to Clear Autofill on iPhone on PC/Mac
If you use your iOS device mainly for business purposes, if you are not that careful with your smartphone or if you are the type of person who always helps your colleagues with your phone, then it is advisable to clear the autofill on iPhone regularly. Below is two different ways to guide you clean iPhone autofill easily. You can compare them and decide which one is better according to your own needs.
Method One: Clean iPhone Autofill with Safari
Provided below is a step-by-step guide on how to effectively clear autofill on iPhone with Safari. You can also use the information provided in this section to permanently disable the feature on your smartphone.
Step 1. Go to your iPhone's default "Settings" on the Home Screen and scroll down until you come across the "Safari" option and tap on it. Once it has opened, click on the "Autofill" icon.
Step 2. Opening the Autofill section will provide you with the two distinct options labeled "Saved Credit Cards" and "Saved Passwords". You can now proceed to click on either of the two options.
Step 3. Tapping on the "Saved Passwords" option will provide you with a comprehensive list of websites and the various user names saved on them. Simply go to the "Edit" option, select the appropriate data, tap on the "Delete" option and wait. You can also erase sensitive credit card data by selecting the "Saved Credit Cards" option which will give you a list of the credit card information. You can then use the "Edit" option followed by "Delete" to eliminate the credit card data you want to secure.
Here, you can also toggle the "Saved Credit Cards" and "saved Passwords" options to disable them.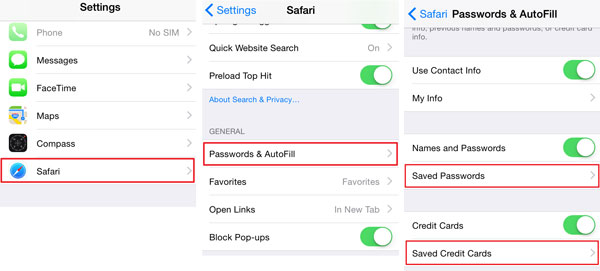 Note: Kindly note that the information provided in this section can only help you to erase sensitive information on the Safari app, there are other popular third party Internet browsing apps like Google Chrome and Opera Mini that also use the autofill apps. You can easily disable this feature on the third party apps simply by going to, the browsers' default settings and erasing all the available browsing cache and data.
Method Two: How to Clear Autofill on iPhone with 3rd-party Program
If you think that it is troublesome and time-consuming to set and clean these iPhone autofill on different browsers, we highly recommend you to ask help from a professional iPhone Data Cleaner program. It always allows users to delete all unnecessary files from iPhone with 1 simple click, and have no requirement of any technical skills for both beginners and experts. Now, let's have a brief look on the simple tutorial on clearing iPhone autofill with the best iPhone Data Eraser software.
1st of all, connect your iPhone to the computer, and launch the program on PC.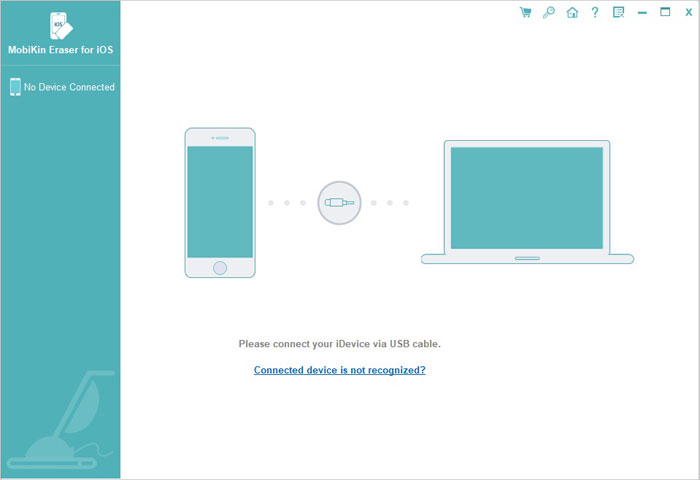 2nd, directly select "Erase Privacy Data" and conduct a deeply scanning on your connected device.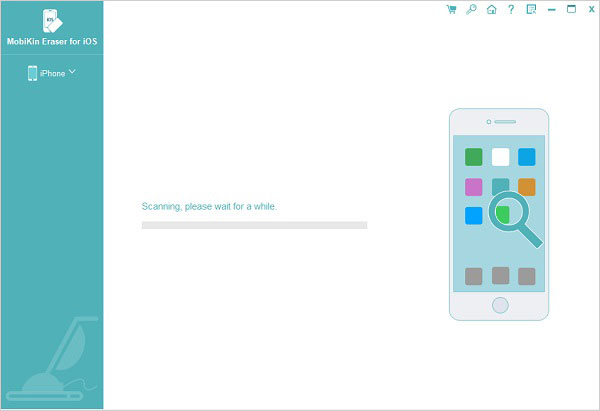 3rd, When the scanning results is shown here, you can select "Autofill" or "Safari History", "Safari Caches", "Safari Cookies" and preview the detailed info as you like. hit "Erase Now" button to remove them out of your device permanently.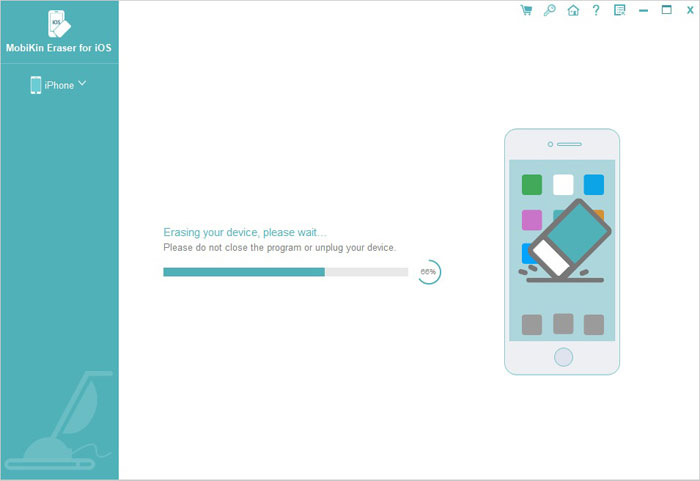 Related Articles:
4 Ways to Permanently Delete Games/Apps on iPhone/iPad
How to Delete Tango Chat History from iPhone