3 Methods to Delete Voice Memos from iPhone 14/13/12/11
A lot of people choose to delete voice memos from iPhone 14/13/12/11/XS/XR to expand storage space, improve device performance, privacy reasons, among others. There are more than a handful of ways to conduct this action, some more effective than others. If you do not want to run into unpleasant surprises while or after deleting voice memos, it is highly recommended to take the following three methods into account. These solutions have garnered countless positive reviews and thus have become the favorites, as they simply work just as you would expect: effectively and quickly.
Method 1. Delete Voice Memos from iPhone Manually
This method is very easy to perform. It only takes a few minutes. There are just three simple steps that you need to follow:
Step 1. Go to your "voice memos" application and then click on it. Once you do, your voice memos will be displayed one by one.
Step 2. In this step, you are going to tap the voice memos you want to delete.
Step 3. Once you have tapped the voice memos, click on the trash icon that is present below and then confirm deletion process.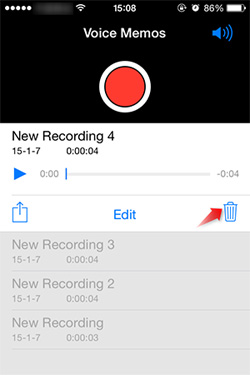 This is all!
More Useful Articles:
Delete Duplicate Music Songs on iPod
Uninstall Unwanted Apps on iPhone/iPad
Method 2. Wipe All Voice Memos off iPhone by Using iFunBox
If you have a meaningful number of voice memos, if will definitely take a long time to delete them manually one by one with the previous mentioned method. If you find yourself in this dilemma, consider downloading iFunBox. Ever since it was introduced to the public, this software has not failed in impressing multitudes, hence why it keeps being downloaded numerous times on a daily basis by iPhone owners around the globe. It is one of the best programs on the market to delete voice memos within a short period of time in an efficient manner, which is something that cannot be mentioned about other programs that supposedly provide the same function.
It is available for free for both Mac and Windows platforms. It is a very easy and fast solution that gets down to business, which is not surprising due to it being developed by experts in the field who are well-known for developing innovative solutions that are extremely helpful. No experience of any kind required to begin benefiting from its function.
Step 1. All you have to do is download, install it, and then connect device to PC utilizing a USB cable.
Step 2. Once you perform this action, open application and click on "Voice Memos", which will be located on the left side.
Step 3. Then, select every file that needs to be removed and then click "Delete".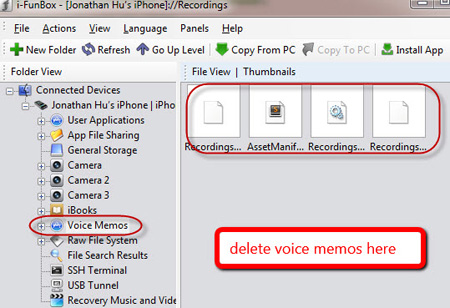 Please note: It is important to highlight that the two methods above do not permanently delete your voice memos. With a recovery tool like iPhone data recovery, you will easily be able to access them again. If you want to permanently delete voice memos on your iPhone, then keep on reading to discover another professional iPhone data erasing solutions that can serve you.
Method 3. Delete Voice Memos on iPhone Permanently with iPhone Data Eraser
This particular software iPhone Data Eraser has garnered a lot of positive buzz due to being able to effectively and promptly delete a variety of different things, including voice memos, contacts, browsing history, keyboard cache, messages, call history, photos, videos, music, calendars, among others. It is a one-of-a-kind solution that will permanently delete everything without any recovery possibility to provide you with peace of mind. It supports both Mac OS X and Windows.
Main features you can enjoy from the iPhone Data Eraser:
- 1 click to permanently erase your iPhone data with zero opportunity to restore;
- Erase selected data in the form of categories, such as contacts, photos, messages and so on;
- Clean up private data with simple clicks and free up spaces on your iDevices.
- Compatible with both iOS and Android device.
Below is the detailed steps of deleting voice memos on iPhone permanently:
Step 1. Download, install and launch the iPhone data erasing software on your computer, then connect your iPhone X, iPhone 8 Plus or other iPhone devices to the same computer with a USB cable. To continue with the steps, you need to trust the computer firstly.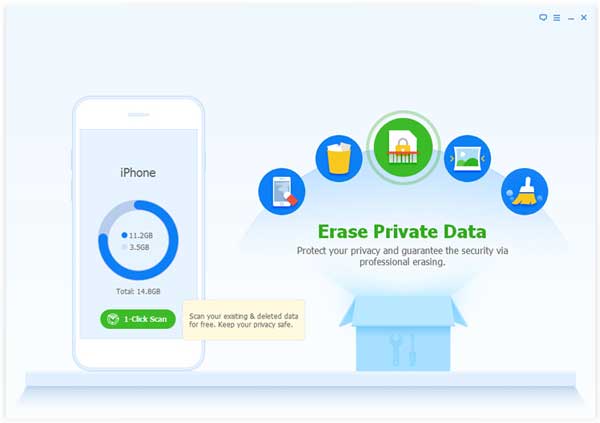 Step 2. Choose the option of "Erase Private Data", and then the program will start to scan for all files on the connected iPhone. After the scan, all the scanned out file types that can be erased by the program will be displayed here in list.
Step 3. Choose "Voice Memos" category and view the detailed voice memos in the right panel. Now, you can mark the voice memos you want to remove from the iPhone and click "Erase Now" button to start the erasing process.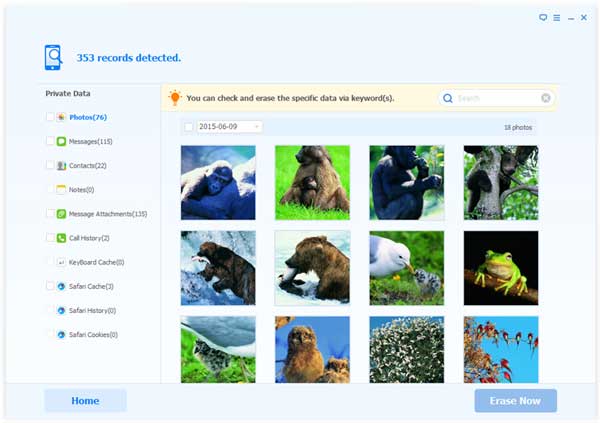 Depending on the number of memos selected, the duration of the deletion process varies. Nonetheless, it will take a short while. Remember that once your voice memos are deleted, no recovery tool will be able to retrieve them; thus, make sure to select voice memos carefully.
Words in the End: Choose What Works Best for You!
Any of the above solutions can delete voice memos from iPhone in an effective manner, but they are not made equal. The manual solution would be a good idea to use if you do not have a lot of voice memos that you want to delete. Let us not forget to mention that this method will come in handy if you do not want to permanently delete voice memos, because you will be able to retrieve them back with a recovery tool. If you have too many voice memos and thus cannot delete them manually, then iFunBox would be your best bet. Now, if you want a permanent deletion to take place, iPhone Data Eraser is the software for you no matter the number of voice memos stored in your device. It is up to you to decide which of these effective solutions best meets your needs. Try them all to decide.
Related Articles:
How to Clear Download Temp Files on iPad
How to Clean up Video Caches from iPhone