Top 10 AirDrop Alternatives to Transfer Files Between Devices [2023]
AirDrop makes it convenient to share photos, videos, music, and more with another Apple device nearby with the aid of Wi-Fi and Bluetooth. But you'll probably want to find an AirDrop alternative if the following occurs:
You have to transfer data from iPhone to Windows 11/10/8/7.
You need to copy Android data to Mac.
Either Wi-Fi or Bluetooth behaves weirdly on your iOS devices.
You have two really old Apple devices.
Well, this post covers the top 10 AirDrop alternatives for Windows/iOS/Android/Online. Just check it out before getting the one that suits you most.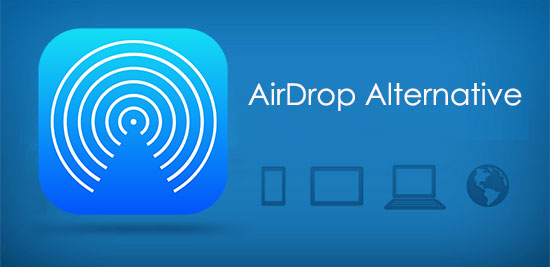 Top 1: Transfer for Mobile - Best Airdrop Alternative
When we are speaking of file-sharing programs, we cannot miss MobiKin Transfer for Mobile (Win and Mac). It is the best AirDrop alternative for Windows/Mac/iOS/Android. Designers have simplified its interface, with which even novices can quickly transfer data between different devices in one click. Again, unlike some other programs, it almost never stops responding or puts you through other unpleasant experiences.
Main features of Transfer for Mobile:
Transfer data from iPhone to iPhone, iPhone to Android, Android to Android, and Android to iPhone.
Data types that can be transferred: Contacts, call logs, messages, photos, notes, music, documents, videos, calendars, books, etc.
Widely compatible with various iOS/Android devices, including iPhone 13/13 Pro (Max)/13 mini/12/12 Pro (Max)/12 mini, iPhone 11/11 Pro/11 Pro Max, iPhone X/XR/Xs/Xs Max, iPhone 8/8 Plus, iPhone 7/7 Plus, iPhone 6/6S/6 Plus, iPod touch, iPad, Samsung, Xiaomi, Google, Motorola, LG, Sony, OnePlus, Huawei, Vivo, etc.
Free trial, easy connection, quick end-to-end transfer, and ads free.
It won't let out your privacy.
How to transfer data from one phone to another with Transfer for Mobile? Here are the simple steps:
When you download the program on a computer, install and open it directly.
Connect your devices to the computer via USB.
Follow the easy instructions on the screen to have the connected phones detected.
After that, ensure the source phone is on the left of the interface, and the other, on the other side.
Click "Flip" on the page if they are wrongly placed.

Choose the data categories you want to transfer.
Tap "Start Copy" to trigger the data migration immediately.
Apply to:
Charge:
See More:
Top 2: Send Anywhere
Send Anywhere, an AirDrop alternative for iOS/Android, can be utilized to share files by uploading them to the server before offering a link to others. This program uses cloud storage to handle items and never compress them. Plus, it makes it easy to transfer data even when the target device isn't physically accessible, unlike some other apps.
Main features:
Many transfer options.
Receive files even if you have no registered account.
Unavailable on some older operating systems.
Apply to:
Windows, macOS, iOS (12.0 or up), Android, and Linux.
Charge: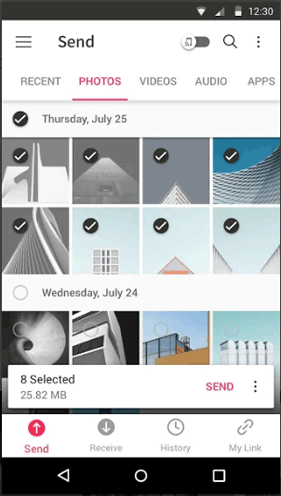 Top 3: Snapdrop
As an open-source utility, Snapdrop works to copy content among multiple phones within the same network. You don't even have to get it downloaded on any platform or go over a dull setup procedure. And by downloading this AirDrop alternative directly, you're enabled to process any number of files without limits.
Main features:
No data is saved on its server.
Web-based tool.
Very simple but slightly basic transfer option.
Apply to:
Windows, macOS, iOS, Android (9.0 or above), and Linux.
Charge: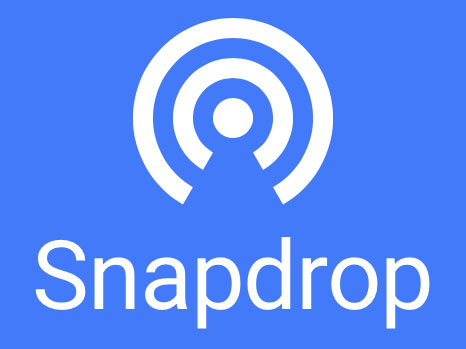 Top 4: SHAREit
Performing its functions in manipulating PPT presentations, SHAREit, lets you browse and organize files on your Android/iPhone, sending multiple files across devices, backing up photos/videos, etc. To use it, please make sure your phones are within the same Wi-Fi (hotspot) network after scanning a QR code.
Main features:
No data limits when using it.
Two hundred times faster than Bluetooth.
Inadequate customer support.
Affect the performance of devices with older systems.
Apply to:
Charge: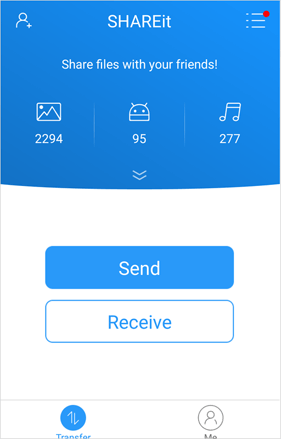 You May Also Need:
Top 5: Xender
Presenting in up to 30 languages, Xender, an outstanding SHAREit alternative, can transfer files and apps at high speed (200 times faster than Bluetooth transfer). This app is compatible with almost all file formats and with no max limits. In addition to copying data without even connecting devices to the Internet, it also comes packed with in-app audio and video players.
Main features:
Easy preview and unlimited file transfers.
Integrated with sleek media player.
Limited user groups.
Apply to:
iOS, Android, Windows phones, PC, Mac (web).
Charge: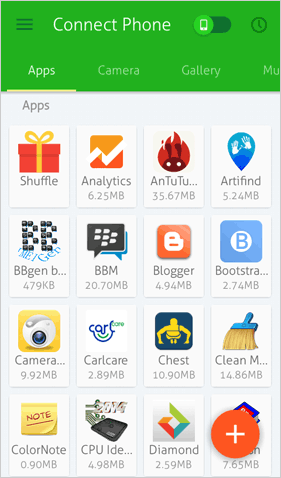 Top 6: Zapya
Like some other apps, Zapya takes good care of your file sharing needs, sharing items of almost any size and format. You can utilize this AirDrop replacement to move data from Android/iOS to PC without mobile data or Wi-Fi. Any of its four sharing ways can migrate a host of files across multiple platforms at 10M per second.
Main features:
Transfer files in a batch.
Device replication.
Upgraded Android/iOS sharing.
Transfer data with the use of bandwidth.
Apply to:
iOS, Windows, macOS, Android, Web.
Charge:
$0 (Frequent pop-up ads).
Paid: Start from $0.98.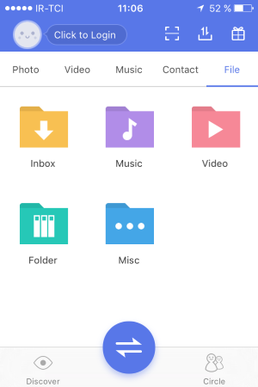 Top 7: Instashare
Instashare, whose name comes from "instant share", plays functions on seamless screen sharing and smooth streaming of media files. This AirDrop alternative works on devices without pairing or passwords before data migration. It shares a text/link or larger files in a short duration. And you can get its trial to use it for free in the next seven days.
Main features:
No cable or Internet is required.
Multiple data types are supported.
Specific restrictions on iOS.
Drag and drop feature.
Apply to:
iOS, Windows, macOS, Android.
Charge:
Free trial.
Ads-free version: start from $0.99.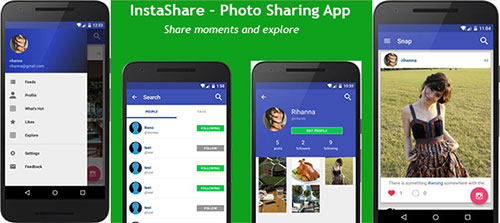 Top 8: ShareMe
Designed by Xiaomi, ShareMe copies files among Android/iOS devices, not limited to this brand, with Wi-Fi Direct. After getting the app installed on both phones, you'll be free to share your photos, videos, music, apps, and more files. Further, this AirDrop replacement also lets you open a computer's web browser and use an FTP server for data migration.
Main features:
No restriction on file size.
Android emulators are required.
Apply to:
Charge: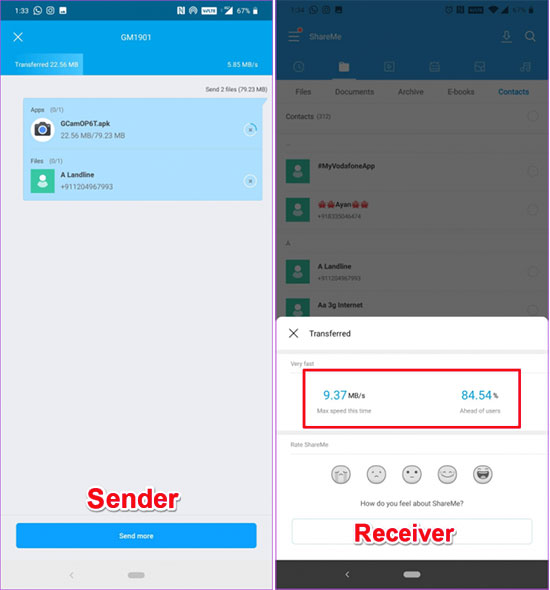 Top 9: Sweech
Sweech is useful for exchanging files with any Android phone, tablet, or computer, covering documents, video, music, images, apps, etc. This app can create an IP address that can be used to enter into a web on any other device. After that, you can preview, download files, or upload them to a phone. When you get its paid version, you'll take it for password protection and encryption.
Main features:
No file size limit.
Deliver device's URL sharing with a QR Code or NFC.
An unlimited number of linked devices.
Compatible with NFC and Android Beam.
Apply to:
Charge:
Free.
Premium: Start from $1.96.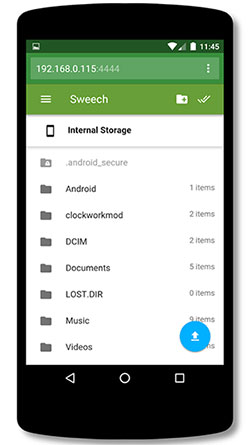 Top 10: EasyShare
Highly praised by its users, EasyShare is a decent file sharing and transferring app, handling photos, videos, apps, etc., with no size limitation. After you copy items to your new phone in one tap, all the file formats like MP4, AVI, JPEG, and APK will stay original. Besides, this AirDrop alternative works with wireless LAN or Bluetooth activated.
Main features:
Work without an Internet connection.
Fast and ads-free.
Fast speed for data migration.
May crash occasionally.
Apply to:
Charge: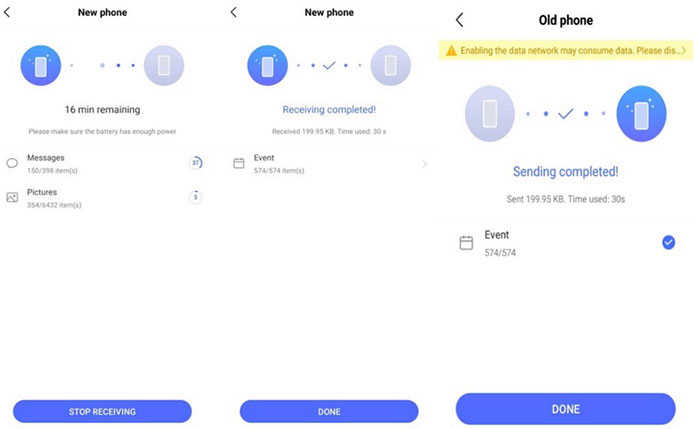 The End
OK, that's all for the most amazing alternatives for AirDrop. Before you try any tool, please take a look at its availability. For example, some products are more suitable for processing data on the web, some are only suitable for Android/Windows, and the rest may only provide limited features in the absence of a subscription.
Honestly, in terms of user experience, MobiKin Transfer for Mobile can be reputed as the "king" of comprehensive cost performance. So, just download the program and try its free trial now.
Related Articles:
Top 6 iTunes Alternatives for Android Phones/Tablets in 2022
Top 11 iExplorer Alternatives for Windows and Mac [Must-read]
How to Transfer Photos from Mac to iPhone? (6 Easy Ways Included)
How to Transfer Ringtones from One iPhone to Another (3 Easy Ways)
iOS Data Recovery Best Practices: No Data Loss Again
iPhone Storage Full? How to Free Up Space on Your iPhone in 11 Tips