Top 6 File Manager for Android to Keep Your Device Organized (2023)
People usually come in contact with different types of file daily. Whether it's a text message, a video clip or your personal calendar, you're bound to create, receive or send a file elsewhere. As such, knowing how to manage these files is necessary. This is where file manager Apps and software for Android come in - they help with easier and more efficient management of different types of file.
If needed, you can also click to get other types of tool:
Thus, it is essential for you to know the best file manager for Android. To make your App and software decision easier and faster today, this tutorial will introduce 6 powerful as well as reliable Android manager tools to you.
#1 MobiKin Assistant for Android (Android Version) - Best File Manager App for Android
Mobikin Assistant for Android (Android Version) is the best free file manager App for Android phone and tablet. This free Android file manager allows you to view, copy and delete the images, music, videos, documents, etc. on your Android phone or tablet with simple clicks. In addition, it helps you to manage your phone Apps with ease - you can force stop and uninstall the applications on your device without hassles. What's more important, the App empowers you to free up and optimize Android device with one simple click.
Apart from being great for the internal phone memory, this file manager can also be used on extra SD cards. It supports to add, copy, cut and remove the files saved in SD card. With it, both the internal memory and extra SD card on your Android can be well organized.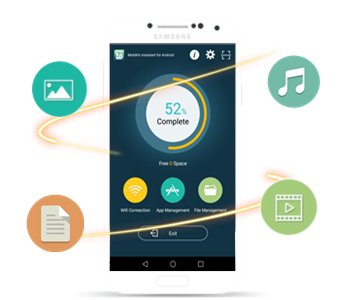 Do you like this Android manager App? If you are, you can click the icon below to directly download and install the free tool to your device. As long as your device is running on Android 2.1 or later Android OS version, you can try this application without any concern.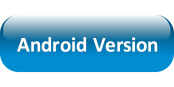 #2 MobiKin Assistant for Android (Win & Mac Version) - Android File Manager for PC/Mac
MobiKin Assistant for Android is one of the best file manager software for Android that helps to keep files safe. It is a professional Android file manager program for PC and Mac computer. With the help of this tool, you are able to manage your Android data on computer without restriction. It is worth mentioning that the features it equips are various and very useful. For example:
It allows you to back up all your Android files and restore them with one simple click;
It supports to transfer files from Android to computer or from computer to Android in simple steps;
You can use it to fully control your Android from PC/Mac, including exporting, importing, adding, deleting and editing files;
The supported file types of this Android manager tool are numerous, including contacts, SMS, call logs, photos, videos, music and many more;
It enables you to take screenshots on Android with just one click;
Compatible with almost Android phones and tablets, such as Samsung, Xiaomi, Huawei, LG, Motorola, HTC, etc.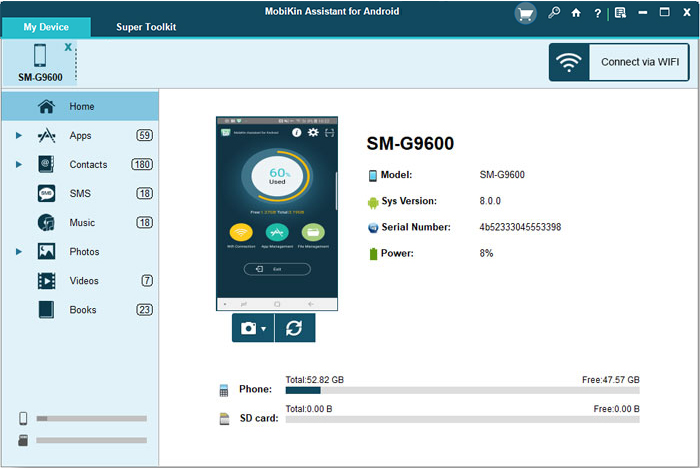 It is such a powerful tool so that you can use it in many different cases for different purposes. But while downloading this software, please ensure that you have got to the right version - it has 2 versions: Windows version and Mac version. After downloading and installing it on your Windows or Mac computer, you can start to manage the files on your Android phone or tablet. To get the detailed tutorial, you can jump to the page: Android File Manager - How to Manage Android Devices on PC/Mac>>
#3 ES File Explorer File Manager - File Explorer for Android
If you want an application that allows you to manage all the files in your phone as well as those stored in cloud account efficiently, then ES File Explorer for Android is one of the best choices. It supports all available cloud platforms and can, therefore, be used to manage all phone contents stored in any cloud.
Apart from allowing you to edit the files whatever you want, this best file explorer for Android also makes it easier for you to share your files using different methods. To achieve that goal, you'll have to root your device but for those who think that that's too much work, Wi-Fi and Bluetooth sharing methods are also available.
Additional features of this tool include its ability to determine the importance of your files thereby prioritizing them; its ability to work very fast and its simplicity.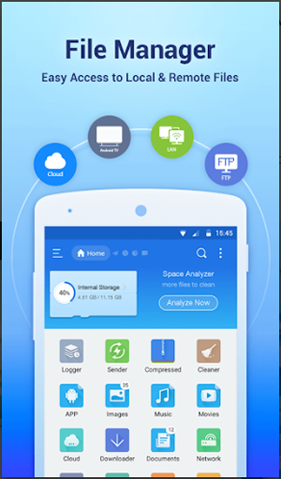 #4 ASUS File Manager - High-rated Android File Manager App
As one of the best file manager Apps for Android, ASUS File Manager helps you manage your Android device's space by compressing files that consume a lot of space. You can also use it to view compressed files in any format. And also, it makes it easier to find your file's location - you can simply type the file's name in the searching box and the App will quickly bring it forward. Alternatively, you can find the files you want from the App's interface by looking at the available categories.
The file manager can also be used to easily create backups on cloud storage services. And apart from files stored in the cloud and internal phone memory, you can also use it to manage files stored in your local area network and SMB.
In a word, ASUS File Manager is safe to use and is available for free. It will transform how you handle all your files on all your android devices.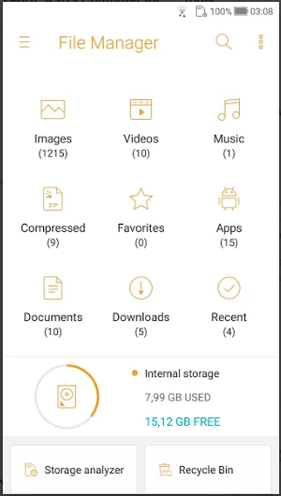 #5 X-plore File Manager - Reliable Android Manager App
Another reliable Android manager App is X-plore File Manager. One of the best and considerably unique features of this Android file manager tool is the dual-pane feature. This allows you to see what's going on in your device which is always refreshing. In addition, you get to see what's happening where the files are originating from as well as where they are going. This takes away the need to open two separate windows.
X-plorer File Manager also has additional features like the built-in viewer that lets you preview any file before editing them. This ensures you only share, delete, or save the right files. Besides, it supports all cloud storage platforms and file transfer types. Its functionality together with the amazing interface design that consists of impressive icons is some of the reasons why this software is worth trying out.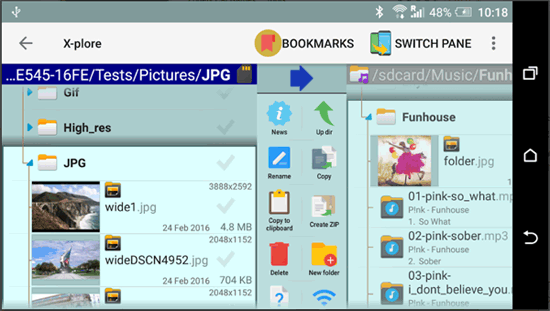 #6 Astro File Manager for Android - Android File Browser
Astro File Manager for Android is known to have an interface similar to that of Windows file explorer, which means it is easy to use. This Android file browser allows you to alter your files and makes it easier to find them. It also helps you to manage your device's memory by helping you create backups, compress your files and relocate or delete the files.
What's more, this tool helps you find your files by categorizing them on the interface. You can then perform any action like deleting or compressing the files easily, which allows you to free up memory. This App is one of the easiest to understand since it has a well-structured interface that allows you to find what you need easily.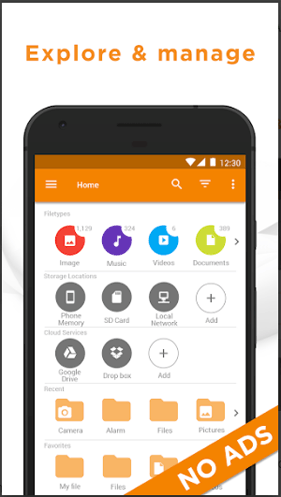 The Bottom Line
All these file manager Apps or software for Android is good at what they do. They perform well and seldom cause a problem. You can, therefore, choose the one you like best and use it to manage all your files efficiently. They will be helpful especially when you have multiple Android gadgets. Now just take action and choose the best file manager for your Android phone or tablet.
Related Articles:
Top 5 Android PC Suites - Help You Manage Your Android Phone with Ease
Best Android File Transfer Alternatives for Mac
Android Call Log Manager: How to Manage Call History on Android Easily?
The Best Android SMS Manager Helps You Manage Android Messages Easily
Android SMS Transfer - 4 Ways to Transfer Text Messages from Android to Computer