10 Best SHAREit Alternative Software & Apps You'd Better Know
SHAREit was once an outstanding app for file transfer. Over time, with new security reigns on Android from Google, the experience is thus not anywhere as seamless as it used to be. And there are some bugs in the subsequent app updates, leading to lags in response or even transmission failure, according to some SHAREit reviews.
So, some mobile users are anxious to know if there's a SHAREit alternative available. Well, here are the ten best alternatives for SHAREit. Check them out with us now.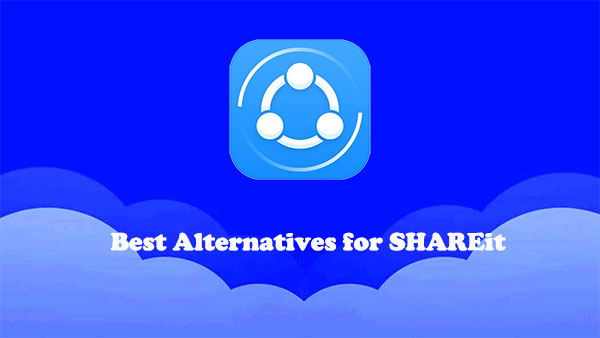 Part 1: Top 5 SHAREit Alternatives (Software)
1. MobiKin Transfer for Mobile
Proficient in transferring various bulk files between mobile phones, MobiKin Transfer for Mobile (Win and Mac) is reputed as the best alternative for SHAREit. Unlike the latter, it takes on tasks through a USB connection, which ensures the security of its users. It has always put UX first, so to date, it has won the support and trust of millions of Android and iOS users.
Major features of MobiKin Transfer for Mobile:
The best alternative to SHAREit to copy data across the same or different platform(s).
Transfer files from iPhone to iPhone, Android to Android, Android to iPhone, iPhone to Android.
The supported data types: contacts, text messages, call logs, music, photos, videos, documents, apps, and more.
Easy to connect, one-click transfer, delivering original file size.
Work well 8000+ mobile phones, such as Samsung, Huawei, Sony, HTC, Motorola, OPPO, Vivo, Google, LG, DELL, ASUS, all generations of iPhones, various iPod touch devices, iPads, etc.
Your personal info is protected by SSL Tech.
How to use the best SHAREit alternative - Transfer for Mobile? (3 easy steps)
Step 1. Launch the program on a computer
Install and launch Transfer for Mobile on your computer. Then you'll get the initial interface of this software.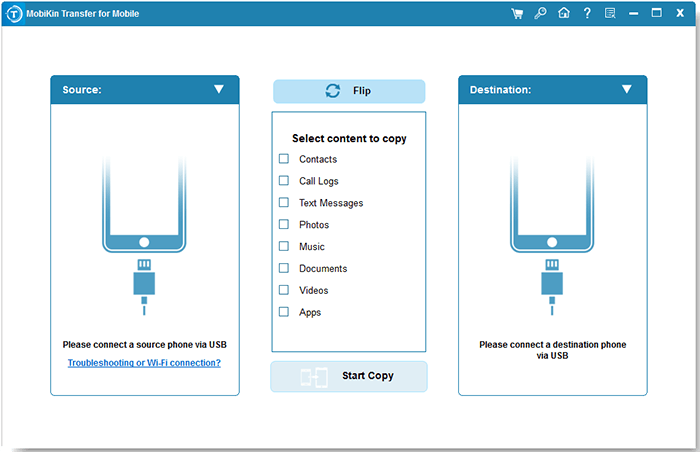 Step 2. Connect devices and check the position of them
Use two USB cords to link devices to the computer. You'll get its main screen after the automatic detection. Ensure the source device is used to send files, and the other one the recipient. If not, tap "Flip" to switch their positions.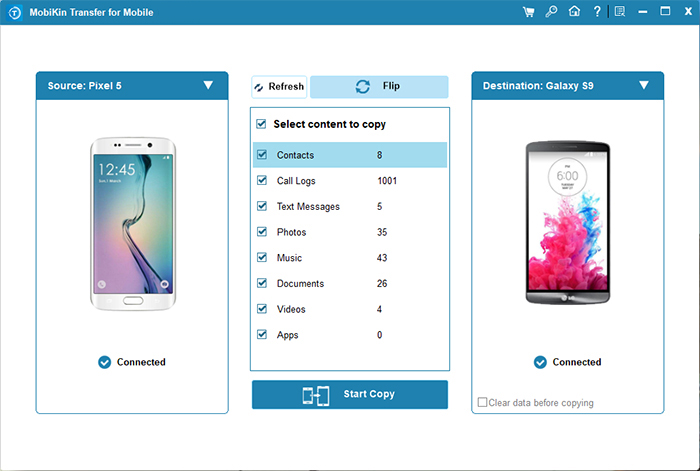 Step 3. Transfer data from one phone to another in one tap
Mark the data types in the middle of the page and then click "Start Copy" to start copying data from one device to another.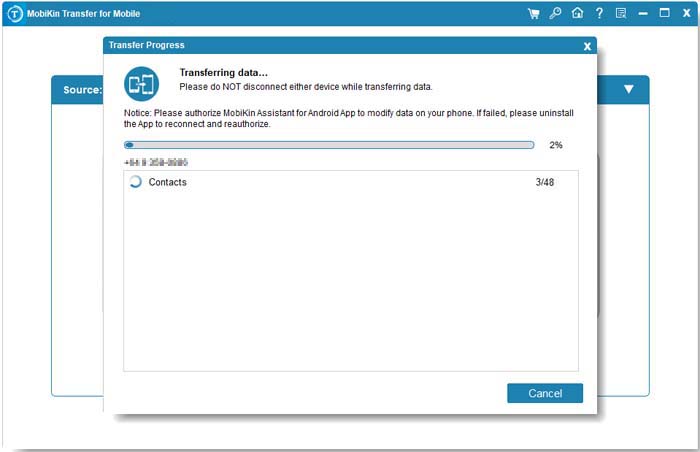 Pros
Quick transfer.
Free of bloatware and adware.
Free technical support.
Offer a free trial.
Cons
Read Also:
2. Aiseesoft FoneCopy
As one of the best alternatives of SHAREit, Aiseesoft FoneCopy does a great job of copy a full range of media files and contacts across Android phones/iPhones/iPads/iPods. Namely, painstaking innovation in data transfer tech gives it the ability to copy almost all media files between iDevices with one click. And it also helps transfer many items to/from Android devices.
Transfer Files
From iOS to Android, iOS to iOS, Android to iOS, and Android to Android.
Supported Data Types
Contacts, photos, music, playlist, movies, TV Shows, Music Videos, Podcasts, iTunes U, Ringtones, Audio, Voice Memos, etc.
Pros
Detect over two devices concurrently.
Convert media files to work with the target device automatically.
Cons
No further data type classification.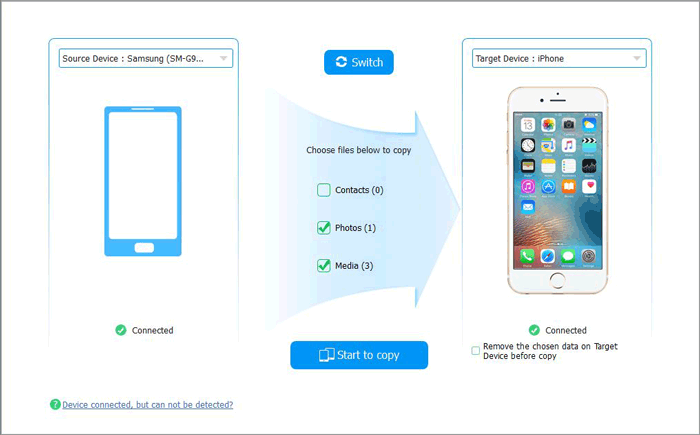 3. AirDroid
AirDroid is an online software/app like SHAREit for Android and PC. As a light replacement for SHAREit, this tool allows you to copy files from PC to Android without USB and vice versa. Plus, it enables you to get SMS and reply to them on your PC and even remote-control your phone's camera.
Transfer Files
From Android to PC and PC to Android.
Supported Data Types
Pictures, videos, audio, documents, music, apk files, etc.
Pros
Let you turn your phone camera into a spy camera.
Cons
Remote connection is only for Premium accounts.
Your security can be compromised.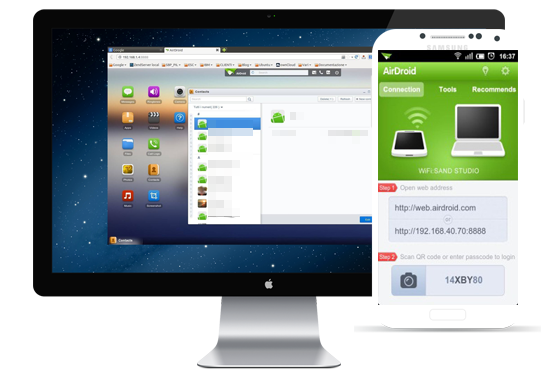 Know More:
4. WiFi File Transfer
If you only want to transfer media over WiFi, WiFi File Transfer, an app like SHAREit for PC and Android, can be a decent choice. To copy data between Android devices, you have to use the URL generated by it. Note that each file is limited to 5 MB.
Transfer Files
From PC to Android, Android to PC, and Android to Android.
Supported Data Types
Photos, music, videos, audio, etc.
Pros
The transferred photos are sent to your phone's gallery directly.
Cons
It takes time to create a connection or even transfer files.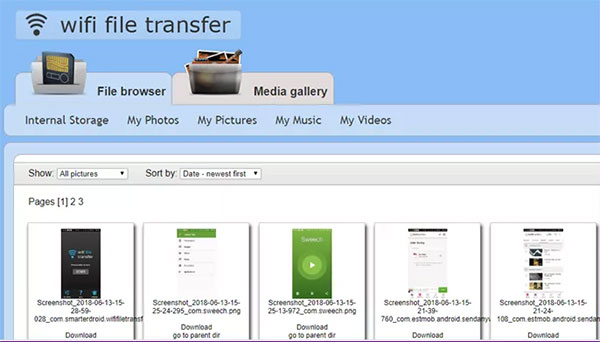 5. Windows Nearby Sharing
The last alternative to SHAREit is Windows Nearby Sharing. It works for Windows users only, not meant for Android/iOS devices. Before copying data via this SHAREit alternative for PC, your computer must be running Windows 10 (version 1803 or later) with Bluetooth being enabled.
Transfer Files
Supported Data Types
Photos, videos, documents, links to websites, etc.
Pros
Built-in file sharing software on Windows 10.
Cons
It is available for Windows PCs only.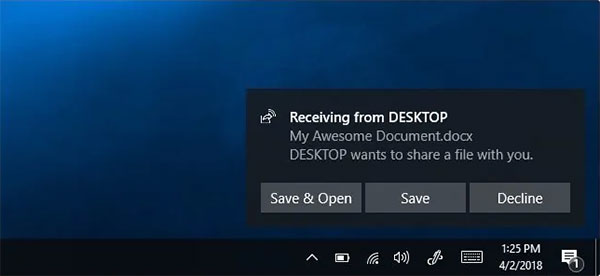 Part 2: 5 Best Alternatives for SHAREit (Apps)
1. Files by Google
Are there any apps like SHAREit? Files by Google could be the first choice for Android users. This SHAREit substitute lets you browse, sort your files in a direct manner, and even help clean up Android storage. Moreover, it can share files even in the absence of a WiFi connection and modify playback speed for videos.
Transfer Files
From Android to Android and Android to cloud storage.
Supported Data Types
Documents, images, videos, audio, music, apps, etc.
Pros
It encrypted files before you share them.
Cons
It only works for Android devices.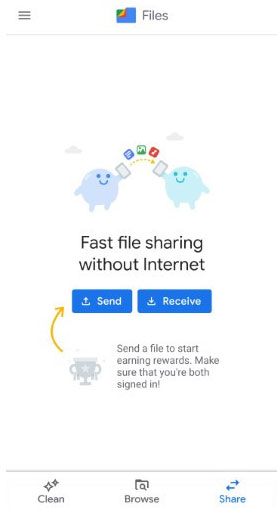 2. Send Anywhere
Send Anywhere, an alternative app for SHAREit, gives you the freedom to copy data across platforms using Wi-Fi direct. It offers a 6-digit security key to send and receive content. Again, you can use it to copy & paste the link on social media.
Transfer Files
From Android to iOS, iOS to Android, Android to Android, and iOS to iOS.
Supported Data Types
Photos, videos, audio, apps, etc.
Pros
Cons
It requires a strong Internet connection.
The Premium Version is expensive.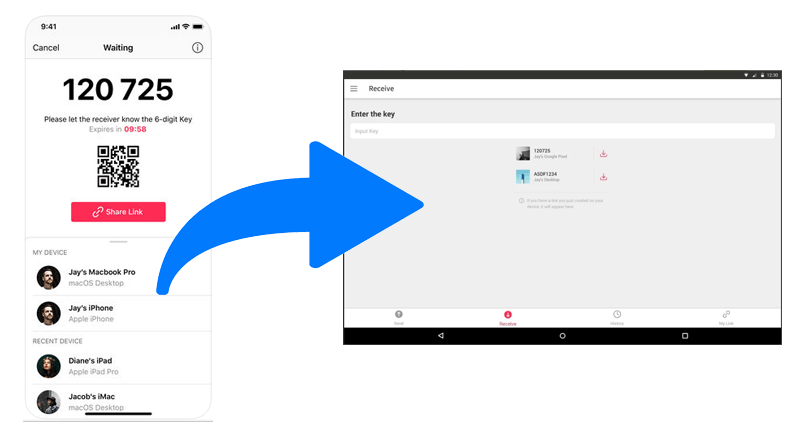 3. Zapya
Want to know other apps like SHAREit? Zapya is one of the dedicated phone transfer apps among them. Designed for cross-platform sharing, this SHAREit like app for PC/phone share files via a secure QR code. Besides, it can even make easy group transfer as well.
Transfer Files
Across Android, iPhone, iPad, Windows phone, PC, and Mac.
Supported Data Types
Apps, contacts, documents, Ebooks, photos, videos, audio, etc.
Pros
Offline chat with up to 5 devices.
Cons
Frequent advertising overflow.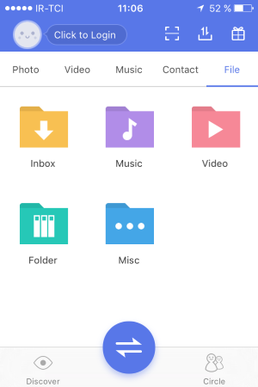 4. Xender
As one of the outstanding SHAREit similar apps, Xender enables limitless communication among multiple platforms. You can take advantage of its web version on PC where it doesn't require the app and make the transfer through the browser. And, of course, it comes with an app for Android and iOS devices.
Transfer Files
From Android/iOS to PC, PC to Android/iOS, Android to Android, and iOS to iOS.
Supported Data Types
Photos, music, videos, contacts, documents, apps, etc.
Pros
Permit sharing of similar types of files.
Cons
Don't allow access to notifications.
It might close periodically.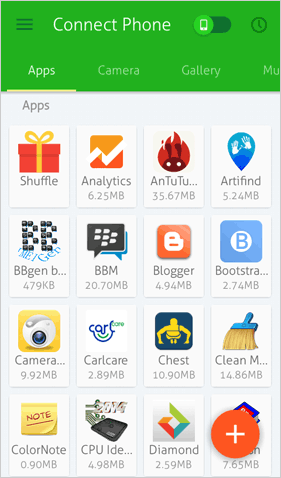 5. Superbeam
If you still have no idea how to choose apps similar to SHAREit, you can take Superbeam to enjoy super easy and fast file transfer. It facilitates you to share files with other Superbeam users over WiFi direct. You only need to pair devices via QR code and NFC. Devices with no SuperBeam can share files via a web interface.
Transfer Files
From Android to Android, PC to Android, and Android to PC.
Supported Data Types
Video files, photos, documents, audio, contacts, APKs, etc.
Pros
Maintain history of all transfers.
Allow you to transfer any number of files with its free version.
Cons
Its free version contains ads.
Sending and receiving items from PC only work for power users.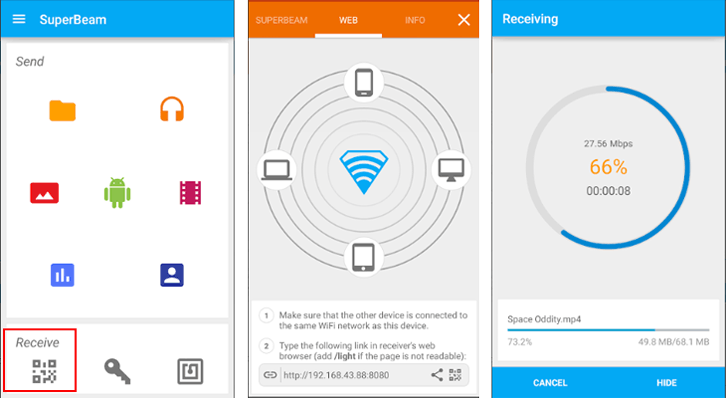 Words in the End
OK, it's time to wrap up this article. We expatiated on the ten best SHAREit alternatives just now. They are five pieces of software and five applications. In terms of security and practicality, MobiKin Transfer for Mobile is the best pick for you. It is well received for its unparalleled performance. So, just download it and give it a shot if you intend to transfer data from one mobile phone to another.
Related Articles:
AirDrop vs. SHAREit: Which One is Better?
[Reviews] 10 Best AirDroid Alternatives You Can't Miss!
Definitive Guide: Top 11 Android to Android Data Transfer Apps & Software
Top 11 iExplorer Alternatives for Windows and Mac [Must-read]
Top 10 Titanium Backup Alternatives Help Back Up Android with Ease
[2021 Updated] How to Transfer Files from Android to iPhone?