How to Download Twitter Videos on iPhone/iPad?
Undoubtedly, Twitter is one of the most popular applications out there. It is an online news and social networking service where users are able to post and interact with messages. That means you can not only share your life with others, but also can know something about the people you follow. In addition, you can view the lives of some famous people, including stars, presidents and so on, as long as they have registered an account. It is really amazing!
Nonetheless, many Twitter users have asked a question- what can they do to download the Twitter videos on iPhone or iPad? It is normal that you want to download Twitter videos to your iPhone/iPad because you are capable of viewing these interesting videos on your device without login Twitter after the downloading. So, to help you accomplish the downloading process, the particular steps to download Twitter videos on iPhone and iPad will be introduced here.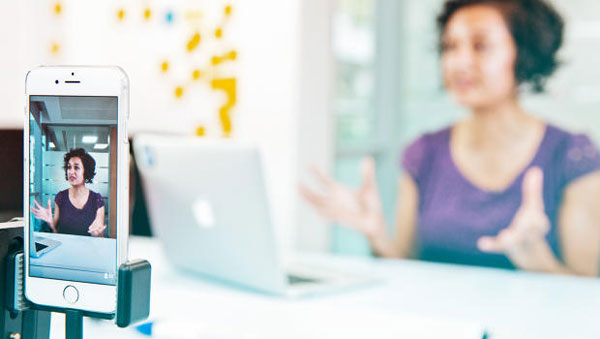 Steps to Download Twitter Videos on iPhone/iPad
Most users would like to download the wanted videos from Twitter to iPhone or iPad for the reason that these two devices are the frequently-used and easy-to-carry. What's more, the process of downloading Twitter videos to iPhone or iPad is very simple cause you can finish it without using any software and USB cable. Now, just go with the following steps to achieve your goal.
Step 1. Launch the program
The first thing you should do is to click on the icon of Twitter to launch the application and then navigate to the videos you wish to download.
Step 2. Copy the link to Tweet
After finding the videos, you need to tap on the arrow down button at the top-right corner and then select "Share Tweet via" from the pop-up window. Next, you should click on "Copy Link to Tweet".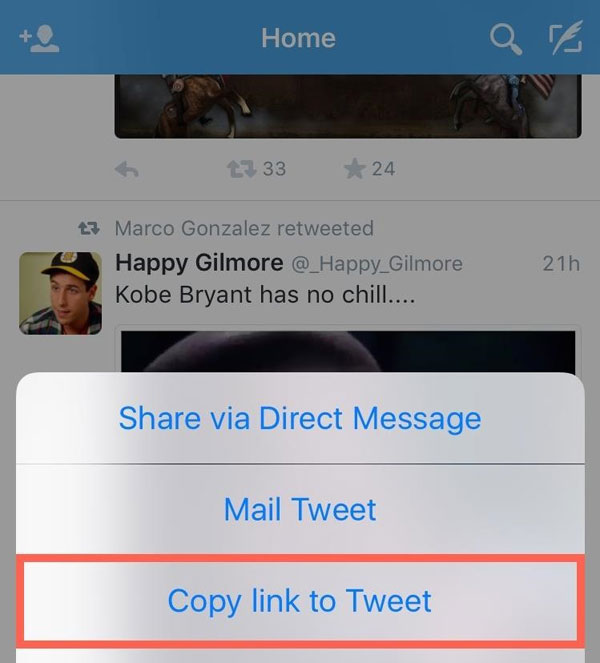 Step 3. Paste the link to your browser
Open up the Safari or other browser on your iPhone or iPad and paste the link you have copied. Then hot the "Download" button.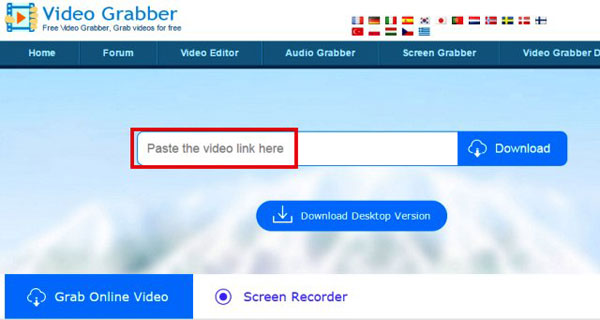 Step 4. Download Twitter videos to your iPhone/iPad
Finally, you need to tap "Download Videos" and then select "Add to Home screen".
Done! The videos on Twitter are downloaded to your iPhone or iPad now and you can view and manage them as you like.
See also:
How to Download Facebook Videos on iPhone?
How to Download YouTube Videos iPhone X/8 Plus/8/7/6S/6?
How to Upload Videos on iPhone/iPad to Twitter?
If you are a novice of Twitter or iPhone/iPad, it is natural that you do not know how to upload the videos from your iPhone/iPad camera roll to Twitter. It is OK! We will discuss the method to upload videos on iPhone or iPad to Twitter as well. The means is much more easy and you can master it within a few second. If you do not believe it, you can have a try!
Step 1. Run Twitter on your iPhone/iPad
Launch the Twitter on your device and then go to write a Tweet.
Step 2. Upload videos to your Twitter account
Tap on the camera icon below the place where you write the tweet and select the video you want to post from your Camera application. If the video you choose is under 30 seconds, you can use it directly. But if not, you can click the "Trim" button to edit it to make it of 30 seconds. And finally, tap on "Tweet".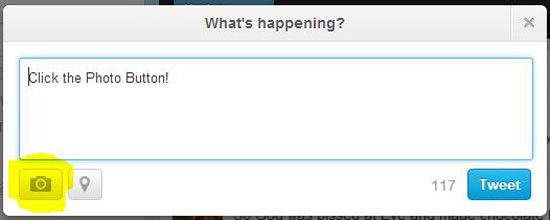 Related Articles:
The Best Way to Copy/Transfer iPhone Videos to Mac
Stream Videos from iPhone/iPad/iPod to Apple TV
How to Transfer Video from Computer to iPhone
6 Ways to Transfer Photos from Computer to iPhone Effectively
Easy Ways to Transfer Files from Lenovo to iPhone
How to View iPhone Text Messages on Computer/Mac?