How to Transfer Video from Computer to iPhone X/8 Plus/8/7/6S/6?
If you are an iPhone user, then sometimes you'd like to import some movies or videos from your PC to iPhone so that you can watch them anywhere and anytime as you like. But you may don't know that iPhone is very different from other phones that you can't directly copy and paste your videos from computer to iPhone after the connection! So when you have a large amount of videos or DVD collections need to be imported to iPhone, there are certain steps that you must take. Here, you can find out how to transfer video from computer to iPhone in the fastest and easiest way possible.
Before we start the process, here is something you should know
Before you even think about putting your videos onto your phone, you just have to convert it to the proper format first so that your iPhone can recognize the file and play it successfully. Now, the most common types of videos that iPhone can play are .m4v and .mp4. So if you've already had videos with these formats then feel free to skip the preparation and start the process immediately. If the video are not in the formats supported by iPhone, then you'll need to convert them by using some 3rd-party program. Here, you can read the article how to watch free movies on iPhone to learn how to convert videos from one format to another with handbrake software.
Now, let's follow the below instructions to start the whole process of transferring videos from PC to iPhone easily.
1. How to Transfer Video from Computer to iPhone with iTunes?
2. How to Sync Video from PC to iPhone without iTunes?
Few Clicks to Transfer or Copy Video from Computer to iPhone X/8 Plus/8/7/6S/6
Once you have all your videos converted to .mp4 or .m4v, you can begin transferring them to your iPhone using iTunes. This is a very simple process.
First, please connect your iPhone to computer via a USB cable. If your phone is locked, you should unlock it with passcode. Then open up iTunes and go to the "Movies" section on the left side and you can start importing videos from PC to iTunes by following below ways: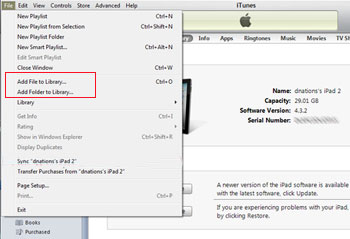 - Minimize the folder with your .mp4 videos and drag-n-drop the desired video straight into the iTunes windows;
- Go to "File" > "Add to Library" and choose the videos.
Now, click your device under the "DEVICES" section and click the "Movies" button above. Here, you can check the option of "Sync Movies" and "Automatically include all movies" to begin transferring all the new videos to you iPhone as you like.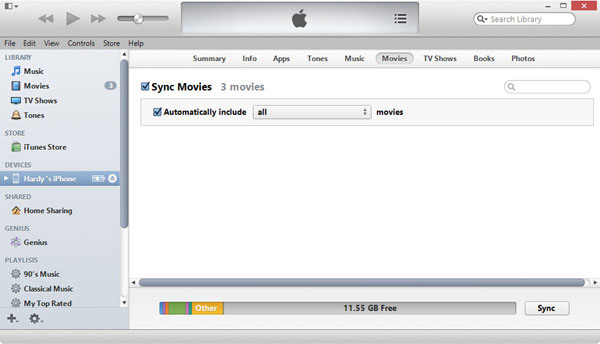 That's the whole settings to move or import video from computer to iPhone, and you have to remember that before transferring any videos, you have to make sure that they are of .mp4 or .m4v formats so that your phone can recognize and play them.
How to Sync Videos from Computer to iPhone X/8 Plus/8/7/6S/6 within Few Clicks?
If you want to have a more easier way to sync videos from PC to iPhone, you can take a free trial with the best iPhone Video Manager software. With it, you can easily and quickly import or export iPhone video files from or to computer as you like.
Here is the detailed steps on transferring videos from computer to iPhone or iPad:
Step 1. Connect your iPhone to computer, and launch the installed iPhone Video Manager software on your desktop computer. When your iPhone is detected by the program, you'll see an interface like below: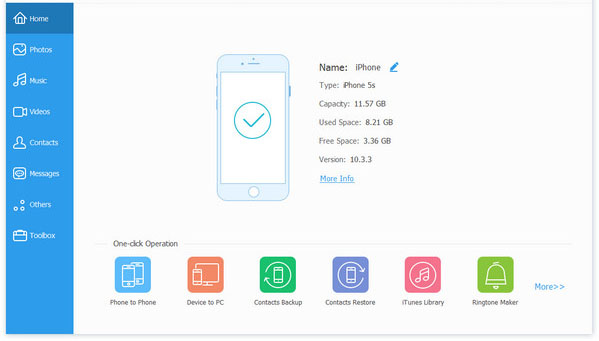 Step 2. Tap on "Videos" on the top menu, then you can check the detailed video files in the program in the form of categories. After that, you can click "Add" button to import videos from your PC to iPhone easily.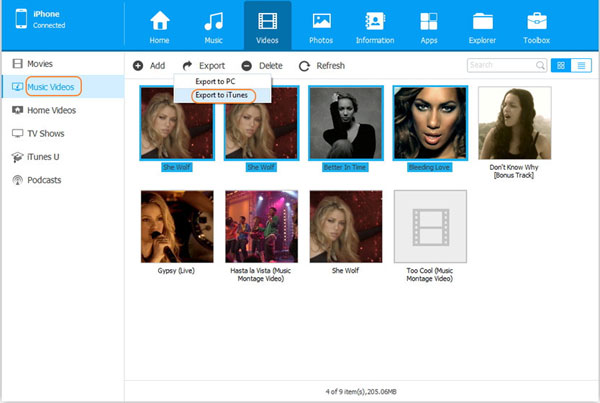 Related Articles
How to Transfer or Copy Music from iPod to Computer
Tips to Transfer Music from iPod to iPhone Easily
How to Copy Songs from iPod to iPod