How to Transfer Contacts from SIM Card to iPhone X/8/7/6?
People usually save their contacts list in the SIM card, so that they can simply transfer all phone numbers in SIM card to the new phone when they buy a new iPhone. However, sometimes the old SIM card does not match the new iPhone's card slot. In this case, how to move contacts from SIM card to iPhone X/ 8/7/7 Plus/6s/6s Plus/5s? This article is going to show you a simple way to move contacts from a SIM card to iPhone easily. You can follow the below steps to reach your goal right now.
Can't Miss:
How to Transfer Contacts List from iPhone to iPhone
Steps on Transferring Contacts from SIM Card to iPhone X/8/7/7 Plus/6s Plus
Step 1. Make sure new SIM card is matched to the old SIM card
Take the new card out of your iPhone, and insert your old card containing the contacts you want instead. Make sure both phones take the same size card, or you will face a high risk of damaging the device.
If your SIM cards are two different sizes, look into a SIM adapter. Once you've changed the two cards over, and placed your new SIM in safe place so as not to lose it.
Step 2. Import contacts from old SIM card to iPhone
Find the "Settings" button from the Home screen of your iPhone, then select "Contacts" (or "Mail, Contacts, Calendars" in older iOS version). After that, you can press "Import SIM Contacts" to load the contacts list from SIM card to your iPhone quickly.
Step 3: Re-insert the new SIM card into iPhone
Now, you can turn the iPhone off and remove the old SIM card from it. Add the new card and turn the phone back on - you should now see all of your contacts in your address book!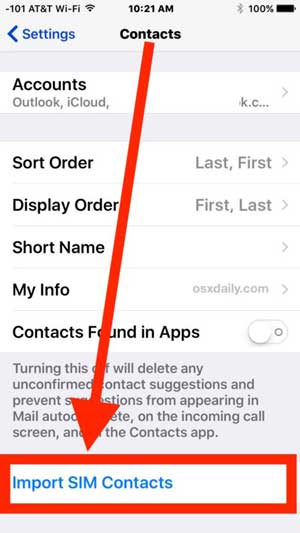 If you're not only need to copy&paste contacts from SIM to your new iPhone, but also wish to transfer contacts from old phone to iPhone X//8/7/6S, you can click the link to learn more solutions.
Conclusion
That's the whole steps of transferring contacts from SIM card to iPhone, very easy, right? Here, in order to help you manage your iPhone contacts in the future, here could like to recommend MobiKin Assistant for iOS (Windows/Mac) for your reference. With it, you can export contacts from all generations of iPhone to computer for backup without losing. And you're also allowed to preview the iPhone files before exporting as you like.
Let's have a brief look on the primary window of the powerful program: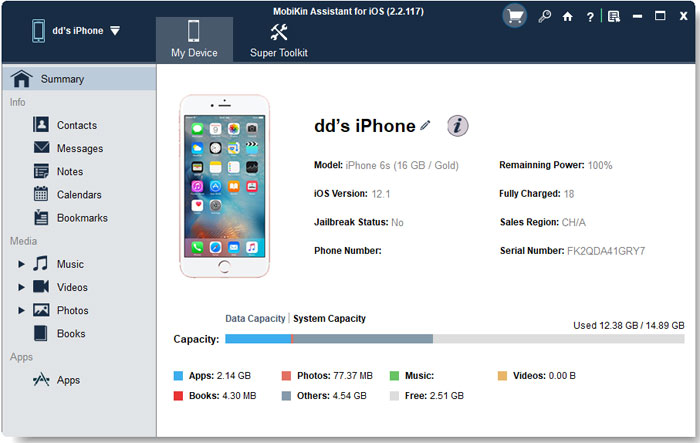 Have a free trial, now!
Related Articles:
How to Transfer Music from iTunes to External Hard Drive
Tips to Transfer or Copy Contacts from iPhone to Computer