How to Sync iPhone Contacts to Gmail Easily?
We know that contacts plays an important role for people's digital life, especially when they work in business and saved lots of contacts on the device without backup. So it is not hard to find that transferring contacts from one device to another has historically been one of the biggest headaches for iPhone or even all mobile phone users. Backing up iPhone contacts to other places is a great way to reduce the possibility of losing or deleting important numbers, email address, etc. in the daily life, but the problem is how to reach it? So in this article, we could like to show all iPhone users an simple way to export or sync iPhone contacts to Gmail for backup. You can follow the steps to import iPhone contacts to Gmail, and after updating the iPhone, you also can sync Gmail contacts with iPhone within few clicks.
Tips: If you don't want to sync contacts from iPhone to Gmail, you also can choose to backup the iPhone contacts to computer with the help of the best iPhone Contacts Transfer program. With it, you can directly export contacts from iPhone to computer in the format of html.
How Can I Export Contacts from iPhone to Gmail?
Even though some 3rd-party program allows users to export iPhone contacts to computer as vCard file, so that it can be easily imported to Gmail. But in most situations, this kinds of program always not freeware. So if you just wish to find a free way to reach your goal, you can follow the below instructions accordingly.
First of all, sync contacts with iCloud
Open "Settings" on your iPhone and tap "Navigate to iCloud". Here, you'll be required to sign in with your Apple ID and iCloud account. Here, please don't forget to slide the icon of iCloud in green just as follow: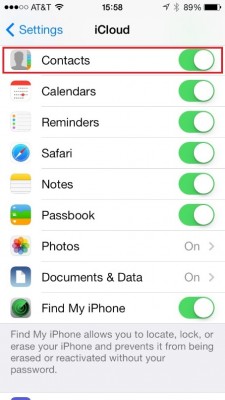 Then, export iPhone contacts to computer through Google web browser
Type and open the site of icloud.com in your Google web browser, then sign in with your iCloud account. Click "Contacts" and hit the settings icon and choose "Export vCard" to save the iPhone contacts on your computer.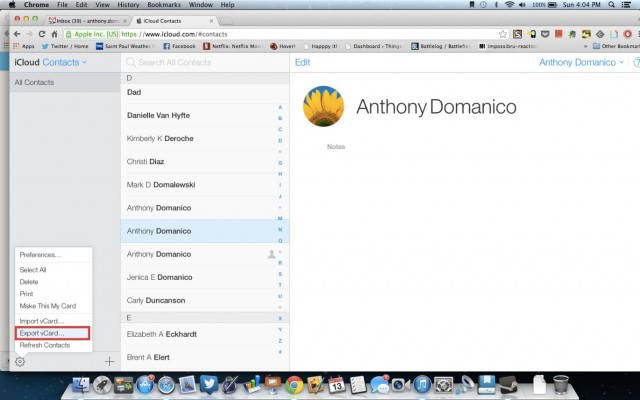 Finally, import contacts from computer to Gmail
Log in your Gmail account and click "Contacts" in the left sidebar. Here, you can click "More" option just like the below picture shows, and then choose "Import" > "Choose File" to find and import vCard file on your desktop computer. Then, that's all!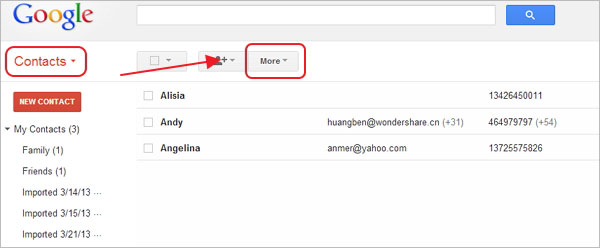 Related Articles

Tips to Transfer or Copy Contacts from iPhone to Computer
How to Transfer Music or Songs from iPod to iPhone
[Top 8 Ways] How to Send Video from Android to iPhone
How to Download YouTube Videos to iPhone 14/13/12/11/X/XR/XS?
Two Ways to Upload iPhone Videos to Facebook
Send Long/Large Videos on iPhone: The Definitive Guide (7 Ways)