How to Transfer Files from PC or Mac to iPhone 14/13/12/11/X/9/8 Plus/7/6?
If you're an iPhone owner, you've probably had a lot of files that you wish to save on your phone, right? Then, whether you need to use them for a project or you're just looking to preserve your files with a back-up, it's good to know how to transfer files from PC to iPhone, so you can carry them around with you anywhere. In this article, no matter you want to take your favorite songs, a much-loved photograph or take your work files with you, we have summarized several tips for you to transfer files from computer to iPhone.
Solution 1: How to Transfer Files from PC to iPhone without iTunes
[Hot!]
MobiKin Assistant for iOS program is an all-round program, that allows iPhone users to transfer data from computer to iPhone or iPhone to computer within few clicks. That means you can use this program to transfer any kinds of files like contacts, messages, music, photos, videos, etc. between computer and iPhone device as you like. And it also allows you to uninstall apps on iPhone with 1 simple click. What's more, it is also compatible with all generations of iDevices.
Now, let's have a brief look on the key features of iPhone Contacts Exporter:
Transfer everything from PC to iPhone, and vice versa easily and quickly without iTunes.
Manage your iPhone content on computer directly once you plug your iPhone into computer.
You are allowed to edit, delete and manage iPhone data on PC/Mac directly.
Compatible with almost all models of iPhone, iPad and iPod, including the latest iPhone 11, 11 Pro, 11 Pro Max, iPhone Xs, Xs Max, XR, X, 9 (Plus), 8 (Plus), 7/7S (Plus), 6S/6, iPad Air Pro, iPad Air, the new iPad, and so on.
Easy-to-use operations and user-friendly interface.
Steps on Transferring Files from PC to iPhone without iTunes, but Assistant for iOS
Step 1. Connect iPhone to computer with USB cable, then launch the Assistant for iOS program on your computer. The program will start detecting and recognizing your connected iPhone and show it on the primary interface.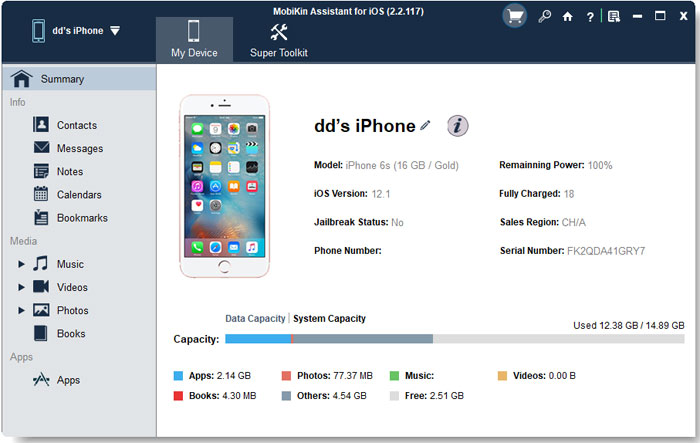 Step 2. Tap on the category that you wish to import files on the left side menu, then you'll enter it and preview the whole content under the file types.
Step 3. Click on "Import" button on the top menu, then you can select the files on your computer and load them into your device soon.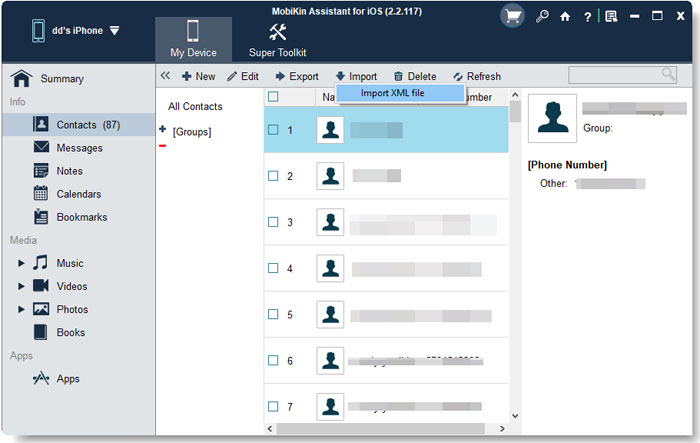 You can import contacts, calendars, books and bookmarks from PC to iPhone and iPad from computer. There is no file size or data limitation in this method. It is the most direct and easiest solution to copy files from PC/Mac to iPhone without iTunes.
Can't Miss:
Solution 2: How to Transfer Files from Computer to iPhone with iTunes
If you are the owner of an Apple device, iTunes is one of your must-have software. You can use it to transfer and manage files on your iPhone, iPad and iPod, or you can use it to transfer files from PC to iPhone. Here's how to transfer files from computer to iPhone with iTunes.
Step 1: Connect your iPhone to your computer with a USB cable, then run iTunes.
Step 2: Select your device in the left column of the iTunes main interface, then click "Apps".
Step 3: Now you can browse the list under File Sharing, select an app you need and click the "Add" button.
Step 4: On the newly displayed interface, select the file you want to transfer to the iPhone, click "Open", and finally click "Sync on iTunes".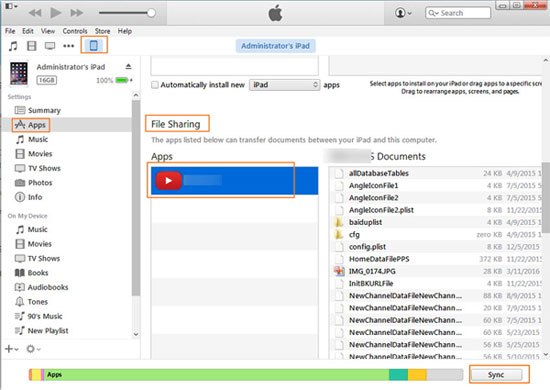 Solution 3: How to Transfer Files to iPhone from PC via Email
In fact, you can also try to send yourself an email to send the music, videos, documents, presentations, PDF files, etc. you want from the computer to your mailbox as an email attachment. Then log in to your mailbox on your iPhone, access the mail, open the attachment, and save the attachment to the desired location.
However, if you need to transfer a large number of files, emailing is not the best option. Because on the one hand, emails have file size restrictions. Gmail and Yahoo! emails can only hold up to 25MB of attachments. On the other hand, sending emails depends on a high-speed and continuous network connection, otherwise downloading attachments will exhaust all your patience.
Therefore, if you have a large number of files and videos that need to be transferred from your computer to your iPhone, email is not a good method, even if it is really simple to operate:
Step 1: Add the files you want to transfer from your computer to your iPhone as an attachment to your email. Send the mail to your own mailbox.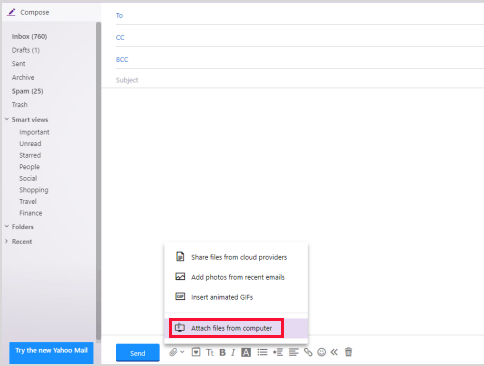 Step 2: Log into your mailbox on the iPhone and check the email you just sent, then download the attachment to your iPhone.
Can't Miss:
Solution 4: How to Transfer Files from Computer to iPhone via Cloud Drive
You can also use Cloud Drive to view and access data on your PC from your iPhone. Strictly speaking, Cloud Drive can't transfer data from PC to iPhone, all it can do is let you access them on your iOS device. At present, we have a variety of Cloud Drives to help you achieve this goal, such as iCloud, Google Drive, DropBox, OneDrive, etc.
Below, we take DropBox as an example to show you how to access files on your PC through Cloud Drive on iPhone.
Step 1: Open a web browser on your PC or Mac computer and enter the URL - https://www.dropbox.com/.
Step 2: Select "Upload files" on the Dropbox site interface and upload your wanted files to the Dropbox storage.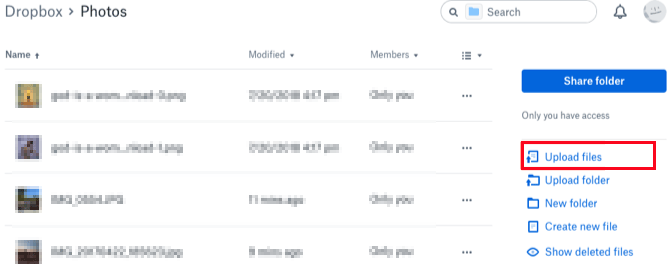 Step 3: Once the files have been uploaded to Dropbox successfully, you can turn to your iPhone, open the Dropbox app on your iPhone and check the files you just uploaded.
Note: Remember to keep the Dropbox account used on both computer and iPhone consistent.
Solution 5: How to Transfer Files from Mac to iPhone via AirDrop
AirDrop is a utility preset on Mac and iOS devices that helps users wirelessly transfer data between Mac computers and iOS devices. In other words, you can use AirDrop to transfer data from iPhone to Mac and vice versa. It should be noted that because AirDrop is a utility exclusively for Mac and iOS devices, if you are using a Windows PC, this method is not suitable for you, You can jump to method 1 to use Assistant for iOS program to help you out.
Step 1: Connect your iPhone to the Mac computer.
Step 2: On your Mac, go to Finder > Go > AirDrop and turn on Bluetooth and WiFi to enable AirDrop utility.
Step 3: You can see all nearby users of AirDrop from the AirDrop window on Mac, including your iPhone. Now, you can drag your needed files to the iPhone image in the window and click "Share" button.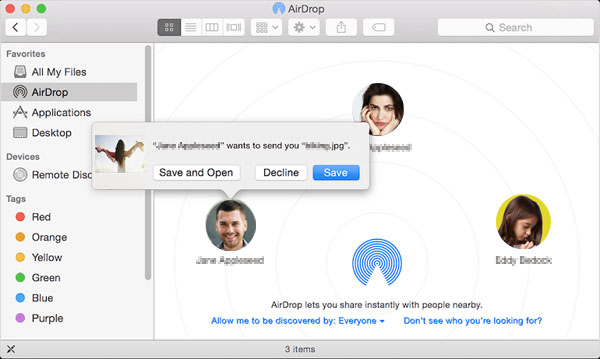 After above steps, all the transferred files will be saved in your iPhone and you can check them on iPhone as you like.
Words in the End:
Yes, we have many ways to transfer important photos, videos, books and music from PC to iPhone, such as iTunes, Cloud Drives, email, AirDrop, etc. But as we introduced, these methods have their own limitations. The most convenient and successful method is to use third-party software - MobiKin Assistant for iOS, because it is easy to use and has no size limit on the file. Whichever method you choose, don't forget to share your successful experience in file transfer from PC to iPhone in the comment area below.
Related Articles
How to Transfer Photos from iPhone to Computer
How to Transfer Movies from iPad to Computer or Mac
6 Ways to Transfer Photos from Computer to iPhone Effectively
Easy Ways to Transfer Files from Lenovo to iPhone
How to View iPhone Text Messages on Computer/Mac?