How to Transfer Files from Computer to iPhone Easily?
If you're an iPhone owner, you've probably had a lot of files that you wish to save on your phone, right? Then, whether you need to use them for a project or you're just looking to preserve your files with a back-up, it's good to know how to transfer or move files from computer to iPhone, so you can carry them around on your phone.
Facts have proved that one of the main file transfer uses is music, and as an iPhone user you'll want to get the most from the iTunes feature. We know that iTunes is a music purchase and play application that works across all Apple products - songs can be used on your PC, mobile phone, iPad or iPod. iTunes also holds other media, such as videos, TV shows, photographs and other downloaded files very well. It is no doubt that there're lots of ways to transfer files to your iPhone on the Internet, but in this article, no matter you want to take your favorite songs, a much-loved photograph or take your work files with you, we have summarized several tips for you to move files from computer to iPhone devices.
Tips on Transferring Files from PC to iPhone 6/5S/5/4S/4
Tips for Connecting your iPhone to PC
There're several ways to link your device to computer, with the simplest being a USB connection. If you've got the wire that you use for charging your iPhone, you can use this to connect the iPhone to your laptop or desktop. They can be synchronized to make data sharing much more simple. So you'll get your iTunes library on both devices. This method is the fastest and simplest if you're the sole user of the PC and the iPhone, but if you share use of the computer and don't want to sync all your data, you might be given to an alternative.
There are many file-sharing applications on the market today, and these apps allow you to send files by uploading them to the system, and downloading them in your browser. This enables you to transfer files between your PC and your iPhone. A great example of this process is Google Drive: a cloud storage system that holds your uploaded files until you're ready to download them again. You can also share file access to allow others to download your files, which are great for work-related content. Alternatively, you can share directly through your Wi-fi connection by using dedicated applications.
Tips for Transferring files to iPhone
Choose the file that you need on your computer, and move it over to the iPhone device. Your song or picture should be ready for you right away – don't break the connection during the transferring process, otherwise, the data could become corrupted. If you're using a cloud storage method, upload the file you want from your computer, and open the app on your iPhone. Download your file and you'll have it ready on your phone for you.
If you decide to use some apps to help you transfer files to iPhone, you should make sure the app you choose have a secure system. Reliable, reputable apps take great care to protect your personal information, so make sure you're picking a system that gives you security while the files are in transit.
As you can see, there are some tips for you to transfer files from computer to iPhone. Actually, if you're familiar with iTunes, you can reach the goal with iTunes easily, or you can go to here to learn how to transfer music from computer to iPhone with iTunes easily. And if you want to greatly manage files on your iPhone, you can take a free trial on this powerful MobiKin Assistant for iOS.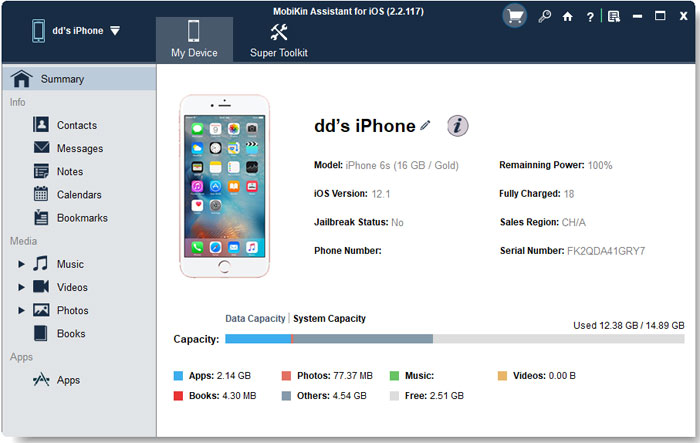 Related Articles
How to Transfer Photos from iPhone 6 Plus/6/5S/5/4S to Computer
How to Transfer Movies from iPad to Computer or Mac
How to Transfer Music from iPod to iTunes