How to Transfer Music from iPad to Computer?
Q: My little sister have bought an iPad 4 about a month ago and downloaded all her music from computer to the iPad 4 with my help. But recently, She decided to clean her computer up due to the dust, and all iTunes music on the computer have gone. So she wants to backup these iPad songs to the computer one more time, but I don't how to do it either. So, is there any approach could help me to move music from iPad to PC?
We all know that iPad is one of the most outstanding products of Apple, possessed by many people around the world. And there are also lots of situations will result in move music or other files from your iDevice to computer. For example, you might have captured new music files with iPad and want to enjoy these music files on computer, or get a new device and desire to copy all your favorite songs onto the new one from the old one via desktop computer... Thus, it is not an unique phenomenon for iPad users to meet the situation above. But for many users, this really is a tough problem because we can't achieve the task via the iTunes. So is it a way to copy songs from iPad to PC easily?
The answer is absolutely YES. Third party software has created effective ways to move music from an iPad to a computer. But among these options on the Internet, I suggest you try the MobiKin Assistant for iOS (Windows Version) and MobiKin Assistant for iOS (Mac Version), which can fully satisfy your needs. A 2-minute simple job can copy part or even your entire music library from one device to the other, no headaches and no hassles. All in all, this program is a powerful but easy to use music transfer tool for iPad devices. In addition to music, it also allows you to transfer movies, books, podcasts, TV show and more from iPad devices to your computer. And it can compatible with other iDevices like iPhone X/8/7/6S, iPod touch, nano, etc. very well.
Below is a step by step guide on how to perform this iPad Music Transfer easily. You can follow the below instructions to handle the tool as you like.
Video Tutorial
3 Simple Steps to Export, Copy Music from iPad to PC/Mac
To begin with, you should download, install and run the transfer tool on the computer. Then, connect your iPad Air, the new iPad, iPad 2/4 to the computer successfully. You will see an interface after a few seconds of device detection.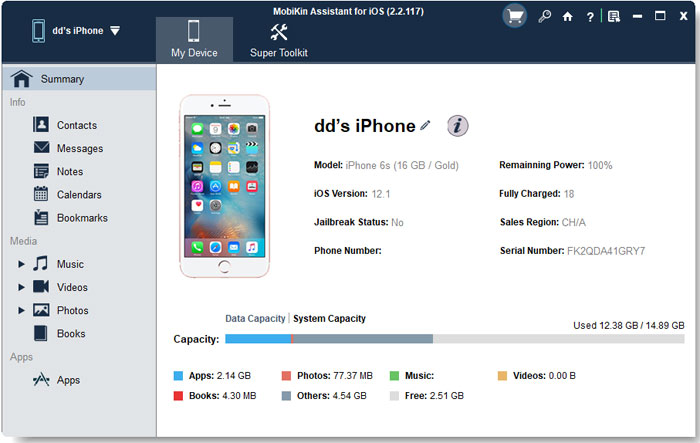 After the above preparatory work done, you can choose the target music. Here you have two ways to copy songs from iPad device to a computer.
- Go to the "Music" option from the left file list of your iPad and all your stored songs will be shown in the right panel. Just click the small box before the music you want to copy.
- Click the image button of hook on the top menu to select the whole music folder at one time, then click "Export" button to save them on your computer.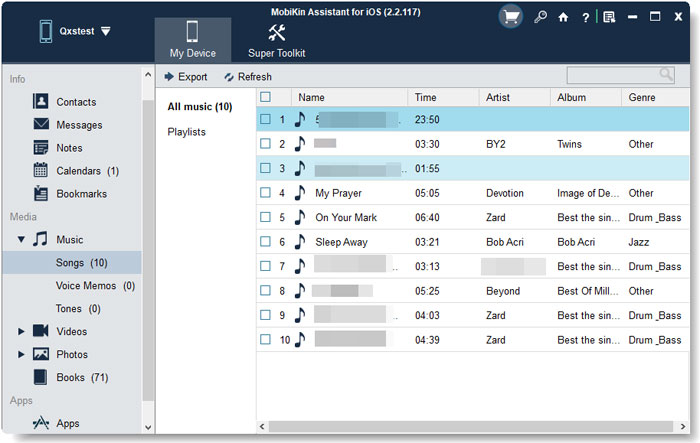 Finally, just click the button of "Export" to back up selected songs to your computer.
Warm Tips: If you perform the transferring work as we show you above, you are suggested to click "File -> Open Export Folder" to locate the files you've copied to the computer because the software will restore your selected songs to the default folder as it was installed. While you have the need to move music to a certain file folder on your computer, before you start copying music from your device go to "Advanced -> Options" to change the export folder.
Done! If you have an iPad device, this software is a must-have utility to help you to move your favorite songs to PC without restrictions. Now download the software to have a look.
Related Articles
Transfer Music from iPod touch/nano/shuffle to Mac/Computer
Tips to Transfer Contacts from iPhone to Computer