iPad Keeps Restarting? Top 8 Ways to Fix It Now! (Pro/Air/4/3/2/Mini)
Smart devices can't maintain their original state after a period of use, and there may be failures of one kind or another, and the same is true for iPads. Recently, many users are complaining that their iPad keeps restarting, especially after the iOS 15 update. This is not a small issue as it may be related to the core functionality on the device. If left unrepaired, it could further lead to bigger problems with the device.
Therefore, you need to take action to solve the problem as soon as possible. In this article, we'll show you the eight effective methods we've tested to help you fix an iPad that keeps restarting or randomly restarts.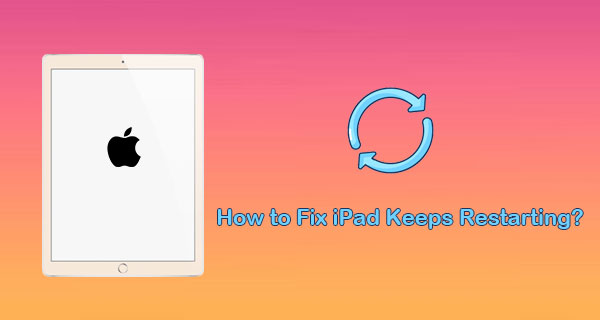 Part 1: Why Does My iPad Keep Restarting?
Why does my iPad keep restarting itself? There can be a number of reasons why an iPad keeps restarting. It is also important to understand why the failure occurs, because for different reasons, we need to take corresponding measures to solve the problem at the root.
A problem with the charging cable and the USB adapter. If your iPad just keeps restarting while charging, you can check to see if the charger and USB adapter are damaged or non-original.
Overheat. Overheating is also one of the reasons why the iPad randomly restarts. Silicon chips shut down when the device overheats or when it reaches a certain temperature during operation. If you find that your iPad/iPhone keeps overheating, then you need to cool it down first.
Apps are out of date. If your iPad restarts every time you launch an app, there's a good chance that there's a problem with that app. Applications should be kept updated with the latest operating system requirements so that they continue to run smoothly. You can try reinstalling or updating outdated apps.
Corruption inside iPadOS. The cause of iPad Pro/Air/4/3/2/mini keeps restarting may be iPadOS itself. If there is any problem with iPadOS, it will show iPad restarts on its own directly. Resolving this issue requires you to reinstall the operating system.
Unhealthy battery. Poor battery health in the iPad can also cause the device to not work properly after using it for extended periods of time.
There are many other unknown reasons that can also cause the problem of iPad keeps rebooting. But whatever is causing the problem, let's read on to fix it now.
You Might Wonder:
Part 2: How to Fix iPad Keeps Restarting in 8 Best Ways
Method 1. Hard Reset Your iPad
Hard rebooting the iPad is the easiest way to stop the ipad from constant rebooting. It works in many cases and can fix some common software glitches. Here are the steps to hard restart your iPad.
For iPads with a Home button, press and hold the Power button and Home button until you see the Apple logo.
For iPads without a Home button, press and hold the volume up or down button and the top button until the shutdown slider appears > drag the slider and wait 30 seconds for your iPad to shut down.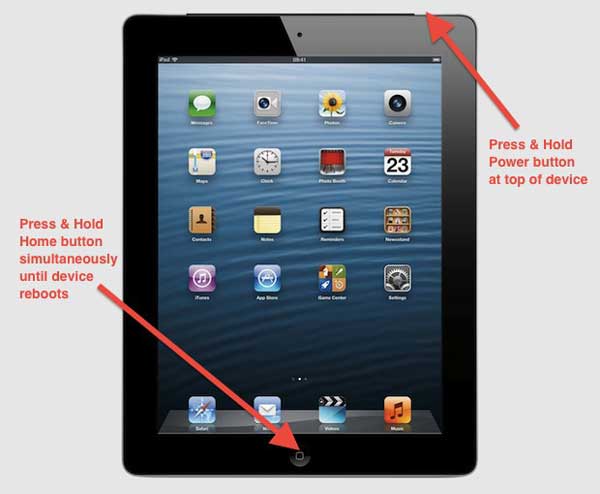 Method 2. Check for Battery Health
If your iPad has been in use for many years, the battery condition may not be healthy. As a result, your iPad turns on and off unexpectedly. You can consider replacing the battery by checking your battery health: Go to "Settings" > "Battery" > "Battery Health".
Further Reading:
Method 3. Clean up App Caches and Temporary Files
Over time, you'll leave a lot of cache and temporary files on your iPad. Not only do these files take up memory, but they can also make your iPad run erratically, causing iPad restarting again and again. You need to delete these files regularly.
On your iPad, launch "Settings" > "General" > "Storage & iCloud Usage". Tap "Manage Storage" on the next screen and choose an app that is taking up a lot of memory. If the app is taking up too much memory space, you might as well just delete and reinstall the app, which will also clear the cache and temporary files.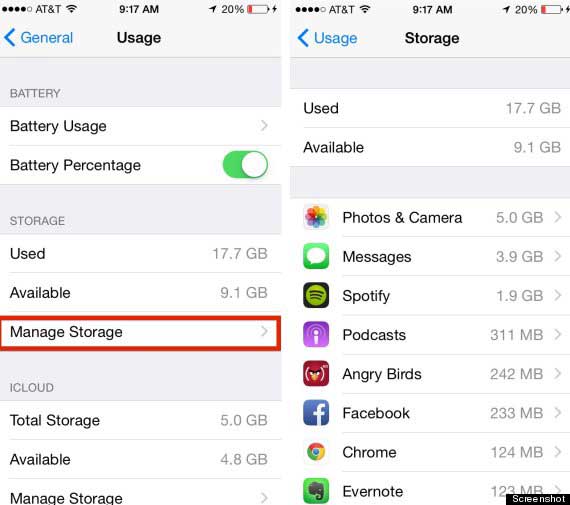 Method 4. Update iOS
After Apple releases a new iOS version, your iPad might restart for no apparent reason. This is because older versions usually have a lot of bugs and issues. At this time, you need to update to the latest version of iOS as soon as possible. Here's how to update iOS on iPad.
Go to your iPad's "Settings" > "General" > "Software Update" and follow the onscreen instructions to download and install the latest version of iOS.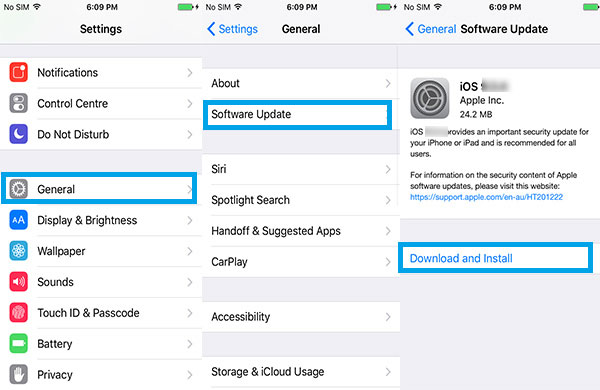 Method 5. Delete or Update Apps
Like we mentioned in part 1, outdated or faulty apps can also cause iPad keeps restarting over and over. If you encounter this problem, you can:
Delete the app: Tap and hold the app and select the X symbol to easily delete the app.
Update the app: Go to the "App Store" > scroll down and tap "Update" to update a single app, or you can tap "Update All" in the upper right corner of the screen to update all apps at once.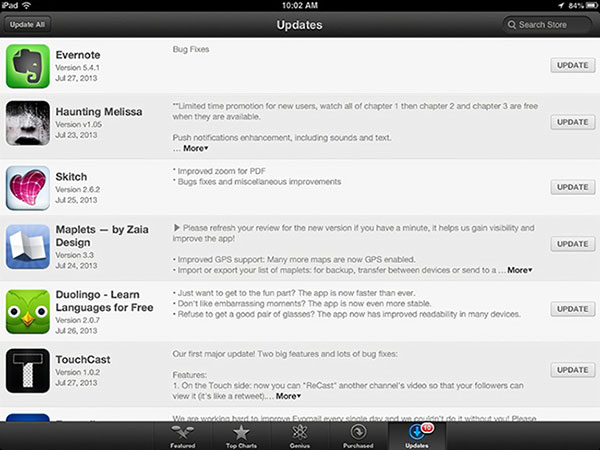 Method 6. Reset All Settings
When you make a lot of changes to the iPad, it can cause the iPad to keep restarting. At this time, resetting all settings is effective. Proceed as shown below.
On the iPad, go to "Settings" > "General" > "Reset All Settings". Reset all settings to the default settings on the iPad.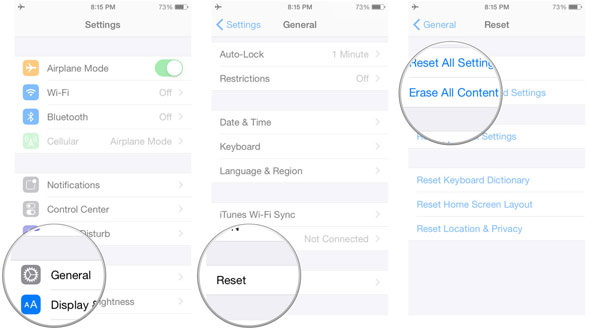 Rest assured, resetting all settings on your iPad will only clear any personalization settings that may cause incompatibility with system features or services, and will not delete any data.
Method 7. Try iOS System Recovery [No Data Loss]
If you want to fix iPad keeps restarting issue quickly and don't want to lose any data, then iOS System Recovery is the perfect choice for you. It is a professional tool that can fix more than 100 kinds of problems on iOS devices. It offers multiple repair modes and ensures you get the highest rate of system recovery no matter what kind of failure your device is in.
Key features of iOS System Recovery:
Fix iPad keeps restarting issue efficiently, no data loss at all.
Fix various iOS system issues, such as iPad screen not responding, iPad won't restore, iPad recovery/DFU mode, iTunes errors, etc.
Upgrade or downgrade iOS without iTunes.
Offer two repairing modes to fix issues flexibly.
Work for all models of iPad, iPhone and iPod touch, including iPad Pro, iPad Air, iPad mini, iPad 4, the new iPad, iPad 2, etc.
[Step-by-step guidance] How to fix iPad keep restarting with iOS System Recovery?
Step 1. Double click the download button above and follow the instructions to install and launch the iOS System Recovery tool on your computer. On the main interface, just choose the "iOS System Recovery" feature.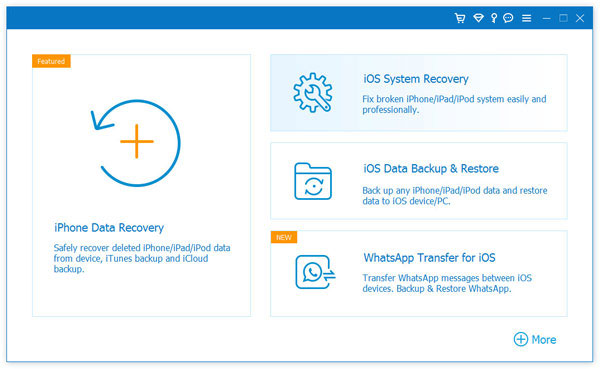 Step 2. Connect your iPad to the computer with a USB cord and click on the "Start" button to move to the next step.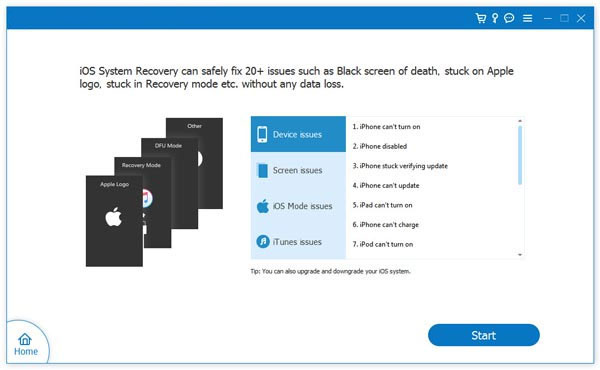 Step 3. The tool will detect your iPad info. Confirm it and click "Repair" to start fixing the iPad keeps restarting issue.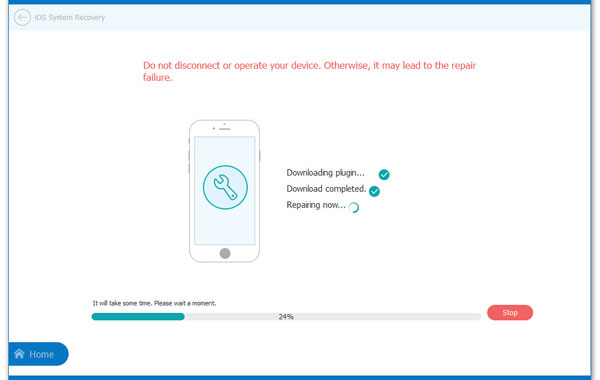 After the repair process is complete, your iPad will restart and return to its normal state.
Method 8. Contact Apple for Help
If your iPad crashes and restarts problem doesn't improve after trying the above methods, then your last option is to contact the Apple support team. They have a professional team that can handle any issues you have with your iOS devices.
The End
When you face the problem of iPad won't stop rebooting, just follow the 8 solutions above to fix it easily. If necessary, you must restore the iPad to its factory settings. And when none of these methods solve the problem, you can directly skip to the seventh method to use a third-party tool iOS System Recovery to completely solve the problem without losing any data.
Also, it's a good idea to back up your iPad regularly so that you can restore iPad data if needed. Is your problem solved? Perhaps, you might have some better tips to help others? Don't forget to share your thoughts on how to fix "iPhone keeps restarting" issue in the comments section.
Related Articles:
Full Guide on How to Fix Android System Crash Issue
[SOLVED] iPad Stuck on Apple Logo? Fix It Right Here!
iPad Won't Unlock? 9 Solutions to Fix iPad Slide to Unlock Not Working
Top 4 Methods to Transfer ePub Files to iPad in 2023
How to Sync iPad with New Computer (PC & Mac) without Erasing?