9 Fixes to iPhone Storage Not Loading/Calculating Category Sizes Stuck
You may suspect that your photos, videos, and documents are eating away at your iPhone memory. And when you encounter a perplexing issue: "iPhone storage not loading", you'll temporarily be refused to manage or free up your iPhone storage, only to be met with frustration as the process stalls or fails to initiate altogether.
So, why is my iPhone storage not loading? Is there any prompt resolution to this challenge? Well, this article seeks to be your guide in explaining the phenomenon and tackling this predicament head-on. We shall compile 9 fixes that you can employ to swiftly resolve the problem and regain control over your iPhone's storage.
Part 1: Why Won't My iPhone Storage Load?
There could be several reasons for the "iPhone storage won't load" or is not displaying correctly. Here are some common ones:
Your iPhone storage is full.
Connectivity problems within the network.
Processing errors caused by an overwhelming volume of data to load.
Unpredictable software glitches.
Challenges associated with the iOS operating system.
Configuration problems within the iPhone settings.
You May Take an Interest in:
Part 2: 8 Useful Tips for iPhone Storage Calculating Category Sizes Stuck
Tip 1: Wait a Bit Longer
Sometimes, it might take a few minutes for your system to display the storage details on your iPhone, particularly if your device holds a substantial amount of data. Therefore, when you encounter the "iPhone storage won't load", it's advisable to exercise patience and allow more time for the info to appear. Typically, waiting for 5-7 minutes should suffice for the loading process.
Tip 2: Force Quit Settings
Access the "App Switcher" (swipe up from the screen's bottom or double-click the "Home" button for older iPhone models).
Swipe up on the "Settings" card to force-close the app.

Return to the "Home Screen" and reopen "Settings".
Navigate to "General" > "iPhone Storage" to see if it still won't load.
Tip 3: Inspect Network Connections
Ensure your network is functioning correctly. If you're experiencing difficulties loading content such as videos, photos, or iPhone settings, there might be an issue with your Internet connection. To pinpoint the problem, switch between Wi-Fi and Cellular to identify the source of the issue and resolve the problem. (iPhone won't connect to Wi-Fi?)
Tip 4: Force Restart Your Device
If your iPhone calculating category sizes persists, perform a force restart to refresh the system and settle the matter:
For iPhone 8, SE (2nd Gen), and newer models: Quickly press and release the "Volume up" button. Swiftly press and release the "Volume down" button. Press and hold the "Side" button until you see the Apple logo, then release it.
For iPhone 7 and 7 Plus: Simultaneously press and hold the "Power" button and "Volume down" button. Release both buttons when the Apple logo appears on the screen.
For iPhone 6S and SE (1st Gen): Press and hold the "Power" button and "Home" button together. Release both buttons as soon as the Apple logo appears.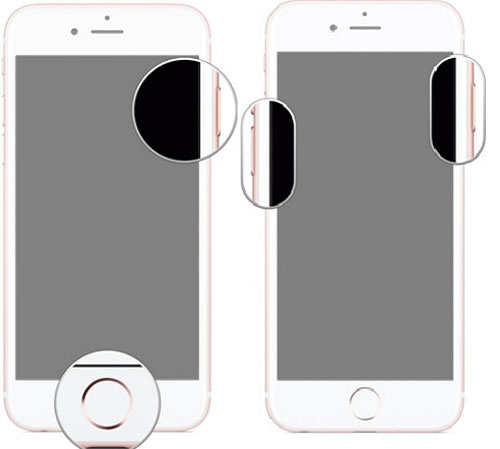 You Could Conceivably Favor:
Tip 5: Free Up Storage Space on the iPhone
As previously mentioned, insufficient storage can slow down the loading process. To expedite this, clear space on your iPhone. Follow these steps:
Go to "Settings" > "General" > "iPhone Storage" to see which apps consume your storage.
Select the apps you no longer need.
Tap "Delete App" to remove them. If you want to retain the app's documents and data, select "Offload App". (Can't delete apps on iPhone?)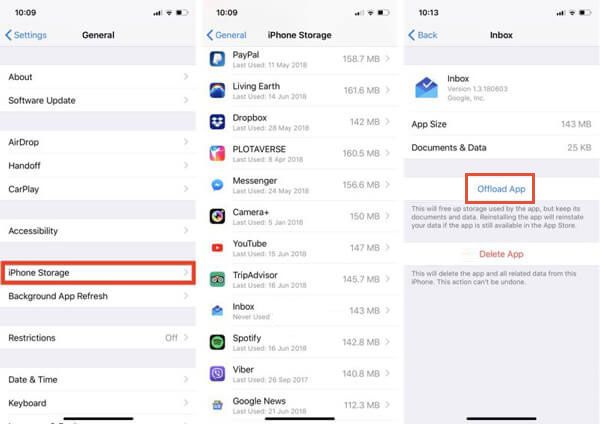 Tip 6: Reset All Settings on iPhone
Modifying your iPhone settings might resolve the iPhone storage error. Consider resetting all settings:
Access the "Settings" app on your iPhone and select the "General" option.
Scroll down and tap on the "Reset or Transfer iPhone" option.
Choose "Reset", then select "Reset All Settings".

Confirm your action by entering the passcode.
Tip 7: Sign out and Sign Back in iCloud
If your iPhone data is synced with iCloud, you can try signing out and then signing back into iCloud to see if it resolves the iPhone storage not loading. Follow these steps:
Open "Settings" and select "General".
Tap your account name, and scroll down to choose "Sign Out" to sign out of iCloud.

Sign back into iCloud with your Apple ID and passcode.
Tip 8: Update to the latest version of iOS
If resigning iCloud doesn't work and it persists, it's recommended to update your iOS to the latest version, such as iOS 16, from "Settings". However, before proceeding, you might as well create a reliable backup of your iPhone data. Additionally, ensure you have a stable and strong Internet connection for this process. (How long does iOS 16 take to install?)
Part 3: Fix iPhone Storage Won't Load by Repairing iOS System [No Data Loss]
Looking to resolve the issue of iPhone storage not loading quickly and efficiently without risking data loss? Consider giving iOS System Recovery a short. This top-tier system recovery software for iOS devices can address a range of iOS issues through straightforward mouse movements and clicks. Its impressive success rate has consistently positioned it as a leading choice among system repair programs.
Main characteristics of iOS System Recovery:
Swiftly fix iPhone storage not loading in simple clicks.
Two repair modes to put your malfunctioning iPhone back to normal.
Resolve a whole range of system issues, including the iPhone back tap not working, iPhone 13 screen not responding, iPhone stuck on the hello screen, iPhone died and won't turn on, iTunes errors, etc.
Additional features like seamless iOS upgrade or downgrade.
Work well with virtually all iDevices, covering iPhone 14/14 Plus/14 Pro (Max), iPhone 13/13 Pro (Max)/13 mini/12/12 Pro (Max)/12 mini, iPhone 11/11 Pro/11 Pro Max, iPhone X/XR/Xs/Xs Max, iPhone 8/8 Plus, iPhone 7/7 Plus, iPhone 6/6S/6 Plus, iPod touch, iPad, etc.
It won't disclose your privacy.
How can you troubleshoot the iPhone storage calculating category sizes stuck with iOS System Recovery?
Step 1. Run iOS System Recovery on a computer
Free download and install the program on your computer. Launch it and then navigate to "More Tools" > "iOS System Recovery".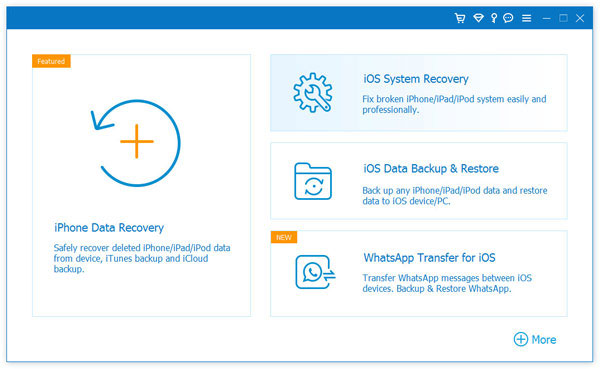 Step 2. Link your problematic iPhone to the computer
Connect your iPhone to the computer using a USB cable and click "Start" to commence the iOS repair. Then, tap the "Questions" icon and follow the on-screen instructions to enter DFU or Recovery mode.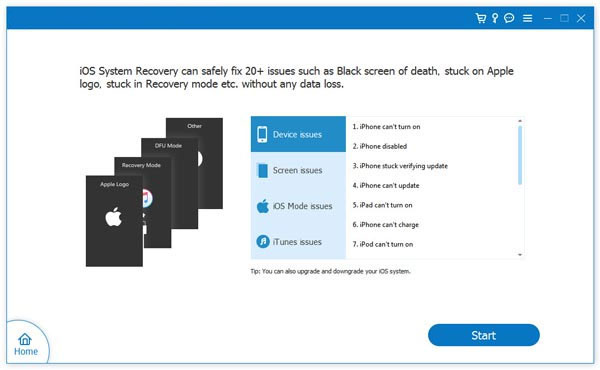 Step 3. Resolve the iPhone storage not loading issue
Confirm the details of your connected iPhone and click "Repair". Wait for the process to complete. Afterward, simply reboot your device, and it should function as expected.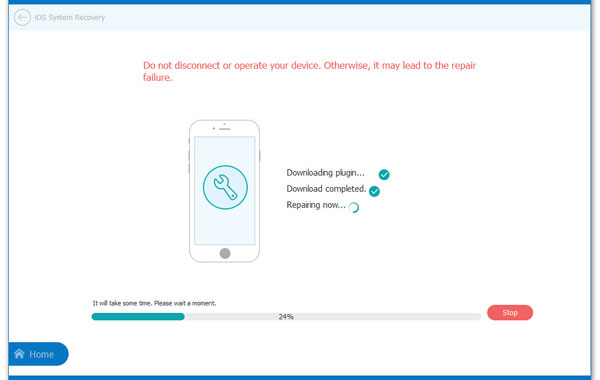 Round Off
As you can see from the above, we just delved into the 9 techniques, offering step-by-step guidance to troubleshoot the "iPhone storage not loading" problem. Nevertheless, should you wish to skip the guesswork and ensure a seamless resolution, iOS System Recovery stands as the ultimate remedy. With its unmatched track record in resolving system issues and restoring the normal functionality of your iPhone, it obviously provides a reliable and efficient strategy. So, give this software a try by downloading it now.
Related Articles:
12 Ways to Fix Unable to Load Video on iPhone 14/13/12/11/X/8 [Worth a Shot]
11 Creative Ways to Fix Move to iOS Stuck on Calculating Time Remaining
Top 11 Tips to Fix "iPhone Keeps Crashing" without Delay
iPhone Stuck on Apple Logo Storage Full? Here Are the Possible Reasons & Fixes
4 Innovative Techniques to Remove Device Supervision from iPhone or iPad
4 Most Effective Ways to Fix iPhone Is Disabled Connect to iTunes