Top 11 Tips to Fix "iPhone Keeps Crashing" without Delay
"After updating to iOS 15.4, my iPhone keeps crashing, rebooting, and showing 10% battery, after being close to 100%. Why does my iPhone keep crashing? Any tips to fix it?" -- from Apple Support Communities
The iPhone has become an indispensable "mini computer" for many Apple fans to work, live and play. Some veteran iPhone users may bump into problems such as sluggishness on an iPhone or an insensitive touch screen. In this case, some may not care too much because the phone can still work anyway.
However, the iPhone crashing or freezing denotes a different story - you cannot use the device as usual. Then, you probably want to know the reasons for this and feasible solutions. Well, this article will guide you through these.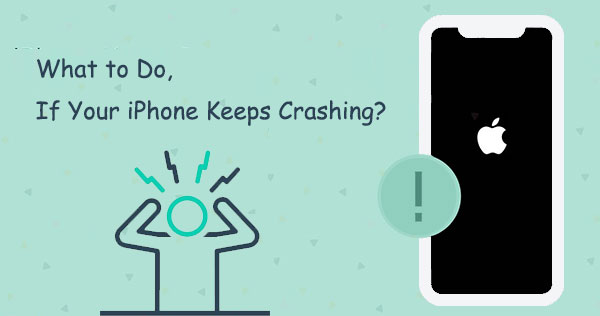 Part 1: Why Is My iPhone Crashing?
So, why does my iPhone keep freezing and crashing? Well, like Android, the seemingly purer iOS also has some shortcomings. iPhone crashing is just the epitome of errors. Its appearance is by no means occasional. Generally, the following can explain it:
Pending applications.
Errors caused by iOS downgrade or even upgrade.
Malware or bloatware attacks.
Near-full memory on your iPhone.
Driver instability.
Wrong configuration.
Unknown hardware issues.
We'll arrange a list of 10 quick solutions and hope they will be useful to you.
Click to Know:
Part 2: How to Fix "iPhone Keeps Crashing" (10 Quick Tips)
Tip 1: Restart iPhone
As you may know, rebooting your iPhone may help resolve minor glitches in your software. You can now try to fix iPhone crashed by giving it a fresh restart as follows:
Press and hold the Power button when you see the "Slide to Power Off".
For iPhone X/XR/Xs/Xs Max, press and hold the "Volume Down" button and the "Side" button simultaneously to get the "Slide to Power Off" display.
Swipe the "Circular Power" sign from left to right to switch off your iPhone.
After it shuts down, please press and hold the "Power" key (iPhone 8 and older) or the "Side" key (iPhone X/11/12/13 and newer) until you reach the Apple logo on the screen.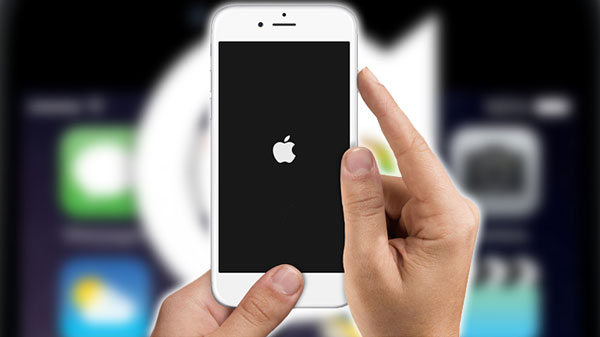 Tip 2: Close Faulty Apps
Potentially threatening applications can also cause a screen crash on an iPhone. Although we can't diagnose the running apps, we can close them instantly. To do it, you can:
Double-press the "Home" button on your iPhone 8 or older device or swipe up from the bottom of the display to the center on an iPhone X and newer.
This will help you get into the app switcher on your phone.
To close them, please swipe your apps up and off the top of the screen.
Tip 3: Clear Storage on Your iDevice
Freeing up the phone's memory can make the phone run faster and reduce the possibility of a phone crash. And cleaning up the Safari cache is one of the effective ways to achieve this target. My iPhone keeps crashing? Follow the steps below to clear storage on Safari:
Open your iPhone's Settings > "Accounts and Password".
Locate "Safari" and tap it.
Click "Clear History and Website Data".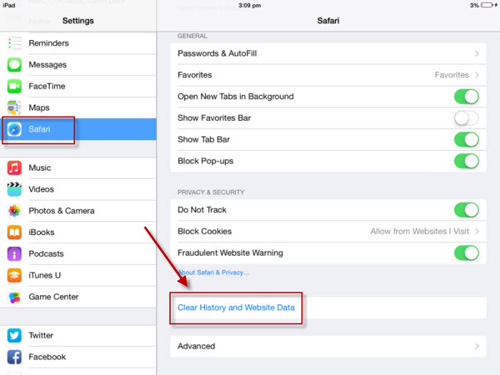 To know more tips on this measure, check this post - how to free up space on your iPhone in 11 tips.
Tip 4: Install Updates for Apps
So, what to do when an app keeps crashing on iPhone? Here's the tutorial for installing pending application updates on your iPhone:
Press "App Store" to open it from the "Home" screen.
Scroll down to the bottom of the display and hit "Updates".
A list of applications with pending updates will appear on the incoming page.
Go for "Update" nearby the name of an app to install updates.
You can also update multiple apps simultaneously by selecting "Update All" when some app updates are available.
See More:
Tip 5: Force Restart iPhone
Doing a force restart (known as hard reset) is another way to "fix iPhone crashes every few minutes". The method varies according to your iPhone models:
For 8, iPhone XS, X, and later: Press and release the "Volume Up" button; press and release the "Volume Down" key; next, press and hold "Side". Release the last button when you see the Apple logo.
For iPhone 7/7 Plus: Press and hold the "Power" and "Volume Down" buttons simultaneously until your reach the Apple logo.

iPhone SE, iPhone 6/6S, and older: Press and hold the "Home" and the "Power" button altogether when you see the Apple logo turns up on display.
Tip 6: Check iOS for Update
An outdated version of iOS is responsible for iPhone crashing sometimes. So, you can check the iOS for an update by going to your iPhone's "Settings" > "General" > "Software Update" > see if there's a new software update > tap "Download & Install", when available. (Check the complete iOS update guide?)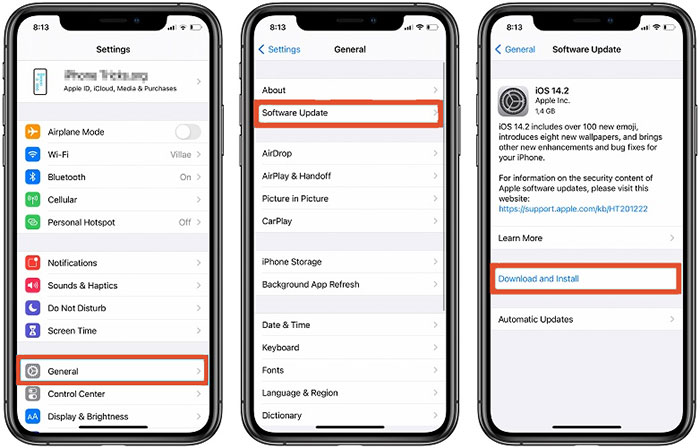 If you still encounter iPhone X/11/12/13 crashing after an update, just check the next tip.
Tip 7: Reset All Settings on iPhone
It's rather easy to reset settings on your iPhone to fix possible system setup errors. Yet, you have to turn on the necessary features and configurations as per your previous preferences. Here's the instruction for resolving iPhone crashing constantly in this way:
Go to your iPhone's "Settings" > "General" > "Reset".
Choose "Reset All Settings" > "Reset".

Input the correct passcode for your iPhone if prompted.
Confirm the action.
Tip 8: Get iPhone into DFU Mode
Launch the latest version of iTunes and connect your iPhone to the PC via USB.
Put iPhone into DFU mode:
For iPhone 8/X and higher: Hold down the "Side" button; press and hold the "Volume Down" for around 10 seconds when you see the display go black; next, let go of the "Side" but continue to hold down the "Volume Down" until the screen stays turns black.
For iPhone 7/7 Plus: Long press the "Volume Down" and "Sleep"/"Wake" buttons for 10 seconds; then let go of the "Side" while continuing to hold "Volume Down" for 5 seconds; your iPhone shows a black screen after that.
For iPhone 6/6S and older: Keep pressing the "Power" button and "Home" button until the screen goes black; next, release "Power" but keep holding "Home" for about 10 seconds.
A pop-up window will soon be on iTunes implying "there is a problem with the iPhone that required it to be updated or restored."
Follow the screen direction to restore your iPhone to fix iPhone crashes randomly.
Then please get your iPhone out of DFU mode if your phone refuses to do it automatically.
Tip 9: Restore iPhone from iTunes
By restoring the iPhone from iTunes, if there's a backup available, you can refresh your phone's content. It may work out the frustrating issue. Here's how to fix an iPhone crash with this tip:
Connect your iPhone to a computer with the iTunes backup stored.
Open iTunes on this computer.
Click the device icon when iTunes recognizes your iPhone.
Tap on "Summary" and check your device's summary and backups on the right.
Choose "Restore Backup" from the "Backups" section, and iTunes will begin to restore the last backup.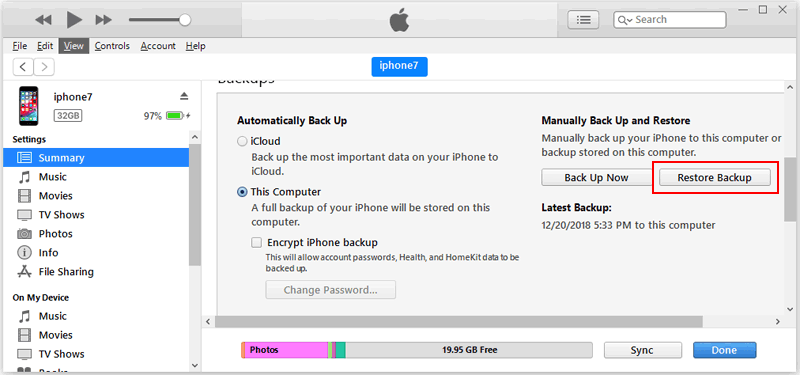 Tip 10: Factory Reset iPhone
Factory resetting your device can eliminate some tough bugs and errors, but it'll erase your iPhone and restore it to its original state. This is how to fix a crashed iPhone by factory reset:
Go to your iPhone's "Settings" > "General" > "Reset".
Select "Erase All Contents and Settings".
Enter the Apple ID and password when asked.
The reset will take minutes, and the welcome screen will appear when it is over.
Part 3: Ultimate Way to Fix iPhone Keeps Crashing with No Data Loss
Do you want to save the time wasted trying all kinds of methods that are not necessarily effective? For those who pursue high efficiency and zero risk, do remember to check the ultimate solution with iOS System Recovery. This software can help you solve more than 50 iOS system issues, including iPhone crashing/freezing, without harming iOS content. In short, although it isn't the last resort, it is definitely the one worth a shot.
Why choose iOS System Recovery?
Easily fix "iPhone keeps crashing" with zero data loss.
Settle various iOS problems, such as iTunes stuck on preparing iPhone for restore, battery draining fast, phone screen not responding, loop restart, etc.
Fix your iOS to normal with two optional repairing modes.
Upgrade or downgrade iOS without iTunes as per your needs.
Work for almost all Apple devices, covering iPhone 14/14 Pro/14 Pro Max/14 Plus, iPhone 13/13 Pro (Max)/13 mini/12/12 Pro (Max)/12 mini, iPhone 11/11 Pro/11 Pro Max, iPhone X/XR/Xs/Xs Max, iPhone 8/8 Plus, iPhone 7/7 Plus, iPhone 6/6S/6 Plus, iPod touch, iPad, etc.
It won't disclose your privacy.
Next, let's see how to fix iPhone crashing with iOS System Recovery in three easy steps:
Step 1. Install iOS System Recovery on your computer when you get it downloaded. Next, open it and choose "More Tools" > "iOS System Recovery".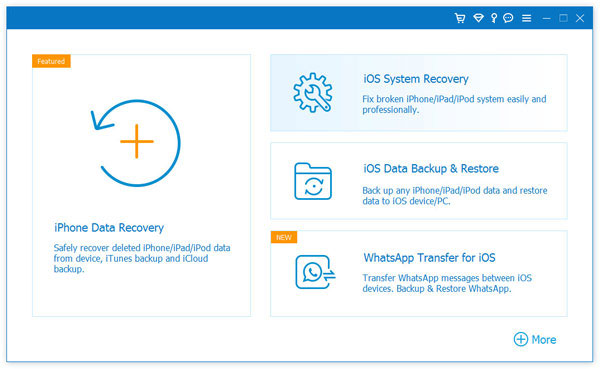 Step 2. Connect your crashed iPhone to this computer via a certified USB cord and tap "Start" to begin to fix the iPhone crash. Subsequently, you'll have to put your iPhone into Recovery or DFU mode by following the image below.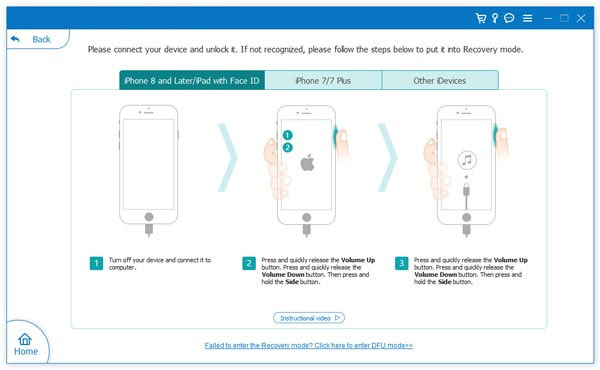 Step 3. Select the right iPhone model and tap "Repair" to download the plug-in for iPhone repair. After the download, this utility will automatically get rid of screen crash on your iPhone in minutes.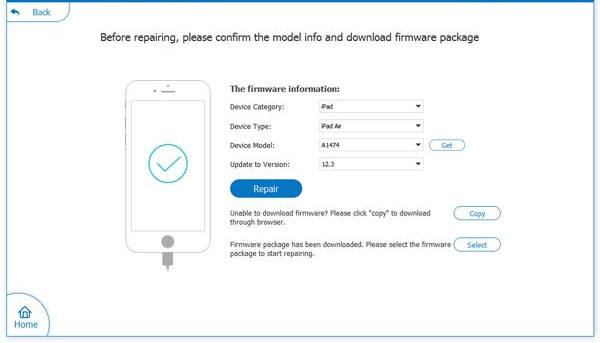 Closing Remarks
Well, these were the 11 tips to opt for when your iPhone keeps freezing and crashing. OK, if your iDevice can still be powered on, please refer to Tips 1, 2, 3, 4, 5, 7, and 10. Otherwise, just turn to the rest quick techniques. What if you wish to repair your device without limitation or data loss? Don't hesitate to try iOS System Recovery. Finally, please share this post with those around you if you find it valuable.
Related Articles:
Android Phone Keeps Turning/Shutting off? You Can Now Fix It Like a Pro
Android Apps Keep Crashing, How to Fix It? [Solved]
iPhone Stuck on Loading Screen? 7 Tested Ways to Fix It [2023 Latest]
Can I Get Photos off Broken iPhone? Very Likely [3 Easy Ways Here]
How to Get Rid of iPhone Grey Screen of Death? [8 Great Ways Offered]