iPhone Storage Full? How to Free up Space on your iPhone in 11 Tips
As an iPhone user, encountering the "iPhone storage almost full" alert is very familiar. This is very common on 32 or 64 GB iPhones. Today, with high-resolution photos and console-quality games, storage fills up quickly, even if you're on a 128 GB model. Due to the lack of space on the iPhone, it is now impossible to store new information or take any photos or videos.
Why does my phone always say storage full? What to do when iPhone storage is full? Do not worry! We have many ways to manage your iPhone storage full issue. As long as you follow these methods correctly, you can free up space on your iPhone without worrying about iPhone always out of storage problem from now on.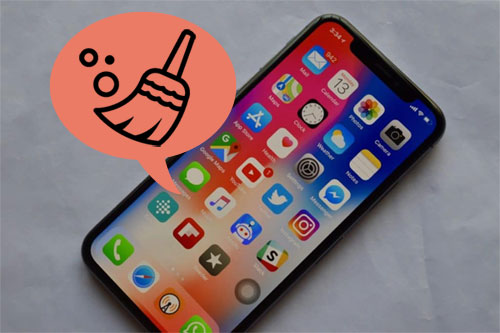 Part 1. Why is My iPhone Storage Full?
Over time, your iPhone may be filled with things that are of no use to you at all, such as various installation packages, App caches, and more. They don't really exist, but they take up a lot of valuable space. When a certain amount of memory is finally reached, you will be prompted that the iPhone memory is full.
So, how to check and manage storage space on iPhone? You can go to Settings > General > iPhone Storage. Here, you'll see some colored bars showing how much space you have left, how much space you're taking, and what space you're taking up.
However, you may find that no matter how you clean up, you are still prompted. "My iPhone says storage is full but its not". That's because these occupied memory is "system" and is the part that many people ignore. Therefore, it is important to know how to clean up the system memory to fundamentally solve the iPhone storage problem. No matter what iPhone you have, here are a dozen tips to free up storage space on your iPhone.
Related Posts:
Part 2. My iPhone Storage is Full? 10 Tips to Fix
Tip 1: Keep your photos in iCloud Photo Library
Pictures and videos take up the most space on your phone. Why not move those pictures and videos to iCloud? Don't forget that iCloud provides 5GB of free free space per Apple account. Uploading photos and videos to iCloud can free up a lot of storage space on your phone. Once you need them again, you can always redownload your photos from iCloud to any device. Follow these steps to see how to fix storage on iPhone by saving photos in iCloud Photo Library:
On your iPhone, tap on "Settings" > "iCloud" > "Photos".
Turn on "iCloud Photo Library".
Check the option of "Optimize Phone Storage".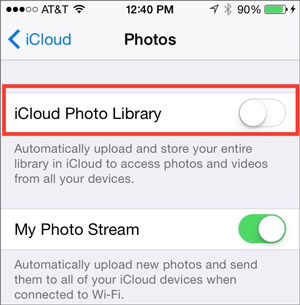 Note: If your iPhone storage is almost full, photos and videos will automatically be replaced with optimized versions.
Tip 2: Delete unused and pre-installed apps
Why does my storage keep getting full? There are definitely apps stored on our devices that we have downloaded but never used. And you rarely clean your iPhone, these useless apps and the huge amount of documents and data generated by frequently used apps will take up huge space. Now, it's time to clear them out of your iPhone.
Press and hold an empty space on your iPhone's home screen until all apps start shaking.
Click the "X" icon to the left of the icon to delete the app from your iPhone.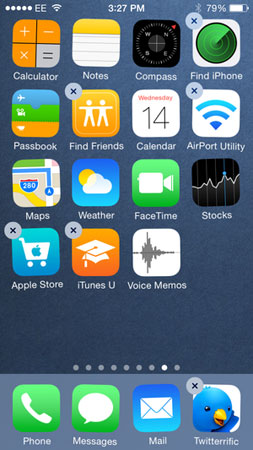 Tip 3: Clean app cache data on iPhone
Why do I have so little storage on my iPhone? Well, some applications generate large amounts of cached data. And these cached data will take up a lot of space. We can clear them to free up more iPhone space. You can find each program and clear the cached data for it. Now let's take Twitter as an example:
Navigate to Twitter > Settings and privacy > Data usage.
Choose to delete "Media storage" and "Web storage".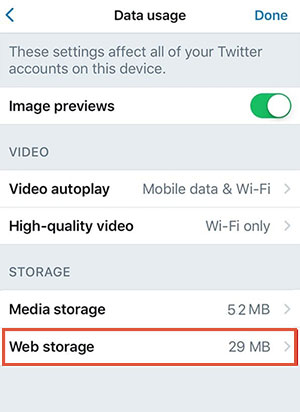 Tip 4: Set messages to delete automatically
Text messages are not automatically deleted. As long as you don't set them to auto-delete, they'll remain permanently on your phone and take up a lot of storage space. You may feel that deleting text messages is a time-consuming operation. Actually, you don't have to delete text messages manually, you can order your iOS to clear messages after a certain duration. The following is the specific operation method on how to fix "iPhone keeps saying storage full" bug by deleting messages from iPhone:
Go to iPhone's "Settings" > "Messages".
Tap on "Messages History" > "Keep Messages".
Select a certain length of time viz 30 days or 1 year or Forever, Then, older messages will be cleared automatically.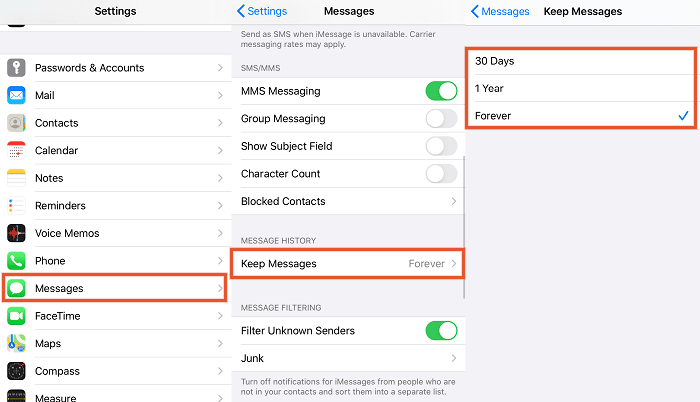 Tip 5: Clear your browsing data of iPhone
Browsing history, cookies, and other temporary files generated by browsers like Chrome, Internet Explorer, and Safari on your iPhone can take up a lot of storage space. Here are the steps to fix the "iPhone keeps saying storage full" issue by clearing your browser cache.
Open the Settings app on your iPhone.
Scroll down to tap the browser you use most often.
Click the "Clear History and Website Data" option.
Confirm "Clear History and Data" to clear the cache on iPhone.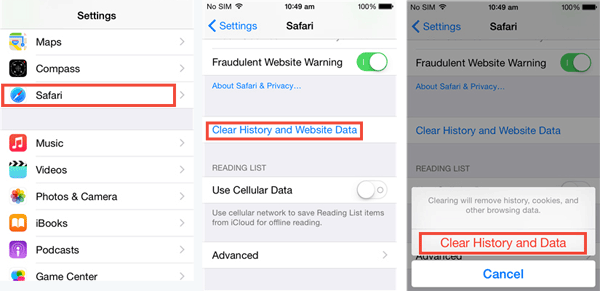 Tip 6: Offload unused apps without deleting their data on iPhone
Want to free up iPhone without deleting data? This option allows you to keep documents and data even when you uninstall some unused apps on your iPhone. Next time you want to use it, just download it again and use it as usual.
Go to your iPhone's Settings app.
Go to "General" > "iPhone Storage" and select the app you want to offload.
Click "Offlode App".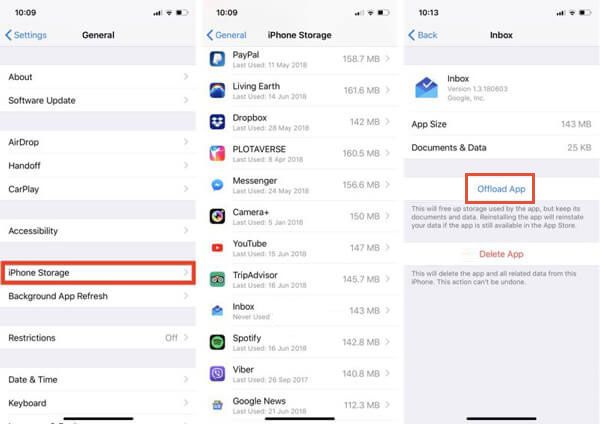 Tip 7: Delete old photos and videos on iPhone
When you check your iPhone storage, you will find that photos and videos take up a large portion of the storage space. By deleting photos and videos, you can get rid of iphone storage full problem.
Open the "Photos" app on your iPhone.
Go to the top right corner to tap on the "Select" option.
Tick off the photos and videos you want to delete. Or you can tap and drag your finger across the screen the select photos quickly.
After you selected all the photos and videos you want to deleted, you can tap the trash icon.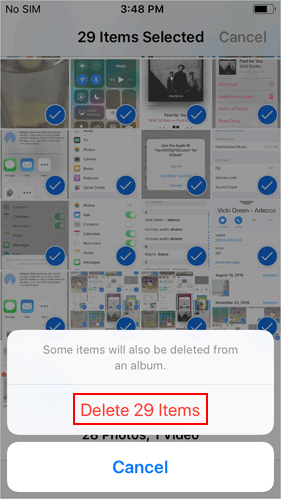 Tip 8: Turn off Photo Stream
Where is all my iPhone storage going? If you have Photo Stream turned on on your iPhone, any photos you take are automatically saved to Stream, these photos are not high-resolution, but they take up space. When you turn off photo stream on your iPhone, you can free up more storage space to solve the problem of iPhone storage almost full but not.
Go to iPhone's "Settings" app.
Tap on "iCloud" > "Photos".
Turn off both the "My Photo Stream" and "iCloud Photo Sharing" options.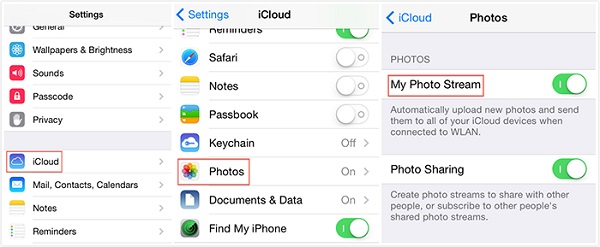 Tip 9: Choose the normal photos only
HDR is an ideal choice for users to take high-resolution photos in high definition. Of course, such photos are very large in size and will inevitably take up a lot of storage space. When you turn off the HDR option, the photos you take will be saved on your phone at a small size.
Go to the "Settings" option on your iPhone.
Tap on "Camera".
Check the "Keep Normal Photos" option.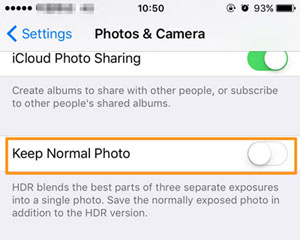 Tip 10: Erase all Content and Settings
This is the last resort to solve iphone storage full but nothing on phone. This will delete everything on the iPhone, including contacts, messages, images, music, custom settings, system files, and more. Therefore, we recommend that you back up your iPhone beforehand.
Go to iPhone "Settings" > "General" > "Reset" > "Erase All Content and Settings".
On the new screen, tap on "Erase iPhone", and then confirm it by entering your passcode and Apple ID info.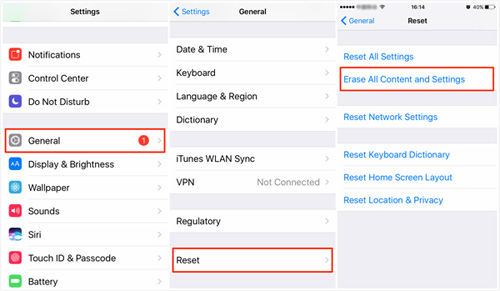 Related Posts:
Part 3. Ultimate Solution to Fix iPhone Storage Issues
The fast pace of life and work makes you not want to waste too much time on managing and cleaning up the phone memory, you are looking for a one-click deletion of all deleted files, private data, system settings and other files on iOS devices with no chance to be recovered . Well, MobiKin Eraser for iOS can do this very well. It can deep clean your iPhone, turning your old iPhone into a brand new iPhone without junk and cache files.
Key Features of Eraser for iOS:
Protect your privacy by completely erasing your iPhone with zero recovery possibilities guaranteed.
Provide 3 different levels to clean your iPhone flexibly.
Delete photos, contacts, text messages, call logs, documents, browsing history and other private data from iPhone permanently.
Support almost all iOS versions and iPhone types, including iPhone 14/13/12/11/11 Pro (Max)/Xs/Xs Max/XR/X/9 (Plus)/8/7/6S.
How to Fix iPhone out of Memory Problem Using Eraser for iOS?
Step 1. Connect your iPhone to your computer with a USB cable. Launch the installed Eraser for iOS on the computer and it will detect the connected iPhone automatically. Tap on "Erase" button on the interface to continue.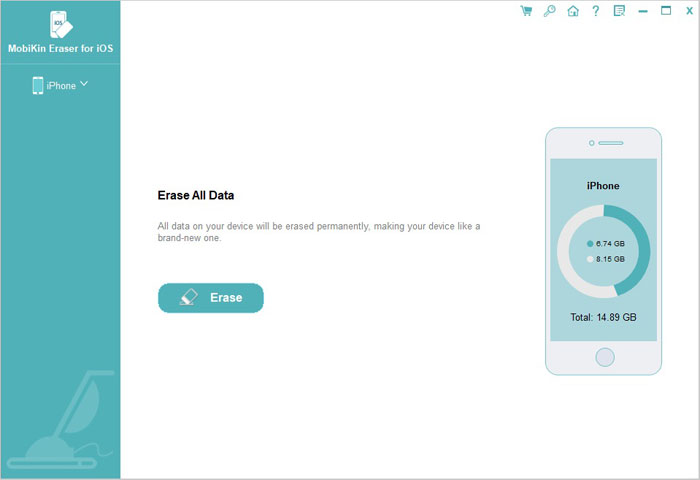 Step 2. Choose your wanted erasing level among the three different security levels: Low & Medium & High. Then, tap on "OK" to confirm your choice.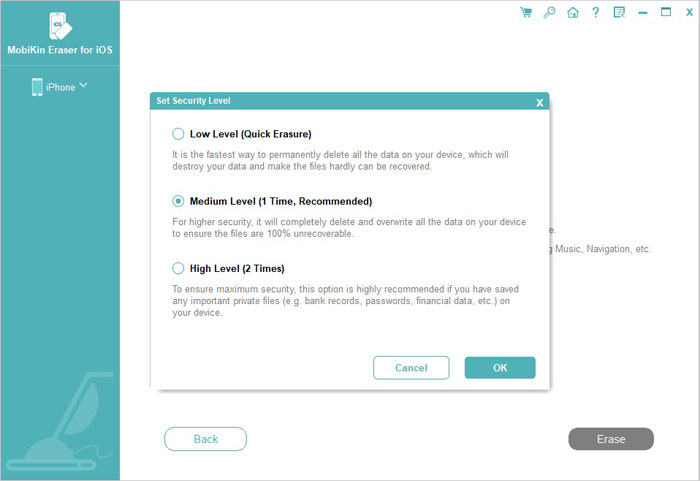 Step 3. On the new screen, type in "delete" in the blank box and then click the "Erase" button to erase content and settings on the iPhone.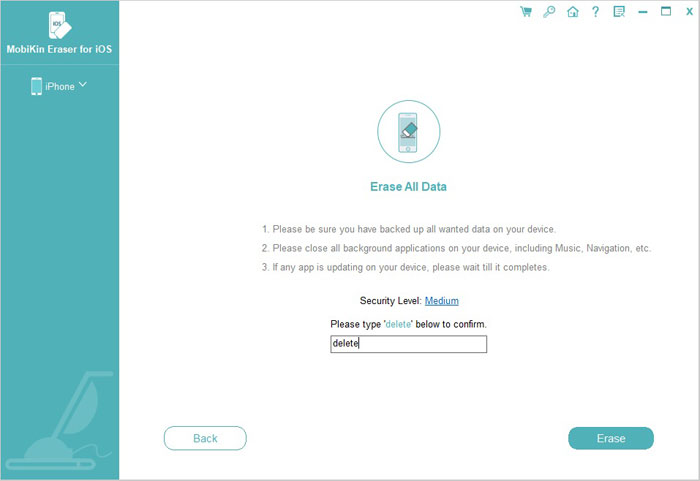 The Bottom Line
Now let's wrap up on how to fix iPhone keeps saying storage full. All in all, on the one hand we want to delete some unnecessary files and on the other hand also change the settings to avoid the saving files being too large. Finally, we can also back up the phone data to a cloud service or computer, so as to perform a deep cleaning of the iPhone.
We hope this guide was helpful and that you were able to fix your iPhone storage full issue. Hopefully you can keep using your iPhone without any trouble. If you have any other questions about your iPhone memory full, you can share more detailed information in the comments.
Related Articles:
4 Solutions to Erase All Content and Settings from iPhone
[Full Guide] How to Erase iPhone without Password Permanently
How to Delete Google History on iPad Pro, Air, mini, 4
How to Delete Viber Messages on iPhone 14/13/12/11/Xs/XR/8/7
How to Delete SIM Card Contacts on Android Permanently?