Tutorial to Sync iCloud (Contacts, Calendar) with Android Smart Phones
As is known to all, iCloud is a cloud storage and cloud computing service developed by Apple Inc. It replaced Apple's MobileMe service, acting as a data syncing center for email, contacts, calendars, bookmarks, notes, reminders (to-do lists), iWork documents, photos and other data. That is to say, you can have all your contacts and calendars stored in iCloud. But when you switch your iPhone or other iDevices to a new Android phone, you may need to transfer some important contacts or calendars to the new Android device. How to easily sync iCloud contacts (email, addresses and phone numbers) and calendars to Android would be the most urgent thing in your mind. Fortunately, this article mainly focuses on this topic and will offer you some methods to help you sync iCloud with Android efficiently. Now let's move to the next section.

How to Sync iCloud Data with Android Devices?
Method 1: There is an easy way to get iCloud contacts with Android devices with the help of SmoothSync for Cloud Calendar and SmoothSync for Cloud Contacts.
It syncs the iCloud contacts to your Android device, updates the information if something gets changed and even propagates the changes you make on your Android device back to iCloud and thus to your Mac computer and iOS devices. You can download it on the Google Play Store first.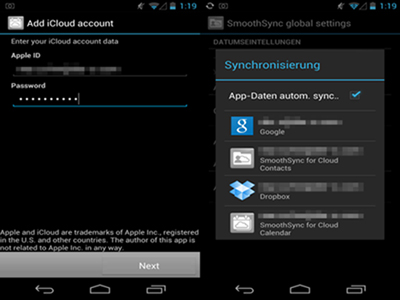 - When starting up for the first time, the application asks you to enter your iCloud credentials and password in order to sync all your iCloud contacts to your Phone.
- Once you press next the application will start syncing your iCloud contacts.
- When your contacts are synced, you can still add new contacts or edit existing ones on your Android device.
- The first time it should ask you if you want to "Complete action using Contacts or Smoothsync for Cloud Contacts".
- If you now choose Smoothsync for Cloud Contacts then any change you make and save to the contact will also get propagated to iCloud, and thus also to your Macs and iOS devices.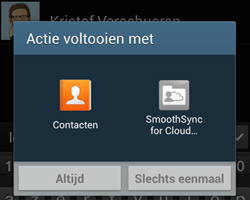 Method 2: Besides, here we'd like to introduce another effective solution which depends on a third-party desktop application. This program is Mobile Phone Data Transfer.
The steps are as follows:
Step 1. You need to download it on your computer and then connect the iPhone and Android phone to the computer. Then choose the "Restore from Backups" > "iCloud" option on the main interface.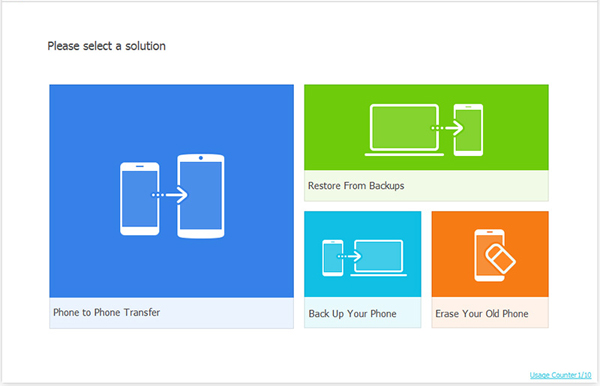 Step 2. Then you might log in your iCloud account to access the data on your iCloud backup.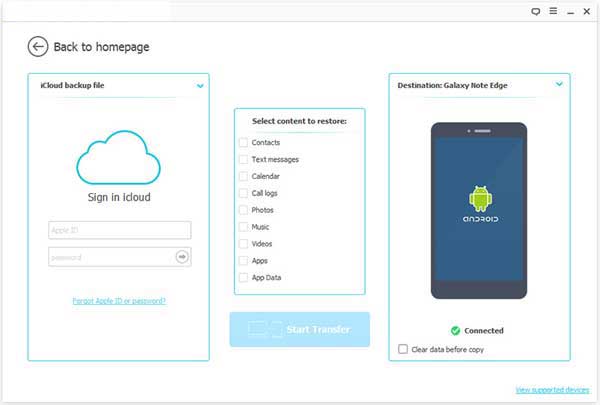 Step 3. When you have entered your iCloud account, you might need to choose a iCloud backup file of your device from the list to download.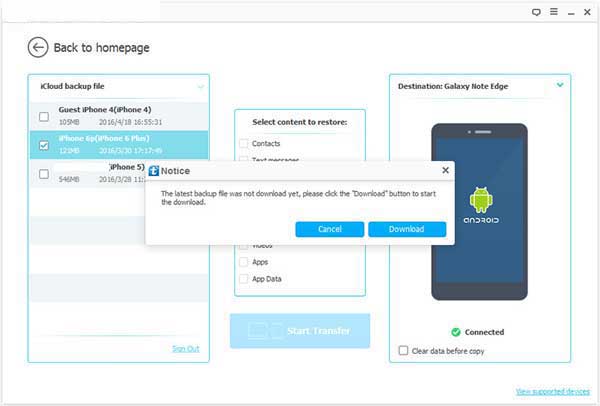 Step 4. After downloading, you can click the "Start Transfer" button so that the program will start transferring the files to the Android device.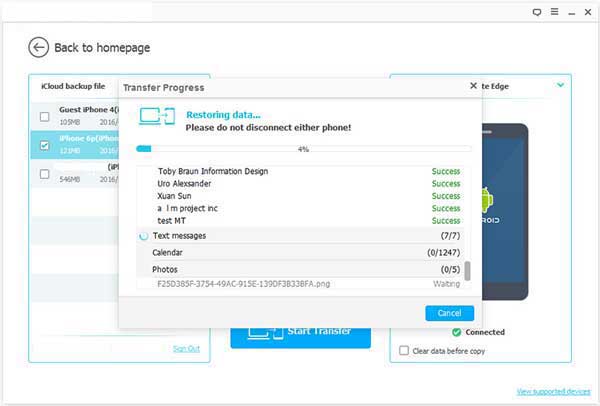 Related Articles:
How to Transfer Photos from Samsung Phone to Tablet? [5 Easy Ways]
How to Transfer Photos from iPhone to External Hard Drive? [6 Ways]
[2023 Guide] How to Transfer Data from Motorola to LG G8/G7/G6/G5?