Full Guide on Odin Root and its Alternatives
Rooting the Andriod device is an effective way to access to the highest authority of Andriod devices. After rooting, you might have more authority to manage the system software and setting in your Andriod device. Even though rooting might be contrary to the device warranty, people still tend to root their Andriod device for plenty of benefits after rooting. In this case, for Sumsung device users, you might rely on its exclusive root tool called Odin Root and this article will show you a complete guide to root your Samsung device. For other Andriod device users, there are some other recommended alternative root tool for you in this article.
Part 2. How to Root the Andriod Device with Odin Root?
Part 3. Free Alternatives to Odin Root for Andriod
Part 1. What is Odin Root?
Odin Root is the most widely used and recommended root tool for Samsung Andriod device, which allows users to access more functions and install the custom ROMs in the Samsung smartphones and tablets as one's own will. However, there are both advantages and disadvantages of this tool.
Advantages:
* Free for use
* High success rate
* Custom Kernel
* easy to operate
* Enable to install custom ROM
Disadvantages:
* Not support to backup
* Compatible with mainly Samsung Android devices and a few other Andriod devices
* Different Samsung device should download different Auto Root package file
Part 2. How to Root the Andriod Device with Odin Root?
If you need to root your Samsung Andriod device and are not that much familiar with Odin Root, there is a complete guide to help you to root with this tool. And before the operation, there are some preparations you need to make as below.
Preparation:
* Please ensure that your Andriod device has enough power, usually not less than 80% of the electricity.
* Ensure to backup all data from your device before rooting for Odin Root will remove the data and does not support to backup files.
* Download and install the latest USB driver on your PC and the latest Odin Root application from its official website.
* Enable the USB Debugging Mode on your device for connecting your device to computer. Go for "Settings">"Developer Options" to enable it. For some new Samsung devices, you might go to visit "Settings" > "About Phone" > "Build Number" and tap it for 5 to 7 times to enable the Developer Options.
After the preparations above, you might follow the steps below to root your Samsung device.
Step 1. Download the CF Auto Root package of your Samsung Device in corresponding model. To check for the exact build number, please go for "Settings" > "About Phone" on your device.
Step 2. Extract the downloaded package and save it in your computer.
Step 3. Turn off your device and enable the Download Mode. The Download Mode can be enabled by pressing simultaneously the Home, Power, and Volume down button for most Samsung devices. Then you might connect the device to your PC with a USB cable.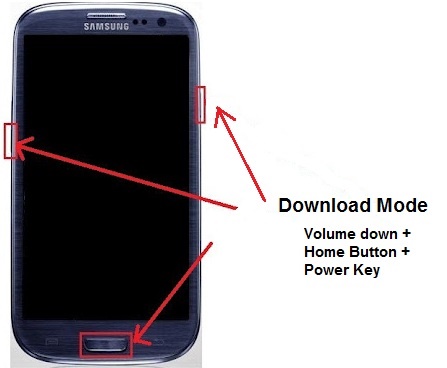 Step 4. Find your extracted "CF Auto Root (.rar)" file and select the "Odin3.exe" file to run it. Then you might see an "Added" massage on your computer for your device has been detected successfully by the USB driver you have installed. Also, the ID:COM option starts to turn blue.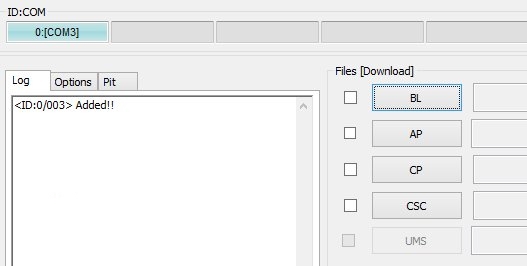 Step 5. Click the "PDA" button in the window and select ".tar.md5" file from where the Auto Root package has been stored to add it.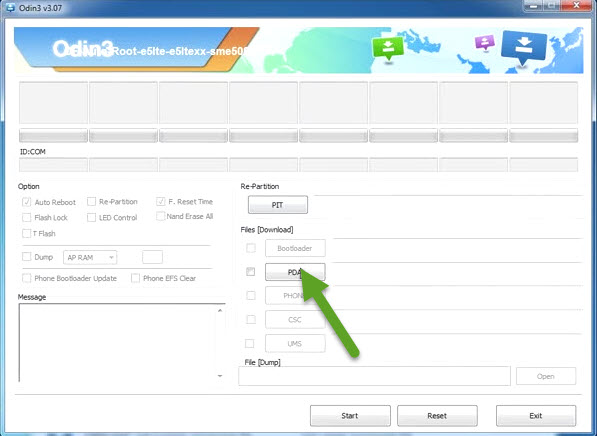 Step 6. Click "Start" to begin the rooting process and then a "Pass" notification shows in the window. Congratulations! The whole rooting process is finished and you might reboot your device and enjoy it.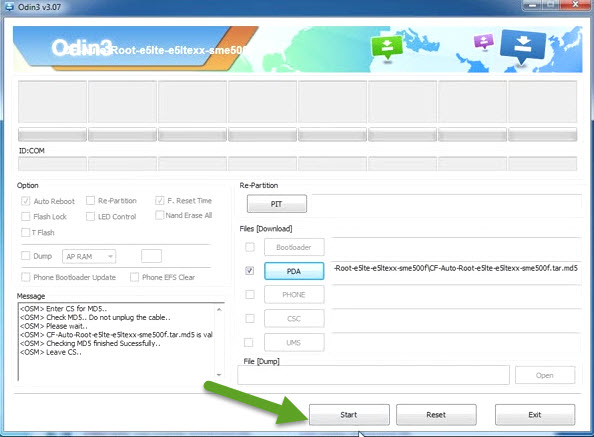 Part 3. Free Alternatives to Odin Root for Andriod
Although Odin Root is an effective way to root the Andriod device, there are still some limitations for it. For instance, it is only compatible with Samsung devices, not including the other Andriod devices. So in this part, some great free alternatives to Odin Root will be introduced for other Andriod device users.
1. KingoRoot
KingoRoot is a free root software for Andriod with faster performance and better protection for battery life. And you might access root-only apps and remove carrier bloatware and attain admin level permission after rooting. Click the download links below if needed and follow its instructions to root your Andriod device.
Learn more about KingoRoot.
2. Root Master
Root Master is a free root tool without risk to root the Android devices for users with simple steps. It supports almost all models of Andriod devices from different manufacturers. Below is the link you might need.
Learn more about Root Master.
3. Super Root
Super Root is a free root assistant to help Andriod users to root their devices, which supports to root almost all Andriod version devices with secure. Here is the link you might need.
Learn more about Super Root.
Related Articles:
How to Root Samsung Galaxy Devices with CF-Auto-Root in Odin?