SIM Unlock: 4 Hot Tips to Unlock SIM Card on Android Mobile Phones
Got an Android phone that comes locked by SIM from a carrier? Entered the wrong PIN code on your phone three times? Alas. It's quite annoying that your mobile phone is SIM locked. And that's going to double when you go to another region or want to change the current service provider you don't like. Well, Android SIM unlock is imperative under such circumstances.
As you might know, your device connects only to a specific network without offering a signal for any other services. Below we shall discuss some simple and universal methods to help unlock your Android SIM card. In the meantime, we also introduce the solution to make it if your phone is working with some main service providers.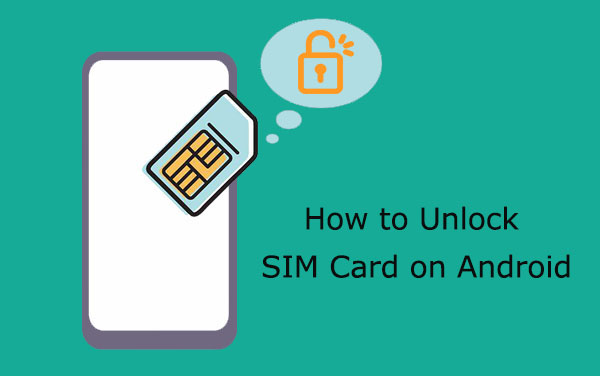 Way 1: How to Unlock SIM Card on Android Using SIM Card PIN
The subscription linked to a locked SIM card is protected against misuse. Given that, users need to input a SIM card PIN every time they start their devices. Be that as it may, it is a decent choice to use the PIN code to unlock SIM temporarily. The following steps apply to devices running Android 10, 11, 12, or 13.
How to unlock an Android phone to use any SIM card with SIM card PIN?
Head to your device's "Settings" > "Security" > "SIM card lock".
Press the toggle beside "Lock SIM card".
Input the SIM card PIN and tap "OK" to unlock the SIM card. (How to unlock the Android/Samsung PIN code if you forgot it?)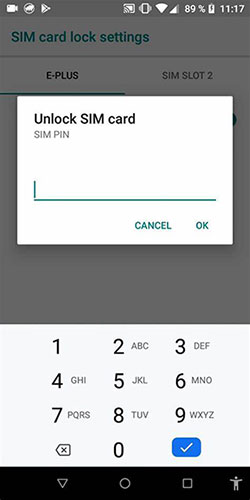 If your Android phone runs Android 9, please unlock your SIM card by following the quick look below. (Go to Android "Settings" > "Lock screen & security" > "Advanced" > "SIM card lock" > hit the switch nearby "Lock SIM card" > enter the SIM card PIN > tap "OK".)
Read Also:
Way 2: How to Unlock Android SIM with PUK Code
PUK is short for Personal Unblocking Key. It is a code consisting of 8 digits, protecting your subscription and device against unauthorized access. Besides, you can unblock your SIM card with it after entering the wrong PIN codes 3 times. Here's how to unlock a SIM-locked phone using a PUK code:
Call customer service and log in to your online account to view your Android settings.
Look for a series of digit codes, and please write down the PUK code.
You can also gain the PUK code from the card you get when you enter a SIM service.

Enter your SIM PIN three times or allow your device to prompt you for the PUK code.
Input the exact code provided by your network provider.
Confirm the code submission as prompted and try codes up to 10 times before using "0000" as the standard PUK code for most phones.
Wait for confirmation that the code works and enter a new SIM PIN when prompted.
Choose a memorable digit combination of numbers and jot down the new PIN for your records.
Way 3: How to Unlock SIM Card on Android via IMEI Number
IMEI stands for International Mobile Equipment Identity, which is the unique code for identifying your Android phone on any network. (IMEI can also be used to tell if your iPhone is unlocked without a SIM card.) It is distinctive and significant to your mobile phone. After you find it, you may say goodbye to the trouble of locking your SIM card.
How to unlock SIM on Android via IMEI number?
Open the Phone app on your device and enter *#06# in the dialer.
Take note of the IMEI info.

Make a phone call to your network provider, asking them to offer the unlock code for your device.
Give the staff your IMEI number when required.
They should inform you of the unlock code within five days.
You can then unlock your Android phone by using a different carrier's SIM card.
Further Reading:
Way 4: How to Unlock a SIM Locked Phone by Contacting Service Provider
Users will find it's worth the effort to unlock SIM cards by reaching out to the specific carrier. Even if the unlocking procedure may get tough, it is still a good idea to unlock a locked Android phone in this way before leaving your current carrier. Generally, there is a list of requirements you would have to pay attention to. And here they are:
Your phone number.
Your device's IMEI number.
Account holder's Social Security number.
Account holder's name details.
A completed contract or device payment plan.
Overseas deployment papers for military personnel with an unexpired contract.
On top of that, they are also some further preconditions for the exact service providers. Now, let's detail them by taking T-Mobile, Sprint, and AT&T as an example:
T-Mobile:
Your phone hasn't been reported lost, stolen, or blocked through IMEI.
Your device is associated with an account in "good standing".
The device must have been fully paid off and activated for at least 40 days.
For prepaid accounts, the device must have over $100 in refills since the first use.
If your device is on a service contract, it must have made at least 18 consecutive monthly payments.
If T-Mobile Equipment Installment Plan is used leased through JUMP, all payments must have been made.
You made fewer than 2 unlock requests per line in the last 12 months.
The carrier requests to see proof of purchase.
Sprint:
Domestic SIM Unlock is capable.
Your phone is attached to an account in "good standing".
Haven't been reported lost, stolen or blocked, or involved in any fraud.
Active for 40 days or up on the requesting line.
No outstanding payments or fees.
AT&T:
You have paid off your contract or installment plan.
The postpaid account should have been activated for at least 60 days.
Your phone hasn't been reported lost, stolen, or fraud-related. (Can I wipe Android data remotely if it is lost?)
You haven't activated a different AT&T customer account.
The account should be in "good standing".
You must have your company's permission if it is a business phone.
For military personnel, please email AT&T your TCS or PCS documents.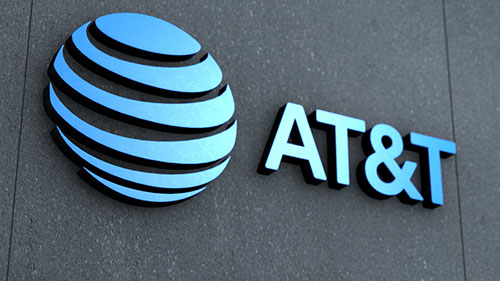 After figuring out the key requirements of some main carriers, you can now contact the provider without an Android SIM unlocker. You know, the contact info varies from one provider to another. And you can just look for it in your region and get in touch with the professionals for SIM unlock.
FAQs on Android SIM Unlock
Q1: How to change the SIM card PIN?
For Android 10/11/12, go to its "Settings" > "Security" > "SIM card lock" > tap "Change SIM PIN" > enter the old SIM card PIN > "OK" > enter the new SIM PIN > "OK" > re-type the new PIN > "OK".
For Android 9.0, get into the device "Settings" > "Lock screen & security" > "Advanced" > "SIM card lock" > hit "Change SIM PIN" > enter the old SIM card PIN > "OK" > type the new PIN > "OK" > Re-type the PIN > "OK".
Q2: How to keep away from Android SIM unlock app scams?
As you may know, some SIM unlocking apps may be fake and represent a risk to the security of your device. To keep you from any possible scams, please do not go to Google Play to search for a SIM unlock tool or look for "phone unlock tools" on any other download sites.
Q3: What if you receive an error code when unlocking your SIM?
Toggle off your phone's Wi-Fi and power on your device without a SIM card.
Type *7465625*638*# before the network lock screen turns up.
Enter the MCC/MNC code in the MCC/MNC field.
Input the unlock code in the "Control Key" and hit "OK".
Switch off your phone and insert your New Network SIM before switching on the phone.
Final Thoughts
That's all for the universal methods for unlocking SIM cards on Android. And as can be seen from the above, you're likely to complete Android SIM unlock under the guidance of staff if you fully paid off your phone and all installments or the contract term has expired. Otherwise, please try to unlock your SIM card with your PIN, PUK Code, or IMEI number. Finally, don't forget to share this post on social media if you find it desirable.
Related Articles:
How to Transfer Contacts from iPhone to SIM Card Easily & Quickly?
11 Workable Methods to Get "iPhone SIM Not Supported" Bypassed [Must-read]
How to Transfer SIM Card Data to Computer? [Easy & Quick Guide]
Top 10 Android Screen/SIM Unlock Apps You'd Better Know [Free & Paid]
Any Tips to Fix No SIM Card Error on Android? 16 Fabulous Ways for You
Where Are Contacts Stored on Android Phones & How to Export Them?