Full Guide of KingoRoot - How to Perform KingoRoot
In the market of Android rooting, people always feels hard to select a reliable rooting tool to help them root their Android devices without data losing. To be honest, finding a professional expert could be the safest method at present, but it is not a simple task to find a person who is familiar with all kinds of android rooting process. Thus, you need a tool that can handle with all kinds of Android rooting issues, and requires no professional skills for every user, right? Then, KingoRoot stands out in the field of rooting.
See Also: Top 7 Tools to Root Android Devices Online
What is KingoRoot?
KingoRoot is a free rooting software for Android users. It provide users with two different versions: PC version and App version. People can download this program from its official site according to your own needs. And it requires no professional skills for all users, the user-friendly interface will help you handle it as easy as 1-2-3.
Pros:
- Provide users with 1-click rooting feature;
- Work directly for Android devices, and compatible with almost all popular Android devices on the market, including Samsung, HTC, Motorola, LG, Sony, Huawei, etc.
- Two versions to satisfy users' different needs.
- Allow users to unroot a rooted device with 1 simple click.
Cons:
- May install some unnecessary apps on your device automatically.
- This app will be kept on your device after rooting.
How to Perform KingoRoot for Rooting Android Devices?
Below is the step by step guide of how to use KingoRoot by yourself. Just follow the instructions to perform it on your Android or Windows computer as you like.
KingoRoot App Version
1st click - Download and install the KingoRoot apk file on your Android device. To do it, you need to ensure your Android device is connected to a stable WiFi network, and you should to check the security for turning on unknown sources. Otherwise you may fail to install it. So follow this Settings > Security > Unknown sources.
2nd click - Launch the program on your device, and click on "One Click Root" on the main screen.
3rd click - Wait for the end of the rooting. If the program shows you the rooting process is failed, just repeat the above steps and try more times.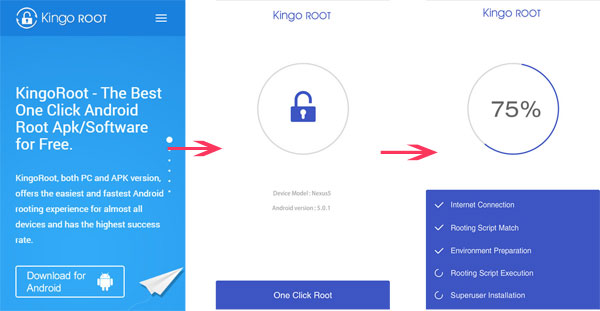 KingoRoot PC Version
Before starting the rooting process, you need to make some preparations:
- Power on your device and make sure its battery is at least 50%;
- Connect both mobile phone and computer to a stable internet;
- Prepare a USB cable.
Then you can begin the rooting process by following the steps below:
1. Download the PC version on your Windows computer, and finish the installation process.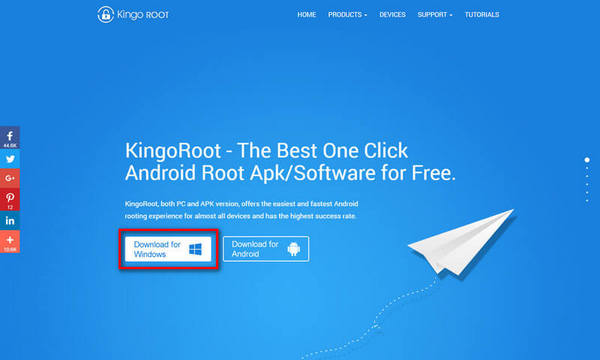 2. Launch the program and connect your Android device to the computer with USB cable. When the device is recognized by the program, it will start download all the necessary drivers to your device. (In order to ensure your device will be detected by the KingoRoot successafully, you need to enable USB debugging mode on your device)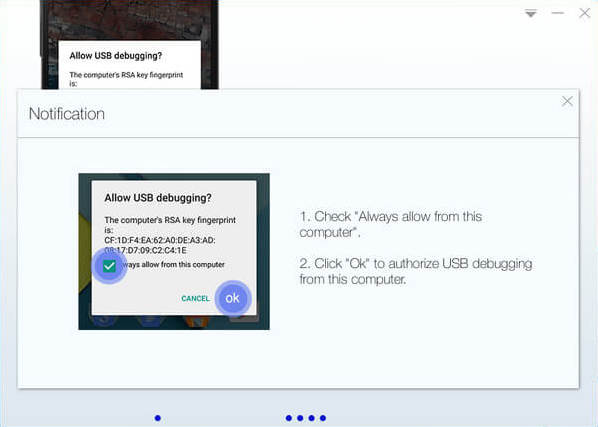 3. When the program reminds you the connection is completed, you can click the "Root" button on the main screen to start the whole process. Once the rooting process succeeds, you will see the prompt "ROOT SUCCEED" on the interface.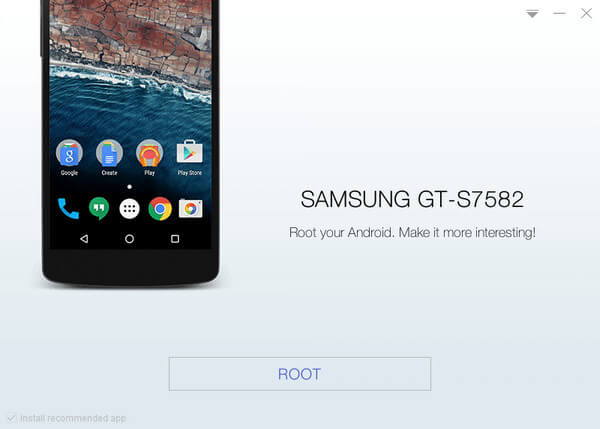 After that, you can go to check the root status of your device.
Related Articles:
How to Remove Root from Android Devices