[Full Guide] 2 Ways to Fake GPS Location on iPhone without Computer
Do you feel frustrated by limited access to online movies, shows, or other content due to your Location? Or do you want some anonymity when online? Whatever your reasons, learning how to fake your location on your iPhone is an essential skill in today's digital age. Wish to know how to fake location on iPhone without computer? Look no further! This guide will demonstrate various methods of spoofing your location on your iPhone. Continue reading this guide to learn how to fake your geographical Location.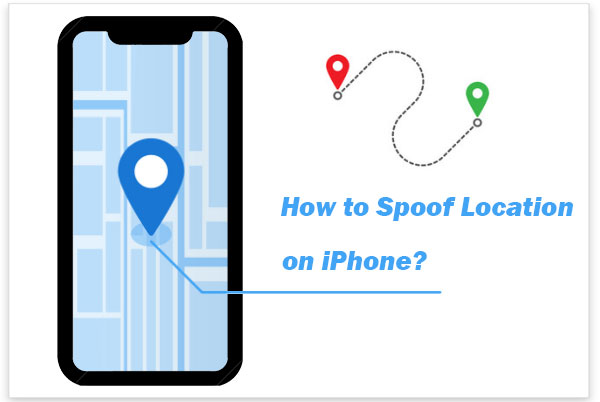 Part 1. Why Fake Your Location on iPhone without Computer?
Below are reasons why people choose to fake GPS location on iphone without computer:
Access Location-Locked Content - Have you ever been denied a movie or show access due to geographical restrictions? With GPS location spoofing, you can easily bypass such limitations and access content regardless of Location.
Maintaining Your Privacy - By masking your current whereabouts, you can protect your privacy and keep your activities hidden from others.
Playing Location-Based Games - Do you enjoy playing Pokemon Go or other location-based games? You can easily fake your GPS location on an iPhone to help you reach rare, inaccessible areas.
Location-Based Apps - Location-based apps often require changing your Location. With GPS spoofing, you can easily pretend to be anywhere in the world without traveling there.
Testing Apps - Have you ever wanted to ensure an app works appropriately across different locations? GPS spoofing is the best way to achieve this objective.
Avoiding Annoying Advertisements - Some apps display location-based ads. By changing your GPS coordinates, you can avoid seeing these irritating advertisements.
There are various ways to spoof location on iPhone without computer. All these methods have advantages and drawbacks, so take time to check out which works best for you. Below are the popular methods:
You Might Also Want to Know:
Part 2. How to Spoof Location on iPhone Without Computer Using Relocate App
Relocate application is a powerful location-changing app that works on iOS devices. It allows you to move from your location in just a few taps. However, this application requires a jailbreak to work correctly. It was developed by NepetaDev experts and supports all the jailbreak tools that run on iOS 14, 13, and 15. Follow the below simple steps to spoof location on iPhone without computer using Relocate App:
Download Relocate application from its website and install it on your device.
Launch the "Settings" application and head to the "Relocate" option.
Move to the "Global Override" tab and tap the "Location" button.
Select your preferred Location by tapping a location on the map.
Save the changes you have made by tapping on the "Save" button to effect the changes.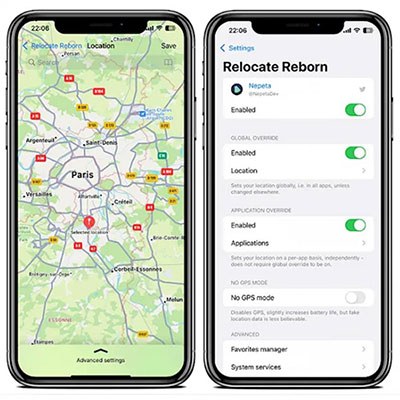 Part 3. How to Change iPhone Location Without Computer Using a VPN
You can utilize a VPN to spoof your GPS location on an iPhone without a computer. One of the best VPNs is the free PrivadoVPN. It provides you with a secure connection over the internet. Here's how to use PrivadoVPN to change your Location on an iPhone:
Start the procedure by going to App Store and searching for the PrivadoVPN application.
Tap on the "Download" option to download the app on the iPhone. Tap on the "Open after installation" option to open the app after it has been installed.
Set up an account by signing up. Click the "Sign up" option and fill out the required information. Tap on the "Sign in" option to sign into the VPN.
Tap on the "Allow" pop-up to add some VPN configurations on your iOS. Key in your iPhone's password to authenticate the additional action.
Click the "Keyhole" button in the middle of the screen to connect to a server. PrivadoVPN will select the fastest server for you. You can also choose a server you wish to connect to automatically by navigating to the "Settings" menu below the "Auto connection" option.
You can disconnect from the VPN by clicking the "Keyhole" key again.
Further Reading:
Bonus. How to Fake Location on iPhone with Computer Using Location Changer
Faking your iPhone's Location on a computer is another easy way to change your GPS location. It is an ideal way to spoof Location on an iPhone, especially if you don't have a jailbroken device. One of the best ways of faking an iPhone's GPS location is using a third-party location-changing tool - Location Changer. It is an easy-to-use location-changing software that allows you to change the GPS coordinates of iPhone without jailbreaking. It enables you to switch the actual Location of your iPhone to a virtual one and supports Mac and Windows computers. All you need is to enter the location information of where you wish to move, and you'll get an excellent fake destination on any iOS device.
It also enables you to import a GPX file to mark down where your new hidden "place" is. With just one click, you can move your GPS coordinates to any other spot on the map. Below are some of Location Changer's key features that make it an excellent location changer:
What can Location Changer do for you?
Simulate GPS movement, enable users to spoof locations with ease.
Compatible with various location-based apps, such as AR games, social media platforms, etc.
Import coordinates from GPX files.
No jailbreaking is required.
Simple yet powerful GUI interface.
Apple to almost all iOS devices, including iPhone 14/14 Plus/14 Pro (Max), iPhone 13/13 Pro (Max)/13 mini/12/12 Pro (Max)/12 mini, iPhone 11/11 Pro/11 Pro Max, iPhone X/XR/Xs/Xs Max, iPhone 8/8 Plus, iPhone 7/7 Plus, iPhone 6/6S/6 Plus, iPod touch, iPad, etc.
Below are the simple steps that you can follow to fake your iPhone's Location using Location Changer:
Step 1. Run the software and link your iPhone to the computer
Begin the procedure by downloading the Location Changer software from the download buttons above. Proceed with the process by installing and launching it on your Computer. Click on the "Start" button on the interface and connect the iPhone to the Computer using a USB cord. Click on your iPhone's "Trust" pop notification to authenticate a connection between your iPhone and Computer.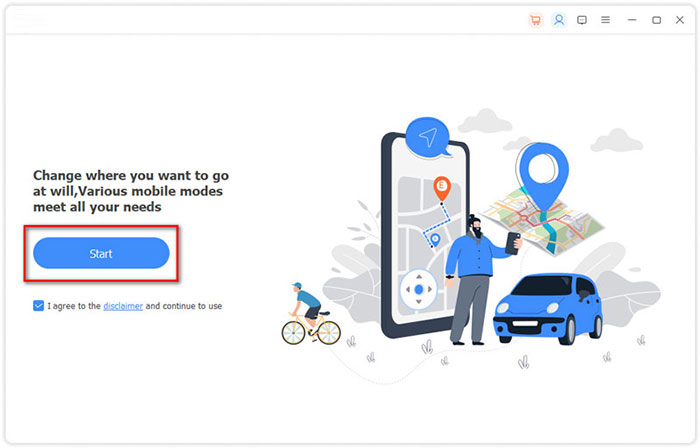 Step 2. Select "Modify Location"
Click on the "Modify Location" option. After that, a map will be loaded. You can zoom out, zoom in or drag to check the best locations that are available on the map.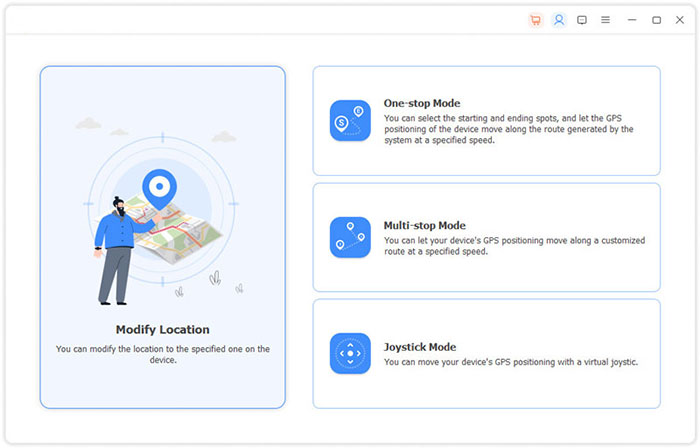 Step 3. Search the desired location and confirm
Locate the destination you wish to move to by searching or inputting the destination coordinated on the bar in the upper left corner of the application's interface. Finish setting up your new location by clicking the "Confirm Modify" button.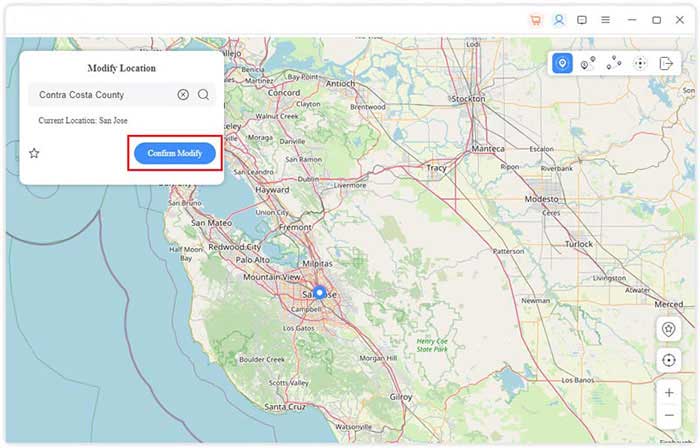 Step 4. Change iPhone location instantly
Select a destination location and click the "Move to" button to relocate. You can manage your GPS location records by clicking the "Manage History" button.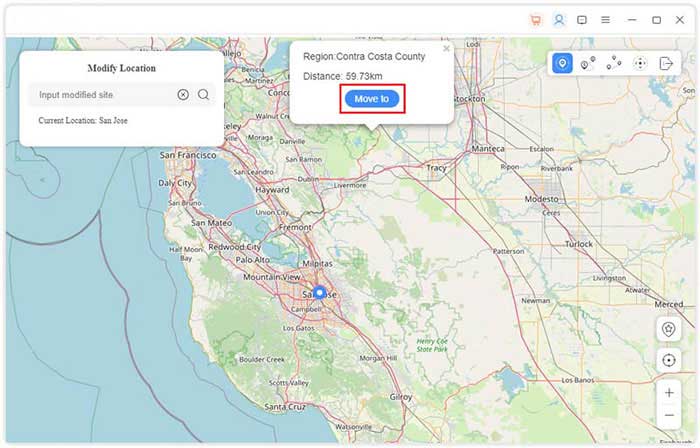 Frequently Asked Questions about Fake Location on iPhone
Q1. How can I fake my iPhone's location without jailbreaking?
You can spoof the GPS location of your iPhone without jailbreaking by using a third-party application like Location Changer. It is an easy-to-use location changer that allows you to change the GPS coordinates of your iPhone.
Q2. Can I use Location Changer to play AR games?
Yes, you can. Location Changer the ultimate location changing software that allows you to switch your actual Location to a virtual one while playing AR games unavailable in your Location.
Roundup
You now know the various ways to change iPhone location without computer. However, the easiest and most efficient method of faking your Location is doing it on computer using Location Changer. With this application, you can easily switch to a virtual location with a few clicks. This application is also safe, reliable and supports Mac and Windows computers.
Related Articles:
6 Tricks to Get Regional Pokémon without Traveling [2023 Updated]
[2023] No Location Found on iPhone? Here's What to Do
Where Does iTunes Store Backups & How to Change iTunes Backup Location?
5 Ways to Restore iCloud/Google/iTunes Backup to New iPhone 14/13/12/11/X/8
iOS 16 Update: Release Date, Compatibility, Features, Updates, & Troubleshooting