Full iOS Update Guide - How to Easily Update iPhone/iPad to iOS 12
A new iOS version - iOS 12 is coming, which would bring some new features to its users. And generally, no one would reject a new operating system, right? Then one problem comes here - how to update your iPhone or iPad to iOS 12? This is not a difficult task actually and you even have more than one method to complete the iOS update. Let's see what they are!
Why You Should Update to iOS 12?
All the users of iOS devices are strongly recommended to make an iOS update. That's because:
- The new iOS version can fix some bugs of the old version;
- You can enjoy some new feature after the update, such as the group FaceTime, screen time, faster performance, 3D object recognition, etc.;
- An old iOS version would cause some issues like the application crash;
- ...
You can get a lot of benefits from the iOS upgrade and why do you refuse such a wonderful operating system?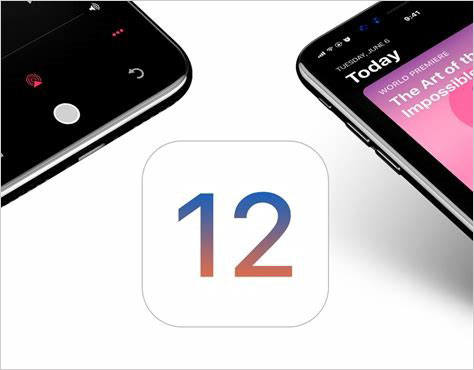 What Should You Do before the iOS Update?
Nonetheless, there are certain risks in iOS update, so you should do something to prepare for the iOS upgrade.
1. Check the Compatibility of iOS 12
No every iOS device is compatible with the new iOS version. Thus, you should check the compatibility of the iOS 12 beforehand. The followings are the supported devices for your reference:
- iPhone: iPhone Xs, iPhone Xs Max, iPhone XR, iPhone X, iPhone 8, iPhone 8 Plus, iPhone 7, iPhone 7 Plus, iPhone 6S, iPhone 6S Plus, iPhone 6, iPhone 6 Plus, iPhone SE, iPhone 5S;
- iPad: 12.9-inch iPad Pro 2nd generation, 12.9-inch iPad Pro 1st generation, 10.5-inch iPad Pro, 9.7-inch iPad Pro, iPad 6th generation, iPad 5th generation, iPad Air 2, iPad Air, iPad mini 4, iPad mini 3, iPad mini 2;
- iPod: iPod touch 6th generation.
2. Remember the Passcode
During the updating process, you will need to enter the passcode if you have set one. So you should know or remember your passcode.
3. Make a Backup for the iDevice Data
It is possible that you meet some problems while upgrading the system and the data on your iPhone, iPad or iPod might be damaged. To avoid this situation, you'd better back up the files on your iOS device before you start the update. If you are not sure how to do that, you can turn to the MobiKin Assistant for iOS or click to learn different ways to backup iPhone or iPad.
4. Make Space for the Download
To install the iOS 12 on your iPhone/iPad, you need to download the profile at first. And in order to ensure the download and installation can be accomplished smoothly, you should optimize the storage on your iDevice and make sure the available space is enough.
5. Connect to Wi-Fi
An iOS update also requires a stable network. So here you'd better connect your iPhone or iPad to a strong as well as stable Wi-Fi.
How to Upgrade Your iPhone/iPad to iOS 12?
There are 2 ways available for you to upgrade your iPhone or iPad to iOS 12. Here's how:
1. Update the Software on iDevice
1st Step: Unlock your iDevice and go to "Settings > General > Software Update".
2nd Step: If there is an iOS version available, iOS will offer you the details. Just read it.
3rd Step: Click on "Download and Install" and then enter the passcode if required. After that, you should agree to the terms & conditions.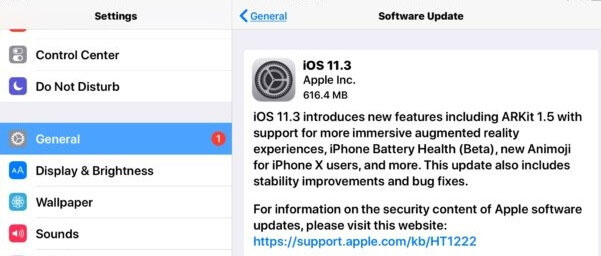 4th Step: Now the device will begin to download the update and you will receive a notification when the download is finished.
5th Step: Tap on "Details" followed by "Install Now". Then the iDevice will start to install the iOS 12. The update will take a while so please wait patiently.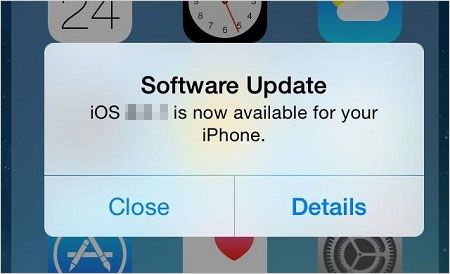 If you do not want to perform the update right now, you can select "Later" and it will offer to update during the night.
2. Update to iOS by Using iTunes
1st Step: Make sure you have a recent iTunes backup and have encrypted it. Otherwise, your passcode or other data might be damaged or lost during the upgrade.
2nd Step: Open iTunes on your computer and then plug your iPhone/iPad to the computer with a USB cable.
3rd Step: On the main interface of iTunes, you can tap on the "your device" icon at the top left corner.
4th Step: Go to "Summary" section and tap on "Check for Update".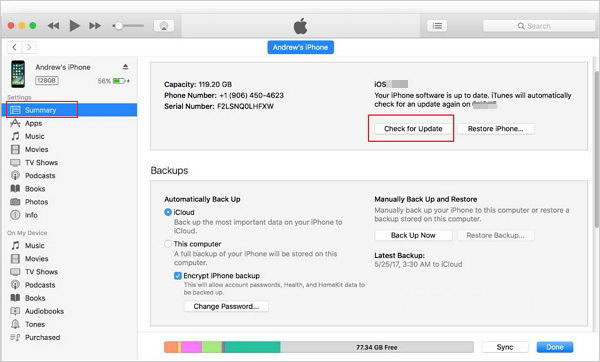 5th Step: Supposed there is an update available, please click on "Download and Update".
6th Step: After that, you should agree to the terms and conditions and type in the password on your iDevice if prompted.
Extra: How to Update to iOS 12 from a Beta Version?
Some users may try out a beta iOS 12 version ahead of the full iOS 12 version. And if you want to upgrade to official iOS 12 in this case, you need to remove the Apple configuration profile from your device firstly. This can be completed by navigating to "Settings > General > Profile > iOS Beta Software Profile > Delete Profile". After the deletion, you can receive the official updates and perform an upgrade as normal.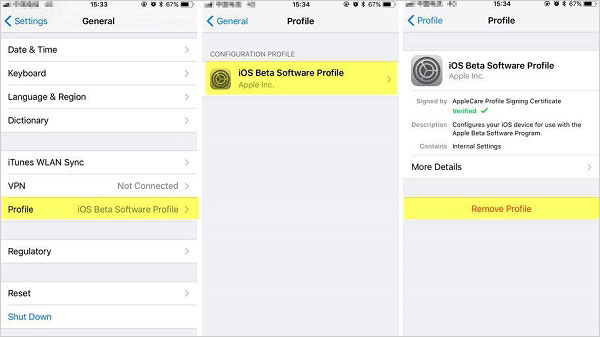 The Final Thoughts
It is doubtless that updating to iOS 12 can benefit you a lot. But before you start the upgrade, please make some essential preparations to ensure the safety of your iDevice files and the smooth going of the update. And while updating the iOS version, please go with the steps carefully to avoid some system issues.
Related Articles:
Detailed How-to Tutorial: Transfer to New iPhone Xs/Xs Max/XR from Old Android/iPhone/PC
Siri Not Working after iOS Update, How to Fix It?
[Solved] Something Wrong with My iPhone Charging after iOS Update, How to Fix It?
[Fixed] iPhone Can't Make or Receive Calls after iOS Update? 7 Tips to Solve It!