6 Tricks to Get Regional Pokémon without Traveling [2023 Updated]
Do you know how to play Pokemon GO without moving? There's a fascinating category of creatures known as "region-specific Pokémon". These unique and alluring Pokémon are, as the name suggests, native to specific regions of our globe. Niantic, the developer behind Pokémon GO, ingeniously designed these Pokémon to inspire players to embark on real-world adventures, and more walking equates to capturing additional monsters.
So, how to get regional Pokemon without traveling has sparked widespread curiosity. Now, without further ado, let's delve into the world of Pokémon GO and uncover how to catch them without physical movement.
Part 1: What Are the Regional Pokemon?
Regional Pokemon, also known as region-specific Pokémon, are a fascinating and uncommon species that can only be found in specific real-world areas. These creatures can be discovered in the wild, as part of group raids, hatching from eggs, or through research tasks that are tailored to their respective regions.
These exceptional Pokémon can be found in over 35 different locations worldwide with a Pokemon GO bouffalant map. The good news is that you can trade them with players from all over the world who are searching for region-specific Pokémon from your area. However, the drawback is that your region may have a greater number of common Pokémon compared to others.
You May Take Pleasure in:
Part 2: Where to Find the Regional Pokemon? Here's the Full List
Currently, there are 53 confirmed region-exclusive Pokémon species and forms in Pokémon GO. These Pokémon can only be found in certain parts of the world and not anywhere else. Want to find the best places to spoof Pokemon GO? Here is a list of the Pokemon GO regional map in 2023:
| | |
| --- | --- |
| Regional Pokémon | Location/Country/Area |
| Farfetch'd | South Korea, Taiwan, Japan, and HK |
| Kangaskhan | Australia |
| Mr. Mime | Europe |
| Taurus | The United States and Southern Canada |
| Heracross | Central and Southern American Regions |
| Corsola | Between 31N and 26S Latitudes |
| Volbeat | Europe, Asia, and Australia |
| Illumise | North and South America and Africa |
| Torkoal | Western Asian and South-Eastern Asian Regions |
| Zangoose | Europe, Asia, and Australia |
| Seviper | North and South America and Africa |
| Lunatone | Western Hemisphere – West of Greenwich Meridian Line in Europe and Africa |
| Solrock | Eastern Hemisphere – East of Greenwich Meridian Line in Europe and Africa, Asia, Australia, Middle East |
| Tropius | African and Middle-eastern Regions |
| Relicanth | New Zealand and Oceania |
| Pachirisu | Arctic Hemisphere Regions (Parts of Canada, Alaska, and Russia) |
| Chatot | Southern Hemisphere |
| Carnivine | Southeastern United States |
| Shellos | Shellos West Sea (pink) in the Western Hemisphere, while Shellos East Sea (blue) in the Eastern Hemisphere |
| Mime Jr. | Europe (5 km eggs) |
| Uxie | Asia-Pacific |
| Mesprit | Europe, Middle East, Asia, and Africa |
| Azelf | North and South America and Greenland |
| Pansage | Asia-Pacific Region |
| Pansear | Europe, Middle East, Africa and India |
| Panpour | North and South America, and Greenland |
| Sawk | Europe, Asia, and Australia |
| Throh | North and South America, and Africa |
| Basculin | The Red-Striped Form in the Eastern Hemisphere. The Blue-Striped Form in the Western Hemisphere |
| Maractus | Mexico, Central America, and South America |
| Sigilyph | Egypt and Greece |
| Bouffalant | New York and surrounding areas |
| Heatmor | Europe, Asia, and Australia |
| Durant | North and South America and Africa |
| Klefki | France, Luxembourg, UK South East Coast, Western Switzerland |
| Oricorio (Baile) | Europe, the Middle East, and Africa |
| Oricorio (Pom-Pom) | The Americas |
| Oricorio (Pa'u) | African, Asian, Pacific, and Caribbean Islands |
| Oricorio (Sensu) | Asia-Pacific Region |
| Furfrou (Debutante) | The America |
| Furfrou (Diamond) | Europe, the Middle East, and Africa |
| Furfrou (Star) | Asia-Pacific Region |
| Furfrou (La Reine) | France |
| Furfrou (Kabuki) | Japan |
| Furfrou (Pharaoh) | Egypt |
Part 3: How to Get Regional Pokemon without Traveling? (9 Tricks)
Trick 1: Use the Virtual Location Tool
As a highly adaptable location spoofer, The Virtual Location Tool can significantly enhance your Pokémon GO gameplay. Its advanced functionalities enable you to effortlessly alter your phone's GPS location, thereby granting you access to a wider range of regional Pokémon in the game. This attribute presents novel prospects for players to expand their collection and relish the excitement of pursuing exclusive Pokémon, rendering this software an indispensable resource for avid Pokémon GO fans.
Why Select Virtual Location Tool?
Get regional Pokemon without traveling by spoofing Pokemon GO securely.
Within this application, users have the option to select or remove previously saved locations.
Customize, simulate, and create different routes.
Set up virtual locations, making it difficult to detect their actual whereabouts.
The preferred routes can be saved and transferred by importing and exporting GPX files.
Go well with various iDevices, including iPhone 15/15 Plus/15 Pro (Max), 14/14 Plus/14 Pro (Max), iPhone 13/13 Pro (Max)/13 mini/12/12 Pro (Max)/12 mini, iPhone 11/11 Pro/11 Pro Max, iPhone X/XR/Xs/Xs Max, iPhone 8/8 Plus, iPhone 7/7 Plus, iPhone 6/6S/6 Plus, iPod touch, iPad, Samsung, Xiaomi, LG, Huawei, Sony, Google, Motorola, OnePlus, HTC, etc.
It doesn't invade your privacy.
How to get region-specific Pokemon by spoofing GPS location on your phone with Virtual Location Tool?
Step 1. Initiate the software and get started
Begin by installing and launching the tool on your computer. On its primary screen, locate and click on the "Get Started" button. Next, establish a connection between your smartphone and the computer using a USB cable. The software will promptly detect and identify your device.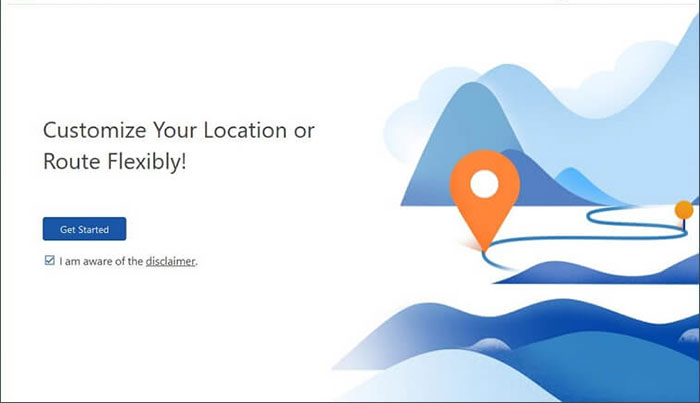 Step 2. Choose "Teleport Mode" and pick your desired location
Within the software's interface, navigate to the "Teleport Mode" option. Here, you can input your desired location into the search box. If necessary, you also have the option to enter GPS coordinates for a more precise location determination.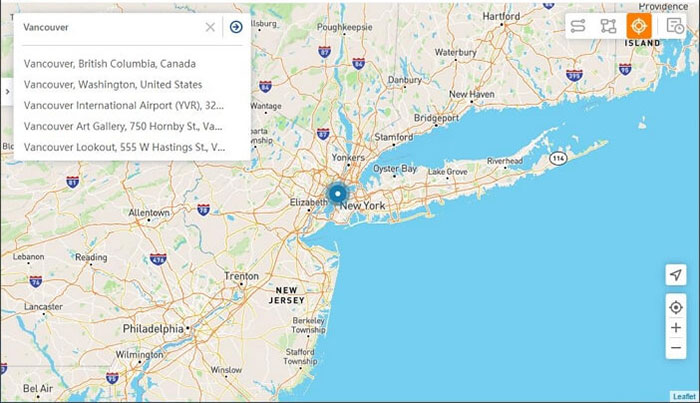 Step 3. Spoof Pokemon GO to get regional Pokemon without traveling
Once done, observe as the pointer on the screen moves to the corresponding spot on the map. To successfully trick Pokemon GO into spoofing GPS, simply tap on the "Move" button. This will effectively set the virtual location. And you can then easily catch region-exclusive Pokemon without walking.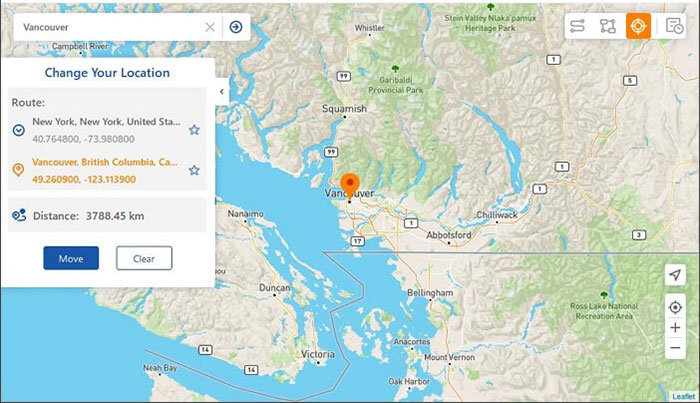 You Might Be Interested in:
Trick 2: Try Great & Ultra Balls
These enhanced Poke balls possess increased power and are designed for capturing more formidable and elusive Pokémon. A great ball provides double the usual bonus, while an ultra ball yields a 15-fold bonus boost. When on the hunt for Pokémon Go regional exclusives, it's advisable to maintain a substantial stock of these items.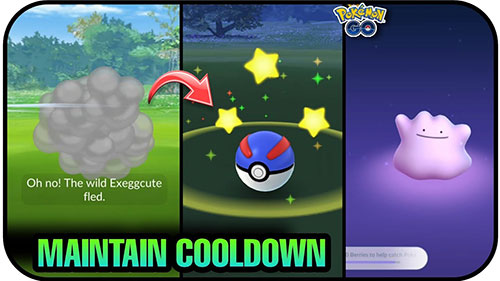 Trick 3: Maximize Your Medals
Medals play a unique role in enhancing your in-game performance without requiring any additional resources, such as Great Balls, Ultra Balls, or Razz Berries. Therefore, it's highly recommended to make a concerted effort to achieve and maximize your medals. Doing so will significantly boost your odds of successfully capturing rare and exclusive Pokémon, making them valuable assets to your collection and overall gaming experience.
Trick 4: Drill Your Throwing
Wonder how to get region-specific Pokemon by drilling a throwing? Firstly, practice makes an excellent Throw – start with nearby, larger Pokémon. Secondly, struggling with accuracy? Use Assistive Touch on your iOS device for a custom gesture. (Assistive Touch can also help you restart your iPhone without a power button.) Finally, staying updated via local Pokémon GO communities and social media for regional Pokémon info can make an effective throw.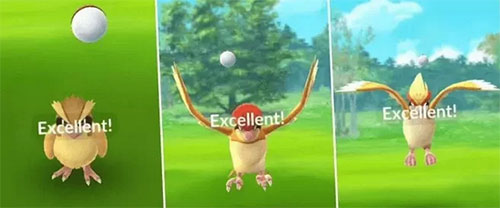 Trick 5: Exchanging for Regionals
If you can't travel or use GPS spoofing, trade for Regional Exclusives. It's considered a Special Trade, with stardust costs based on your friendship level:
Friend: No Special Trades.
Good Friend: 20,000 Stardust.
Great Friend: 16,000 Stardust.
Ultra-Friend: 1,600 Stardust.
Best Friend: 800 Stardust.
Trick 6: Disable AR Mode
Removing the augmented reality or AR mode from gameplay enhances accuracy and eliminates any potential disruptions or graphic accelerations that could potentially hinder the performance of your device. By improving your accuracy in targeting, you increase the likelihood of successfully capturing and adding Pokémon to your PokeDex.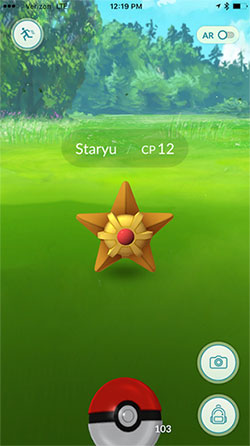 Trick 7: Anticipate a Special Event
If you prefer not to visit these areas, you may choose to wait until Niantic organizes a special event in your vicinity featuring one of the regional Pokémon GO creatures. In doing so, you can also get rare candy in Pokemon GO. Although this option can be advantageous, there is no assurance that the specific Pokémon you are seeking will manifest during any of these events.
Trick 8: Gather Razzberries
How to catch region-exclusive Pokemon through actions like disabling virtual reality mode? RazzBerries have the ability to capture the attention of Pokémon, just like the regional opportunities in Pokémon Go that become available once you have found a suitable location. By feeding berries to your target, you can significantly enhance your chances of capturing them. Therefore, it is recommended to use RazzBerries to attract and capture Pokémon effectively.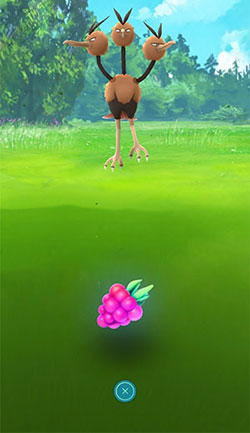 Trick 9: Bring Forth the Nanab Berries
Similar to RazzBerries, Nanab Berries increase your likelihood of successfully capturing a Pokémon. However, Nanab Berries have the added benefit of calming and slowing down the Pokémon. This feature proves to be particularly advantageous when encountering a rare regional creature that may attempt to flee.
Part 4: Additional Tips to Catch Region-Exclusive Pokemon
By following the tips and being proactive in your approach, you can improve your chances of catching region-specific Pokémon in the game:
Use candies and incense to attract Pokémon while spoofing your location.
Apply filters for specific Pokémon in unclear regional maps.
Return to dormant nests after 15 days due to Niantic's bi-weekly nest migration.
Avoid frequent location changes to prevent account suspension.
Take breaks if you're not finding Pokémon, then resume your search.
Learn their traits for better location identification.
Stay updated with local Pokémon Go communities and social media for regional info.
Join Pokémon Regional Championships, which include various Pokémon competitions.
Ending Part
In essence, this page offers insights into region-based Pokémon, their habitats, and a range of strategies to acquire them without the need for physical travel. Obviously, the primary objective here is to obtain these Pokémon without extensive walking. To achieve this for sure, just pick a practical and effective approach involving utilizing a product like the Virtual Location Tool. You can now download this software below and give it a shot.
Related Articles:
Pokemon Go Sniping: How to Snipe on Pokemon Go Like a Pro?
12 Best Ways to Hatch Eggs in Pokemon GO without Walking Quickly [2023]
Pokemon Sword & Shield: How to Evolve Dreepy/Drakloak into Dragapult [Fixed]
[Must-read] A Comprehensive List of Pokemon GO Hacks for Android/iPhone
4 Widely-used Ways to Send Fake Live Locations on WhatsApp for Android/iOS
How to Control iPhone with a Broken Screen Effortlessly? [Ultimate Guide]