7 Practical Tips to Change Weather Widget Location on iPad Air/Pro/mini/4/3/2
It so happens that your iPad weather widget refuses to display the correct location when you have to check the unpredictable weather conditions in your city. Well, it's urgent to alter your device's weather location because you want to see the real-time weather changes at any time next. OK, this page covers how to change weather location on iPad along with the most useful tips on this topic.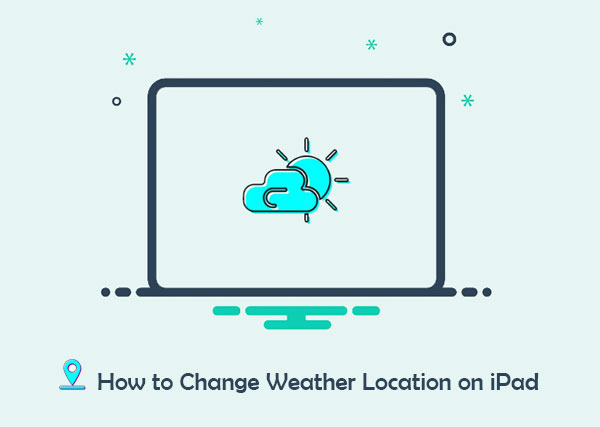 Part 1: Why Is Weather App Showing the Wrong Location on iPad
When the Temperature Unit is set to your preference or you select the "Default location" option, the wrong location will appear on your iPad. If you enable the geolocation for your iPad's weather app, it'll display the correct city.
While logging into your iPad with the same iCloud account, you'll have to access your current location list. Next, check whether you are using the current iOS 16. (What if there are some iOS 16 bugs on my iDevice?) Here, it is noteworthy that you always turn on that location for the Weather app. Then how do I change the weather location on my iPad iOS 16/15? OK, we shall talk about it in the next section.
Part 2: How to Change Weather Location on iPad Weather Widget
Regarding the changing weather location on the iPad, please allow it to access your location and give permission for the widget to receive the proper updates. Then it should be noted that the custom region won't be added to the list of locations. Only the one picked from the Location Services appears there. Thus, you may need to search for a place to switch it up.
Learn how to change weather location on iPad Pro/Air/min/4/3/2 with its weather widget:
Go to the "Widget" menu by holding the screen of your iPad's homepage.
Locate the "Forecast" widget among the list and tap "Add Widget".
Press and hold the widget and tap the "Edit Widget" option to reveal a drop-down menu.

Press the location that turns up on the widget to proceed to the following menu.
Search for the location to change location on the iPad weather widget.
You Might Want to Know:
Part 3: How to Fake iPad Location to Change Its Default Weather Location
We just delved into how to change the location on the iPad weather widget. Well, if the widget on your iDevice fails to work. That means it is stuck in an incorrect place or shows you the wrong location. Then how can you access the right weather conditions on your iPad? OK, just take a quick look at the Virtual Location Tool. With this powerful program, you can spoof iPad GPS as per your needs and flexibly change weather locations on the device accordingly.
Some key highlights of the Virtual Location Tool:
Fake iPad location to anywhere without jailbreaking it.
Plan a route on the map before customizing the speed to move.
Joystick to simulate GPS movement as required.
Select/remove the places saved on this tool you've visited before.
Import or export the GPX file to save any routes.
Work for location-based apps like AR games, social platforms, and more.
Apply to overall iOS and Android phones/tablets, including iPad Pro, iPad Air, iPad 4, iPad mini, the new iPad, iPad 2, iPhone 14/14 Plus/14 Pro (Max), iPhone 13/13 Pro (Max)/13 mini/12/12 Pro (Max)/12 mini, iPhone 11/11 Pro/11 Pro Max, iPhone X/XR/Xs/Xs Max, iPhone 8/8 Plus, iPhone 7/7 Plus, iPhone 6/6S/6 Plus, iPod touch, Samsung, Xiaomi, Motorola, HTC, Huawei, Sony, etc.
It won't disclose your privacy.
How to change weather widget locations on an iPad by faking its GPS with Virtual Location Tool?
Step 1. Free download and install iPad location spoofer on a computer. Then open it and tap "Get Started". Next, connect your iPad to the computer through a USB cord and hit "Trust" when prompted.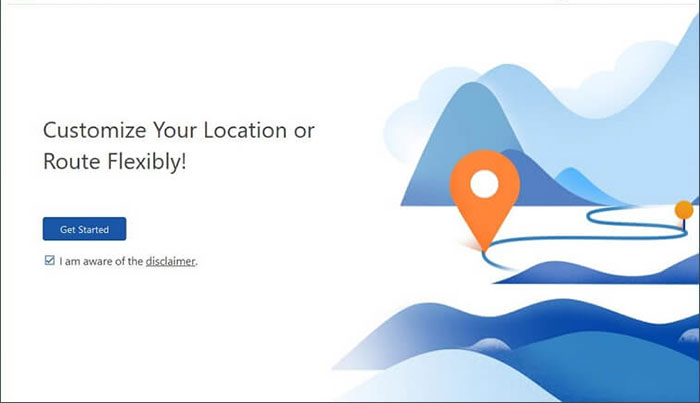 Step 2. When your map loads up, select "Teleport Mode" at the upper right and enter your required place in the search box. Here, you can also make it by dragging and pinpointing the location on this map.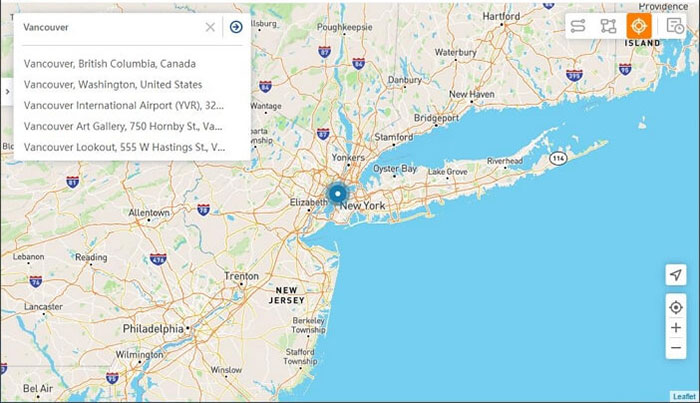 Step 3. This utility will soon show the into to you, containing the address, coordinates, and distance. Lastly, please click "Move" to instantly change your iPad GPS location.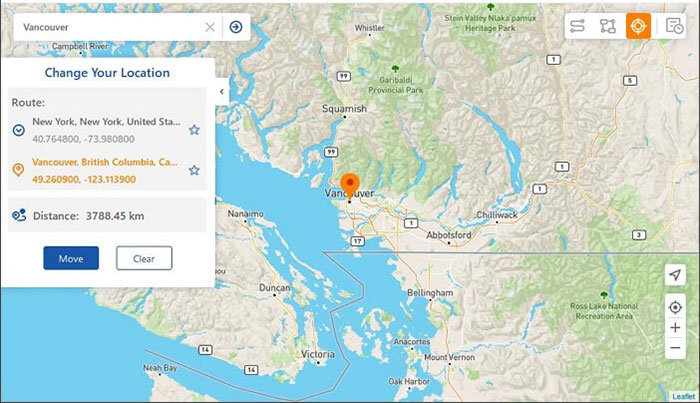 Part 4: How To Change Temperature Units on iPad
iPad can set your temperature unit according to your real location. Yet sometimes, you may want to change temperature units on the iPad to satisfy your habits of mind. For instance, if the current temperature is "86 degrees Fahrenheit", you may want to see "30 degree Celsius" instead on the screen.
Then check out the simple conversion of units: Touch the "ellipsis" from the list view; choose your preferred temperature unit; Optionally, go to your iPad "Settings" > "Weather" and change the unit from there. (What if my iPad's touch screen doesn't work? Try to unlock iPad/iPhone with an unresponsive screen easily.)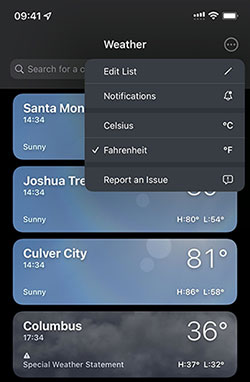 Part 5: How to Disable/Enable Location Service for Weather
Often, you may need to rescue your battery life from its Weather app. (My iPad/iPhone battery draining fast after the iOS update?) So it's a smart move to disable location tracking on your device. Here are the steps to turn off/on location service for the Weather app on your iPad:
Navigate to your iPad's "Settings".
Choose "Privacy & Security" > "Location Services".
Scroll down to locate and tap "Weather".
Choose "Never" under "Allow Location Access" to disable the iPad's location service. Here, you can also select "Always" or "While Using the App".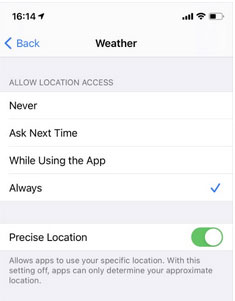 Extended Reading:
Part 6: How to Add City to iPad's Weather App
After disabling the Location Service on your iPad, you'll have to choose a permanent location/city to let it display on the Weather app. Here's the easy guide:
Run the Weather app on your iPad.
Choose the menu icon if a location comes out. (Touch the magnifying glass avatar if all your locations pop up.)
Enter your desired location in the search bar.
Find the correct location in the search results and choose the city.
Press "Add" to add your wanted location to the list.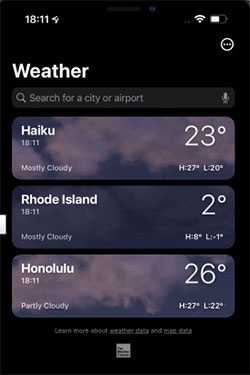 Part 7: How to Create Widget Stacks on iPad
iPad users can use stack widgets to position widgets over one another. Upon adding widget stacks, your device can show you the apps and services in a more layered way. Here's the tutorial:
Long press an exact widget and choose the "Edit Stack" section.

Touch the "+" or "-" sign to add or remove widgets based on your requirement.
Hit "Done" when completing stacking widgets.
After that, you can freely swipe up and down to cycle through the items in the stacks.
Part 8: How to Add a 3rd-Party Weather Widget on iPad
Assuming you don't like your iPad's current weather widget, try to add a 3rd-party one to treat yourself. Here's the detailed guide:
Swipe right from your iPad's Home screen.
When reaching the bottom of the "Today" page, hit "Edit".
Scroll down to locate the section of a 3rd-party widget before tapping "Customize".
Locate your desired weather app from the list.

Tap the "+" icon to add it.
Rearrange the widgets with the handles at the top screen.
Last Words
OK, this is the end of the passage. Overall, we hope what we just said can help you understand all aspects of the iPad weather location/widget. The content above shows you various tips that may meet your requirements. For example, if you can't get the specific weather by changing the weather widget directly, for it fails to work, try Virtual Location Tool, a great tool to smoothly change the weather location on your iPad by just spoofing its GPS.
Related Articles:
5 Secure Ways to Change Zenly Location on Android/iPhone in 2022
5 Popular Ways to Change GPS Location on Android [Ultimate Guide]
Why Is Snapchat Location Wrong? How to Fix It? [Complete Guide]
What to Do If iPad Won't Restore or Update? Check the 7 Solutions Here
3 Easy Methods to Remove MDM from iPad with/without Computer or Password
Where Does iTunes Store Backups & How to Change iTunes Backup Location?