Top 4 Solutions to Fix iPhone Unavailable without Data Loss
When inaccurate passcodes are parsed by your iPhone multiple times in a row, you may get the "iPhone Unavailable"/"Security Lockout" message or perhaps an additional "Erase iPhone" option. Oops, the incorrect code entry makes your iPhone disabled or unresponsive. Well, what results in the iPhone being unavailable, and how to fix it? OK, just keep moving on, for this article is exactly what you are looking for.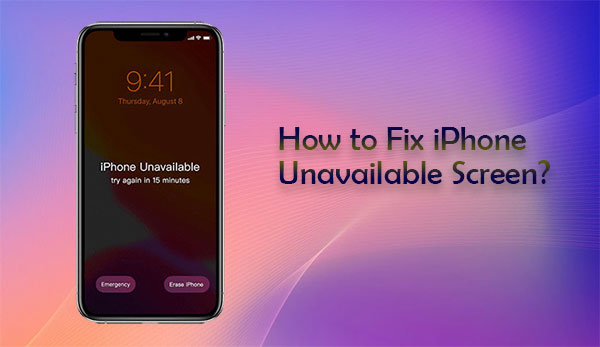 Part 1: Why Does My iPhone Say Unavailable?
The "iPhone Unavailable" screen error partly because you enter consecutive wrong passcode at short notice. And some other causes may also contribute to this phenomenon. Here are some of the most common ones:
Why does my phone say iPhone unavailable?
Your iPhone passcode expired.
You or someone else didn't enter the correct passcode on your iPhone.
You attempt the inaccurate password more than 10 times.
For particular reasons, your iPhone clicks on its own to unlock itself with random passcodes.
Click to See:
Part 2: How Long Does iPhone Unavailable Last
Different times of consecutive incorrect password attempts correspond to disparate "iPhone Unavailable" error prompts. In this case, your phone will be completely locked until a professional unlocking tool is taken into consideration. Well, what does it mean when your iPhone says iPhone unavailable?
After 5 successive incorrect passcode attempts, the "iPhone Unavailable, try again in 1 minute" error will appear.
After the 6th wrong passcode attempt, the "iPhone Unavailable, try again in 5 minutes" will turn up.
With the 7th incorrect passcode attempt, you'll get the "iPhone Unavailable, try again in 15 minutes" prompt.
After the 8th and 9th inaccurate passcode attempts, the "iPhone Unavailable, try again in 60 minutes" error will come out.
When you enter incorrect passcodes 10 times consecutively, you'll find the "iPhone Unavailable" with no timer.
Part 3: Remove iPhone Unavailable Screen with Built-in Feature (iOS 15.2 or Above)
We just dwelled on "what does iPhone unavailable mean". Next, what do I do when my iPhone says iPhone unavailable? OK, starting with this section, we'll talk about the solutions. To unlock your iPhone by itself, please check the following prerequisites first:
Then, let's see how to fix iPhone's unavailable lock screen with its built-in feature:
Enter the passcode until you see the "Erase iPhone" option on the device screen.
Touch the option. (Note that doing it will wipe out your iPhone.)
Input your Apple ID and password and confirm the action.

After the completion, you can set your iPhone up as a new one.
Extended Reading:
Part 4: Bypass iPhone Unavailable Lock Screen via Find My iPhone
Apple iCloud can store iOS photos, files, notes, passwords, and more in its cloud storage and keep them up to date across all iDevices. Interestingly, it is also shipped with a built-in functionality - Find My [iPhone/iPad], which can be used to locate and erase a locked iPhone when you enabled it previously.
How to unlock iPhone unavailable via iCloud Find My iPhone?
Go to icloud.com on any browser and log in with your Apple ID details.
Head over to "Find iPhone" > "All Devices".
Choose your iPhone that says "iPhone Unavailable" and tap the "Erase iPhone" option.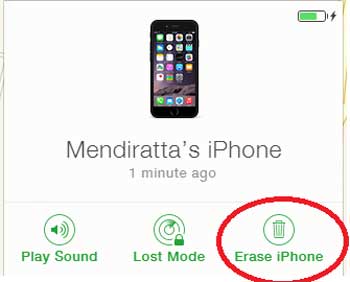 Part 5: Unlock iPhone Unavailable via iTunes
iTunes makes it pretty easy to restore your iPhone to factory settings. In doing so, you can reaccess your iPhone without the frustrating "iPhone Unavailable" screen message. Simple as it is, it will take an expansive amount of time, but it does work in most cases.
How to troubleshoot iPhone stuck on iPhone unavailable via iTunes?
Ensure the latest version of iTunes is running on your PC.
Connect your unavailable iPhone to a computer via a Lightening-to-USB cable.
Run iTunes, and it will automatically detect your iPhone.
When the tool takes you to a message window, proceed to the "Restore" option.

Once your device is restored, you'll see the "Hello" screen after it reboots.
Part 6: Fix iPhone Unavailable with a Professional iPhone Unlocker
"My iPhone says iPhone unavailable, and I cannot make it accessible even with a correct Apple ID offered". Well, are you struggling to fix your unavailable or disabled iPhone? Take a look at iOS Unlock if you'd like to unlock your iPhone without any preconditions. This product is specially designed for Apple users to easily bypass a variety of iOS locks within minutes.
What makes iOS Unlock so irreplaceable?
This tool can unlock iPhone lock screens without any requirement.
Eradicate 4-digit passcode, 6-digit passcode, Face ID, Touch ID, and even Screen Time passcode.
Remove MDM/remote management on iPhone/iPad without data loss.
Unlock SIM locks without violating your phone's warranty.
Bypass iCloud account from iOS devices without a password.
Wipe out an iCloud Activation Lock in seconds.
Work well with various iOS devices, including iPhone 14/14 Plus/14 Pro (Max), iPhone 13/13 Pro (Max)/13 mini/12/12 Pro (Max)/12 mini, iPhone 11/11 Pro/11 Pro Max, iPhone X/XR/Xs/Xs Max, iPhone 8/8 Plus, iPhone 7/7 Plus, iPhone 6/6S/6 Plus, iPod touch, iPad, etc.
It won't disclose your privacy.
How to eliminate the "iPhone not available" message by unlocking it with iOS Unlock?
Step 1. Firstly, free download and install iOS Unlock on a computer. Next, select "Screen Unlock" among the modules available.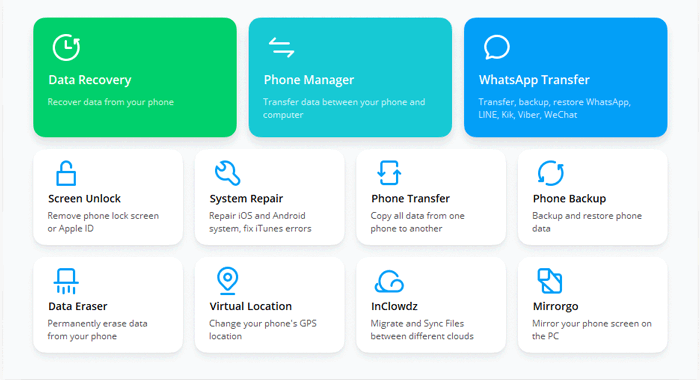 Note: Since unlocking your screen lock will end up wiping your iOS data, it's better to back up your iPhone to a computer in advance.
Step 2. Use a USB cord to connect your iPhone to the computer and wait until it is recognized by the tool. Afterward, tap "Unlock iOS Screen".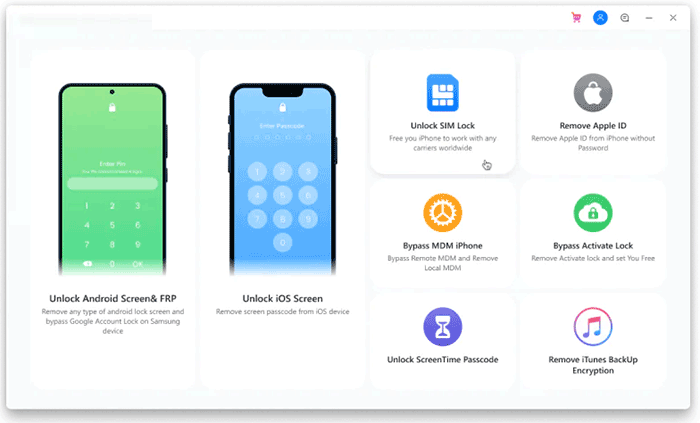 Step 3. Follow the simple on-screen hints to put your iPhone into "Recovery Mode" or "DFU Mode".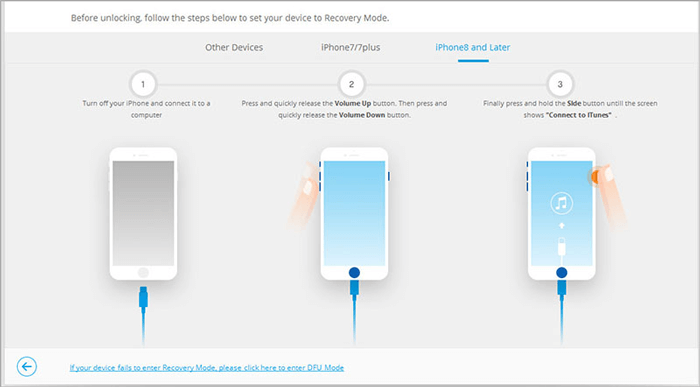 Step 4. Once done, check your iPhone model and system version before clicking "Download" to get the firmware package for your device.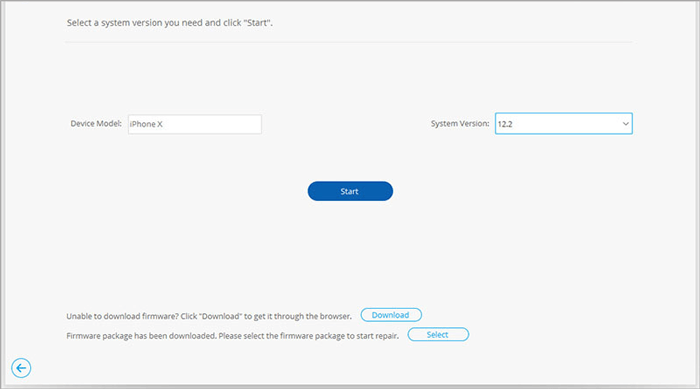 Step 5. After that, tap "Unlock Now" to start unlocking your iPhone lock screen. A short while later, you can access your iPhone without limitations.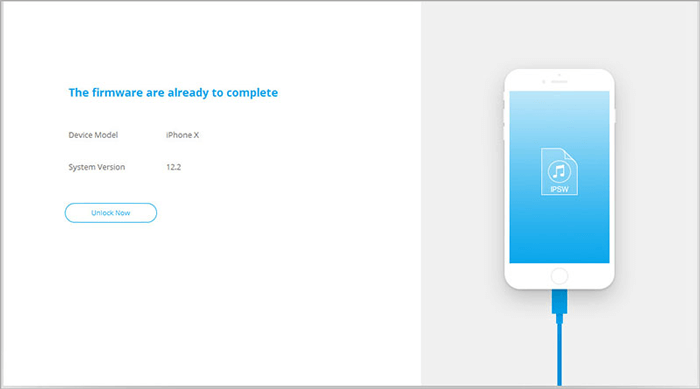 Conclusion - Tips to Keep iPhone from Being Unable to Activate Again
To sum up, four tested solutions were just offered to help Apple users deal with an unavailable iPhone. Here, we would advise you to put iOS Unlock on your top list, not just because it's a simple yet efficient tool, as you just witnessed.
Additionally, can't afford the inconvenience of having your phone locked? It is best to nip it in the bud before. Below are some useful tips for avoiding the "iPhone unavailable message on lock screen" error:
Be sure to make the passcode memorable but tough for others to guess.
Do not let your iPhone out of your sight.
Ensure your iPhone's screen is locked every time you put the device in your pocket.
Back up your iPhone regularly to keep away from losing data.
Keep your iPhone system up-to-date.
Turn on the two-factor authentication for your Apple ID.
Related Articles:
6 Methods to Remotely Control iPhone 14/13/12/11/X/8/7 from a Computer
Is It Possible to Mirror iPhone to PC without Software? [SOLVED]
What If iPhone Won't Send Pictures to Android? Try the 10 Possible Solutions
iPhone File Manager: 10 Best File Managers for iPhone You'd Better Know
6 Workarounds to Recover Deleted Files from iPhone with/without Backup