How to Play Pokemon Go without Moving/Walking? [iOS & Android]
Pokemon Go is a game that revolutionized the concept of outdoor gaming and can be enjoyed from the comfort of your home. But how to play Pokemon Go without moving? This guide will provide unique strategies and techniques to play Pokemon Go without moving or leaving your premises. It is a perfect choice for those who prefer indoor gaming. We will mention all the tricks and cheats here are legal and harmless, so let's begin with how to move on Pokemon Go without moving.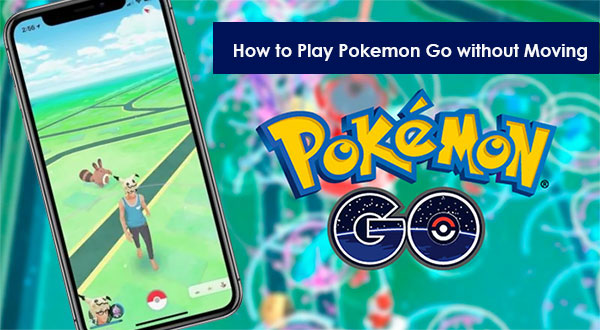 Part 1. Can You Play Pokemon Go without Moving?
A short and precise answer is YES! It is possible to play Pokemon Go without moving. It is so simple that even non-gamers can do it. You need extra tools to spoof your GPS and get the most out of playing Pokemon Go from home.
They help you fake your current location and get access to different areas of the game. You don't need to move in reality to level up in the game. However, this comes with some associated risks, such as a soft ban of your account if you're caught.
More gamers have found their account banned due to unauthorized GPS spoofing, and it's always better to play the game responsibly. Using reliable tools and techniques is essential to avoid any legal repercussions.
You Might Also Like:
Part 2. How to Play Pokemon Go without Moving on iOS?
If you're an iOS user, you may wonder how to play Pokemon Go without moving on iOS. You can use some tools to spoof your location on iOS. But do you really need to jailbreak your iOS device? Luckily, you don't have to. You can play Pokemon Go without moving on iOS with the help of an app called "PokeGO++". The app is safe and allows movement simulations, perfect for playing the game without moving.
Here are the steps on how to move in Pokemon Go without walking on iPhone:
Download and install BuildStore on the PC or Mac. Launch the app and sign up for an account with your email. Then click on the button "GET ACCESS NOW".

Uninstall the Pokemon Go app from your iOS device. From the interface of BuildStore, you will get the link to open on your iPhone.

Copy the link to your iPhone and click it. Search and install the Pokemon Go++ app.
When installed, launch the Pokemon Go++ application. You can take advantage of the joystick and teleport to any location.
Know More:
Part 3: How to Walk in Pokemon Go without Walking on Android?
We all know the struggle of playing Pokemon Go without walking, right? Well, here's some good news for Android users - there's a way around it! You can use apps that mimic your location using GPS spoofer. Although not all options are eligible, there are still more choices available.
If you really want to play Pokemon Go and don't have the habit of walking outside, then you can use apps like 'Fake GPS Go Location Spoofer Free.' It allows you to change your location on Android without physically moving.
How does it work? Below are simple steps on how to move in Pokemon Go without walking android:
You need to change your "Settings." Enable the "Developer Mode" by following these steps: Settings > About Phone > Build Number. After seven taps on the 'Build Number' option, you can view the 'Developer Mode.'

Install the Spoofer app and enable the 'Allow Mock Locations' option. You will find this option in the Developer Options.
From the app interface, click on the option "Select Mock Location App" and tap Fake GPS Free.
Click the back button on your device and open the Fake GPS. Choose the location you want to spoof. Tap the "Play" button.
Now launch the Pokemon Go game, and verify your spoofed location in the game.
Part 4: How to Move in Pokemon Go without Walking Using Desktop Tool?
Virtual Location Tool is an ingenious location spoofing tool designed for Pokemon Go players. The software allows you to simulate movement in the game without physically moving, offering an immersive gaming experience from your desktop. It's user-friendly, reliable, and compatible with iOS and Android devices.
While it's primarily used for spoofing in Pokemon Go, you can also use the tool to customize your location in other GPS-based apps. It prevents the developers from detecting that the users are using GPS spoofers.
A brief overview of Virtual Location Tool:
It can simulate movement on the map, creating a virtual route according to the planned coordinates.
Pause the movement of your avatar anytime you want to, mimicking a real-life break and searching for certain coordinates that Pokemon Go requires.
Supports real-time speed changes between walking, cycling, and car.
It automatically returns to the current position after a certain period of time or when reaching pre-set destinations.
Save history spots that you can return to later and explore.
You can use it to teleport your avatar to any desired location without walking there.
Get along well with almost all Android and iOS devices, including Samsung, Xiaomi, Huawei, LG, Google, OPPO, OnePlus, Motorola, HTC, Sony, ZTE, iPhone/iPad/iPod touch, etc.
Steps on how to walk in Pokemon Go without moving with Virtual Location Tool:
Step 1: Step up the App
Download and install the Virtual Location tool on your PC. Launch it and click on "Get Started". Use the USB cable to connect your phone. Now "Trust" your phone by clicking on the prompt.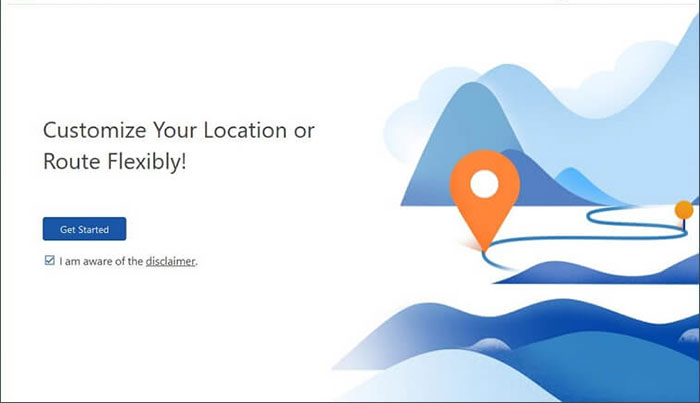 Step 2: Select the Teleport Mode
Your map will now load and be visible in the software interface. This will be your current location. Click "Teleport Mode" from the top right corner (third icon).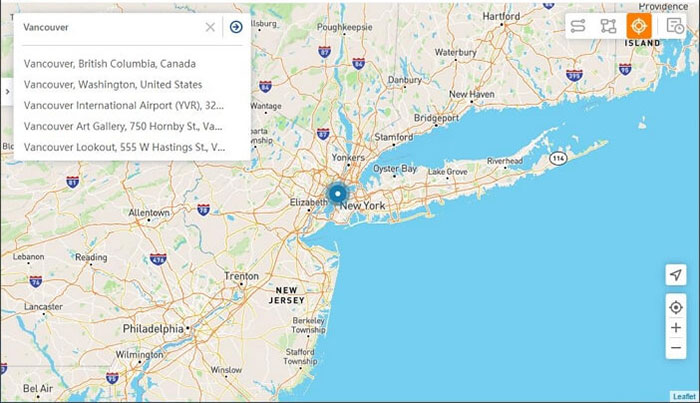 Step 3: Choose the Address that You Want to Spoof
Now pinpoint the area where you want to move. If you don't know the exact address, type in a few keywords related to the place. You can also zoom in and out to select the exact spot.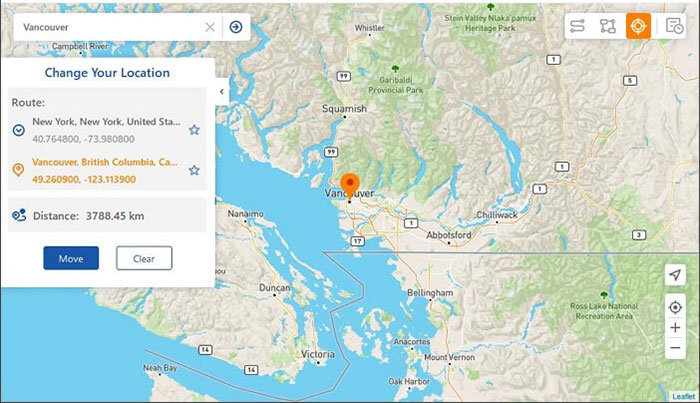 Step 4: Move Around and Start Spoofing
Finally, click on "Move". The pin marker will then move to your desired spot automatically. Your location will be changed in Pokemon Go as well. You can now start playing the game.
Continue playing the game in the new area. Enjoy your game without the tiring physical movements. For a better experience and more benefits, explore the other features of Virtual Location Tool. The app offers many options you can leverage to unlock new levels in Pokemon Go.
Part 5: FAQs about Play Pokemon Go Without Moving
Q1: How do you walk on Pokemon Go without walking in real life?
The easiest and most effective way to walk on Pokemon Go without walking in real life is by using a location spoofing tool like Virtual Location Tool. It allows you to change your GPS coordinates so that the game thinks you're somewhere else while you're actually at home.
Q2: How do you skip an animation in Pokemon Go?
Pokemon Go animations can the skipped by sliding your left thumb on the berry or ball tray if you're right-handed. Throw the ball with your right hand while holding down your thumb. This will help you avoid the animation and quickly catch the Pokemon.
Q3: Can you play Pokemon Go in the car?
Pokemon Go is a game that needs much of your concentration and attention. That is why it is much discouraged by Niantic to play while driving. Playing Pokemon Go while driving can easily lead to accidents. If you really want to play Pokemon Go while in a car, ensure only do so at the parking, or someone else is driving. That way, you can safely enjoy playing the game without risking your life.
Final Words
Now you can really enjoy playing Pokemon Go. This guide has provided the perfect solution for gamers who still need to experience more from the game. Just remember to use a location that matches your playing area to avoid raising suspicion among other players. Happy hunting and catching pocket monsters without breaking a sweat!
Related Articles:
FGL Pro Pokemon GO: Overview, How-tos, Troubleshooting, & Alternative
Does PokeGo ++ Still Work? Here's the Guide for PokeGo++ Download [iOS/Android]
Foneazy MockGo Review 2023: All You Want to Know about MockGo
4 Ways to Permanently Delete Games/Apps on iPhone/iPad
How to Download and Play Android Games on PC [Detailed Guide]
Where Are Texts Stored on Android? SMS Location, Backup, Recovery, etc.