7 Great Ways to Spoof Location on iPhone with or without Jailbreak
Generally, Apple users may want to spoof location iPhones/iPads to play games or get access to geo-restricted content. The possible reasons for faking location on iPhone or iPad include:
Hiding real location to protect privacy. (Check the iPhone security apps if needed)
Playing location-based games like Pokemon.
Accessing restricted content in apps like CW, Hulu, Netflix, etc.
Modifying location on dating applications.
Entering check-in details of some other place.
Getting access to functions that are accessible only with different locations.
Well, can you spoof location on iPhone? Check out this article to learn the 7 incredible solutions to the task.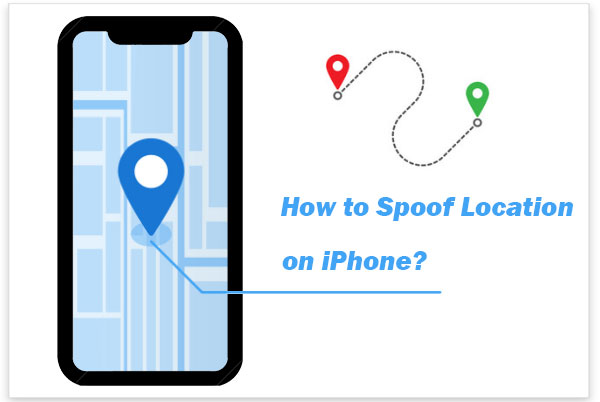 Part 1: Is There Any Risk of Changing GPS Location on iPhone
When getting GPS spoofing on iPhone, you might be faced with some unknown threats concurrently. And some typical risks are as follows:
The apps designed for changing GPS on iPhone may mess up with the original app's settings in your iDevice.
Many harmful websites are blocked for your security based on the geological location.
You may bump up against some consequences even if you delete the fake GPS application from the device, including the malfunctioning in the original GPS.
Legal repercussions can come your way, and you may need to handle it for tricking GPS location.
Read Also:
Part 2: How to Spoof Location on iPhone via Virtual Location Tool
Want to protect your privacy, but don't know how to spoof location on your iPhone/iPad? OK, in this section, we will let you know the best spoofer for the iPhone location. This is Virtual Location Tool, one of the best programs for mocking location on iPhones and Android phones without jaikbreaking.
Virtual Location Tool can help you:
Spoof location on iPhone/iPad/Android efficaciously.
Plan a route on the map and then customize the speed to move.
Select or delete the places saved on this program you've visited before.
Support location-based apps like AR games, social platforms, etc.
Run smoothly on almost all Android and iOS devices with the latest iOS 16, such as iPhone 14 Pro/14/13/13 Pro (Max)/13 mini/12/12 Pro (Max)/12 mini, iPhone 11/11 Pro/11 Pro Max, iPhone X/XR/Xs/Xs Max, iPhone 8/8 Plus, iPhone 7/7 Plus, iPhone 6/6S/6 Plus, iPod touch, iPad, etc.
It won't disclose your privacy.
How to change GPS location on iPhone with Virtual Location Tool?
Step 1. Download and install this GPS spoofer on your computer. Then launch it and click "Get Started" on the screen. Next, connect your iPhone to the computer through USB and click "Trust" from the iDevice as prompted.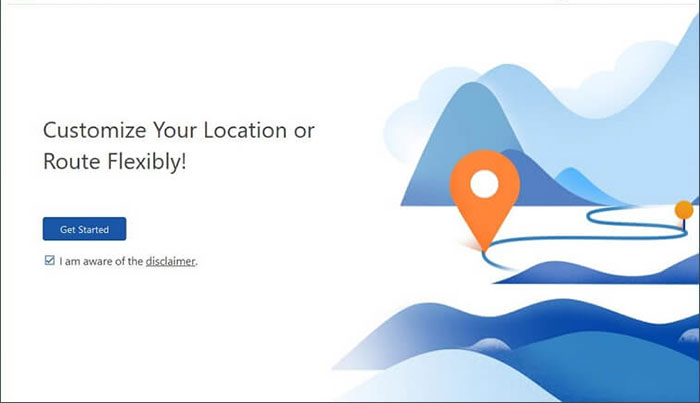 Step 2. Once your map is loaded, select "Teleport Mode" at the upper right corner of the interface and enter a place you wish you were there in the search bar. And you can also drag and pinpoint the location on this map.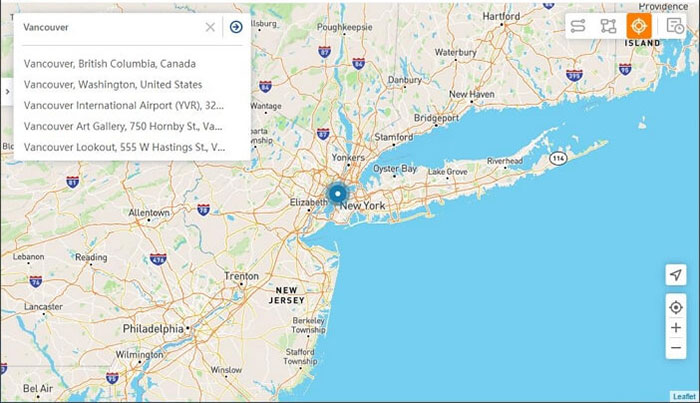 Step 3. This tool will then show the information to you, including address, coordinates, and distance. Now, you can click "Move", and the location will be changed to what you want instantly.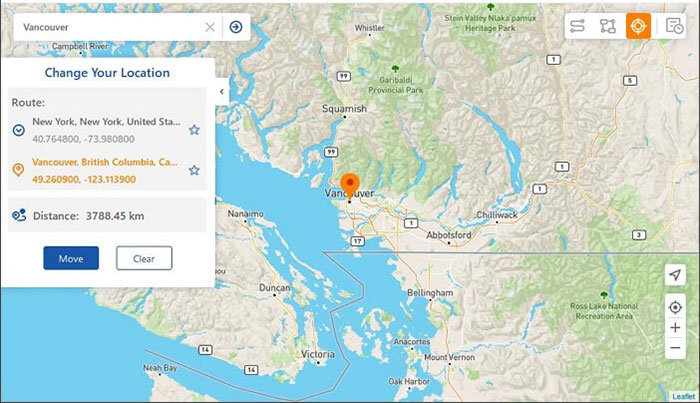 Part 3: How to Spoof Your Location on iPhone with NordVPN
Browsing the Internet to access restricted or geo-blocked content, you may want to consider the iOS GPS spoofer - NordVPN. This tool is available on the most popular platforms, with hundreds of server locations all over the world.
How to spoof location iPhone with NordVPN?
Open the App Store on your iPhone to download NordVPN.
Run the VPN on your iPhone and allow it to modify VPN configurations.
Choose a VPN server location from the Locations section.
Tap on the "Connect" button.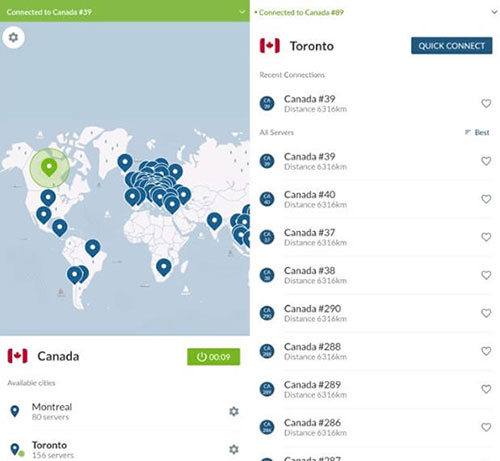 Part 4: How to Spoof iPhone Location with iTools
iTools, known as an iExplorer alternative, is also a GPS changer for iPhones/iPads. You can manually remove the fake GPS marker whenever needed. And it comes with a file manager on top of iOS GPS spoofing.
How to change your GPS location on your iPhone with iTools?
Download and install iTools on your iPhone.
Open the program and select "Free Trial" to continue.
Plug your iPhone/iPad into your computer and go to "Toolbox" > "Virtual Location".
Select the image in "Developer Mode" to let the tool download the "iOS Developer Disk Image" file.
Search for a location from the top of the menu and choose "Go to find it" on the map.
Tap "Move here" to instantly fake your location.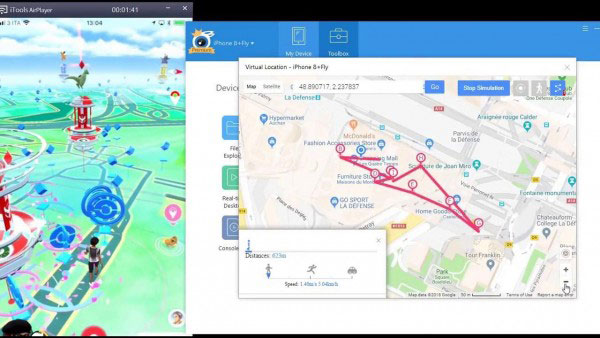 You May Be Interested in:
Part 5: How to Spoof a Location on iPhone via 3uTools
3uTools makes it easy to manage photos, music, videos, etc., on an iPhone. And like the (Android) Hola fake GPS, Apple users can also use this tool to mock location on iPhone/iPad. It is free and works with iOS and iPadOS 14 and older.
How to fake GPS location on iPhone via 3uTools?
Install and open 3uTools after the installation.
Select "Toolbox" at the top and then "VirtualLocation" from that screen.

Choose somewhere on the map, or use the search bar to choose where you want to change your location.
Select "Modify virtual location" and then select "OK" when you find the confirmation prompt.
Restart your iPhone to undo the fake location and pull the real GPS data again.
Part 6: How to Spoof iPhone GPS Using iBackupBot
iBackupBot, a third-party tool for Apple to fake GPS location. To use this tool, you're advised to back up your iPhone non-modified system to ensure data security. Here's how to trick iPhone location via iBackupBot:
Connect your iPhone to your computer via a USB cable and launch iTunes.
Click the iPhone icon to get more options; be sure to uncheck "Encrypt iPhone" and click "Back Up Now".

Download and install iBackupBot.
Once you have made the backup of all your data, please close iTunes and open iBackupBot.
Now, you will find that all your files have been backed up.

Locate the Apple Maps' plist file by following any one of the paths:
A: System Files > HomeDomain > Library > Preferences".
B: User App Files > com.apple.Maps > Library > Preferences.
Now look for a block of data that starts with the "dict" tag.
Insert the following lines:
<key>_internal_PlaceCardLocationSimulation</key>
<true/>
Save and exit from iBackupBot.
Next, go to your iPhone's "Settings" > "Your Apple ID" > "iCloud" > disable "Find My Phone".
Reconnect to iTunes and go for "Restore Backup".
Launch Apple Maps and navigate to your wanted location to simulate.
Part 7: How to Spoof GPS Location on iPhone with Cydia
When using this app to mock location for the purpose, you have to jailbreak your iPhone in the meantime. And during the task, it'll make changes to most of the native settings in the device. Beyond that, you should install the "The Anywhere!" plugin at first.
How to trick your GPS iPhone with Cydia?
Download the "The Anywhere!" location faking the Cydia app on your iPhone.
Install and open the app from your Home screen.
Navigate for the location you want to fake.
Tap on it, and a red pin will turn up on the address.
Subsequently, touch the blue tab on the incoming screen.
You can then select the apps on which you want to fake GPS location on this iPhone/iPad.
Open the selected app, and you can see the new location on it.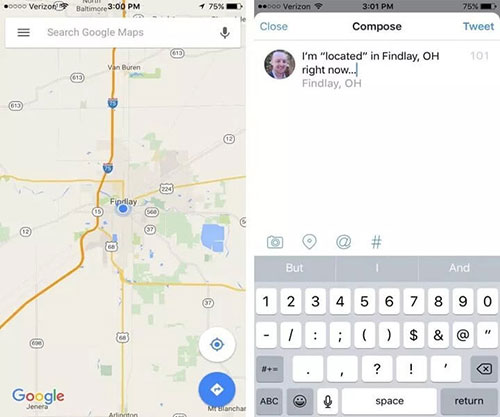 Ending Words
In conclusion, it isn't as easy to fake your iPhone location as on an Android device. Virtual Location Tool is amongst the most recommended programs for GPS spoofing on iPhone/iPad. Specifically, it can not do a great job in changing GPS location on your iPhone but also minimize the risks associated with this move. So, just download it and give it a go now.
Related Articles:
[2023] How to Change or Fake Your Location on Snapchat within Seconds?
14 Best Pokemon Go Spoofing Apps/Software for Android & iOS Devices
iOS Spoofers - Top 6 Pokemon Go Spoofing Apps for iOS Devices
What You Should Know About Fake GPS on Android without Mock Location
How to Clone an iPhone to Another iPhone 13/14? [Top 4 Ways Provided]
How to Recover Data after Factory Reset iPhone? 3 Solutions Are Here!