Pokemon GO Cooldown Chart: Everything about Cooldown Time/Chart for Pogo
Pokemon GO is catching all over the world. And more and more players repeatedly use different locations for cheating in a short time to catch more Pokemons. In this connection, the game introduced cooldown time to cope with unconventional operations. Then when you choose your desired location on the map to teleport, the time will make it difficult for you to get further.
Well, do you know exactly what the Pokemon GO cooldown chart/time is? And can I spoof Pokemon GO without being soft-banned? OK, we shall describe these in detail below.
Part 1: What Is Pokemon GO Cooldown Time? How Does It Work?
What Is Pokemon GO Cooldown Time?
Generally, Cooldown time can be used to describe the time you need to wait after finishing the in-game action. Calculated from the distance you set foot in between triggering activities, this term rests on distance travel, and the greater the distance, the more cooldown time in Pokemon GO.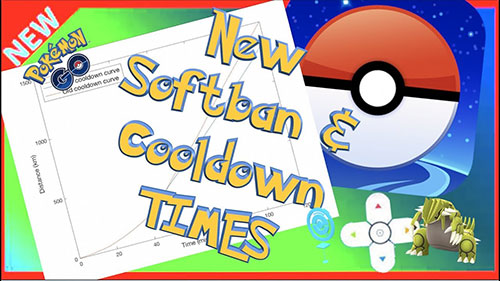 How does Pokemon GO cooldown time work?
To avert the cheating caused by GPS spoofing apps for Pokemon GO, you have to wait for the predefined Pokemon GO trading cooldown between two locations, relying on the distance within. Overall, the rule is to wait two hours from the last action you took before committing anything to a new location. Besides, apps like FGL Pro have a cooldown timer for Pokemon GO and will show you the km, red, or green you jumped or the last time you made it.
You Might Want to Know:
Part 2: PGSharp Cooldown Rules
We just revealed that the interval you should wait between actions completely hinges on how far apart the two locations are. However, the general PGSharp cooldown rule is to wait two hours. Completing the 120 minutes from the last action, such as fighting in a gym, spinning PokeStops, or throwing a ball to a Pokemon, you are empowered to take another action in a new location when you cool down Pokemon GO.
Therefore, if you catch a Pokemon at 3 pm, for instance, you go to any other side of the globe, you're not allowed to do any actions in the new location until it is 5 pm for the Pokemon GO trade cooldown.
Part 3: Pokemon GO Cooldown Chart to Keep from Soft Ban
OK, how long does it take for Pokemon GO to cool down? Here's a Pogo cooldown chart to help you fully understand what you can and cannot do while playing the game. If you get a PGSharp cooldown timer, you can take steps on it based on the following table:
| | |
| --- | --- |
| Total Distance | Latency Time |
| 1 km | 30 seconds |
| 5 km | 2 minutes |
| 10 km | 6 minutes |
| 25 km | 11 minutes |
| 30 km | 14 minutes |
| 65 km | 22 minutes |
| 81 km | 25 minutes |
| 100 km | 35 minutes |
| 250 km | 45 minutes |
| 500 km | 1 hour |
| 750 km | 1 hour 20 minutes |
| 1000 km | 1 hour 30 minutes |
| 1500 km | 2 hour |
Tips: So, what suggests that you are in cooldown? OK, here are some main telltale clues for you: 1. If the Pokemon you are to catch keeps fleeing, please wait for the exact cooldown time before beginning to catch it. 2. You cannot place any Pokemon in the gym or participate in any gym raids. 3. The "Gym battle has already been completed" error arises when you try to attach a gym. 4. The "Try Again Later" notification will occur when you try to spin a PokeStop.
More Passages:
Part 4: What Triggers or Doesn't Trigger a Cooldown in Pokemon GO?
What triggers a cooldown in Pokemon GO?
Spin a PokeStop or hit the spin limit.
Put a Pokemon in one of the gyms.
Accidentally dropped the ball on the encounter screen.
Feed a wild Pokemon with a berry.
Feed a gym defender within screen radar.
Conduct gym battles.
Catch a wild Pokemon.
Use the Gotcha device to catch a Pokemon.
Flee Pokemon.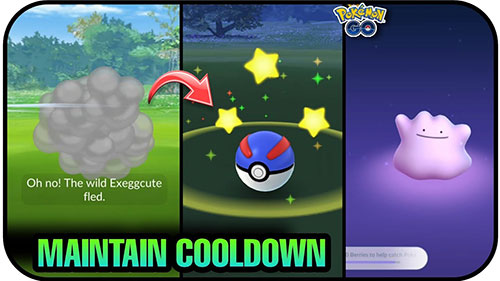 What doesn't triggers a cooldown in Pokemon GO?
Purchase coins and shop items.
Encounter a wild Pokemon.
Player vs. player battles. (Can I control Android from PC to make the game more exciting?)
Remote berry feeding of gym defender.
Auto walk.
Hatch eggs.
Teleport.
Evolve a Pokemon.
Claim quest and weekly rewards.
Use Incense, Lucky Egg, or Starpiece.
Speed raids.
Exchange and open gifts.
Transfer a Pokemon to an activated Mystery Box.
Power up a Pokemon.
Trade a Pokemon.
Take snapshots of a Pokemon.
Gain Buddy candies.
Use Stardust and Candies to gain a second move for Pokemon.
Delete items from storage.
Change a Buddy.
Place a Lure Module or Special Lure on a PokeStop.
Use items on a Pokemon.
Change of avatar items/clothes.
Team leader vs. Player battle.
Obtain a free raid pass by clicking a gym with an active raid.
Encounter and catch reward Pokemon.
Part 5: How to Spoof Pokemon GO without Getting Banned
Now that cooldown times can prevent players from cheating when playing this game, is there a program that can fake GPS quietly without being detected? Well, this takes us to an impeccable offering - Virtual Location Tool we would like to recommend today. With this software running on your computer, you can go wherever you want to with a few clicks in the absence of making any changes to the phone data or system.
Key highlights of Virtual Location Tool:
Spoof Pokemon GO without being perceived by a cooldown timer.
Select/delete the old locations saved on this utility.
Customize routes, simulate routes, or create diverse routes.
Applicable to location-based apps, including AR-based games, social platforms like Scout, etc. (How to change location on Scout?)
Get on well with various mobile phones, such as iPhone 14/14 Plus/14 Pro (Max), iPhone 13/13 Pro (Max)/13 mini/12/12 Pro (Max)/12 mini, iPhone 11/11 Pro/11 Pro Max, iPhone X/XR/Xs/Xs Max, iPhone 8/8 Plus, iPhone 7/7 Plus, iPhone 6/6S/6 Plus, iPod touch, iPad, Samsung, Google, Huawei, LG, Sony, OPPO, HTC, Xiaomi, OnePlus, Motorola, etc.
It won't divulge your privacy.
How do you spoof in Pokemon GO with Virtual Location Tool?
Step 1. Run the program and get started
Install and run the Virtual Location Tool on a computer. Then click on "Get Started" on its primary screen.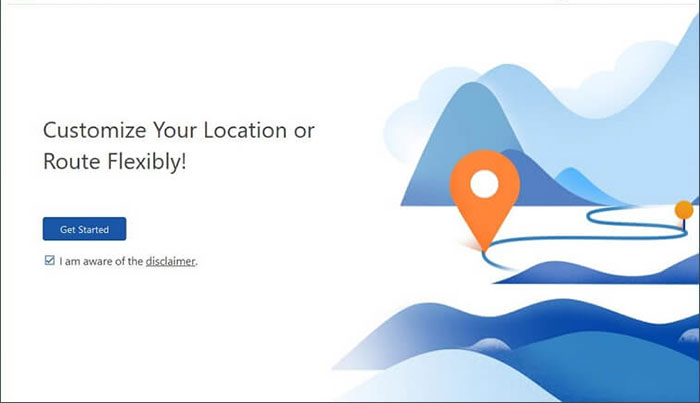 Step 2. Connect your mobile phone to the computer
Connect your smartphone to the computer via a USB cable. The software will soon recognize your device.
Step 3. Choose "Teleport Mode" to select the location you want
Click "Teleport Mode" from the interface and enter your wanted location in the search box. Optionally, enter GPS coordinates to determine a specific location.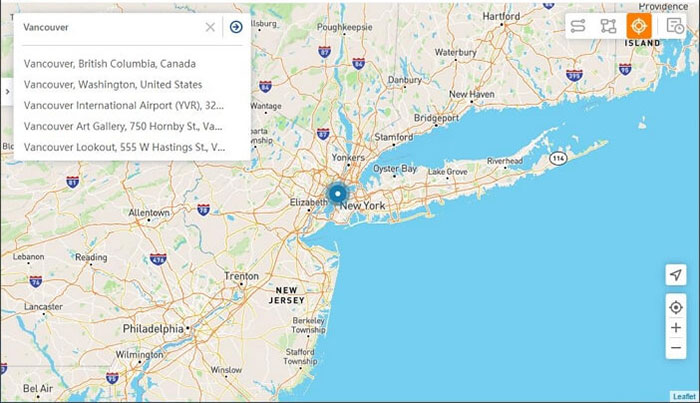 Step 4. Spoof Pokemon GO without being detected
When the pointer on the screen moves to the corresponding location on the map as you specify, tap on "Move" to set the virtual GPS location to trick Pokemon GO into spoofing cooldown time.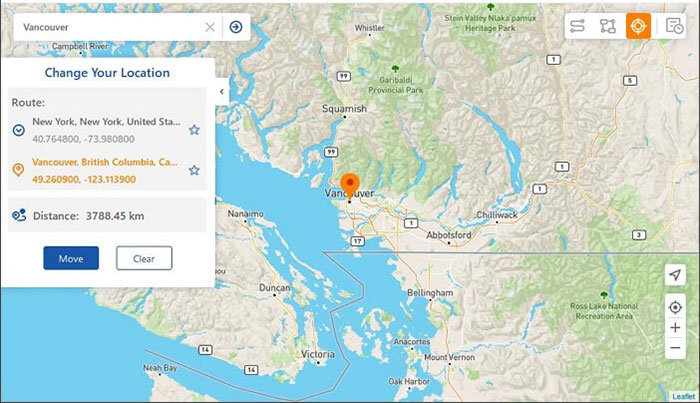 Closing Remarks
Well, it's time to wrap up this post. In general, we have just explained the above related to the Pokemon GO cooldown chart. Upon learning something about cooldown time for this game, you can easily teleport to a new location, encounter a wild Pokemon, heal a Gym defender with a berry, etc. Now, how can you perform Pokemon GO spoofing with no cooldown time? Just pick Virtual Location Tool to fool the cooldown into believing the different locations you specify in a short period.
Related Articles:
9 Best GoPro Editing Software to Edit GoPro Videos Effortlessly
Does PokeGo ++ Still Work? Here's the Guide for PokeGo++ Download [iOS/Android]
Pokemon Sword & Shield: How to Evolve Dreepy/Drakloak into Dragapult [Fixed]
How to Download and Play Android Games on PC [Detailed Guide]
How to Control iPhone with Broken Screen Effortlessly? [Ultimate Guide]