Samsung Tablet Recovery - How to Recover Deleted Files from Samsung Tablet?
Usually, there are some valuable data on Samsung tablet, such as treasured photos, paid videos, training courses for examination, business partner phone numbers, etc. If everything is OK, it's nothing. However, in case that the files are missing on account of deletion by mistake, cell phone crash restart, trojan virus, or physical damage of Samsung tablet, you may feel frustrated and struggle to find it. And unlike Samsung phones, Samsung tablet doesn't have a "recycle bin". So, Samsung tablet data recovery may be a big deal for you.
Now, how to solve it? Don't worry, this review will show you how to get back the lost Samsung tablet data in 4 ways.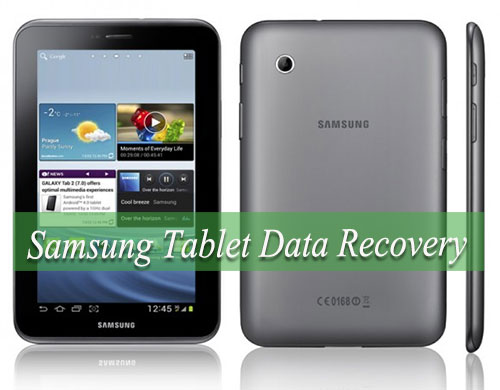 Part 1: Complete Samsung Tablet Data Recovery via MobiKin Doctor for Android
[No Backup Required]
You'd better first shut down your Samsung tablet after finding the sign of data loss, so as to ensure that the files are still somewhere in the tablet's memory, and prevent them from being rewritten by manually unintentional operation to increase the likelihood of file recovery. Next is to find a trustable software. But what kind of program should be given a top priority? As far as I'm concerned, MobiKin Doctor for Android (Windows and Mac) is the optimized option to help retrieve tablet data without damage your device or files in minutes.
Primarily, Let's take a quick look at some key traits of MobiKin Doctor for Android:
Retrieve photos, documents, contacts, SMS, call logs from Android tablet or Android phone memory directly.
Get back videos or other media files from Android SD card without root.
Preview missing photos, documents and other data for selection before data recovery.
Backup Android data to your computer simply, sparing you from the possible trouble caused by data loss.
Work on almost every Android device (Samsung, LG, HTC, Sony, Motorola, Huawei, Google, Vivo and more), including Samsung Galaxy Tab A/Tab E/Tab S7/Tab S6/Tab S5/Tab S4, SM-T510/T580/T585C/T560/SM-T380/SM-T350/T355C/T385C/T860/T290/T295C/SM-T510/T290/T295C, etc.
Is it magic? Don't hesitate to download a free trial version and try it out.
1.1 How to Recover Deleted Files from Samsung Tablet Internal Storage
First, let's see how to recover the lost data such as photos, documents, contacts, SMS, call records, etc. from Samsung tablet internal storage by resorting to this Samsung Galaxy (Tab A/Tab E/SM-T510/T580) data recovery program:
Attention: To detect and recover the lost files from internal memory completely, you need to root your Samsung tablet before recovery. Therefore, in order to ensure your data security, suggest you backing up your Samsung tablet beforehand.
Step 1. Plug your Samsung tablet to computer via a USB cable, install and open MobiKin Doctor for Android on computer. Then go to "Android Data Recovery" mode on the window and turn on USB debugging on the tablet. (Get your tablet recognized by this tool in light of the prompts.)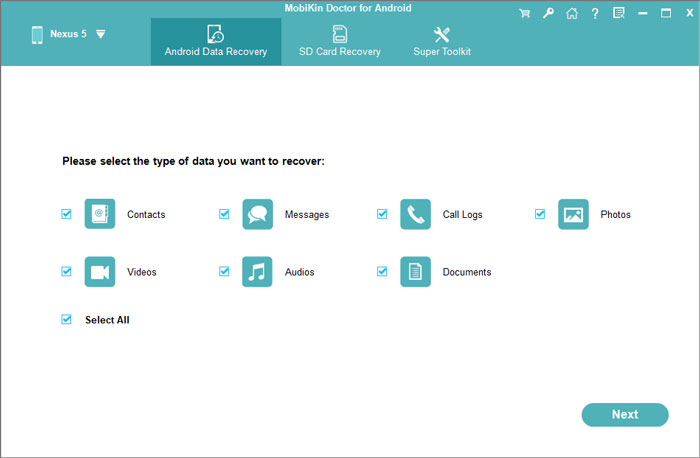 Step 2. After the detection, select the data type(s) (if you want to recover lost pictures, just tap "Photos") by ticking their name and tap "Next". Then, you should opt for "Quick Scan" or "Deep Scan" to continue.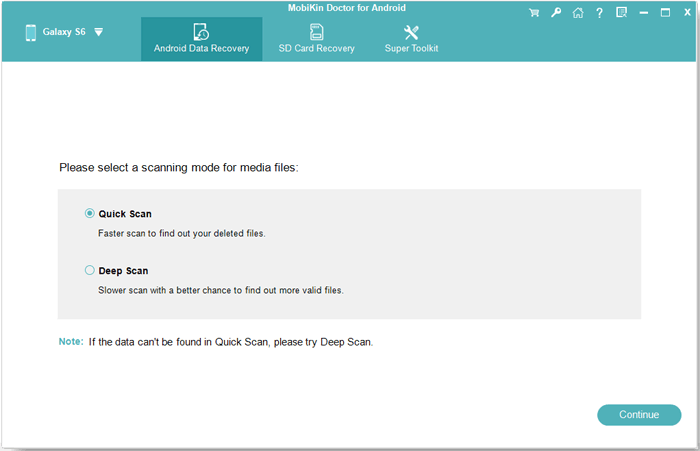 Step 3. Soon, your chosen Samsung tablet file type(s) will be on the main window. Tap the type like "Photos", and preview and tick your needed pictures. Then hit the "Recover" button to retrieve them to your Samsung tablet.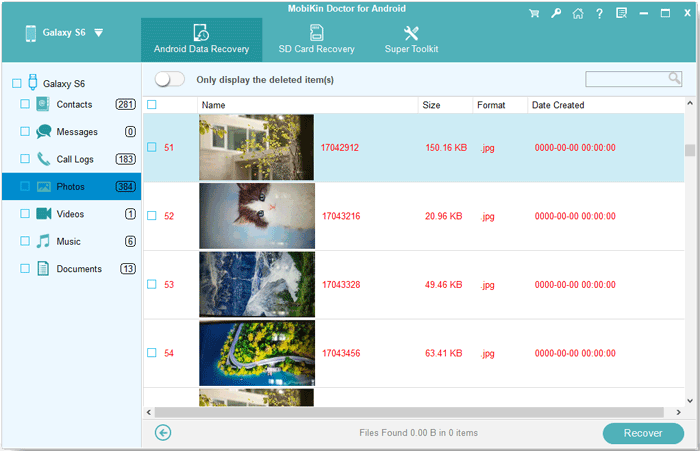 Well done! Yet, if the lost data are stored in the Samsung tablet SD card, such as videos, photos, documents, music and other multimedia files, then move to the next recovery mode - "SD Card recover" please.
1.2 How to Recover Deleted Data from SD Card in Samsung Tablet
With this recover mode, you don't need a root your Samsung tablet. Now, how can the lost data be recovered? Please come with me to get it. Below is the guide on how do I run the Samsung tablet (Tab S7/Tab S6/Tab S5) recovery tool - MobiKin Doctor for Android to recover data from Samsung tablet SD card:
Step 1. After the installation and starting, go for "SD Card Recovery" mode from the top menu of the program. Then you'll see the interface, which prompts you to insert the SD card (with an SD card reader) to your computer beforehand. Next, Click "Next" to go ahead.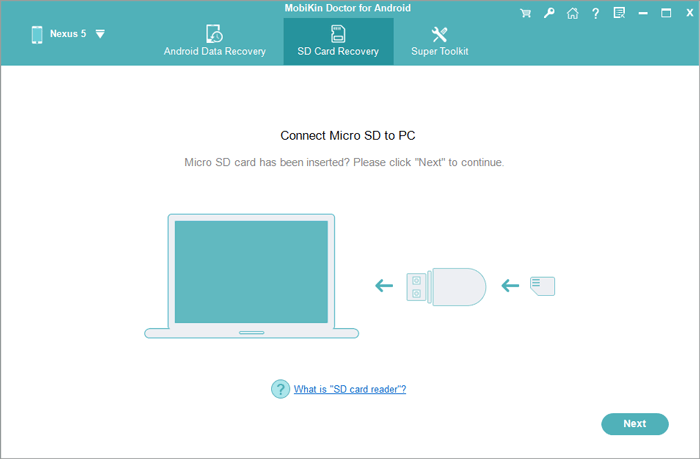 Step 2. Choose the disk drive you want to scan and tap "Next" for the detection. After that, you are allowed to preview the data categories and choose your lost files.
Step 3. After choosing the data, please tap "Recover" to trace your lost photos, music, videos or documents to your computer.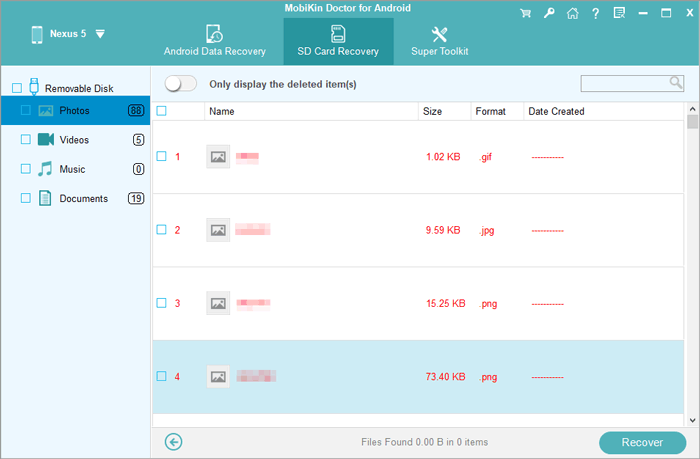 Part 2: How Can I Recover Data from My Samsung Tablet via Samsung Cloud
Samsung Cloud can easily and seamlessly synchronize, restore and upgrade Galaxy tablets and other series of tablets or phones by storing photos, videos, SMS, communication records, contacts and other kinds of data on app or web. You can sync and view your backup info on your tablet, recover the tablet from the backup, access Samsung Cloud on your tablet, and even access it with your computer.
Before restoring photos, videos or other data, you must make sure the automatic synchronization feature of your tablet (it is turned off by default) is switched on before data loss.
Now, let's check out how to recover deleted files from Samsung tablet via Samsung Cloud:
Step 1. To begin with, navigate to "Settings" > "Cloud and account" to opt for "SAMSUNG ClOUD" option. Then click on "RESTORE".
Step 2. If you want to recover contact, check if you have enabled "Contact" button before. (other data features like calendar, memo, photos, etc. also need to be turned on in advance if you want to recover them.)
Step 3. Select your tablet name and tap "RESTORE NOW" to retrieve all your backups you've made to your Samsung tablet.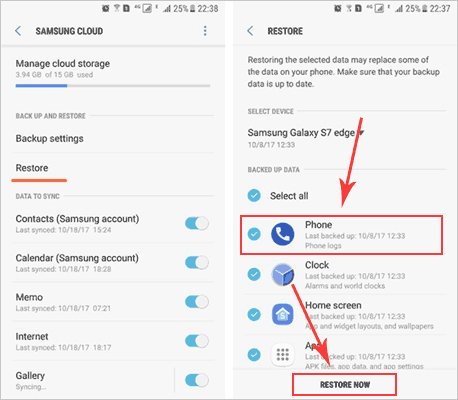 Can't Miss:
Part 3: How to Recover Lost Files from Samsung Tablet Using Samsung Kies
Samsung tablets are as popular as Samsung phones, because many of them support making phone calls. Often, the loss of important tablet data such as contacts, SMS, photos, call records, calendars, etc. can be recovered with Samsung Kies. In addition to restoring from backups, it also owns mighty multimedia file management. Yet, in general, it does not support Android operating system below 4.3. Besides, you can synchronize tablet files to Google or Outlook.
Can't wait to recover deleted files from Samsung tablet with Samsung Kies? Here it is:
Step 1. Download, install and open Samsung Kies on your computer and get your tablet connected to it via an applicable USB cable.
Step 2. If you have backed up data on this tool before, please hit the "Back up/Restore" option to preview your backed-up data types. Now, choose the files you'd like to recover and click "Continue" to go on.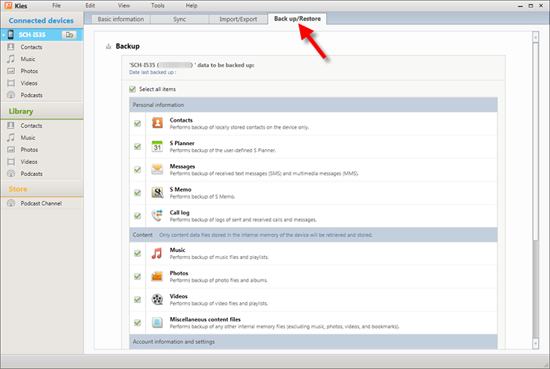 Step 3. Confirm your option and tap the "Restore" button. Next, click the "Start" button as the tool hit you to get the task started. Then click "Complete" when the restoration process is over.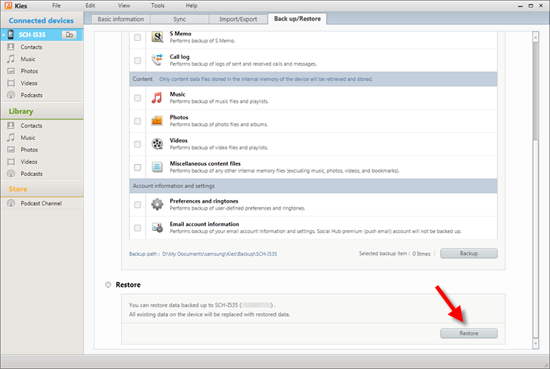 Part 4: How to Conduct Galaxy Tab Data Recovery with Google Drive
Google Drive, compared with Google Photos, as you may know, have more features. Apart from recovering the multimedia files supported by Google Photos, the former also conducts tasks on apps, contacts, SMS, etc. Generally, there are 3 ways to recover lost tablet or phone files by Google Drive (recovering from its Android version directly, from trash feature on its Android version, and from its web version).
Of course, all of these need to be backed up data to Google Drive in advance. Today, we will take its web version as the example to see how to do Samsung tablet/phone recovery with Google Drive online.
Step 1. On your tablet, go to the website of Google Drive from your device browser (if you want to edit your backed-up data off-line, you'd better log in from "Chrome").
Step 2. Sign in with your username and password (use the same account info while conducting backup and restoration). Next, tap "My Drive" tab to see your backup list.
Step 3. Click the files you need to restore and right-click the items to see "Download" from the pull-down list. Then hit it to get your selected data to your Samsung tablet.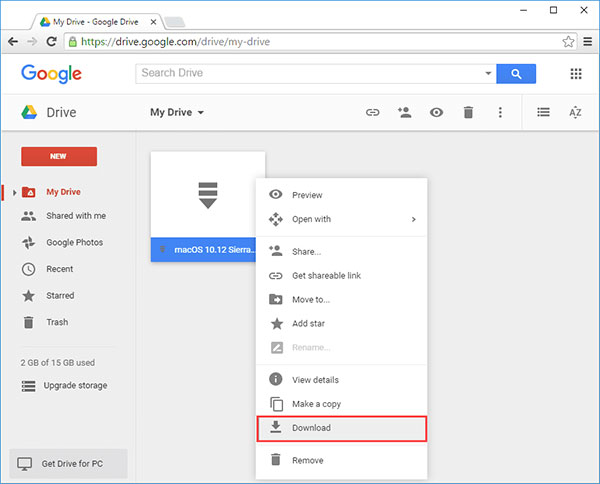 Can't Miss:
Part 5: Pros and Cons of the Above 4 Solutions
Pros
Cons
MobiKin Doctor for Android

1. No backup is required before restoring files.

2. It is safe, easy-to-use, running on offline environment and leaving zero chance to be infected by virus.

3. It delivers zero ads, doesn't bundle with any third-party software and provides trial version.

4. Presents two modes for data scan to improve the success rate of data recovery.

5. Renders carefree after-sales service, and ensures that your tablet problem can be well coped with lastly.

1. Non-free software requires a small fee.

Samsung Cloud

1. It offers easy and seamless synchronization.

2. Supports data synchronization with outlook, Google, etc..

3. Provides 15 GB of free data space.

1. To recover tablet data, synchronization is a must at first.

2. You may allow to select and download up to 500 files. But if a single file is larger than 1 GB, it cannot be backed up to the cloud.

3. It may not work properly depending on the wireless service provider and product version. That means it is unavailable in some countries.

Samsung Kies

1. You can easily copy files, allowing two devices to share duplicate info.

2. It can get quick access to music, contacts, videos, photos and podcasts.

1. Need to back up your data prior to Samsung tablet data recovery.

2. Samsung Kies (including its latest version Kies 3) cannot be used to backup and restore DRM-protected data and crashes unexpectedly sometimes on Samsung Tab serious tablets.

Google Drive

1. It can handle the situation that the cloud capacity is larger than the local one, evolving from Google Docs.

2. It can edit common files online after backup.

1. Google automatic backup function should also be turned on.

2. When recovering files, it may be slow as the server is unstable sometimes.

3. Without Chrome, offline editing is not supported.

4. Although Google is not bored to take the initiative to snoop the user's saved files, the shared files may be deleted if they involve copyright issues or other problems. And accordingly, your Google account may be blocked.
Ending Words
Do you have sort of understanding on how to conduct Samsung table data recovery through 4 product or service introductions, 4 usage directions and the comparison of advantages and disadvantages? You may have found out the limitations of Samsung Cloud, Samsung Kies and Google Drive, in terms of the supported version of tablet, the available data types, the size limit of uploaded data, the speed of data recovery as well as the security.
Frankly, MobiKin Doctor for Android is a program worthy of a download for a trial. With it, at least you don't have to worry about the above problems. Additionally, you can also get a pleasant experience during use.
Related Articles:
3 Ways to Recover Deleted Contacts from Android (#1 is Awesome)
How to Permanently Delete Text Messages from My Android Phone?
Top 6 Apps to Help You Transfer Data between Android and PC
How to Transfer Contacts from Android to iPhone? (4 Safe Ways)
Complete Guide on How to Transfer Files from PC to Android
Samsung Contacts Backup - How to Backup Contacts on Samsung?