List of 6 Best Samsung Root Software in 2023 For You
In general, Android devices are very flexible to use because of the openness of the system, but it still has many limitations in terms of customization. In order to overcome these restrictions, many users choose to root devices. The main purpose of rooting devices is to allow you to modify and customize all the content in your Android phone at will. For example, by default, Android only allows users to install applications with specific requirements. After rooting, you can freely install those "restricted" applications.
However, rooting mobile phones is very dangerous, especially for novices. Therefore, unless you are very familiar with the rooting process, we recommend that you stay away from any rooting software and applications. Otherwise, if the rooting fails, your device may be damaged, bricked, or frozen. If you insist on rooting your Samsung phone, then let us take a look at the 6 best Samsung root software. Of course these software also supports other Android devices. Let us now discuss all the advantages and disadvantages of these software.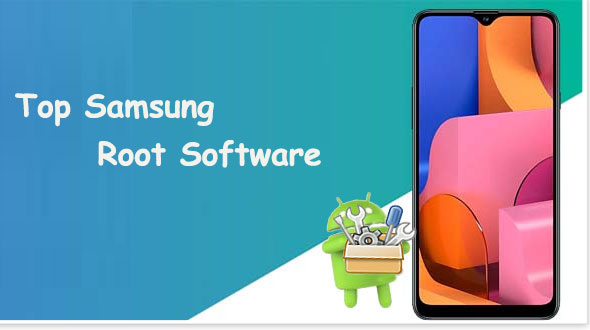 Part 1: Odin Root
Odin Root is the Samsung official root software. Therefore, you do not need to worry about the security of this Samsung root toolkit, nor do you need to worry about issues such as bootloaders. Thanks to Odin's intelligent algorithms and powerful functions, you can easily flash any Android device, especially the firmware of Samsung devices, through USB debugging.
Pros:
Due to its official availability, it does not pose any risks.
Give you complete control of the device you want to root.
The Odin Root Toolkit can also help change the bootloader of Samsung Android.
Cons:
You need to connect the device to the computer.
The rooting process is long.
The Galaxy root toolkit has some serious errors.
Rating - 4.2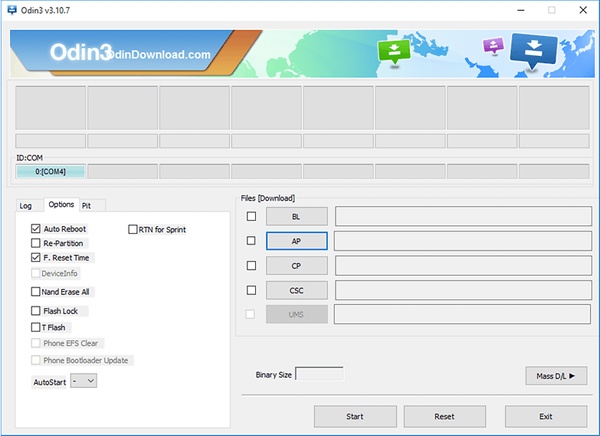 Part 2: Kingo Root
Kingo Root is a well-known Samsung root tool. It is very simple to use. Just download the software, connect the device, and then click the "Root" button on the interface to root your device instantly. Therefore, it is also called "One-click Root App". Kingo Root also has an app version, which can be downloaded directly to the mobile phone and used without any PC connection. And you can use the same procedure to unroot your device.
Pros:
Simple user interface.
Start the rooting process with one click.
The rooting process is fast.
Provides the option to remove root when needed.
Cons:
Some Samsung devices are not supported.
Internet connection is required for this process.
There is a risk of device becoming bricks.
Rating - 3.9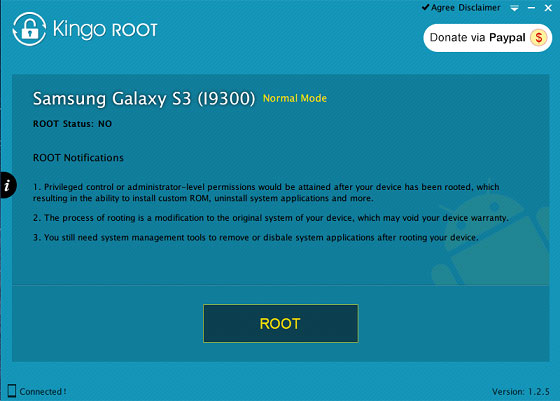 Read Also:
Part 3: King Root
Similar to Kingo Root, King Root is also a one-click Samsung root tool. You only need to give a click on your mouse to start the whole rooting process. King Root is one of the oldest root applications on the web. It can root almost any device of any manufacturer. The excellent interface and fast process make this application one of the best rooting software for Samsung devices.
Pros:
Simple and intuitive user interface.
No PC connection is required.
The process is fast and efficient.
Cons:
It may expose your device to a higher risk of bricking.
Lack of maintenance and rarely updated.
Rating - 3.9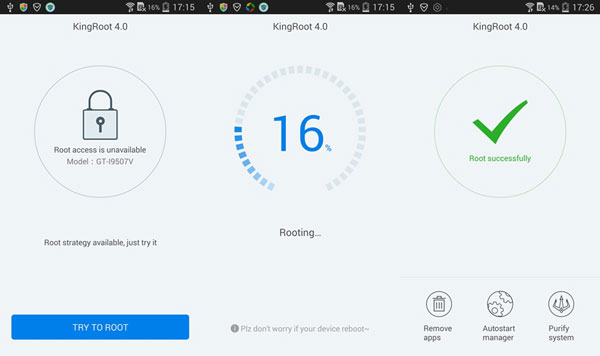 Part 4: iRoot
Another rooting tool that entered our top 6 list is iRoot, which is another reliable application to root your Samsung device. It is worth mentioning that, besides rooting the device, it also has other practical functions. For example, it can help you uninstall unwanted applications, improve performance, access blocked features, and so on.
Pros:
Has a relatively high success rate.
Simple to use, no internet connection required.
Support different brands and models of Android devices.
It's free.
Cons:
There is no option to cancel root.
The process is a bit complicated, especially for beginners.
It could mess up the bootloader.
Rating - 4.0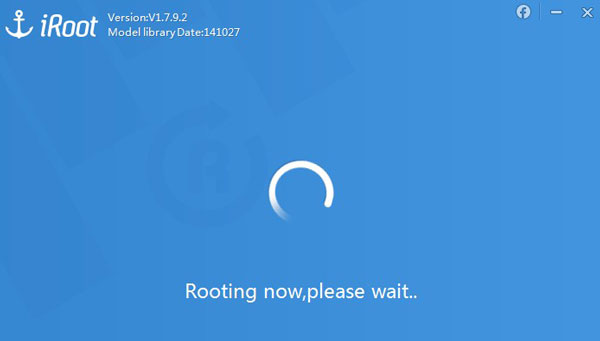 Part 5: Root Genius
Root Genius is a portable rooting software. It requires you to connect the device to the PC and enable the USB debugging mode on the Android phone before rooting. Root Genius also provides a beta version, which can be downloaded from the Google Play store.
Pros:
Although a PC connection is required, the operation is simple and convenient.
The working principle of the beta version is the same as the full version.
Compatible with multiple devices.
Can be used to enable Flash ROM.
Cons:
Need to work on the basis of PC and Internet connection.
There is a bug, and it may stop midway.
There is no option to cancel root privileges.
The developer's response to user feedback was not timely.
Rating - 4.0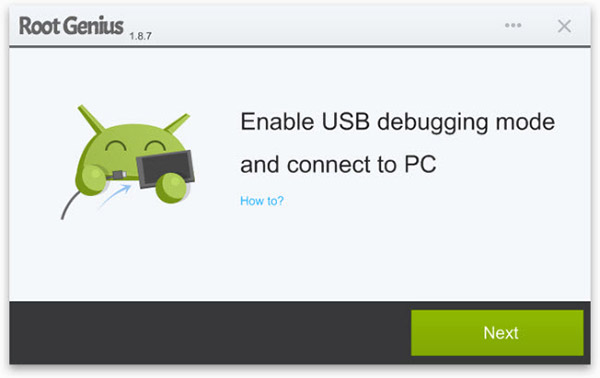 Part 6: One Click Root
One Click Root was not called this name before, it was originally called Rescue root. It is a sophisticated Samsung root software, simple to use, without complicated steps. It is commendable that the after-sales service of the app is great. They provide 24/7 customer support. Any problems can be solved in time for you, until you safely and successfully root your device.
Pros:
Provide free backup and restore functions.
24/7 Customer Support.
Cons:
Once you have downloaded and used this software to root your device, you will not be able to uninstall it.
Rating - 3.5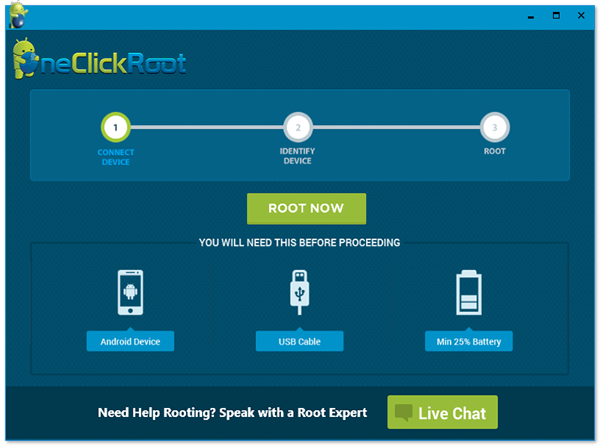 Check if You Need:
Bonus: Best Tool to Resolve Issues Related to Android OS
It is not uncommon for users to encounter some problems in the process of rooting devices. And when using Android devices, you will also encounter various system problems. For example, an Android phone has a black screen or a blue screen, an Android phone cannot turn on and off normally, Android system crashes, and an Android device becomes bricked, etc.
Now, there is a one-stop solution, a tool called Android Repair, which can help you solve these problems. No matter what kind of Android issues you encounter, it can easily and safely restore these devices to normal.
Overview for Android Repair
- Works as an all-in-one tool to fix Android issues.
- Fix the issue of your Android phone stuck in boot screen, black/dead screen, Android won't turn on or off, the apps are crashed, Android OTA update failure, Android system is crashed, bricked Android phones/tablets.
- Very fast and efficient.
- Support AT&T, Verizon, T-Mobile, Sprint, Vodafone, Orange, etc.
- Widely support overall Android devices, including Samsung, HTC, Sony, Motorola, LG, Huawei, Xiaomi, Oppo, etc.

How to use Android Repair to fix an issue on Android?
Step 1. Download the program on your computer and get it installed. Launch it and choose the "Repair" tab from the primary interface.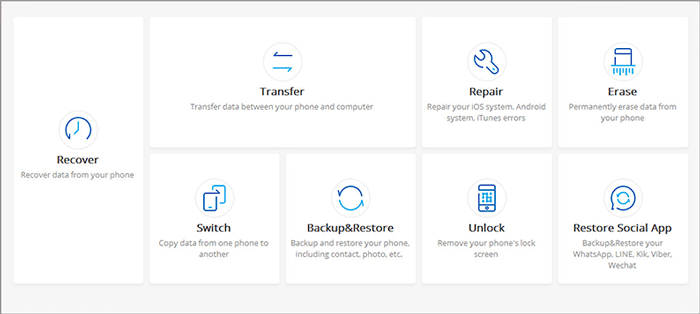 Step 2. Connect your Android phone to the computer via a USB cable. Go to the left side bar of the program to choose "Android Repair". The program will show you the Android problems it can fix. You can browse it and click the button of "Start".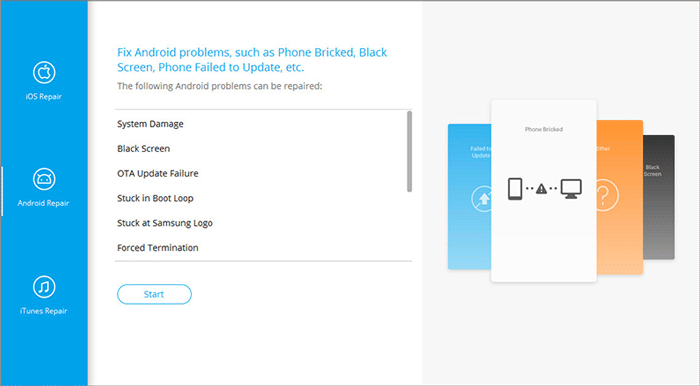 Step 3. On the new window, choose the device name and model of your Android phone because the program will offer a customized fix package to repair your phone according to your Android phone info. Agree the warning and click "Next".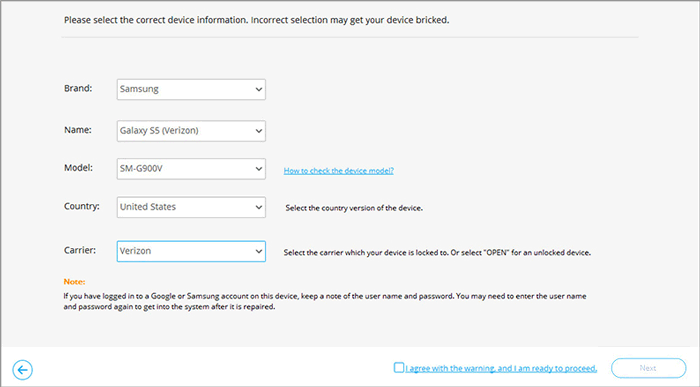 Step 4. Manually type in the number "000000" to the blank area and click "Confirm" button to continue. Please note that the following operations will delete all content on your device.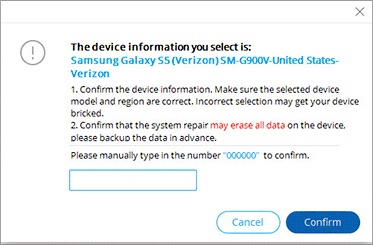 Step 5. Follow the simple guide to let your Android device enter download mode.
Situation 1. Your Android phone has a Home button
Power off your Android phone/tablet.
Long press the Home, Power key, and Volume Down for 5s to 10s.
Release all buttons, and hold the Volume Up button to enter the download mode.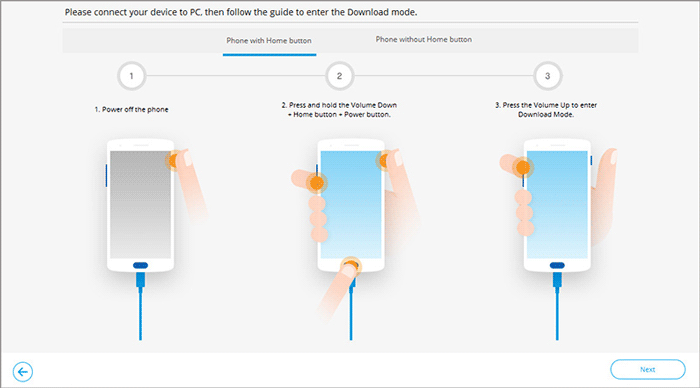 Situation 2. Your device hasn't a Home button
Power off your Android phone/tablet.
Long press the Bixby key, Power key, and Volume Down for 5s to 10s.
Release all buttons, and hold the Volume Up button to enter the download mode.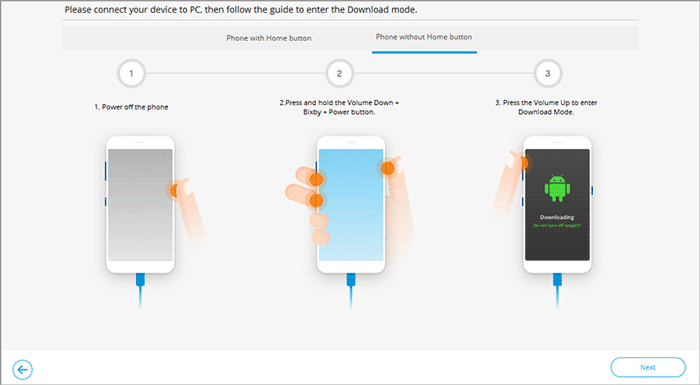 Step 6. Once your Android phone enters download mode, you should click on "Next" and the program will download the repairing firmware for your device. When the downloading is finished, the program will begin to fix your Android device.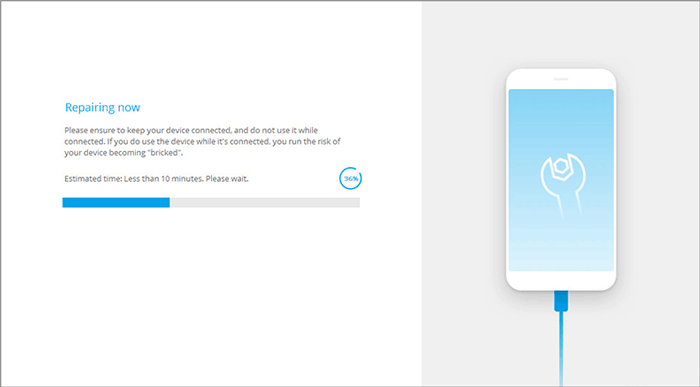 Step 7. Wait until your Android device is repaired, then you can reboot your Android phone to normal situation.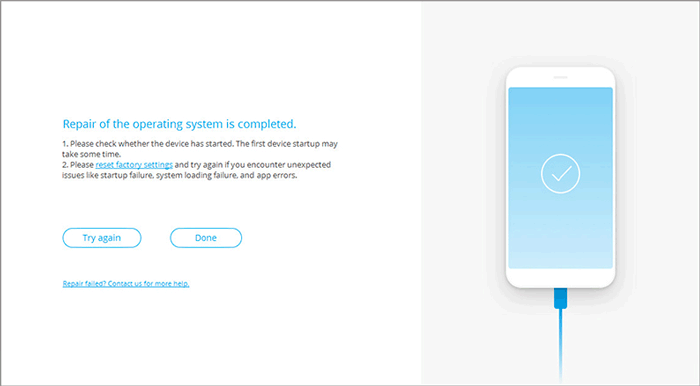 With these simple steps, you have fixed your Android issues successfully.
In Conclusion
From the above list, you may have found that there are actually many Samsung mobile root software for PC on the market to choose from. These tools have advantages and disadvantages. Therefore, when choosing, we must do enough research. All in all, root is risky, please be cautious. We recommend that you back up your Android data before rooting to prevent data loss.
Related Articles:
Top 6 Root APKs for Rooting Android without PC
Top 7 Tools to Root Android Devices Online
Easily & Safely Root Your Samsung Galaxy S20/S10/S9/S8/S7
Easy & Safe Ways of Android Data Recovery without Root [Proven Tips]