Why the Program Takes So Long to Scan for Lost Data on My Android Device?
If your program appears to be taking a long time to scan, here are some tips to help you get the scan to work faster for you.
Step 1. Close down all anti-virus programs, as well as other Android managers as they can interfere. Rest assured, we test all of our download files all the time for virus's using Norton and McAfee and they are 100% secure.
How to Disable Antivirus Software on PC?
Please be noted that the instructions below are for temporarily disabling an antivirus program, not uninstalling antivirus and other programs in Windows.
1. Open Action Center by clicking the Start button, click Control Panel, and then, under System and Security, and click Review your computer's status.
2. Click the Arrow button next Security to expand the section. If Windows can detect your antivirus software, it's listed under Virus protection.
3. If the software is on, check the Help that came with the software for information on disabling it.
Note: Windows doesn't detect all antivirus software, and some antivirus software doesn't report its status to Windows. If your antivirus software isn't displayed in Action Center and you're not sure how to find it, try any of the following:
Type the name of the software or the publisher in the search box on the Start menu and look for your antivirus program's icon in the notification area of the taskbar.
Step 2. Shut down and restart the software. After analyzing the device successfully, click on the Next button and you will be asked to select the file types that you want to recover: photos, video, messages, contacts, etc. The software is set to "Select All" by default, but you can save the scanning time by selecting only the data you wish to restore for scanning.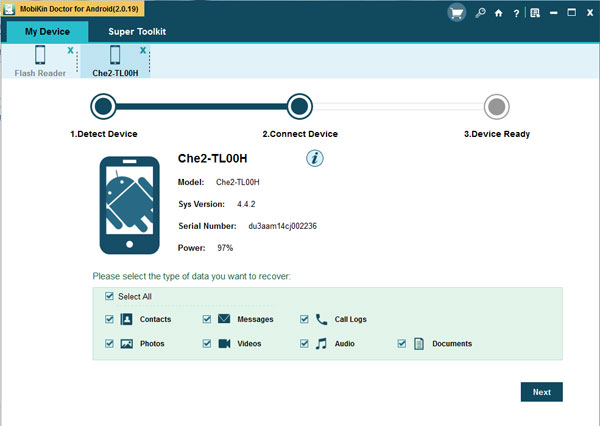 Step 3. If the above methods are invalid here, you can contact our technical team to get instant assistant via email: support#mobikin.com (replace # with @). And please ensure the following details will be contained in your email.
- A screenshot of the program interface and any error messages that appeared.
- The details about your device: eg., device model and Android OS version.
Note: Tap the "Settings" button on your device. If this isn't present on your device's home screen, find the Settings app in the App Drawer. Scroll down towards the bottom of the menu. Select the "About phone" option. Then you are able to check the number under "Android version" and your phone model under "Model number".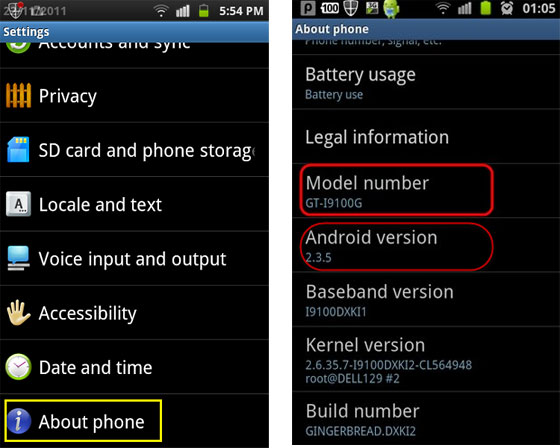 Related Articles:
What to do if the text messages, contacts are not recovered properly for me?
What to do if the program does not recognize my Android device?