How to Fix Snapchat Not Working Issue with Easy Tricks?
While searching Snapchat on internet, you would find that many users are disturbed by one problem- Snapchat not working. And according to these users, this problem includes two situations:
Then how to fix Snapchat not working issue in these two cases? This tutorial will tell you the answer detailedly. So if you are encountering the same problem, don't hesitate to read on and you will get the effective solutions here.
You can also read:
[Solved] Facebook Notifications Not Working, How to Fix It?
Why Facebook Messenger Video Calling Not Working?
Snapchat Fails to Send Messages
If you encounter such an issue, you will be able to receive and open Snapchat but fail to send a chat or snap. When you try to send the messages, Snapchat will prompt you "Failed to send. Tap to try again" or "Could not send. Please try again". But you will find that you are still unable to send the messages after trying again and again. Then at this moment, you can attempt the following methods to fix the issue.
1. Disable Airplane mode
To send messages on Snapchat, you need to ensure that your phone is connected to a stable network first. And if the network connection on your phone does not work well, you can try to restart the network connection by turning on and off the Airplane mode on your phone. You just need to swipe up/down your phone screen to open the Control center and then tap on the Airplane icon to switch on the mode. After a few seconds, you should click on the icon again to disable the Airplane mode and then the network on your phone will be refreshed.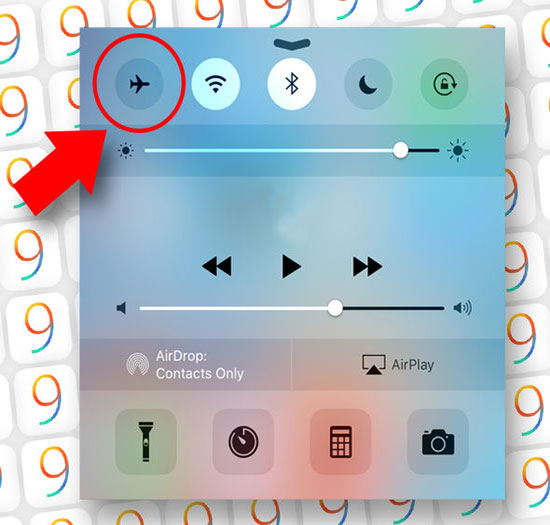 2. Re-login to Snapchat
Maybe this problem is caused by the Snapchat account error so here you can attempt to reconfigure your account to see if it can help to solve the problem. In other words, you suggested to log out and then re-log in Snapchat App.
- Launch Snapchat on your phone and then tap on the ghost icon at the top left corner.
- Next, you should choose Settings on the page and then scroll down to the bottom of the screen to select the Log Out option.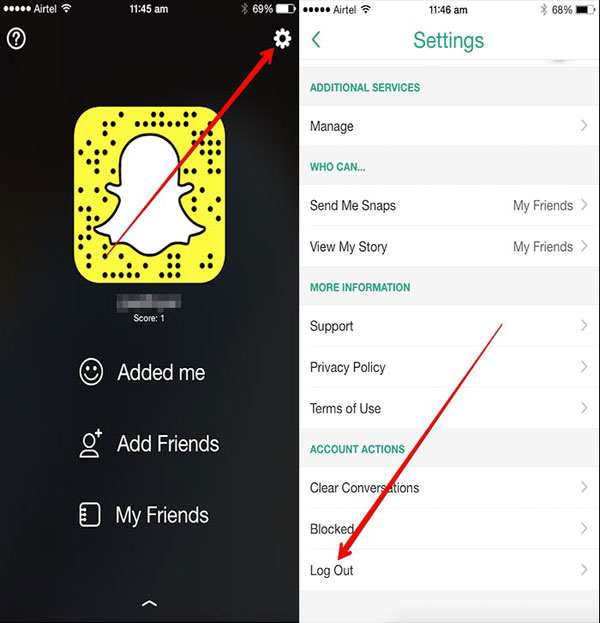 - After that, Snapchat will ask: Are you sure you want to log out? Just tap on Log Out to confirm your option.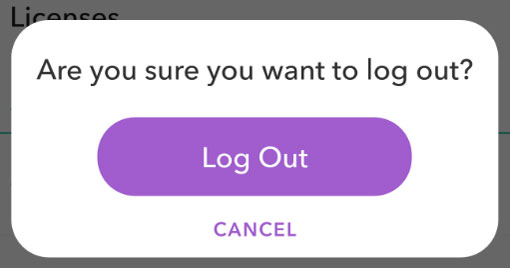 - Now you can go to log in your Snapchat account again and try if you can send messages successfully.
3. Re-open Snapchat
Another possible reason for the Snapchat fails to send messages issue is the application glitches. So restarting Snapchat is also a usable method to settle the problem. To complete that, you need to go to the recently used Apps menu on your phone and then swipe up to force stop Snapchat. After that, you can launch the App once again and check if you can send Snapchat smoothly.
4. Delete caches of Snapchat
The caches or useless data of Snapchat would lead to some App issues sometimes. Therefore, we would like to suggest you to delete the Snapchat caches to fix the error. This can be completed in the Snapchat App directly:
- Open the Snapchat App on your phone and then tap on the ghost icon and select Settings.
- In the Settings menu, you need to tap on Clear Cache and choose Clear All to remove the browser, memories, stories, lens and search caches on Snapchat.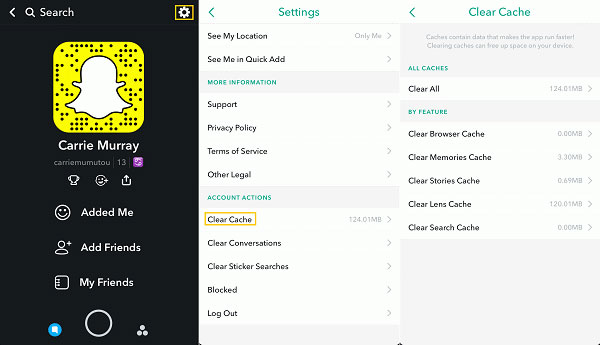 5. Save Snapchat in internal memory
Since the phone storage space is limited, some users would like to save their applications or files to external memory to enlarge their phone space. But this would result in some errors sometimes. So if you have moved your Snapchat to your SD card beforehand, you need to switch it back to internal memory to ensure its smooth running.
6. Reinstall the application
It is possible that the version of Snapchat that you are using is too old to work well- an outdated App version would have some bugs and users are unable to use it normally. But don't worry! It is easy to solve this problem. You just need to uninstall the application on your phone and then download and reinstall the latest version to fix the bugs. The detailed operation is:
- Go to your Home screen and hold down the Snapchat icon for a while.
- Next, you should tap on the "X" at the top left corner of the icon to remove the App from the device.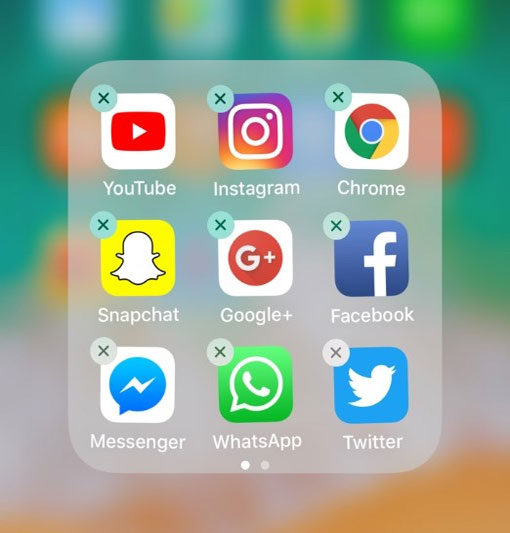 - After deleting the application, you can go to App Store or Google Play Store to download and install the most recent Snapchat version on your phone.
7. Downgrade Snapchat (Android)
If you encounter the problem after installing the update on your Android phone, that means the new Snapchat version might be incompatible with your device and you need to downgrade the software. To downgrade Snapchat to older version, you need to:
- Long press the Snapchat icon on your Android phone to uninstall it from your phone.
- Download an old version of Snapchat APK on the internet and then install it.
8. Check if Snapchat is down
When all the methods above failed, it is probable that the Snapchat is down. At this moment, you can check if there is news about temporary server outage in Snapchat or go to downdetector.com to check possible problems at Snapchat. If you confirm that Snapchat is down, you can do nothing but wait for the Snapchat to fix the issue.
Snapchat Does Not Refresh
Sometimes you may also receive a message saying "Could not refresh messages. Please try again later." while trying to view Stories on Snapchat. This error is often caused by the connection problem. So when such a message pops up, you can try the methods below to get rid of the trouble.
1. Check out the network connection
First of all, you need to make sure that your phone is connected a strong Wi-fi or cellular data. You can check the signal of your Wi-fi or phone data on the screen directly. If you find that the signal is very weak, you need to switch to other available Wi-fi or cellular data. Or if necessary, you can also select to reset the network settings on your phone.
2. Restart your mobile phone
Restarting the mobile phone is able to fix some software glitches as well so just try to switch off your phone by tapping on the Power button and then power it on again. This will help to refresh your phone and solve the Snapchat not refreshing problem.
3. Sign out and back in Snapchat account
Another way that you use to fix the Snapchat does not refresh issue is to sign out and then re-login to your Snapchat account. You can open the Snapchat on your phone and then go to Settings> Sign Out to log out of Snapchat. After a few seconds, you can launch the application again and then type in your account name and password to log in again. Maybe you can refresh your Snapchat stories after that.
4. Reinstall Snapchat
Except for the methods above, you can also try to remove the Snapchat from your phone and then reinstall it. This is a mighty way to fix many application problems so you can have a try here.
Attention: All the methods above can only be used when the connection problem is on your side. And if the Snapchat not refreshing problem is caused by Snapchat server, there is nothing you can do but wait for the server to solve the problem.
Related Articles:
How to Fix Unfortunately WeChat Has Stopped on Android?
Facebook Fails to Load Photos/Videos, How to Fix It? [Fixed]
How to Get/Use Snapchat on PC Flexibly? [Way 6 Is Incredible]
How to Recover Snapchat Messages on iPhone? (Fast & Easy)