User Guide: How to Delete Snapchat Messages Directly and Completely
Although Snapchat messages would disappear automatically after a certain time, there are still lots of users want to delete these Snapchat messages manually since they want to remove the unwanted messages permanently or delete the classified information before other users see it, etc. This sounds an easy wish to realize but less people can accomplish that actually. That's because very few people would select to make the deletion manually, which makes the deleting methods mysterious. However, this is would not be a difficult task from now on- you can get the step-by-step tutorial to clear Snapchat messages here. Just move on to learn them.
How to Clear Messages on Snapchat?
In this part, you will learn two ways to delete the messages on Snapchat- remove saved Snapchat messages and clear Snapchat conversations. Let's learn them together!
1. Remove saved messages on Snapchat
Since the Snapchat messages would disappear automatically, some users would choose to save the chats in case that they want to read the messages one day. But now, you may think these messages is useless and want to clear them from the application. Then what should you do? For your reference, you can:
Step 1. Enter the Snapchat and then find out and tap on the saved message in it.
Step 2. After that, the saved message will be unhighlighted. Then you can exit the chat.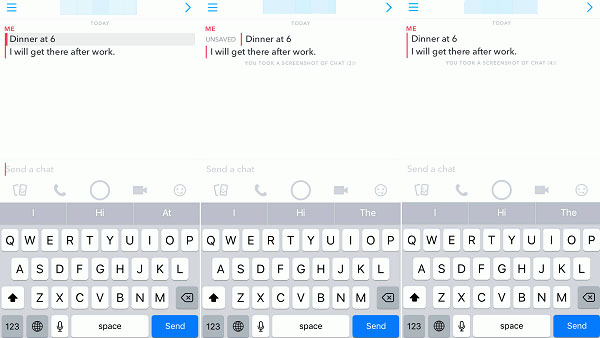 Now this saved message on Snapchat is deleted. When you enter the chat next time, you won't see the message anymore. But here, if the other contact saves the message that you want to delete, it will still stay in your Snapchat until he/she unsave it.
2. Clear Snapchat conversations
In some cases, you may want to remove a whole conversation from Snapchat for some reasons. This is also easy and you can accomplish it in the Snapchat settings directly.
Step 1. Launch Snapchat on your device and then click on the ghost icon at the top left corner to enter the next page.
Step 2. On this page, you can select Settings and tap on Clear Conversations option in this section.
Step 3. At last, you can choose the conversation that you want to delete and remove it from the application.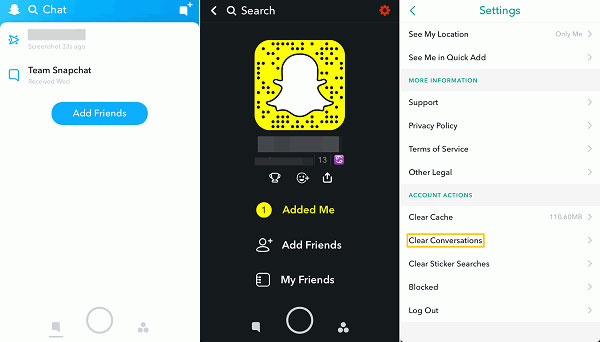 Done! The selected conversation will be erased from your Snapchat and you won't see it. However, you need to know one thing here: this means won't delete the saved messages on your Snapchat. You will still see the saved messages when you start chatting with the contact though the conversation would disappear from Chat.
Can't miss:
How to Delete Snapchat History on iPhone X/8/7 Permanently?
How to Fix Snapchat Not Working Issue?
What Can You Do to Erase the Photos in Snapchat Conversations?
Sometimes you may only want to delete the photos on your Snapchat and stay the text messages. Then in this case, you can go to the Snapchat memories to clear the unwanted images. Just go with the steps below to have a try.
Step 1. Open the Snapchat App on your phone and swipe up on the camera screen to turn on the Memories page of Snapchat.
Step 2. On the Memories page, you can choose a Snap or Story that you don't like and tap on them. After that, you need to click on the Edit & Send button at the bottom.
Step 3. If you are sure that you want to delete the selected item, you can tap on the trash bin icon at the lower left corner and then choose Delete to confirm your option.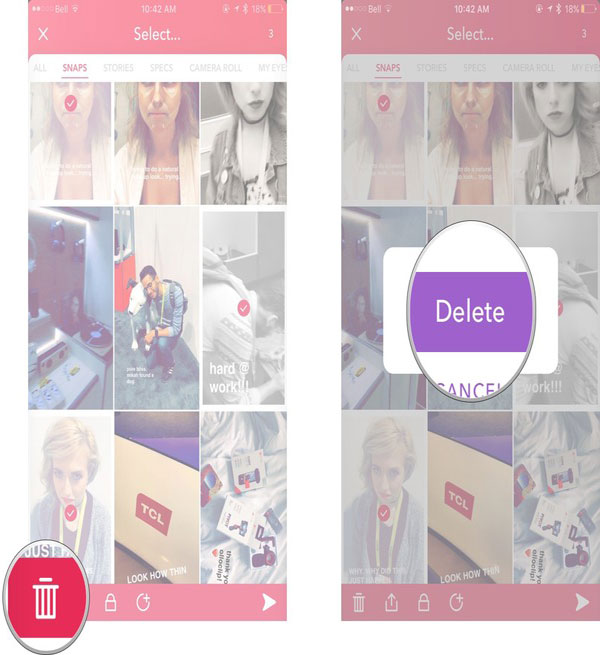 Now the pictures on your Snapchat will be erased and you won't see the unwanted photos on the App anymore.
Some Common Problems about Snapchat Messages Deletion
While performing the clearing process, you might meet some problems or have some questions about deleting Snapchat messages. For example:
1. What to do if Snapchat conversation won't disappear?
If you fail to delete a Snapchat message by following the method above, that means either your or the receiver has saved the message. In this case, you need to unsave the message at first:
Step 1. Go to your Snapchat and tap on the unwanted message to unsave it on your device. If you also sign in your account on other devices, you should also ensure that you have unsaved the message on those devices.
Step 2. Next, you need to ask the receiver to unsave the message as well then you can delete the message successfully. Here, if the contact refuses to unsave the message, you can use a third-party application to forcibly erase the message. But we do not suggest you to do so cause your Snapchat account might be locked due to the third-party software.
2. Can other person see the deleted conversation on Snapchat?
Actually, you can only clear the Snapchat messages from your end. And in this case, the receiver is still able to see the message if it is sent successfully and not deleted by the contact. What's more, if this contact has saved the conversation, you won't be able to remove it from your end unless they unsave the message.
3. How to delete a sent Snapchat?
Sometimes you may accidentally send a wrong message to others and want to unsend it. Here we are sorry to tell you that there is no way to unsend a Snapchat message. But if the receiver hasn't seen the chat, you can try some tips to cancel the message:
Tip 1. Delete your account
You can try to delete your account to delete the messages that the receiver hasn't seen yet. However, you'd better think twice cause you will lose your account and cannot get it back. But if you are sure that you really want to unsend the message, you can:
Step 1. Enter a browser and then go to the Snapchat support page in it.
Step 2. On this page, you should tap on My Account & Settings> Account Information> Delete My Account.
Step 3. Then you can sign in with your Snapchat account and passcode and go with the steps to delete the account.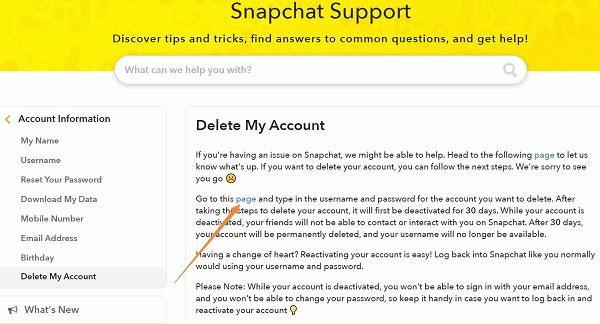 After that, you account will be deactivated for 30 days. And after 30 days, the account will be permanently deleted.
Tip 2. Disable Wi-fi and cellular data
If you don't want to delete your account, you can also select to disconnect the Wi-fi as well as the phone data on your phone. You need to disable them immediately, which would stop the message being sent. When the Snapchat prompts you that the message fails to be sent, you can go to enable the Wi-fi or cellular data again. Remember, do not click retry to send the message again.
4. If I block someone on Snapchat, can they still see the latest message I sent?
Once a message is successfully sent to a Snapchat user, he/she can see the sent message no matter he/she is blocked by others or removed from the contact list.
Related Articles:
How to Fix Unfortunately WeChat Has Stopped on Android?
Facebook Messenger Not Connecting? Let's Fix It Together!
Detailed Guide to Transfer WhatsApp from Android to iPhone
Why Can't I Send & Receive WhatsApp Messages?