[Solved] Facebook Notifications Not Working, How to Fix It?
Finding that you have miss lots of important notifications when you launch your Facebook App? That means your Facebook notifications feature does not work well on your phone. In this case, if you do not want to continue to miss the significant notifications, you need to fix Facebook notifications not working problem at first. And here are some effective methods for your reference.
Enable Facebook Notifications on Your Android or iPhone
To receive the notifications from Facebook, you need to turn on the feature on your phone at first. So if you always fail to get the Facebook notifications, you can go to check whether you have switch on the Facebook notifications on your Android/iPhone. If not, you can enable it then you can receive the notifications normally.
1. Turn on Facebook notifications on your iPhone
Step 1. Click the icon of Settings on your iPhone and select the Notifications option in this section.
Step 2. Under the Notifications option, you will get a list of applications. Here you should find out Facebook and tap on Allow Notifications to turn on the feature.
2. Enable Facebook notifications on Android phone
Step 1. Enter the Settings App on your Android phone and then choose the Applications option.
Step 2. Next, you need to go to Application Manager and tap Notification on Facebook.
Step 3. Finally, you can simply toggle on the button of notification on Facebook to switch it on.
Restart Your Mobile Phone
When a mobile phone runs for a long time or works with several background software, there will be some little glitches on it. These errors would stop the device from working normally and cause some other problems like Facebook notifications not working issue. In order to solve this problem, you can try to force stop the application and then restart your phone. This simple means can help to stop the background software on your phone and refresh the device. So now just have a try.
For iPhone users, you only need to hold down the Power button on your iPhone and then slide the slider to power off the phone. After several seconds, you can long press the Power button again to turn on the device.
For Android phone users, you need to go to Settings> Applications> Application Manager> Facebook> Force Stop to stop the application forcibly. Then you can press the Power key of the device and select Restart in the pop-up window to reboot your phone.
Generally speaking, you will be able to receive the notifications from Facebook smoothly.
Delete Caches of Facebook (Android Only)
There will be a lot of caches generated on Facebook after you launch and use the application. These caches won't affect you until they accumulate to certain amount. In other words, they will interrupt the smooth running of Facebook if you do not clear them regularly. Hence, you need to delete the Facebook caches to ensure the normal work of Facebook.
Notice: This means is only available on Android phone. If you are using an iPhone, you need to use other methods in this article to fix the Facebook notifications not working issue.
Step 1. Launch the Settings App on your phone and tap on Applications in it.
Step 2. Next, you should choose the option Application Manager and then click Facebook from the list.
Step 3. Now you can elect Storage and tap on Clear Cache in this section to remove the cached data from your device.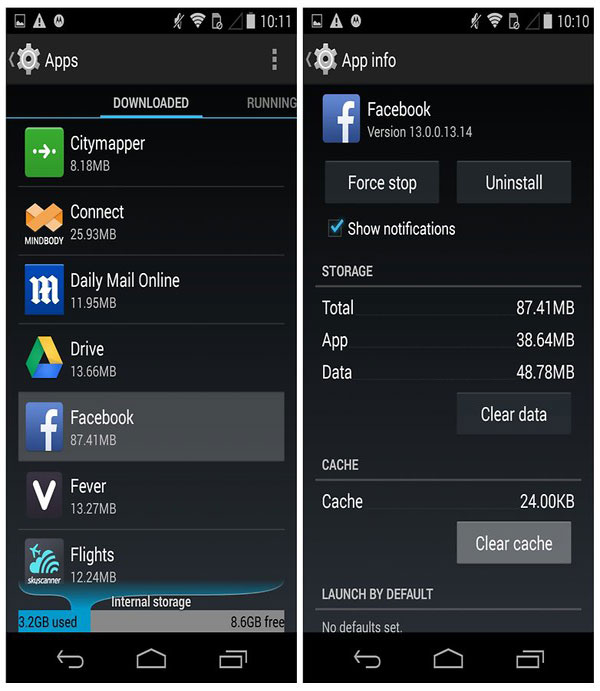 Update the Facebook App
One of the possible reasons for the Facebook notifications not working issue is that the version of the App is too outdated to work normally. As we all know, an outdated application version will bring some bugs but a new version can fix them easily. So to ensure the smooth running of Facebook, you should remember to upgrade it regularly.
To get the latest update of Facebook, you can go to Google Play Store or App Store to have a check. If there is any update available, you need to download and install it on your phone to try to settle the issue.
You can also read:
Effective Ways to Fix Facebook Blank Page Error
Why Facebook Messenger Video Calling Not Working?
Reinstall the Application on Your Device
It is also possible that you have installed the Facebook improperly so that it won't be able to run normally. So here you can attempt to reinstall the application on your phone. And certainly, before the reinstallation, you need to remove the current one from the device. The detailed steps could be:
1. Reinstall Facebook on iPhone
Step 1. Go to the Home screen on your iPhone and find out the icon of Facebook.
Step 2. Then you can long press the icon until a "X" icon appears at the top right corner.
Step 3. Now you can tap on the "X" icon to remove the Facebook from your phone.
Step 4. After that, you can go to App Store to download the latest Facebook and then go with the instructions to properly install it.
2. Reinstall Facebook App on Android device
Step 1. To uninstall Facebook on Android phone, you can navigate to Settings> Apps/Application Management> Facebook> Uninstall to delete it beforehand.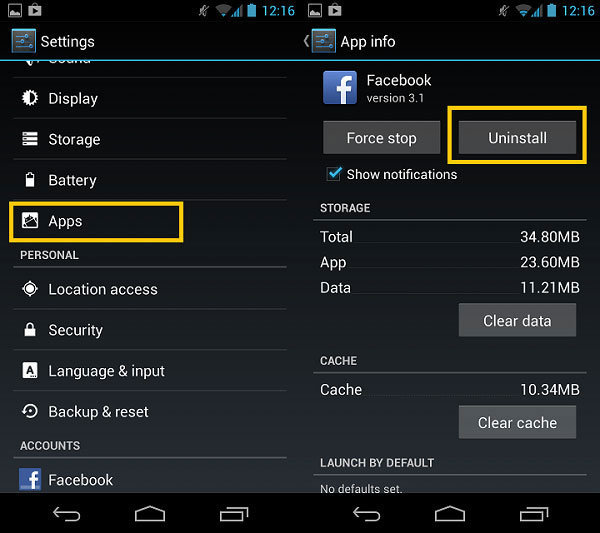 Step 2. Next, you can go to Google Play Store to download and install the most recent Facebook version on your phone.
Update the OS Version
The operating system of your mobile phone would cause this error sometimes- the OS version might be incompatible with Facebook so some features of the App won't work. Hence, it is essential for you to upgrade the OS version of iPhone or Android phone if there is an update available.
1. Update iPhone OS version
Step 1. Tap on Settings> General> Software Update> Check for updates on your iPhone.
Step 2. If there is an update available here, you should click to download and install the update to upgrade the system.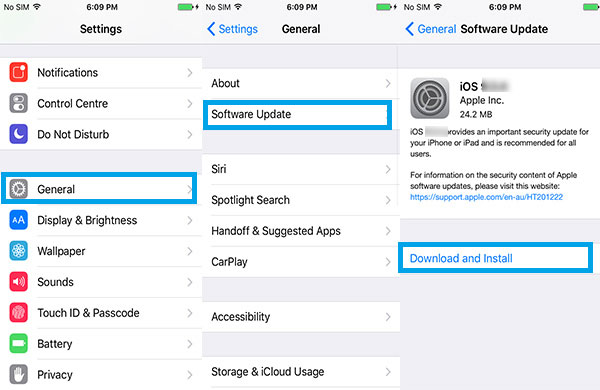 2. Upgrade operating system of Android
Step 1. Go to Settings> About Devices> Download Updates manually> Check for Updates.
Step 2. Then if it prompts that there is an update, you can tap on Install Now to upgrade the OS version.
Related Articles:
[Solved] How to See Deleted WhatsApp Messages without Any App [Android/iPhone]
Cannot Send Messages on Facebook? 4 Methods to Fix It!
[4 Ways] How to Fix Cannot Upload Videos to Facebook Issue?
iPad White Screen Troubleshooting: How to Fix iPad White Screen of Death?
Android Phone Keeps Turning/Shutting off? You Can Now Fix It Like a Pro