How to Get/Use Snapchat on PC Flexibly? [Way 6 Is Incredible]
Introduced by Snap Inc, Snapchat is a free communication application that allows its users to talk to friends, play around with lenses and filters, and share pictures/videos. (Unable to share photos from iPhone?) Sometimes, Snapchat subscribers need to run the app on a large and gorgeous display from a PC. OK, this page is directed at how to run Snapchat on PC with its web version, along with other possible methods that may get your back.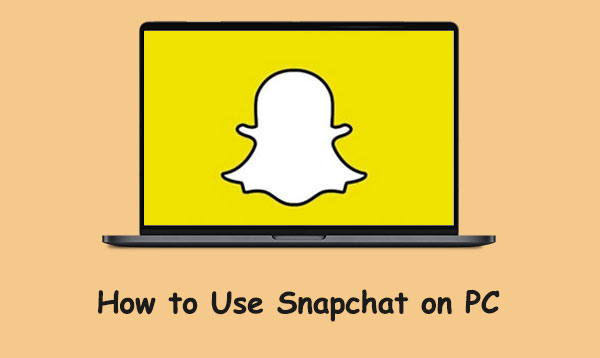 Way 1: How to Get Snapchat on PC via Snapchat Web
Snapchat for Web allows you to use the messaging app through a browser on your PC. Yet, this service is only available on Chrome and Edge currently. Now, we take an Android phone as an example for you to complete the following test. Learn how to use Snapchat on PC with Snapchat Web:
Visit Snapchat for Web from a browser on your computer.
Log in with the credentials you use for it.

Finish two-step verification and authenticate the login request through your phone.
When you see "Are you trying to access Snapchat from a browser?" tap the notification and pick "Yes" to sign in to Snapchat on your PC.
Click your profile icon and choose "Create Desktop Shortcut" from the drop-down menu.
If you see a popup in the right corner of the address bar, tap "Install" to get the Snapchat app on your computer.
Make a desktop shortcut and pin the program on the "Taskbar" or "Start Menu". After that, you can use Snapchat Web on your PC smoothly.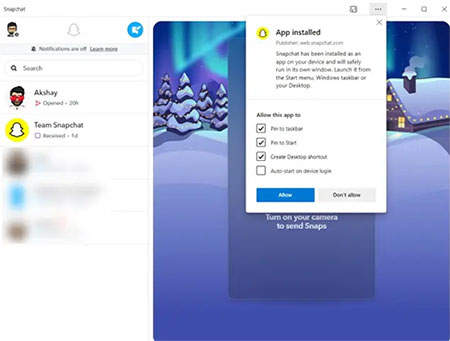 Click to Learn:
Way 2: How to Use Snapchat from PC via BlueStacks
BlueStacks, an outstanding gaming platform, help users to download and run Android apps from a PC or transfer files from Android to a computer. With this optimized Android emulator, you can easily control Android on a larger screen and keep your system from malware.
Can you open Snapchat on PC with BlueStacks? Here are the instructions:
Get BlueStacks from the official site.
Install and run BlueStacks and tap Google Play Store on the tool.
Google Play requires you to log in to your account; please sign in with your Google credentials on BlueStacks.
When you access Google Play, please open Snapchat from the search bar.

Open Snapchat and press "Install".
Snapchat will open in a new tab and will look exactly like the one on your smartphone.
Way 3: How to Get Snapchat for PC via KOPlayer
KOPlayer can be utilized to run Android apps on PC, including Snapchat. It is completely free to use, but you may encounter performance-based issues or undergo troublesome uninstallation. See how to get Snapchat on PC without Bluestacks via KOPlayer:
Open a web browser on a PC and search for KOPlayer.
Tap the "Download" button for Windows.
When the file is downloaded, press it to install the app.
Follow the on-screen direction to get KoPlayer on this PC.
Head over to Snapchat, install it, and begin using it from your computer.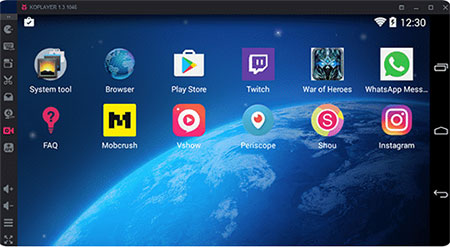 Know More:
Way 4: How to Access Snapchat on PC via LDPlayer
As a powerful emulator, LDPlayer makes it easy to play games and download applications from a PC. This tool offers you the opportunity to share files between Android and PC. Furthermore, you can also use it for GPS location simulation. Can you use/get Snapchat on PC using Snapchat Web? Here are the directions to follow:
Go to the LDPlayer website.
Click "Download LDPlayer".
Double-click the .exe file.
Click on Yes when asked if you want the file to make changes to your system.
Tap "Install", followed by "Accept".
After the installation, click "Start" > "System Apps".
Tap "Play Store" and log in to your Play Store account.
When you have signed in, search for Snapchat.
Click "Install" and open it on your computer.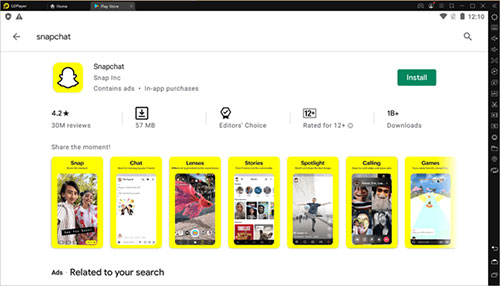 Way 5: How to Open Snapchat on PC via NoxPlayer
Getting along well with most Google Play apps, NoxPlayer lets you play Android games on a PC or Mac. It offers regular antivirus and security updates. Although NoxPlayer delivers fast responses with low RAM usage, it may be slow in-app installation.
How to get Snapchat on PC with NoxPlayer?
Visit the NoxPlayer website and click "Download".
Install it by double-clicking on the .exe file.
Tap "Install", followed by "Start".
Hit the search bar and search for Snapchat.

Press the first result, sign in to Google Play, and tap "Install".
Finally, click the Snapchat logo and log in to it.
Way 6: How to Use Snapchat on PC without Downloading It [Simplest]
It's somewhat complicated to download and install Snapchat on your PC before using it by resigning into the app account. Well, are there any other tools to use this app on a computer independently without even downloading it? OK, take a quick look at Screen Mirror. And you'll find a whole new way to run Snapchat much easier. Before controlling your phone on a larger screen with it, let's get a rough idea of what this tool is.
Standout features of Screen Mirror:
Let you use Snapchat on PC by mirroring Android/iOS to PC without delay.
Allow you to play mobile games or manage social apps on a computer directly.
Stream in-app displays and audio files to conferencing program.
Copy files from PC to Android.
Get on well with virtually all Android and iOS devices, such as Samsung, Huawei, Xiaomi, LG, Sony, Motorola, Google, OPPO, and a whole range of Apple devices.
It won't let out your privacy.

As you know, this utility is compatible with virtually all Android and iOS devices. Here, assuming you have an Android phone, follow the easy guide below to know how to access Snapchat on PC with Screen Mirror:
Step 1. Launch the program and link your phone to a PC
Install and open Screen Mirror on a computer after the free download. Attach your Android phone to this PC via USB. Next, select your device when prompted and opt for "Transfer files".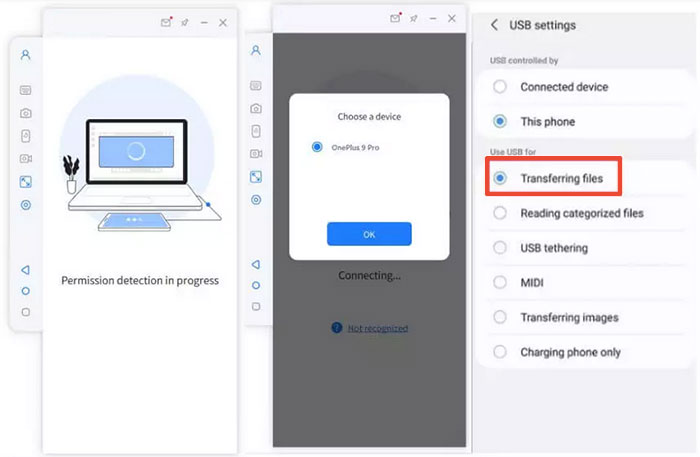 Step 2. Enable USB debugging on your phone
Go to your device's "Setting" > "About phone" > "Software information". Then, choose the "Developer option" by clicking "Build number" 7 times. Subsequently, go back to "Settings" to enable USB debugging on Android after the USB is connected.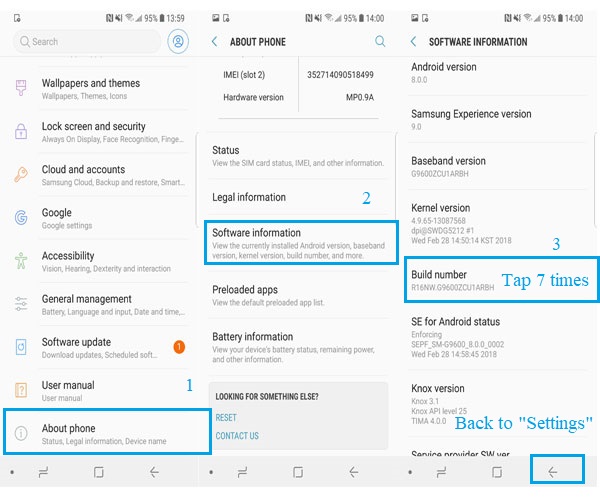 Step 3. Download Screen Mirror apk on Android
Give the program permissions and allow it to show items on its top screen. Next, click on "Turn on" to download the Screen Mirror apk on your Android device.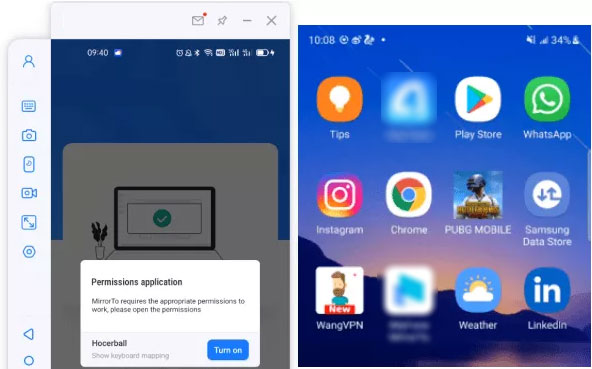 Step 4. Screen mirror Android before using Snapchat on PC
Your Android phone's screen will soon be mirrored to this PC successfully. Finally, you can easily access Android games/apps or use Snapchat on the PC fluently.
Conclusion
There you go! That's all for how to use Snapchat on a PC with the six most advisable ways. Well, do you want to run this app without even logging in to any details for the download? Or would you like to manipulate it without installing the proper version on your computer again? Apparently, Screen Mirror can save you that hassle by letting you control any app on a phone directly from a PC. So, give this program a download and try it out now.

Related Articles:
Is It Possible to Mirror iPhone to PC without Software? [SOLVED]
Why Is Snapchat Location Wrong? How to Fix It? [Complete Guide]
How to Recover Snapchat Photos on Android? 3 Easy Ways for You!
How to Recover Snapchat Messages on iPhone? (Fast & Easy)
Android File Transfer for Windows: 7 Best Tools to Sync and Backup Android