My Snapchat is Locked, How to Unlock It Fast?
What will you do when your Snapchat account is locked? If you have no any idea about that, we would like to suggest you to find out the reason first and then solve the problem according to the causes. And to achieve this goal, this article can be a tutorial for you. It can tell you why the issue happens and how to unlock Snapchat easily. Now just read on to get the details.
Why My Snapchat Account Is Locked?
First of all, you need to know why your Snapchat account is locked. Normally, this problem is caused by 5 possible reasons:
1. The birthday is changed frequently
Snapchat allows user to change their birthday but it has a limit number of time. If you change the date too many times, Snapchat will lock your account. And also, only the people who are 13 years old or older are allowed to use this service. So if you accidentally set your birthday to 12 years old or lower, Snapchat will lock your account as well.
2. Add too many new friends on Snapchat
Snapchat does not allow users to add too many friends on the application before they verify their email address or phone number. So to use the service smoothly, you need to verify your phone number or email account first or your right of using Snapchat will be limited.
3. Use a third-party App, plug-in or tweak with Snapchat
All the third-party application and plug-ins are banned from accessing the Snapchat. When the service detects that you have use a third-party App or plug-in like Snap Upload, Casper, Snap Crack, etc. to sign in the account, it will stop the activity and lock your account. Here if you continue to use these applications or plug-ins, the account would be permanently locked.
4. Send spam or illegal information on Snapchat
You may accidentally send some messages that are forbidden by Snapchat, such as spam, adult content, illegal content, violence or other information. To avoid this situation, you need to carefully check the snaps and messages before sending them.
5. Snapchat updates
The final possible reason is the Snapchat updates. Your account would be affected and locked as well when Snapchat releases updates too frequently.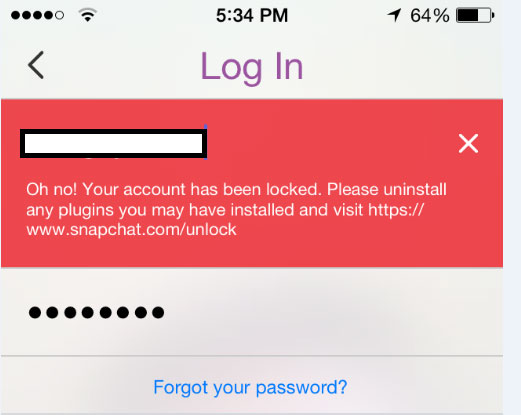 How Long Will My Snapchat Be Locked?
Then how long will your Snapchat account be locked? It depends on the reason for the issue actually. If your account is locked for minor causes, it would only take several hours to days to get back or unlock account. But if Snapchat lock your account due to serious causes, it can be permanently locked and you might be unable to unlock your Snapchat account anymore. So please be cautious or you may lose your account eternally.
You may also want to know:
Facebook Messenger Not Connecting? Let's Fix It Together!
Effective Ways to Fix Facebook Blank Pages Error
How to Unlock Snapchat?
So how can you unlock your Snapchat account when it is temporarily or permanently locked? Here are two suggestions for you:
1. When the Snapchat account is temporarily locked
For those users who are the first time to get locked out of Snapchat and receive a notification saying "Your Snapchat account has been temporarily locked", they can try to unlock the accounts with the following tips:
- Remove all the third-party applications or plug-ins that are related to Snapchat on your device.
- Log in your Snapchat account after 24 hours.
- Go to verify your email address and phone number if you have not completed the verification beforehand.
When all the tips above fail, you can attempt to unlock your account by visiting Snapchat online. Here is the specific process for your reference:
Step 1. Go to Snapchat.com on your device to sign in Snapchat with your account and password.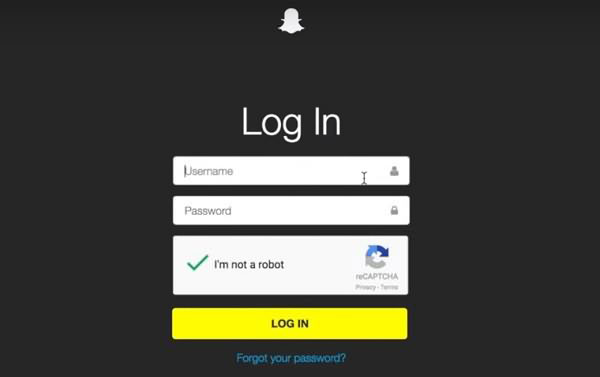 Step 2. The next step is to select the option Unlock My Account on the screen.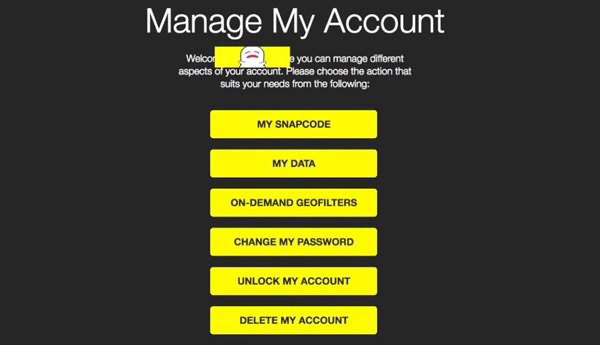 Step 3. After that, you will get an interface as below. Here you can simply tap on Unlock to get back your account.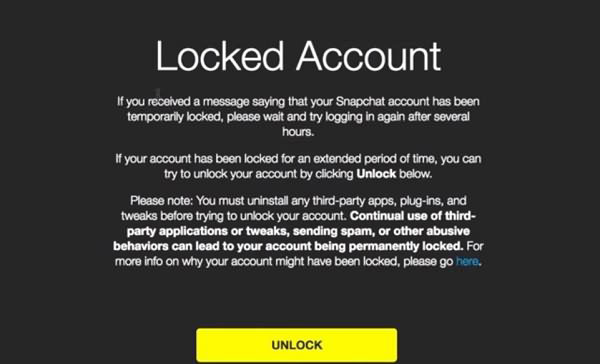 Some users may get a message saying unable to unlock, please try again after tapping the Unlock button. At this moment, you need to wait for a few hours and tap on Unlock My Account option to try again. Here, if it is the first time your account is locked, you need to wait for 12 hours. But if it is the second time, you need to wait about 24 hours.
Before tapping on Unlock My Account option, you should ensure that you have removed all third-party applications or tweaks of Snapchat from your device or you would fail again. And when your account is locked for three times, Snapchat is very likely to lock it permanently.
2. When your account is permanently locked
In fact, you are still able to get back your Snapchat account even when it is permanently locked. You can try the steps below to make an attempt.
Step 1. Go to Snapchat Support and choose Contact Us> I have a log in issue on the interface.
Step 2. Then on this page, you can try to click the option I can't log in to Snapchat or I forgot my password or I think my account was hacked.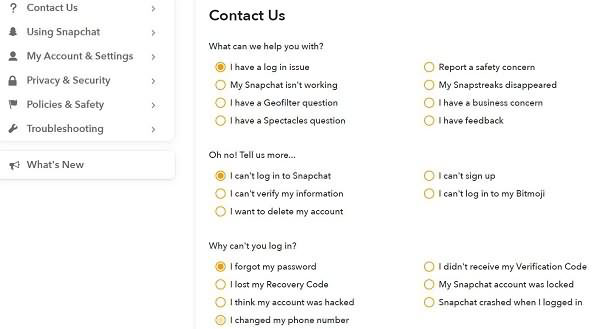 Step 3. Next, you need to tap Yes for Still Need Help on the bottom.
Step 4. After that, you need to submit a form about your account information. In the form, you can write about your case and try your best to let Snapchat know that you are locked because of a mistake and you will never do it again.
And now what you can do is just to wait and see if Snapchat agrees to give your account back.
Related Articles:
Let's Fix No Sound on YouTube Videos Together!
YouTube Keeps Freezing and Not Responding, How to Fix it? [Solved]
How to Recover Snapchat Photos on Android? 3 Easy Ways for You!
2 Fast & Easy Ways to Recover Snapchat Messages on Android