How to Delete Corrupted Files on Samsung Phone/Tablet?
The corrupted file is the damaged file on Samsung phone/tablet mainly because of overwritten. If your Android smartphone starts to show strange behaviors, that means your device may have some corrupted operating system files. And an Android device with corrupted files may cause apps fail to run properly or some app's functions stop to work. For example, you cannot open the contact list when tapping the People icon. The only way to fix the problem is to delete the corrupted files on Samsung phone/tablet. Here in this article you can find out the way to delete corrupted files on Samsung phone/tablet.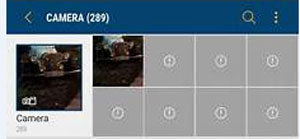 Part 1. Reasons Why Samsung Has Corrupted Files
There are some reasons why a file might become corrupted.
* Unexpected power loss
* Application errors and system crashes
* Virus infection or presence of malware
* Flaws in hard drive's files system sector
* Disconnect improperly the Android device or other storage device
* Download improperly files with slow internet or freezing Samsung device
Part 2. Guide to Delete Corrupted Files on Samsung Phone/Tablet
Before you start to delete the corrupted files, it is strongly suggested to make a backup on your Samsung phone or tablet in case of unwanted data lost. And you can delete the corrupted files on your device on matter what reasons cause the problem as long as you have the help of all-in-one Samsung Corrupted File Eraser - Android Data Eraser.
Supported Files: With the professional tool, you can delete any unwanted files on your Samsung without any restriction, including the junk files like corrupted files, app caches, photo caches, download temp files and other junk files, and the other private files like contacts, messages, photos, videos, apps and more.
Supported Devices: Almost all popular Android devices on the market have been supported, including Samsung Galaxy/tablet, HTC One, LG Optimums, Motorola Droid, Sony Xperia and etc.
You can totally rely on the software for your information is safe with it and no bother of adware, spyware or viruses with the program.
Here is how to use the software:
Firstly, download and launch the program on your computer and make your Samsung device connected to the computer with a USB cable. And you are required to install MobileGo connector on your device, just do it.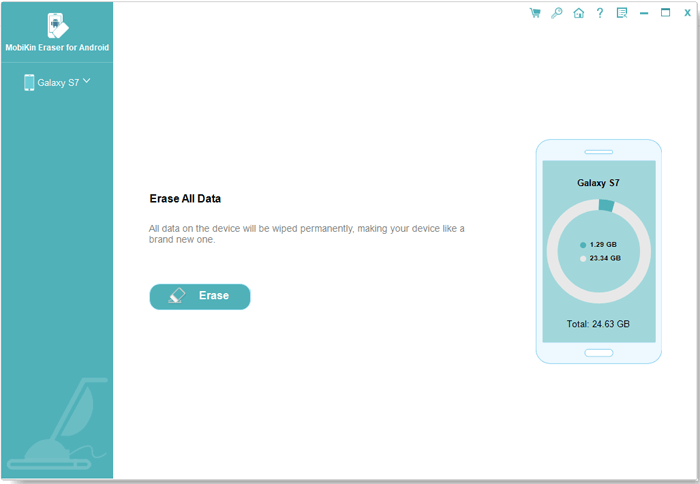 Secondly, once your device has been detected by the program, select the "Erase All Data" button to continue the process.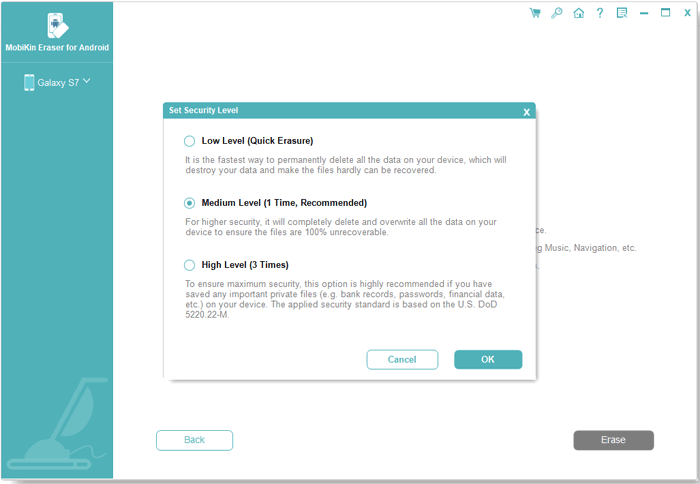 Finally, wait for while for the program to complete the erasing process, and then the program will offer the report about what kind of data has been deleted and how much of them. And the corrupted files on your Samsung phone/tablet will be deleted successfully.
Related Articles:
How to Backup Samsung Tablet on Computer?
Samsung Cloud Backup - Backup Samsung to Cloud