5 Hassle-free Ways to Transfer Files from PC to Samsung Galaxy Tablet
Our Samsung tablets have become indispensable companions, housing a treasure trove of documents, photos, videos, and more. However, you may want to transfer files from your trusty PC to your Tab for sharing important documents, copying cherished photos, or syncing your favorite music. Knowing how to transfer files from PC to Samsung tablet is a worthwhile ability.
Well, this page will introduce you to five workable options to do this, ranging from using File Explorer and AutoPlay to Bluetooth, email, and third-party software.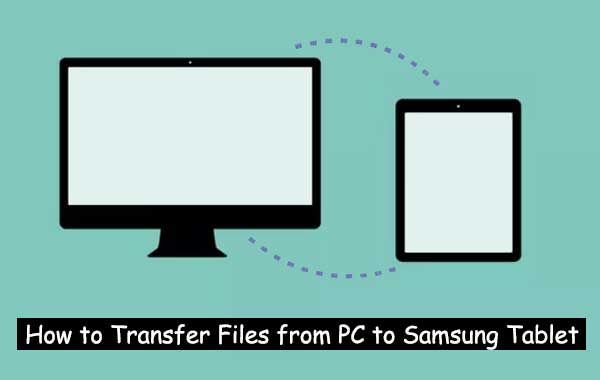 Option 1: How to Transfer Files from PC to Samsung Tablet via Assistant for Android
Isn't it impressive to effortlessly transfer data from a PC to a Galaxy Tab with just one click? MobiKin Assistant for Android (Windows and Mac) offers a dependable solution to bring your idea to life.
This intelligently designed software organizes different file types neatly within its interface. It arranges all items based on their characteristics, making it simple for you to preview and choose specific items for copying and management. Before we delve into "how do I transfer photos/videos/movies to my Samsung Galaxy Tab from PC", let's see why this tool is so stunning.
How can MobiKin Assistant for Android facilitate you?
Selectively transfer files from PC to Samsung tablet/phone.
Bulk back up Samsung Galaxy/Android data and restore it in one tap.
Copy content from Samsung to PC/Mac.
Apply to such files as photos, videos, contacts, text messages, call logs, apps, music, movies, books, etc.
Manage Samsung Galaxy tablet or other Android files on a computer independently.
Easy to handle, error-free, no data loss, and free trial.
Play functions on almost all Android tablets and phones, including Samsung Galaxy Tab S8/S7/S6/S5e/S4/S3/S2/Tab A/Tab E, Samsung T580/T585C/T560/SM-T380/SM-T350/SM-T510/T385C/T860/T290/T295C/SM-T510, etc.
It always protects your privacy.
How to transfer files from PC to Samsung Galaxy Tab via MobiKin Assistant for Android?
Step 1. Establish a connection between your PC and Galaxy Tab
Begin by downloading and installing the software on your computer. Once installed, launch the program and connect your Samsung tablet to the computer via USB. To ensure proper identification of your phone, please enable USB debugging on your device.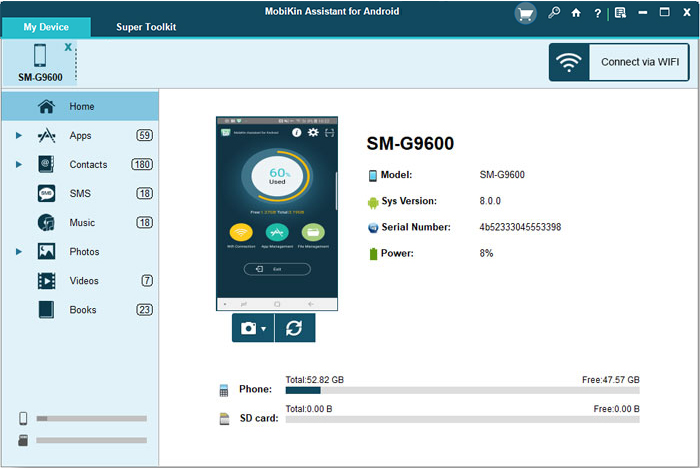 Step 2. View and select the data types you wish to transfer.
Once the connection is created, navigate to the file category on the left-hand menu within the software. Click on the "Add" or "Import" button at the top of the interface. You can now explore your PC's files and locate the specific ones you want to transfer to your connected Galaxy tablet.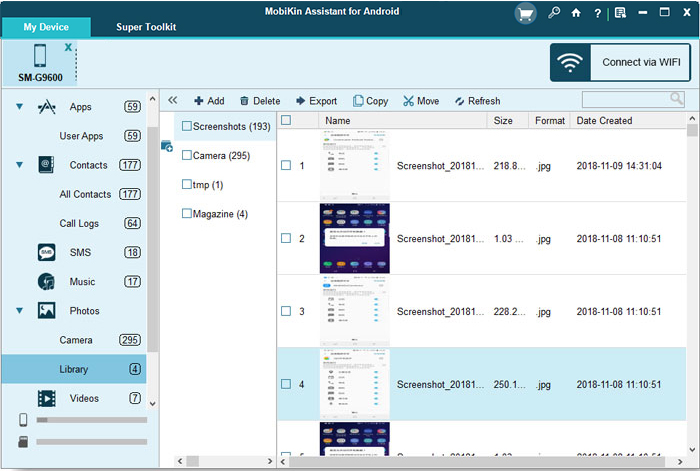 Step 3. Transfer the files from your PC to Galaxy Tab
After selecting the desired data from your computer, click "Open". This action will initiate the transfer process, moving the selected content from your PC to your Samsung Galaxy tablet.
You May Take a Liking to:
Option 2: How to Transfer Files from Laptop to Samsung Tablet Using File Explorer
Transferring media files on your tablet has been simplified by using a USB connection. Whether it's the USB cable included with your Samsung tablet or any functional USB cable, you can effortlessly learn how to transfer photos from laptop to Samsung Galaxy tablet via File Explorer:
Connect the Micro USB cable by inserting the Micro USB end into the port located at the bottom of the device.
Also, connect the USB end of the Micro USB cable to an available port on your computer.
To set the device to the appropriate USB mode, swipe down from the "Notification" bar.
Afterward, choose the Android System drop-down menu and select "Connected as a media device".
Opt for either "Media device (MTP)" or "Transferring images" based on your needs.

On your computer, click the File Explorer icon and select "This PC".
Locate and open the newly connected device drive. Navigate to the specific folder where you want to transfer files.
Finally, initiate the transfer by dragging and dropping the desired files into the device.
You may transfer some downloaded photos, videos, documents, and other content saved on your computer to your Galaxy tablet for easier viewing. But in some cases, when the Tab's memory is near its capacity, or you need to save some items to a larger and independent storage space, please go to this page - how to transfer files from Samsung tablet to PC to learn how to make the transfer the other way around.
Option 3: How to Transfer Files from Laptop to Samsung Galaxy Tablet via AutoPlay
With its convenient capability to transfer video and photos to Galaxy Tab from your Windows 11/10/8/7, The AutoPlay feature streamlines transferring data effortlessly and efficiently.
How to put movies/videos/photos on Samsung Galaxy tablet from PC with AutoPlay?
Link your Samsung Galaxy Tab to your computer using the provided USB cable.
This action will trigger the appearance of the AutoPlay dialog box.
Opt for the "Open folder to view files" option from the AutoPlay menu.

Locate the files you wish to transfer to your Samsung Galaxy Tab.
Simply drag and drop them into your tablet's folder.
Once the files have been successfully copied to your Samsung Galaxy Tab folder, you can close all open windows and safely disconnect the USB cable.
You Might Be Drawn to:
Option 4: How to Transfer Files to Samsung Galaxy Tablet from PC by Bluetooth
Nowadays, nearly all Samsung tablets are equipped with Bluetooth functionality. However, it's essential to verify whether your computer supports Bluetooth before initiating any data transfers. Once you've confirmed this compatibility, enable Bluetooth on both your tablet and PC, and you'll be able to transfer files seamlessly after pairing them.
How to transfer/save movies to Samsung Galaxy tablet from a computer with Bluetooth?
Begin by enabling Bluetooth on both your laptop and Samsung device.

Access the Bluetooth settings on your Samsung Galaxy Tab.
Activate discoverability and search for your laptop within the available devices list.
Once found, tap the laptop and initiate the pairing process.
When a pairing request appears on your tablet, accept it.
On your PC, access the Bluetooth settings and click "Send Files".
Locate and select your Galaxy device from the list.
Navigate through your files and folders on your PC.
Choose the ones you wish to transfer to your tablet.
After making your selections, click "Next" to commence the transfer.
You will receive a file transfer request on Samsung; accept it to proceed.
Allow the file transfer to complete, select your preferred folder, and save the files onto your tablet.
Option 5: How to Transfer Files from PC to Samsung Tablet over Email
If you are to transfer specific files to Galaxy Tab S8/S7/S6/S5/S4/S3, you can achieve this by sending them to your own email address. This wireless PC-to-tablet file transfer method involves attaching files to an email client and using its smartphone app to access your data. (How to access PC files from Android?)
Please note that manually emailing everything is time-consuming and has limitations on the data types you can transfer, with a maximum email size of 20MB/25MB.
How to transfer files from PC to Samsung tablet via Wi-Fi by Email?
Access your email account through your PC, such as Gmail.
Then, create a new email from its web-based interface.
When the new email interface opens, click the attachment icon manually.
Select and upload the files you intend to transfer.
Once the files are attached, you can send them to your own email address or save them as drafts.

To access your files, launch the email app on your Galaxy tablet and open the relevant email or draft.
From there, tap the download icon for the attached file and save it to your Samsung tablet's local storage.
The Bottom Line
We understand that the world of file transfers can sometimes be daunting, but fear not! Among the array of options available, one tool stands out as a versatile and seamless solution: MobiKin Assistant for Android. With its sleek interface and comprehensive features, it simplifies transferring PC's files to Galaxy Tab a lot. So, try this program out, and you'll find it not just convenient but also enjoyable. Finally, any questions? Please let us know in the comments.
Related Articles:
What If Samsung Tablet Won't Turn on? Try the 12 Solutions Here
Top 5 Ways to Unlock Samsung Tablet without Losing Data (2023)
10 Smart Tricks to Fix Samsung Tablets Frozen or Not Responding
How to Transfer Photos from Samsung Phone to Tablet? [5 Easy Ways]
5 Free Ways to Transfer Files from PC to iPad: Complete Guide