How to Speed Up Samsung Galaxy Easily? (4 Ways)
You may find that Galaxy smartphone or tablet used to be superfast when you first bought it. But as time went by, it considerably started slowing down to a point that it's now taking an eternity to launch a simple App. Well, don't fret, that was bound to happen sooner or later. But the good news is that there's something you can do to speed up Samsung Galaxy and revert it to where it was originally.
So What Exactly Makes Your Samsung Galaxy Slow Down?
Well, blame it all on the operating system but the chief culprit is "you". With the using of your device, you may have added lots of new files into the device, such as contacts, photos, music, etc. All these files will occupy a large amount of storage space on your device. And every time you use the phone to do any things, it will automatically generate lots of junk files, cookies, crash files, temp files, etc. for different reasons. These files will also occupy your phone's internal memory and slow down your device. Thus, in order to ensure your Samsung Galaxy can runs quickly, you're strongly recommended to clear your Samsung Galaxy phone completely.
Then how can you speed up your old Samsung phone easily? You have lots of methods. For example, the most common ways that users would use to clean a phone are deleting junk files from the device, removing useless applications or optimizing the phone settings. But these methods would be time-consuming and you can use other more powerful ways actually:
Clear Cached Data
Except the files that you download or save on the device, the cached data of application is also the main reason for the phone space shortage. The cached data can help you to load the App files more quickly but they would take up a lot of phone space at the same time. Thus, it is essential for you to clear cached if you want to speed up your Samsung phone. Here, you can select to clear caches of all applications directly:
Step 1. Tap on Settings App on your Home screen and then select Storage in the section.
Step 2. Then you will get a list of options on the next page. On this page, you can tap on Cached data option and then a prompt will pop up to ask you whether you want to clear cached data. Just tap on OK to confirm your option.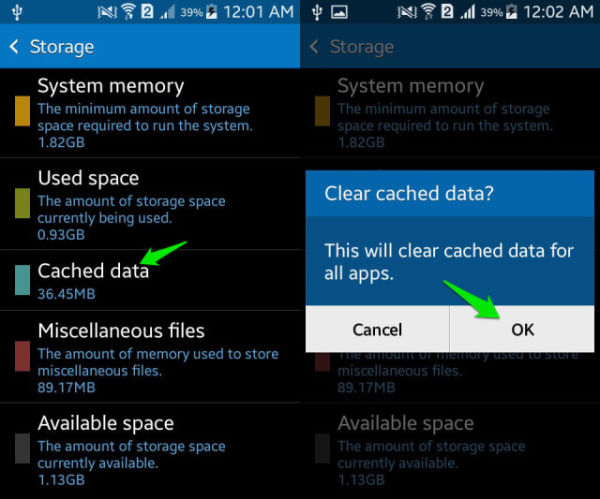 See also:
Full Guide about How to Clear App Caches and Data on Android
Wipe Cache Partition
For the same reason, there are some system caches on your phone meanwhile. They would affect the running speed of your mobile phone as well so you can choose to delete them to speed up the device. But unlike the App caches clean, you need to wipe the system caches in the Recovery mode rather than the phone Settings. Just take a look at the following steps and then go with them to have a try.
Step 1. The first thing you need to do is to power off your Samsung phone and then reboot the device into Recovery Mode.
Step 2. After entering the mode, you can use the Volume Up/Down key to highlight the option wipe cache partition.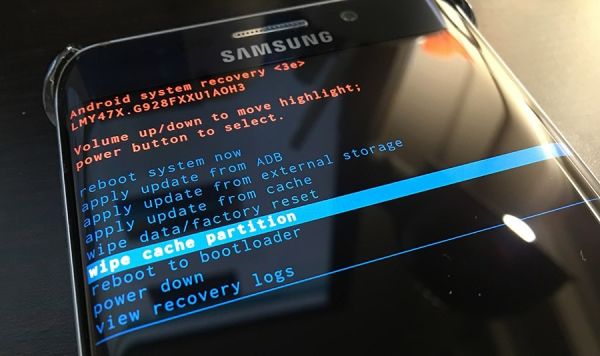 Step 3. Next, you need to press the Power button to confirm your option and it will start to wipe the system caches.
Step 4. When the wiping process ends, you can select the option reboot system now to restart the system and device.
Factory Reset Your Samsung
Another way to clean up Samsung phone is to factory reset the device. This means would be more powerful than first two methods since it will remove all the files and settings on your phone and reset the device to its original settings. In other words, your Samsung phone will run as a new device after the factory reset. But before you perform the resetting process, you should remember to backup the important files on your Samsung Galaxy S9/8/7, Note, etc. or you will lose all the data. You can select to backup the files to computer, Samsung Cloud, Kies or other tools. After that, you can begin to reset the device without any worry.
Step 1. Open the Settings App on your phone and then choose General Management under this section.
Step 2. On the next page, you need to tap on the option Reset and then a list of reset options like reset all device settings or network settings will be displayed. Here you can simply click the option Factory data reset and tap Reset when a prompt pops up.
Step 3. After that, you may need to enter your pattern or PIN code to confirm the option and then hit Delete All to remove all the files and settings on Samsung.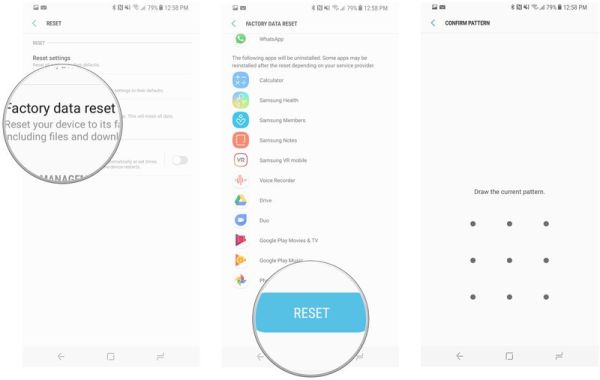 Apart from this means, you can also elect the option wipe data/factory reset in the Recovery Mode to reset your phone.
Use Professional Third-party Software to Speed Up Samsung (Must Read)
To complete and permanently remove Samsung files, you need to a professional cleaning software actually. Here, we would like to strong recommend you a reliable data cleaner program for Samsung Galaxy- Android Data Cleaner. With it, you can easily and quickly wipe all kinds of unnecessary files from Samsung Galaxy with one click, so that your device will runs quickly after that. And except for Samsung Galaxy, it is compatible with many other Android models as well, such as LG, HTC, Motorola, Huawei, etc. But please note that this software only supports the Erase All Data mode at present so you need to make a backup before the process.
Now, just click the program to get the free trial version on your computer, and then follow the below steps to see how easy the program works.
Steps to speed up Samsung Galaxy more quickly and easily:
Step 1. Connect your Samsung Galaxy to the computer and then launch the program. And install the MobileGo connector on your device as asked and the software will detect your device and show it in the program as below: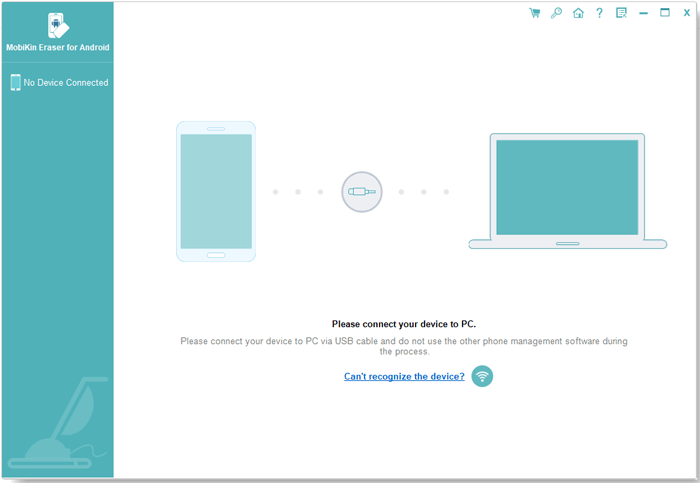 Step 2. On this page, you need to select the mode named Erase All Data to continue.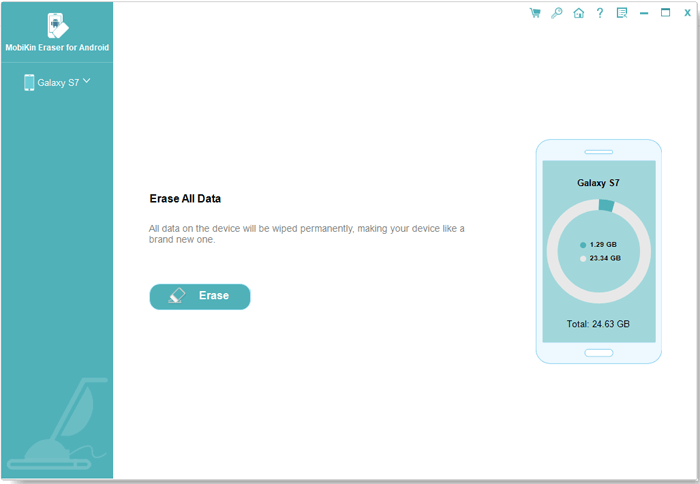 Note: Please make a backup before the process for the software now only supports the Erase All Data mode for Android device, and the software might be improved soon with more functions.
Step 3. After that, you can type delete on a new window and then click Erase Now button to remove them completely. After that, you can restart your device and experience its super fast speed as you like.
By using this tool to clean up your phone, the deleted data won't be able to be recovered.
Bottom Line
So now you have at least four ways to speed up your Samsung phone- clear App caches, wipe system cache partition, factory reset the phone or use a phone data cleaner. After removing the useless data, your phone will run much faster, which would give you a better experience. Hence, it is doubtlessly worth a shot. Just select one or two of them to clean your phone and if you have other better ways to complete the cleaning process, please let us know.
Related Articles:
How to Clear Cookies on Android Phone?
How to Speed Up iPhone 14/13/12/11/XS/XR?
Top 3 iPhone Data Eraser- Erase Everything on iOS Devices