How to Delete History on iPod touch Permanently
Why need to clear Google/safari searching history, caches, junk files, etc. on your iPod touch or classic?
On one hand, while you're using your iPod touch to surf the Internet, play games or take photos, you may not know that it have recorded all these activities on the device and generated data like caches, junk files, temp files, etc. But you can find that your iPod touch runs more and more slowly and the storage space become smaller and smaller. On the other hand, you may search some secret contents on your searching apps on iPod and never wish others know the detailed contents, but the iPod always record the browsing history and show them for people who're using the device.
Thus, more and more people want to find a way to delete history on iPod touch permanently, so that they can protect these privacy info from leaking out by others without permission. But how to reach it?
Part 1. How to Delete Safari History on iPod touch?
Follow these simple steps in the below to clear Safari history on your iPod Touch successfully in minutes.
Step 1. Open iPod touch, select "Settings" app and then scroll down to "Safari".
Step 2. Select "Clear History and Website Data" option and then click "Clear History and Data" on the new interface to confirm the cleanup process.
Once the cleanup process is complete, all your history and cookies will be removed from your iPod touch. These are the simple steps to quickly clear the Safari history in your iPod Touch.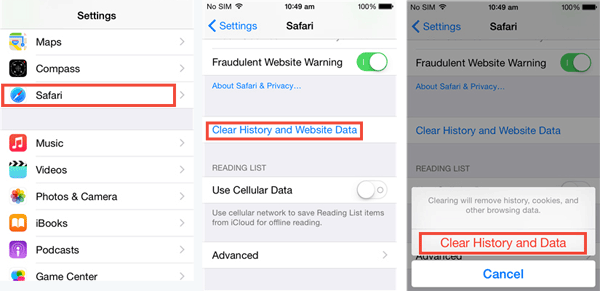 People Also Read:
How to Delete Albums on iPhone
Delete Browsing History from iPad
Part 2. How to Clean Keyboard History on iPod touch?
The iPod touch keyboard can also keep a history, and some of the history may be optional for you. Then, you can clean it up by following the simple steps below.
Step 1. Open iPod touch, select "Settings" > "General", then scroll down to "Reset".
Step 2. Select the "Reset Keyboard dictionary" option.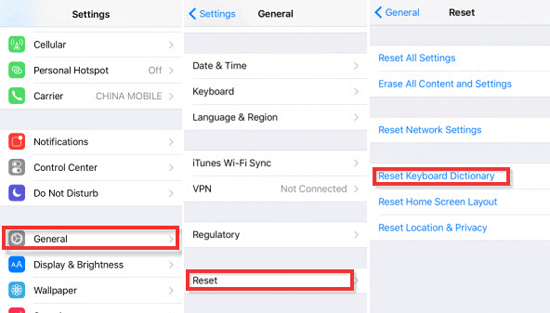 Part 3. How to Erase iMessage History on iPod touch?
Because you often use iMessage to communicate with others, you must store some personal secret information on iMessage. Clearing the history on the iPod Touch iMessage is especially important. Please follow the two steps below.
Step 1. You can open the iMessage app directly, select the messages you want to delete, and then select "Edit" in the upper left corner.
Step 2. Do you see the "All Clear" option? Click on it and the conversation you selected will be successfully deleted.
Note: The above three ways to delete history on iPod can't delete files permanently and those deleted histories can still be recovered back with some professional iPhone data recovery programs. If you want to delete all history on iPod touch permanently, you can keep on reading on the Part 4 in the below.
Part 4. How to Delete History on iPod touch Permanently?
Tool You'll Need:
You may know how to delete iPod browsing history in the apps, or how to delete files on your iPod touch, but more and more facts have proved that these deleted safari or google browsing history can be retrieved with a simple data recovery for iPod touch. Therefore, a simple "Deletion" will never mean your data have been deleted completely and permanently in nowadays, and in order to leave no opportunity to any people to restore your deleted data, you're strongly suggested to get a professional iPod History Eraser program as your personal assistant.
Here, we could like to kindly recommend iPod Data Eraser for your reference. With it, you can:
- Easily and quickly delete privacy info like safari history, photos, etc. on iPod touch or iPod classic permanently.
- Provide users with different erasing modes and levels to ensure the security of the whole erasing process.
- Not only browsing history, other files like bookmarks, caches, junk files, temp files, etc. on your iPod can also be wiped with one click.
- ...
Click the below icon to install the powerful program on your Windows and Mac computer, then you can follow the instructions to start the whole process of deleting history on iPod touch permanently right now.
First of all, connect your device to PC and run the program
Link your iPod touch to your personal computer, then launch the program on it. The iPod History Eraser software will detect your connected device and show them in the program as follow: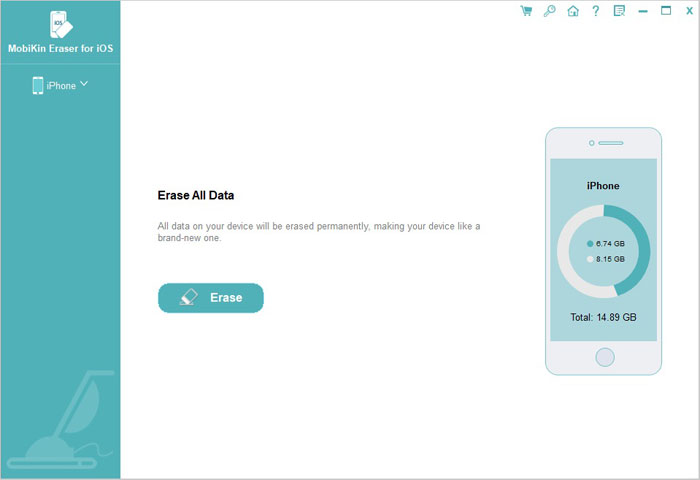 Secondly, select a proper erasing level and scan for files
Just tap on "Erase" button on the interface to proceed to the next step. After that, you will be allowed to choose a security level you need by clicking on "Medium", which will bring out a window for you to choose a level: Low - Medium - High.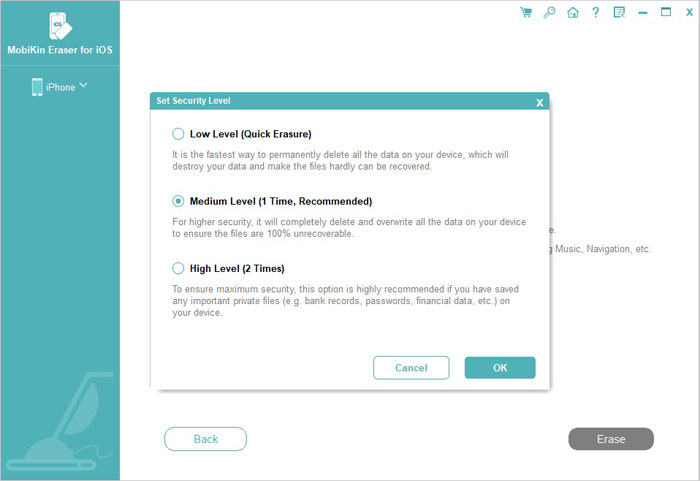 Thirdly, start to erase history on iPod permanently
After selecting the proper erasing level, to confirm your action, you need to type "delete" on the pop-up window and then hit "Erase" button again to begin the process.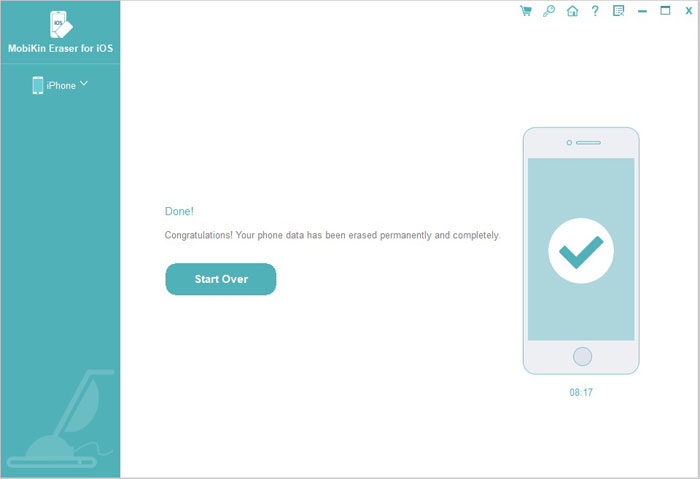 By the way, If you wish to clear junk files from your device, you can get more info from here - how to clear junk files on iPhone 14/13/12/11.
Words in the End:
Yes, there are many ways to delete the history on your iPod touch. These methods don't seem to be very difficult. However, if you only want to delete the history, you want to resell the phone, or send the phone to someone else. So, if you don't want your private information to be seen by others, using iPod Data Eraser is your best choice. It permanently deletes data and prevents it from being recovered by others, thereby protecting your personal privacy to the greatest extent possible. Have a try on Eraser for iOS now. If you have any questions on this post, you can leave a comment in the sections below.
Related Articles:
How to Delete Corrupted Files on Samsung Phone/Tablet?
4 Marvelous Ways to Delete Messages from iCloud Storage [Quick Guide]